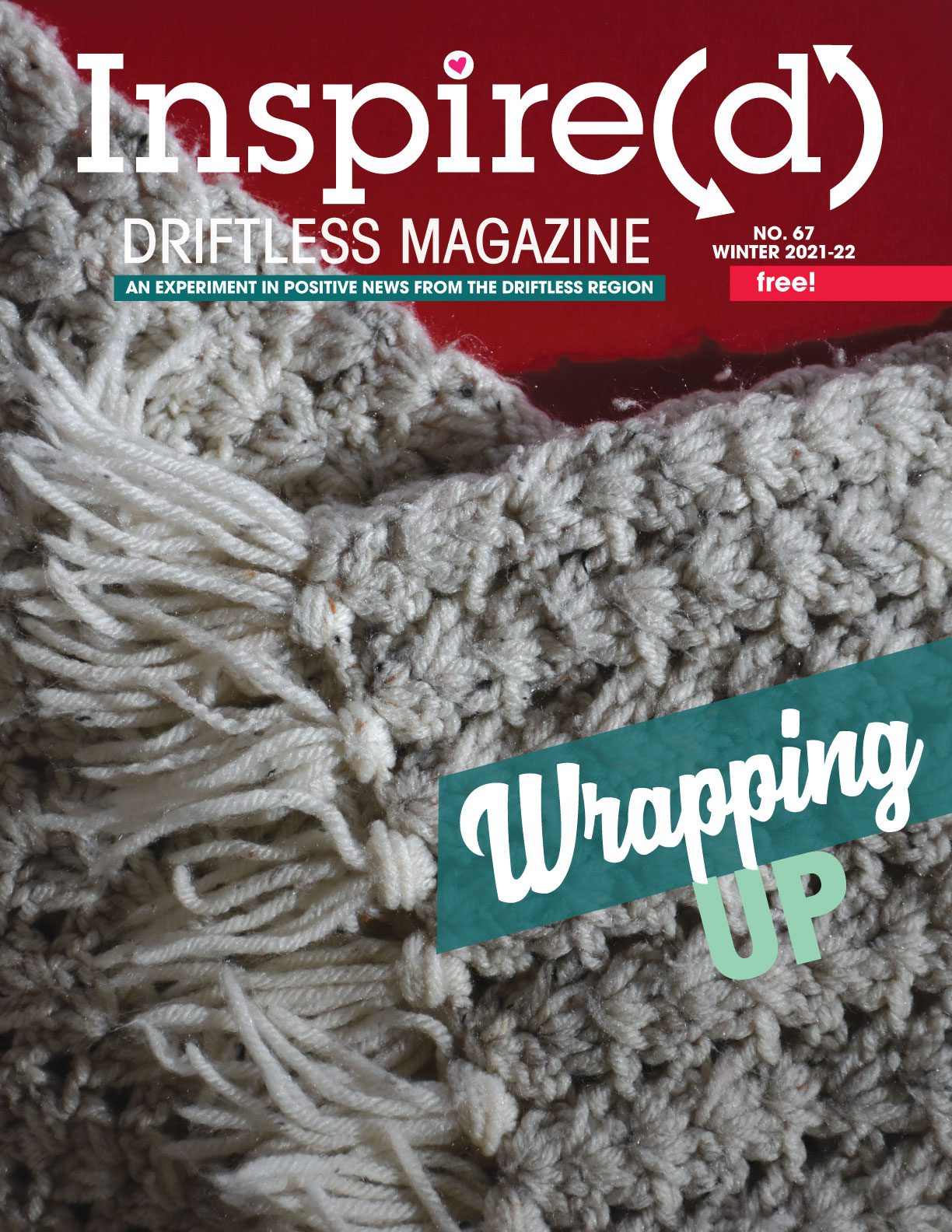 The Winter 2021-22 Inspire(d) talks about the various meanings of wrapping up – a year, in comfort, and as you handle transitions. You'll find inspiration for indoor and outdoor winter activities, community builders, awesome change-makers, and reminders that rest is productive. 
Wrapping Up! Northeast Iowa Women in Wrestling • Winter Bird Feeding Menu • Community Builders: Amanda Goodenough • Brooke Pfeffer • Marty & Teri Richards • Mental Health – Rest is Productive / Handling Transitions • Sum of Your Biz: Good Dog Center • Flowchart: Should I Stay (Inside) or Should I Go (Outside)? • Paper Gift Bows & More!
Read the whole thing online here!
A note from Aryn:
Wrapping up.
This phrase holds several meanings for me.
Before I (and my cousins) headed off for college, my now-late Grandma Betty would give each of us a blanket that she had carefully crocheted. This way, we could wrap up in something that reminded us of home anytime we wanted, snuggling in a little cocoon of comfort and kindness. My blanket is on the cover of this Inspire(d), and I like to think I put the same love into our magazine that my Grandma put into her afghans.
Wrapping up can also mean finishing out a project, a season, a year. As we enter the winter season, and get ready to wrap up 2021, I think it's important to remember, "rest is productive," and a vital part of life. Mental health writer Olivia Lynn Schnur helps us tap into this time of rest and transition in her piece on page 36 (with an introduction/infographic by me on page 33).
We also have three great Community Builders this winter – Amanda Goodenough from La Crosse, Wisconsin (with excellent recommendations on How to be a Better Ally); Brooke Pfeffer from Lanesboro, Minnesota; and Marty and Teri Richards from Richland Center, Wisconsin. We are always so inspired by the people who work to make their communities a better place, year after year, and we are happy there is truly an endless list of these folks. So we'll keep 'em coming (and let us know if you'd like to nominate a Community Builder in your area)!
We are inspired by the young change-makers of the world as well. And boy – or I should say – girl, do we have some great ones featured in Kristine Kopperud's story about Northeast Iowa women in wrestling (pg 40). These young women (and coaches) have worked hard over the years to get more girls on the mats, and it's working. Girls' wrestling has grown from 36 girls on Iowa teams in 2014 to 660 in 2021!
In Renee Brincks's story about Kiva Iowa, the new Cedar Rapids-based local lending opportunity (pg 60), we learn how we can help entrepreneurial change-makers create new businesses in Iowa, and in this issue's Sum of Your Business, Benji Nichols caught up with Carmen Hurley of The Good Dog Center in Decorah to see how she's made her business work for more than two decades!
We've also got Craig and Mary Thompson sharing their talents and expertise with a Winter Bird Feeding story (pg 52), and great inspiration throughout the whole issue for indoor and outdoor activities to (happily) get you through winter.
Finally, there's one more meaning of wrapping up for me: Gifts! When I was younger, my mom taught me to make the homemade gift bow we're doing for this issue's Paper Project (pg 31). It is a favorite of mine – a version of it actually debuted our Paper Projects back in 2011 (wow!), but as a flower. The bows make perfect present toppers for the holidays, birthdays, or any gift-day, and always amazed friends at parties – "Whoa, you MADE that?!" (In all honesty, it's really very easy – but you don't have to tell anyone that!)
To wrap up this letter (what, too much?!), thank you, dear readers, for your support and kindness throughout this year. Here's to a 2022 filled with forward momentum, positive stories, and lots of love, gratitude, and inspiration.
Happy Holidays, New Year, and Winter, friends!
Looking forward,


Aryn Henning Nichols
P.S. Check out the awesome PJs my mom gave me for Christmas a couple of years ago in the pic above! Hello, cozy winter!