By Benji Nichols • Photos by Inspire(d) unless noted
Originally published in the Summer 2012 Inspire(d)
The sprawling Mississippi River tapers her current just before Blackbird Slough and Lock and Dam #5A above Winona, Minnesota. There, the giant river flows humbly through a high and wide valley that in 1805 Zebulon Pike called "a prospect so variegated and romantic that a man may scarcely expect to enjoy such a one but twice or thrice in the course of his life."
Founded in the mid 1800s by Captain Orrin Smith, Winona was the site of a native village called Keoxah. It was Henry Huff who named the stake after a Native American tale involving a Dakota Chief's daughter, "We-no-nah" (which translates to first-born daughter), who made the ultimate lover's leap from Maiden Rock on Lake Pepin just up the river. By the late 1850s Winona was on the map as lumber, wheat, and milling operations grew leaps and bounds, with plenty of rail and steamboat traffic to support them. Through the years the community has seen a lot come and go, but an entrepreneurial theme seems to be strong – from grain and milling operations that still exist, to manufacturing and businesses such as J.R. Watkins and the Hal Leonard Corporation. Winona State University (which was the first normal school for teachers west of the Mississippi in 1858) and St. Mary's University also add crucial lifeblood to this great river town's fabric – in addition to culture, sports, and a fun college vibe.
In more recent years, Winona has also become home to a number of annual festivals. The Great River Shakespeare Festival has become well known across the Midwest as a top-notch summer staple, and in just a couple short years both the Mid West Music Fest and Boats and Bluegrass have claimed their place on the musical map, not to mention the popular winter Frozen River Film Festival, the Dixieland Jazz Festival, the Minnesota Beethoven Festival, Steamboat Days…you get the idea. There's definitely festival fun to be had in Winona.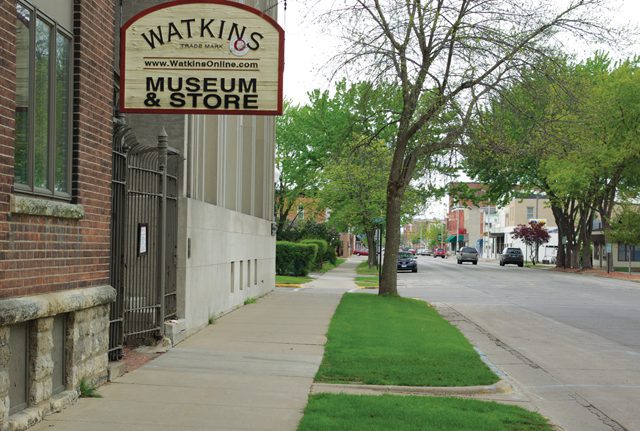 In addition, Winona is home to cool museums like the Minnesota Marine Art Museum, the Polish Cultural Institute, the Winona County History Center, and the J.R. Watkins Museum and Store. The Marine Art Museum is a more recent addition and has an impressive collection of water-themed art from masters such as Monet, O'Keeffe, Picasso, Renoir, and Van Gogh, plus great rotating exhibits as well. And the Watkins Museum and Store is a fun stop whether you're a lifelong Watkins fan or have only just heard the name. From the iron entrance gates outside the enormous factory, to the Winona diorama and complete historical collection of Watkins products, you'll get a peek into the life behind the man who invented the "money back guarantee"!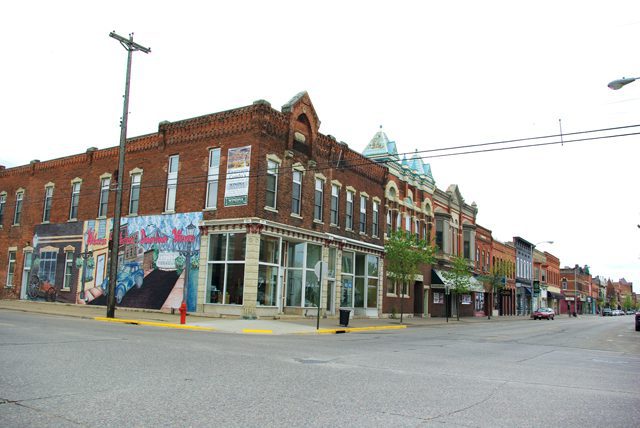 Downtown Winona is charming and historical, with the largest collection of Victorian commercial architecture in Minnesota outside of Saint Paul. You can even take a virtual tour of over half a dozen of the most prominent buildings at winonamntours.org/tour, including the Joan Soranno-designed Laird-Norton addition of the Winona County History Center. It's worth a look both inside and out as this museum is not only an architectural pleasure, but also features great artifacts and displays from the town's history.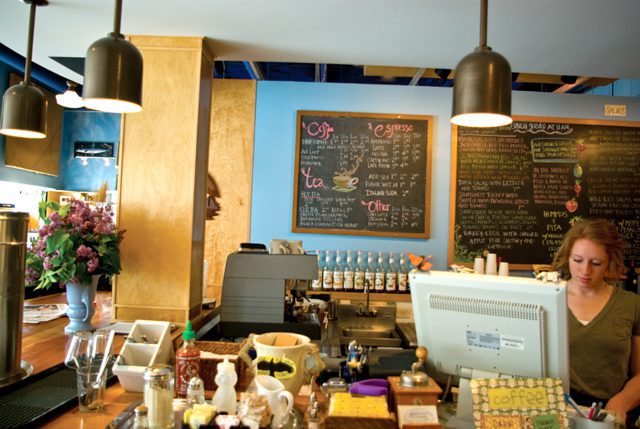 While you are downtown, don't miss out on a quick bite to eat or a pint at one of the several fine, local establishments. The Blue Heron Coffee House is a favorite for a homemade treat or lunch, and the Bluff Country Co-op is just down the street if you need quick supplies for a picnic or adventure (or a Mon Petit cupcake!). The Acoustic Café is also a great spot to hang out and grab a house-roasted coffee or sandwich. The bustling café atmosphere and free wi-fi brings in the college crowd, and weekend evenings often host acoustic music. For a throwback-dining affair, don't miss the popular Lakeview Drive Inn. It holds all the retro appeal of a typical drive-in – you park, someone takes your order at your car window, and then brings your tasty food on a tray that attaches to the door – with some more modern twists added in – there's a walnut burger on the menu, for example. It's a busy spot, so make sure you've scheduled time, and while you wait, sit back and enjoy the views of – what else? The Lake! (And Sugar Loaf too!)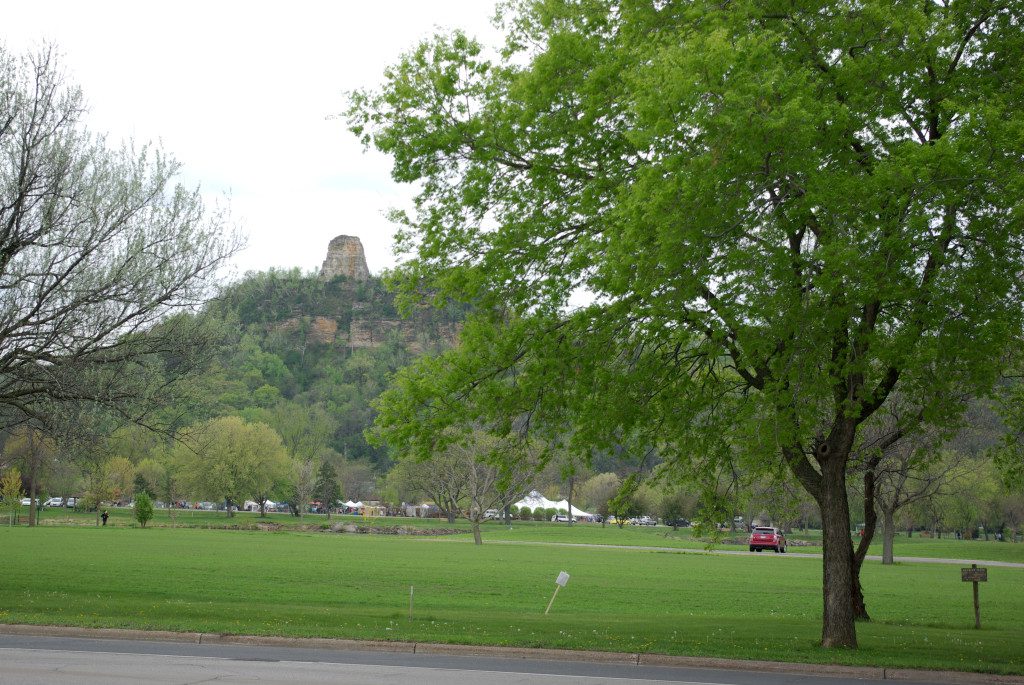 If it's the river view you're looking for, check out local favorite The Boathouse. Their menu features fun, new American cuisine and tasty drinks to boot! (Check out our Chef on the Block feature on them from last year!)
While on the topic of food – we here at Inspire(d) HQ may have been known to go the distance for a really good donut. And it just so happens that Winona is home to the Bloedow Bakery on East Broadway, where, since 1924, they've been perfecting the Long John in addition to other delicious donuts. (They even sell a giant "Party Long John! Sold!")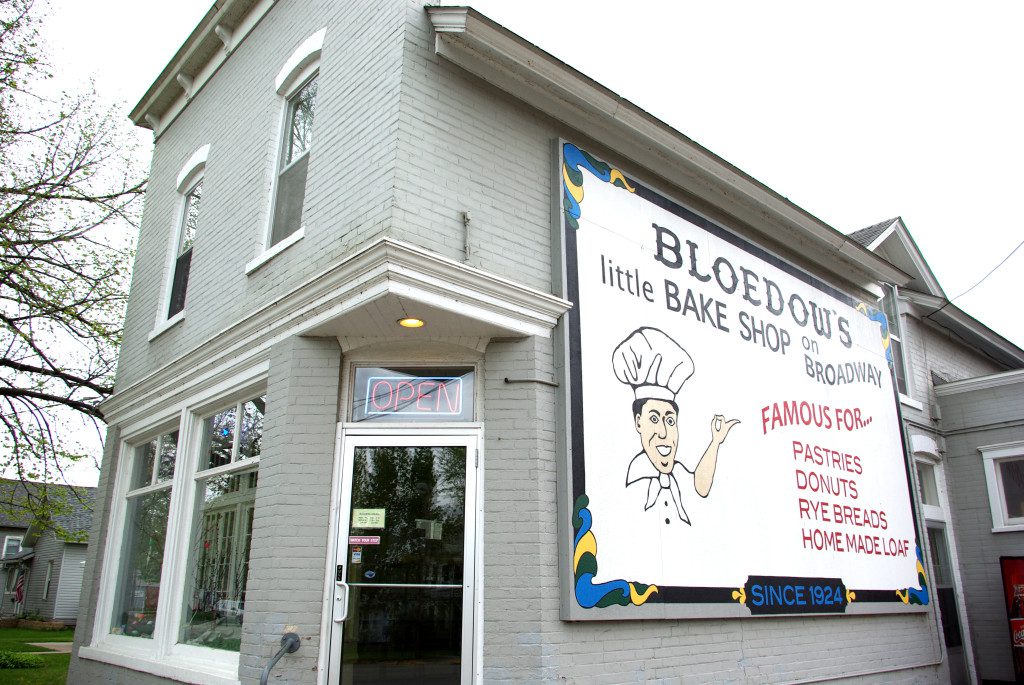 Then if you've worked up a thirst, you'll find no shortage of watering holes in Winona. Being a river town, Winona holds a long-standing tradition of small taverns and neighborhood spots – many that feel almost like a time warp upon entrance. Check out the Mankato Bar (Mankato St.) or the Handy Corner Bar (East 5th) for some serious local flavor. And if you love good beer, art, and music, Ed's (No Name) Bar on 3rd Street is perfection. Owner and local artist Ed Hoffman opened his doors in 2007 and has found a loyal following ever since with fantastic beers on tap, local art on the walls, and the best of the Midwest music scene stopping through his funky establishment.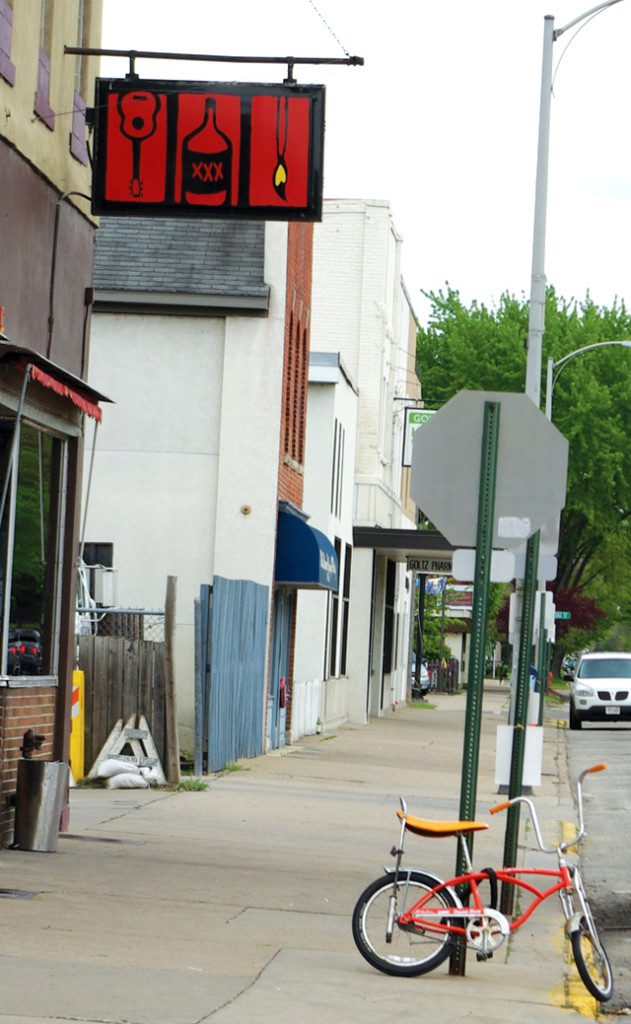 Don't spend all your time inside while you are in Winona though! Incredible views of the Mississippi River valley that surrounds the city can be had at Garvin Heights overlook just above town (pictured at top of the page). It's a short drive up Huff Street just past Lake Winona to the top of the bluffs and an easy paved walk to check out the impressive view – bring your camera! For those with a little more sense of adventure, Winona holds some challenging off road mountain biking and hiking action on the Holzinger Lodge Trail, Great River Bluffs State Park, Cherry Hill Trails, and Perrot State Park. For all the latest trail info check in with the folks at Adventure Cycle and Ski on Center Street; they'll point you in the right direction. And of course, Winona is right on the banks of the mighty ol' Mississippi with easy access to the river in many locations for boating, canoeing, and fishing – or even just a drive along its banks. A short field trip up the river will land you in Wabasha, home of the National Eagle Center, and the US Corps of Engineers Lock and Dam system is also fascinating to check out along the way, especially when large barges are going through the locks. From the south, the Great River State Trail will get you out on the trail and take you all the way from La Crosse to Trempealeau and just south of Winona via some beautiful and more remote parts of the river valley.
So what are you waiting for? Get packing for a great adventure in Winona – here are a few details to get you going:
Museums & Things To Do:
Marine Art Museum • 800 Riverview Dr • (507) 474-6626 • www.minnesotamarineart.org
Features marine related works by international and local artists, including Monet, O'Keeffe, Picasso, Pissarro, Renoir, and Van Gogh.
The Winona County History Center • 160 Johnson St. • (507) 454-2723 • www.winonahistory.org
Located in the historic former National Guard Armory, this great Winona area museum features the recently opened (Joan Soranno designed) Laird Norton Addition. Great local history and fun for kids, families, and beyond.
Watkins Heritage Museum • 150 Liberty St • (507) 457-6095 • www.watkinsonline.com
Both the Watkins Administration building (a grand Prairie School specimen designed by George Maher), and the
Museum on 3rd St. are a fun trip through the history of one of the oldest companies in the nation. Step into the world that J.R. Watkins built – including the origination of "the money back guarantee" – and don't miss the restrooms – stocked kindly with Watkins products!
National Eagle Center • 50 Pembroke Ave, Wabasha • (651) 565-4989 • www.nationaleaglecenter.org
Opened in 2007, this awesome interpretive center is home to 5 rescued eagles that you can meet up close and personal. The center is a not-for-profit entity that offers a wide variety of programs and outreach as well. Make the scenic drive up the river – you won't be disappointed!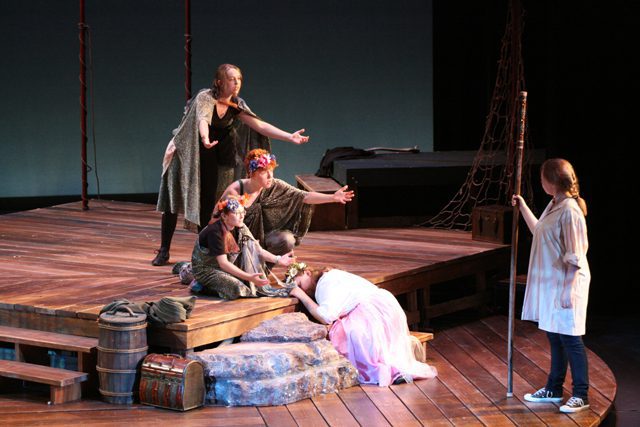 Great River Shakespeare Festival. Photo by Kathy Greden Christenson. Shakespeare for Young Actors, 2014, The Tempest. 
Festivals in Winona:
As mentioned above, there are tons of fun festivals in Winona. This weekend, the Great River Shakespeare Festival opens with the WOW (Will's ((Shakespeare, of course)) Opening Weekend) events! There are so many great things to do in conjunction with WOW, so check out GRSF site for details.
Great River Shakespeare Festival, June 24 – Aug 2, www.grsf.org
Minnesota Beethoven Festival, June 28 – July 19, www.mnbeethovenfestival.org
Dixieland Jazz Festival, June 27, winonadixieland.webs.com
Boats and Bluegrass, September 24-27, www.boatsandbluegrass.com
Great Dakota Gathering and Homecoming, September, www.dakotahomecoming.org
Frozen River Film Festival, February 24-28, 2016, www.frff.org
Mid West Music Fest, Spring 2016, www.midwestmusicfest.org
Steamboat Days, June 15-19 (2016), www.winonasteamboatdays.com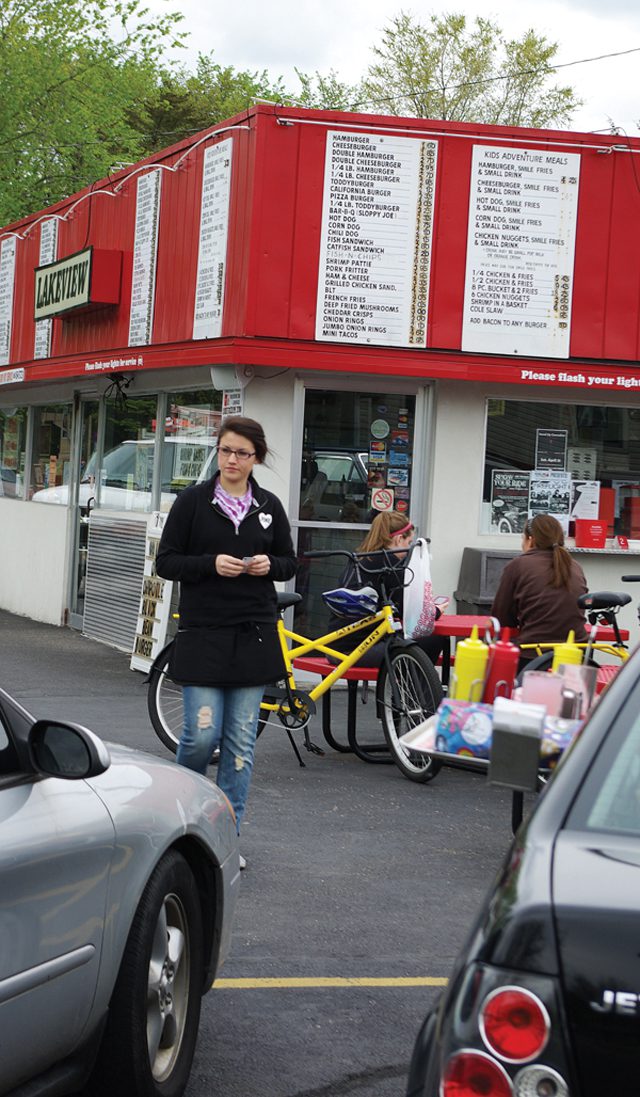 Dining & Drinking:
Acoustic Café • 77 Lafayette St • (507) 453-0394• www.theacoustic.com
Bloedow Bakery • 451 E Broadway St • (507) 452-3682 • www.bloedows.com
Blooming Grounds Coffee House • 50 East 3rd St • (507) 474-6551 • www.bgcoffeehouse.com
The Boathouse • 2 Johnson St • (507) 474-6550 • www.boathousewinona.com
Blue Heron Coffee House • 162 West Second St • (507) 452-7020 • www.blueheroncoffeehouse.com
Bluff Country Co-op • 121 West 2nd St • (507) 452-1815 • www.bluff.coop
Bub's Brewing Co. • 65 E. 4th St • (507) 457-3121 • Find them on Facebook
Ed's No Name Bar • 252 E 3rd St • edsnonamebar.com
Garvin Heights Vineyards • 2255 Garvin Heights Rd • (507) 474-WINE • www.ghvwine.com
Jefferson Pub & Grill • 58 Center St. • (507) 452-3723  www.jeffersonpub.com
Lakeview Drive Inn • 610 East Sarnia St • (507) 454-3723 • www.lakeviewdriveinn.com
Cruise in nights every Wednesday!
Mon Petit Cupcakes • (Available at Bluff Country Co-op and Winona Sandwich Shop) • monpetitcupcake.com
Signature's Restaurant • 22852 County Road 17 • (507) 454-3767 • www.signatureswinona.com
Winona Sandwich Company • 619 Huff St. • (507) 452-1170 • Find them on Facebook
———————————-
Benji Nichols is a seeker of River Town Fun and has found it on more than one occasion at Ed's in Winona!