How women are changing the political scene: Conversations with four female mayors in the Driftless Region
By Maggie Sonnek • Originally published in the Winter 2018-29 Inspire(d)
On a warm, sunny August afternoon in Wabasha, Minnesota, mayoral candidate Emily Durand sits in a lawn chair at the local Farmer's Market. She sips on an iced chai she purchased at one of the stands and nibbles on a homemade cookie bought at another, and she chats with folks as they pass – locals and tourists alike – sharing her vision for the charming Mississippi River town. But more powerful than anything Emily could say, is how she listens. The joys, the frustrations, the worries – she hears them all, and she ensures her neighbors and friends that if she's elected mayor, she'll always keep an open ear, and an open mind.
Fast-forward four months to November 6, 2018. Election Day, the day Emily joined a wave of female candidates breaking barriers in this year's mid-term elections. Candidates like Ilhan Omar from Minnesota's 5th Congressional District, who, along with Rashida Tlaib from Michigan, became two of the first Muslim women elected to Congress. 29-year-old Alexandria Ocasio-Cortez, New York's 14th District, became the youngest woman elected to Congress. Abby Finkenauer, another 29-year-old, defeated incumbent Rod Blum to represent Iowa's 1st District, and Cindy Axne was elected to represent Iowa's 3rd District. They will be the first women from Iowa elected to the House of Representatives…ever.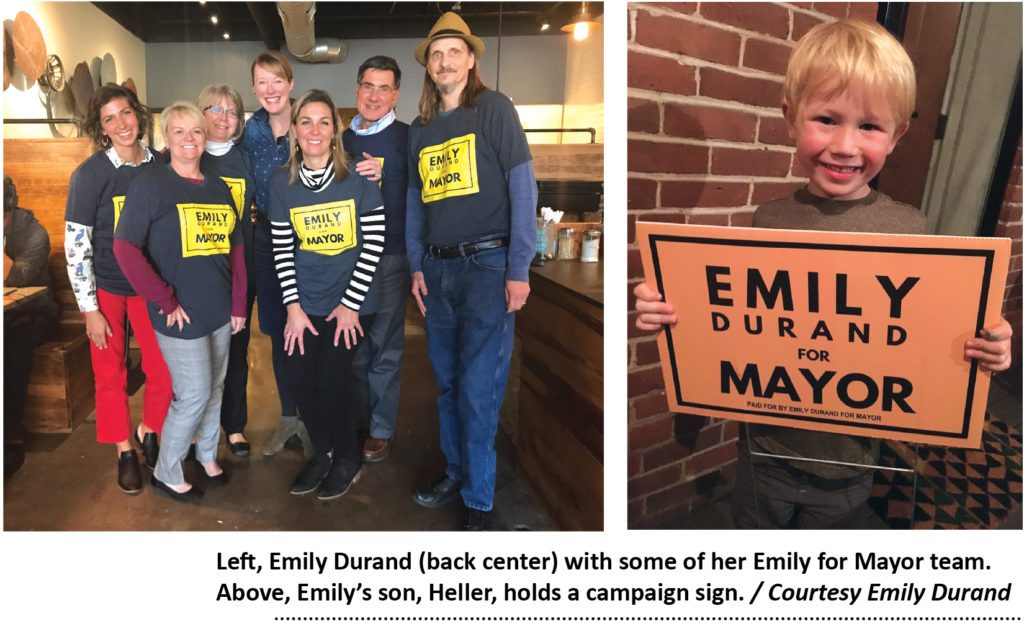 On an even more local level, women here in the Driftless are lacing up their boots (or sneakers) and striking out to lead their communities as mayors. We walked and talked with four such women – some the first to hold the office in their town's history – to learn why they've decided to take up the mayoral mantel, and what they hope to achieve. One thing is clear: In addition to making their voices heard, they want to hear yours too.
Emily Durand, Mayor-Elect in Wabasha, Minnesota, says whether she won or lost the race this fall was beyond the point. She wanted to show her nine-year-old daughter, Thea, that having a voice is important.
"We, as women, have to get comfortable feeling uncomfortable. We have to learn to ignore the doubts and negative voices," Emily says. "Sometimes politics can feel like an old boys' network. I hope that instead of shutting women down, this inspires them to find their own way into leadership."
An expert in the realm of research and project management, Emily toyed with the idea of running for office while she and her husband, Scott, were living in the Twin Cities. But when Scott became part owner of a dental practice in Wabasha, the couple and their young daughter moved the 60 miles south, and political plans took a backseat while they settled in.
This year, though, six years after the move, the timing was right. Emily ran for Mayor of the town of 2,500 – and won. She'll be the first female mayor in Wabasha. Her plate is full: She plans to continue working as a project manager, and she and Scott have two children now – their daughter, Thea, and now four-year-old son, Heller. But moving away from the idea that life needs to look a certain way is freeing, she says.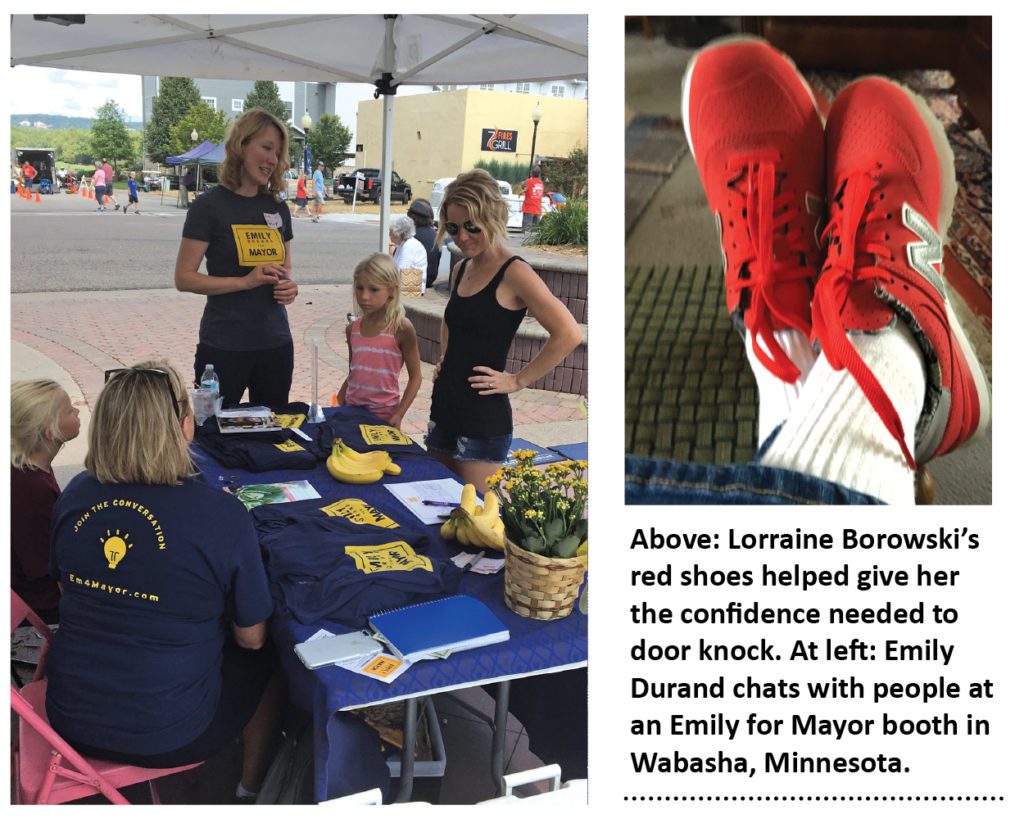 "Women get asked the question, 'How will you do it all perfectly?' And the answer is, you will not," she says. "And that is totally fine. Once you realize that perfection is not the goal – and it's actually not healthy for it to be the goal – you can start moving forward."
Lorraine Borowski, former director of Decorah's Public Library System, was definitely qualified to run for Mayor in Decorah, Iowa. But she was scared, she says. And uncomfortable. She hated door-knocking. So she added a talking point: Bright red New Balance tennis shoes.
"I was confident in my ideas and what I had to say, but I was terrified at the thought of actually doing it," Lorraine says of campaigning door-to-door. "But once I put on my red shoes and got out there and just did it, I was fine."
Lorraine suspects other women leaders feel the same way. Like her, they have the skills and passion to lead, mobilize others, and make decisions, but they sometimes let fear take over. To combat these doubts, Lorraine found a mentor, a retired teacher who is active in state and local politics.
And once she was elected in 2017 as the town's first-ever female mayor, she continued to surround herself with knowledgeable people, who made sure that even if she didn't know the answers, they would.
Her favorite part of the job? Listening to her community (there's a trend here).
"I love having open discussions," she says. "I love allowing people to talk and creating space to listen."
When Karen Mischel returned home to Viroqua, Wisconsin, after being away for 17 years, she jumped right into local government. The former Merchant Marine was proud to be from the small (population 4,500) Wisconsin community – and excited to be back. But she knew the progressive town, bordering the Ocooch Mountains and nestled in one of the best organic farming regions in the U.S., needed a change. Karen was ready to disrupt the status quo in a race against the incumbent mayor, who had held the position for two decades. This past spring, she did just that: She won the election and became Viroqua's first female mayor.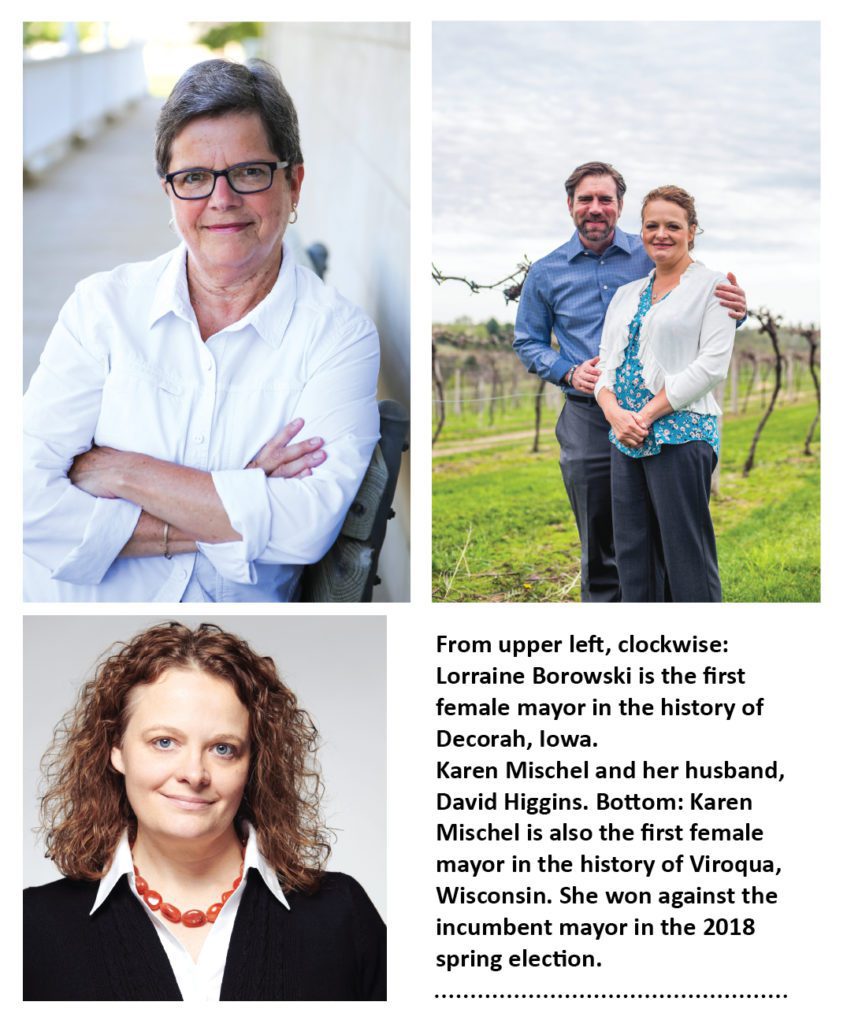 "The former Mayor had a reputation for just going through the motions," Karen says. "He didn't show up for community events. He didn't want to make waves or cause anyone, including himself, to feel uncomfortable."
Karen knew Viroqua, with its historic downtown complete with unique shops and award-winning restaurants, deserved a leader who would move the community forward.
"How can we do that if our mayor doesn't even show up?" Karen asks.
She cut through the white noise by holding listening sessions, and, simply enough, answering her phone. These people just really wanted to be heard, she says.
Her full-time job as an organic farm inspector gave her further opportunities to connect with the people of Viroqua. Vernon County, which encompasses Viroqua, has the highest concentration of organic farms per capita in the country.
"These farmers and their families are so devoted to their work," she says. "Even though each farm operates differently, they're all working toward the same goal. That's how I'd like to see our town work too."
Northwest of there, in Spring Grove, Minnesota, it was an argument that led Sarah Schroeder to politics. She got into it with the city administrator about proposed admission prices for the town's new swim center. At the end of their conversation, the city administrator suggested she run for mayor. She initially laughed it off. But, after some thought, she decided to run. Sara jokes that she did most of her campaigning from her mother's beauty shop.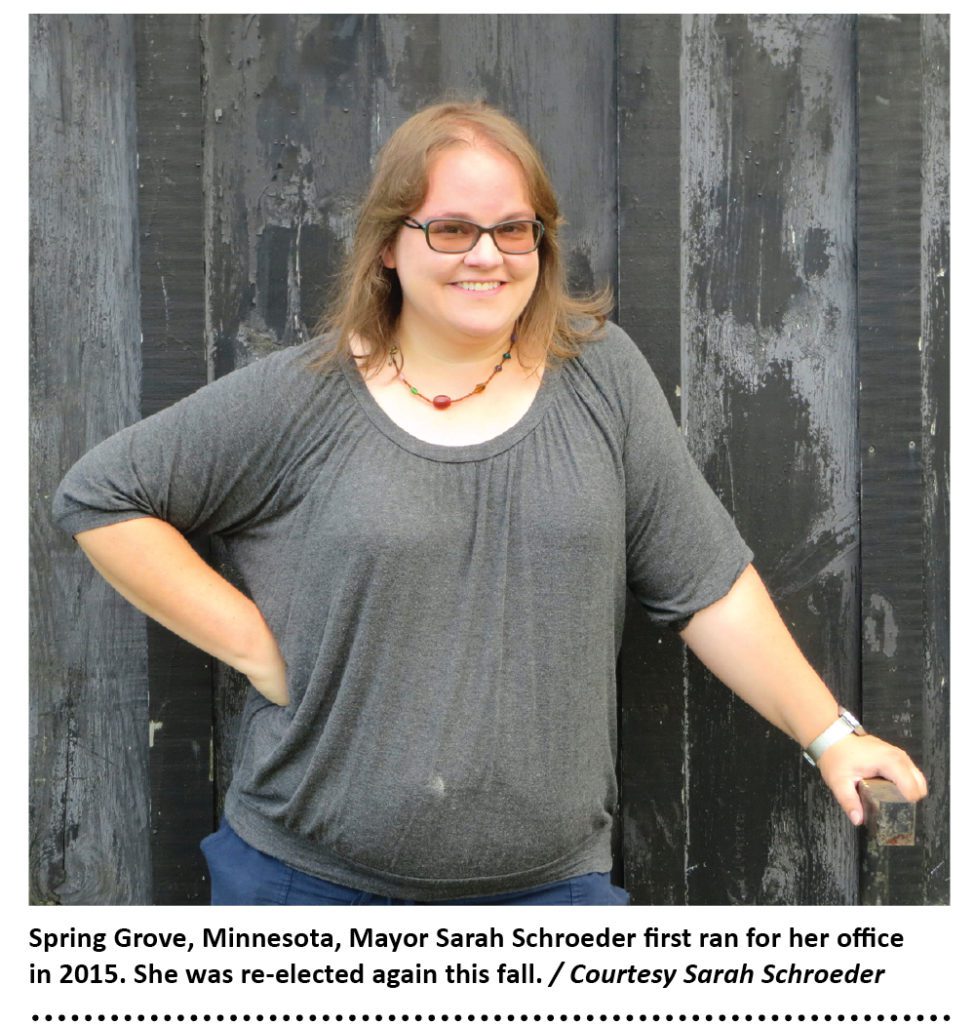 "I think it all comes down to who is willing," Sarah says. "Who is willing to hustle? Who is willing to have discussions? Who is willing to listen?"
Sara, who works as a graphic designer at Gunderson Lutheran in La Crosse, is clearly willing to jump in and do the work. She serves on the board of the Ye Olde Opera House in Spring Grove, and sits on the town's economic development authority, planning and zoning commission, and fireman's relief association board.
She ran for mayor in 2015, when she was just 33 years old, and won. She was re-elected this fall.
"I would get asked, 'Aren't you too young to be mayor?'" she says. "By continuing to break down barriers, as women – young women – we are proving that we have a voice. We have ideas. And we can move communities forward."
———————————-
Maggie Sonnek is navigating life in the slow lane. A transplant from Minneapolis, she loves living in the Driftless Region where she can hike in the bluffs and swim (not in the winter!) in Lake Pepin. She's a wife to Eric, mom to three kids and writer.