Unusual vegetables get a little time in the limelight.
By Aryn Henning Nichols • Originally published in the Summer 2013 Inspire(d)
Just like people, vegetables come in all sorts of sizes, shapes, and characteristics. And, just like people, some are more popular than others. There always seems to be some produce that gets pushed to the back the fridge – if it even makes it there. More likely, those vegetables sit at the farmers market, still on the table at 11 am, way after the rush for lettuce and sugar snap peas has passed.
We here at Inspire(d) knew there was more to the story – the lives – of these (sometimes homely) little veggies (hey, have you SEEN celeriac?). So we asked our farmer, Erik Sessions, for more information. Erik runs Patchwork Green Farm with his wife, Sara Peterson, and his three daughters. We call him OUR farmer because, in a way, we bought (part of) the farm through a Patchwork Green Community Supported Agriculture share.
Community Supported Agriculture (CSA) offers a great way to "meet" some of the unsung heroes of vegetable land. At the beginning of (or a bit before) a growing season, CSA members buy a share of the anticipated harvest. Once things are growing and ready to harvest, members receive weekly "shares" of vegetables and fruit – ours comes in a reusable bag that we return the following week. Yes, lettuce and snap peas are often part of the bounty, but there's also sometimes kohlrabi or fennel, and occasionally even flowers (the sunflowers from Patchwork Green Farm are particularly happy). With the share comes a letter detailing that week's harvest, ways to use it and cook with it, and a couple of recipes too. Patchwork also offers "Farmers Market Shares" where you can put money on an account and just write down what you buy at the market and Erik and Sara will subtract that amount each week (or each week you purchase something) and report the remaining amount left on your CSA via email. It's a great way to stock up on a certain thing or not worry about your veggies if you're heading out of town.
The first CSA in Northeast Iowa launched in 1997: Sunflower Fields CSA was a collaborative of 10 small Northeast Iowa farms – most in the Postville area ­– that served a multi-county area for about 10 years. Patchwork Green Farm started offering shares in 1999, followed by Decorah-area Rock Spring Farm (no longer offering CSA shares) and Annie's Gardens and Greens (Ft Atkinson). Kitchen Table CSA (Mary Klocke/Jeff Abbas) started to offer shares a few years ago and former Sweet Earth Farm (Decorah) offered vegetable CSA shares for two years. River Root Farm (Decorah) even offers a late fall/early winter CSA that brings subscribers fresh produce through the end of December.
"The part I love about our local CSAs is that each is run quite differently, each has it's own niche, it's own member demographics," Erik says. "In a small community, I think this is vital, and it's a great way to get local food to a wide variety of people."
Anne Bohl, one of the former co-owners of Sweet Earth Farm, now operates Low Oaks Farm with Lew Klimesh. Anne and Lew are young farmers who are thoroughly passionate about bringing great produce to the region through Farmers Markets, Oneota Co-op, and CSA shares.
"Community Supported Agriculture is our ideal way to farm and distribute fresh local food to the community because it is a connection and support system for both the farmers and the members. By connecting where the food is being grown to where it is being eaten, and to have that connection be so close is a powerful thing," Anne says. "It pulls us together as a community around a common goal."
——————————————–
Erik and Anne both took a minute out of the busy summer growing season to share some of their favorite "unsung heroes" of the Driftless Region farm. Check them out here, then pick them up at the market. C'mon, don't leave a sad celeriac hanging!
Erik's picks (www.patchworkgreen.com):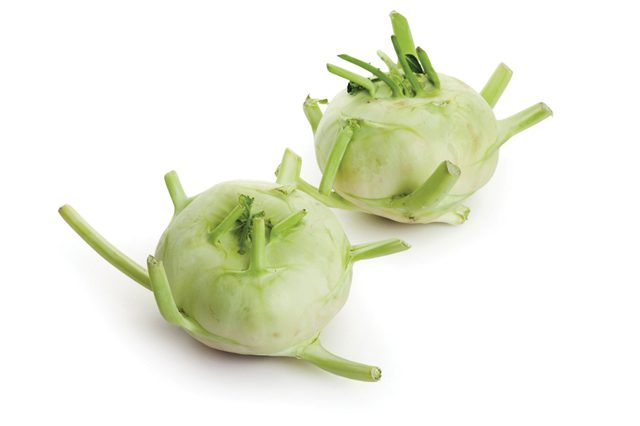 Kohlrabi is always at the top of my list, and I have been on a mission to get everyone to try it in the last couple of years. What kid can turn down a slice of raw, crisp, sweet kohlrabi? It is good in slaw, on a veggie platter, cooked in soup, mashed, etc., but best raw, I think. Tips: buy them small to medium size (except the giant variety). They are very tender when they have had lots of water and size up quickly in the field. If we are in a drought, ask if they were irrigated – if not, they are probably woody. Eat your kohlrabi as soon as you can (within a couple days of purchase) for sweetest flavor. Like most brassica family crops, it will get a strong flavor if it hangs out in the fridge too long.
Boc Choi is way better than celery – more versatile, crunchy, pretty, not stringy. Just as good in 'American' dishes as Asian.
Italian (flat) parsley has a wonderful, full flavor. Easy to grow (cut and come again), good raw and cooked, used in many cuisines around the world, keeps for several weeks in the fridge, loaded with vitamin A, etc.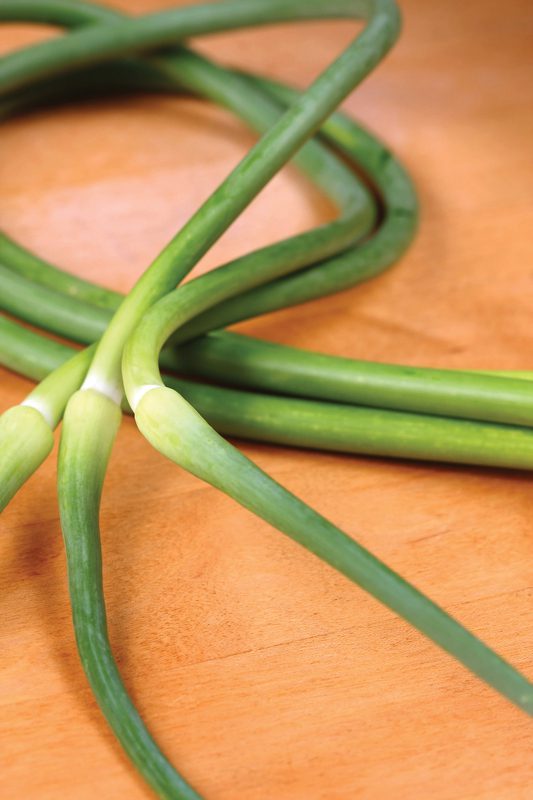 Garlic Scapes are the flower head of the hard-neck garlic plant, ready to be trimmed off the plant and consumed in mid-June (ed. note: read more about garlic in this issue's "Science, You're Super: Garlic!"). They are not hollow like onions, and should be picked when they are very short and tender (not two-feet long and curled). Mild garlic flavor, best when cooked. They can be pickled, made into hummus, and sautéed with any recipe that calls for garlic. Keep in the fridge for a month!
Celeriac: Strong, celery flavor for soups and slaw. Not stringy, like celery. Keeps all winter in cold storage. Extremely ugly!
Patty pan squash: An unusual summer squash. Very tender at 2" size; good for stuffing and baking at the 4" size. They come in many color phases and can be eaten raw, sauteed, baked, etc. just like any summer squash or zucchini.
Anne's picks (www.lowoaksfarm.com):
My first two may seem commonplace, but I'm tellin' you, they should be waaaay more popular then they are…
Leeks: Full of vitamins and minerals, tasty, and delicious! Leeks are best in the fall and winter and are wonderful storage crops so you can use them into the winter months. They are fantastic in soups, although that's what most people already do with them. I like to lightly sauté them in butter or olive oil as a precursor to just about every savory dish that I make when they are in season… fried/scrambled eggs, stir fry, sautéed greens (spinach and kale)… basically any time you would use onions or garlic, plus lots more because they are a little milder and a little more delicate of a flavor.
Italian Flat Leaf Parsley (pictured above as one of Erik's faves too!): This is one of my all time favorite crops! It is so flavorful and juicy when harvested fresh and once it as gotten to a decent size. This is another vegetable I will put in everything when it is in season, which is practically the entire summer. It's one of the first things in the spring, as well as one of the last hardy crops hanging on in the fall. I like to chop it up and put in all kinds of salads… really, any salad. Some fresh lettuce with chopped flat leaf parsley, olive oil, and lemon juice is the most refreshing salad a person could have. Italian parsley is also wonderful sautéed in a little butter or olive oil with your onions, garlic, or… leeks! It's great in eggs for breakfast, salad for lunch, soups, parsley pesto, tabouli, and lots more.
My last two are a little harder to find at the market or in a CSA share, but are definitely worth seeking out.
• Mache/Corn Salad: Mache is a delicious little green harvested in rosettes that is very popular and common in Europe. It is a cold-loving crop, and can be grown in our climate pretty much all winter long if you have some basic row cover on it. It is wonderful eaten raw as a salad or slightly wilted w/a hot vinaigrette. Mache is a mild, tender, and delicate tasting green with a slightly nutty flavor to it. It does tend to be a bit more expensive because of the labor needed to grow, harvest, and wash it, but well worth seeking out when it's in season.
• Fennel: Very high in antioxidants and with a unique flavor and texture, fennel is definitely on the list of unsung vegetable heroes. There are usually the few die hard, reliable fennel buyers out there, but their numbers are small. It is in season mid summer through fall. Fennel is a very versatile vegetable which is delicious paired with citrus and a light vinaigrette, roasted with beets and herbs, chopped into cubes and baked into a vegetable pot pie, and added to soups, gratins, or casseroles. It's got a delicious, juicy crunch to it and very pleasant and unique flavor.
————————————
Aryn Henning Nichols is going to make it a point to learn more about ALL the veggies on the farmers market tables. Who wouldn't want to pull out one of those ugly celeriacs and know just what to do with it?!?!
———————–
Did You Know?
———————–
Some employers are even getting hip to the benefits of CSAs – Luther College in Decorah covers a portion of the cost if an employee wants to buy a share, recognizing the health benefits of eating healthy and locally. If you're an employee of Luther, check it out! If you're an employer yourself, consider trying something similar with your business!
Patchwork Green Farm CSA also offers a way to support the Decorah food pantry.
"The Master Gardeners in Decorah have partnered with the Winneshiek Farmers Market for quite a few years now to get end-of-the-day extras from market vendors to the Decorah First Lutheran Food Pantry. This is great for the vendors – we just bag up veggies, put them in the little red wagon, and then feel good that we are supporting the pantry and all the folks that utilize it," Erik says. "Jackie Jones of the Master Gardeners and I came up with this plan years ago, and I always have lots of goodies to send. Sara and I decided that we could encourage even more giving by involving our CSA members. We offer them the chance to make a $50 contribution, and we then make sure that all of the pantry pledges go toward Patchwork Green produce heading up to the pantry. We are now sending not just 'leftovers' but lots of prime produce as well. Last year (2012), over $1000 was pledged by members of our CSA, and we added lots of top of that. Share the good food, right?"