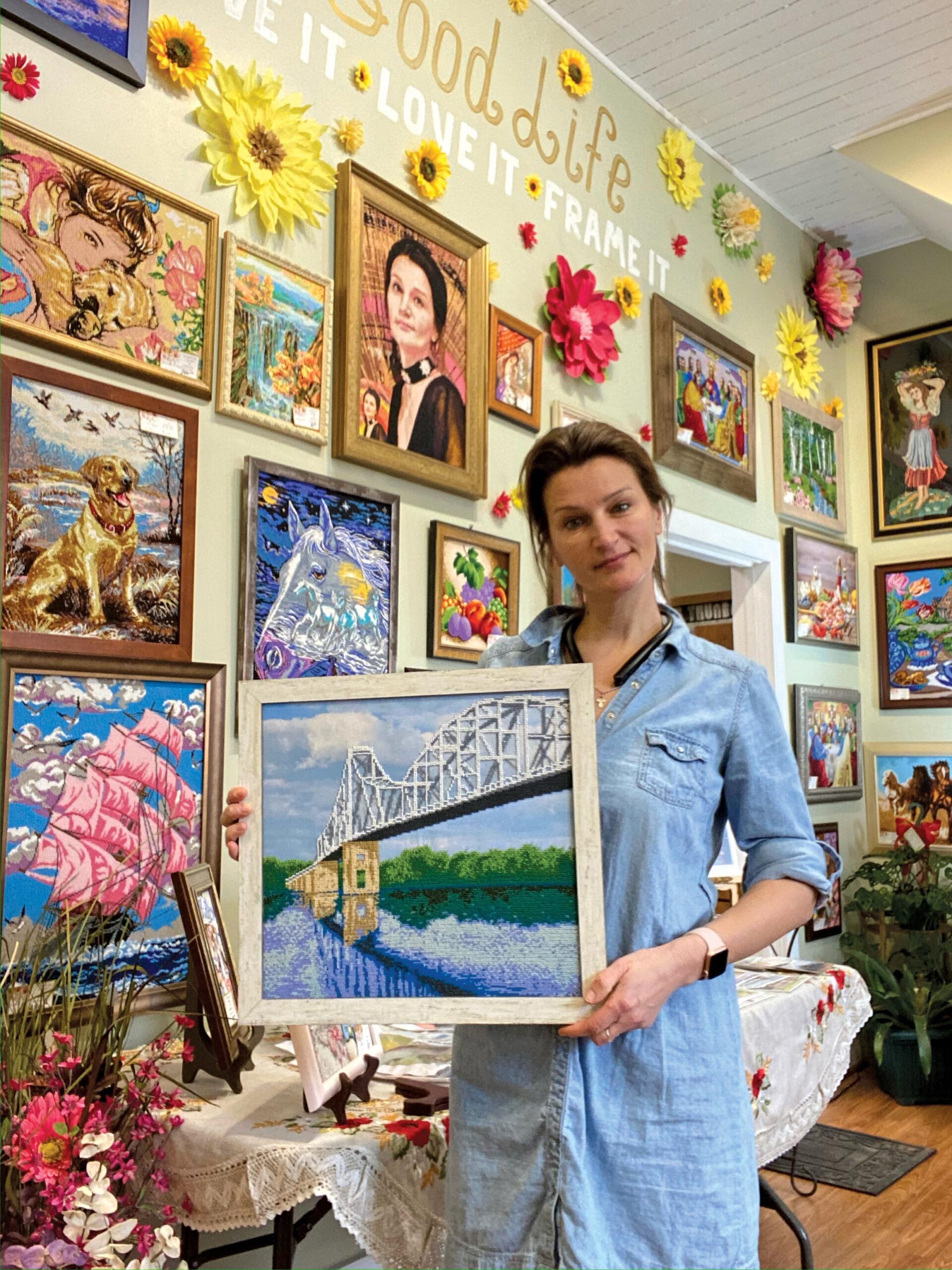 A Taste of Ukraine in Northeast Iowa
Lesya Ryzhenkova is Ukrainian. But, that is not all she is. She is a daughter, a sister, a mother, a partner, a friend. A business owner, an artist, and, most recently, an official US citizen. Her home, Lansing, Iowa, is a small Mississippi River town where Lesya is an active community member, running two businesses: The Good Life Gallery and Frame Shop and the Ukrainian Village Pop-Up Restaurant.
Surrounded by custom artwork and a welcoming energy, Lesya pulls a tall stool up to the worktable at her Main Street Lansing shop, where she frames artwork for clients and creates her own handmade beaded pictures. A determined and hard-working woman, Lesya taught herself how to speak English by watching American TV and movies like Pretty Woman on repeat. She speaks about the life she left behind in Ukraine and the one she is building in the US.
Coming to America
Lesya is one of five kids. Her sister, Natasha Ewing, has lived in the US since 2000, and after a visit in July 2007, Lesya decided to join her, moving to America with her daughter, Dasha, 2010. In 2021, Lesya officially got her American Citizenship, and in September 2021, they headed to Ukraine for a family reunion.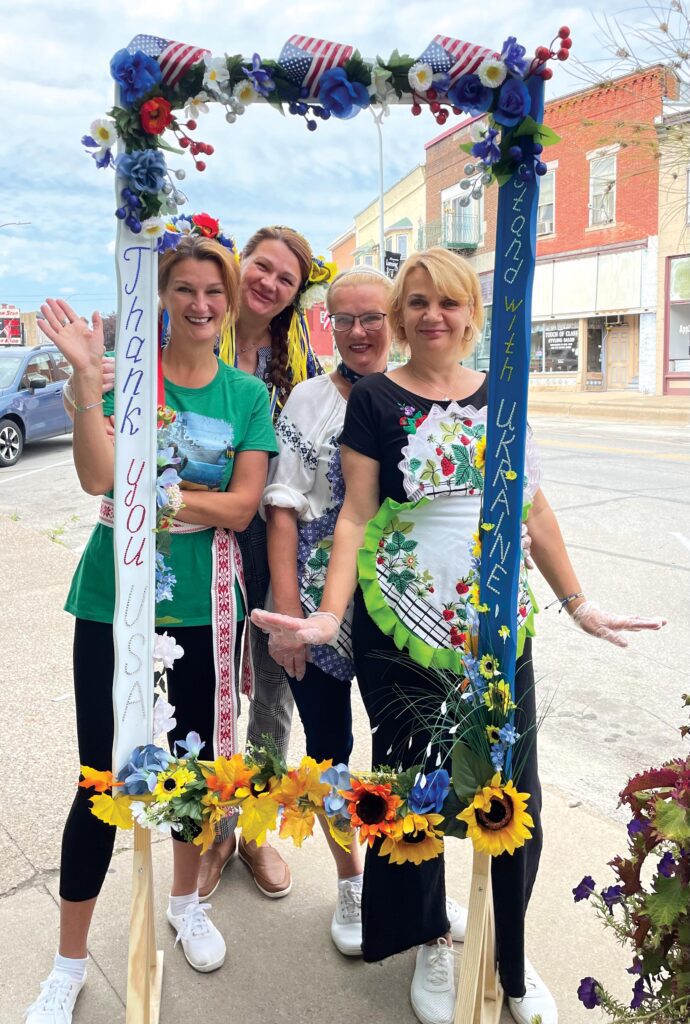 On the return trip to the US, Lesya's mom, Olga Kotina, came along for a planned nine-month-visit. But because the war had started, Olga could not go back. Luckily, Lesya and Natasha were able to sponsor and bring their two other sisters, Tanya Rohanova and Zina Maksymenko – along with a niece – to the US in August 2022 through United for Ukraine, an American government assistance program. Their brother, Victor Kotin, joined the army to fight the war in Ukraine.
Helping From Afar
"Last year, when the war started, my mom and I were here together in Iowa. We didn't sleep for months. We were watching the news, wondering when this war would end – we cried and cried and cried," Lesya reflects. "I said to my mom, 'we have to do something, let's raise money!' Nobody in Ukraine was ready for war – no uniforms, no helmets, nothing!"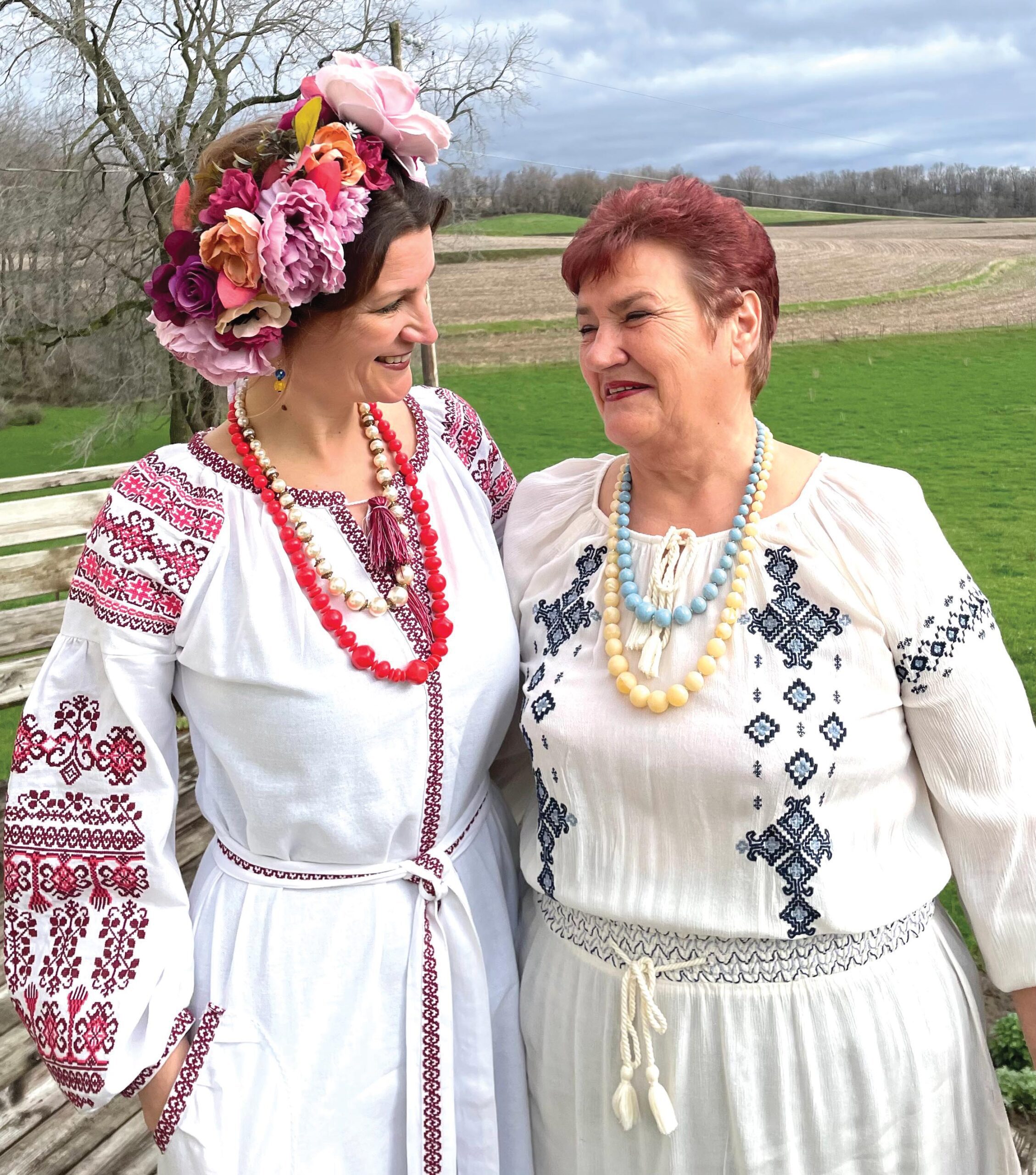 Lesya and her mom went to work, planning a fundraiser in Lansing to support people in Ukraine who were living through these difficult times.
"We cooked a meal and lots of people came to donate to Ukraine," she says. "We raised, in four hours, $10,000 and another $10,000 within the next few months. We raised $20,000 from this little town and the surrounding areas!"
Proceeds from the fundraiser went to Myronivka, Lesya's Ukrainian hometown. A small town 60 miles south of Kyiv, it is similar in size to Lansing or Waukon. Her family knows everybody there and knew exactly how the funds were going to be used: first aid kits, medicine, night vision goggles, army uniforms, soldiers' recovery, a drone, an army car, and more.
Ukrainian Village
This original fundraiser inspired the Ukrainian Village Pop-Up, a carry-out food service where residents and visitors of the Lansing area can order traditional Ukrainian food online weekly, then pick up their order on Sundays (see sidebar for ordering details). Their first pop-up was a soft opening to showcase the types of food they planned to offer, and featured lively cultural song and dance, along with moving speeches made by Lesya, her family, and other Ukrainian friends in the area. They did not ask for payment for any of the food and entertainment they provided on that day, but had a collection bowl where people could donate money to help those suffering in Ukraine.
"Any help is good," Lesya continues. "Because, lots of people lost their jobs, lots of people cannot find jobs, lots of people just fled their homes. Lots of people need lots of things. Everyone needs help in any way people can give it."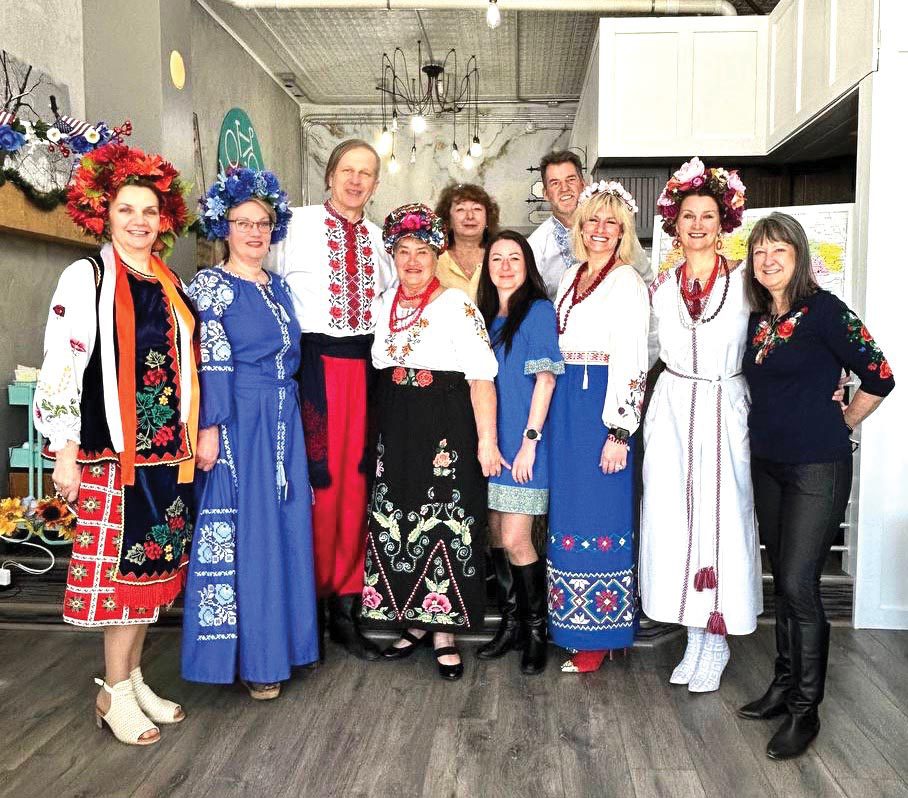 The truth is, as we are all aware, war is not an easy topic to talk or write about. We hear about tragedies and families torn apart, but we don't always know how to help.
"It is so hard, watching so much suffering and sadness," Lesya says. "It is even sadder knowing that you can just be at home, asleep or drinking coffee or watching TV, and they can just bomb you! Nobody knows when and where to expect attacks."
While it is incredibly important to stay updated on what is happening in Ukraine and across the world, Lesya and her family decided their pop-up should not only focus on helping people affected by this war, but also celebrate their home, their history, their food, and their culture. The goal is to use this tragedy as a way to share more about Ukraine, not just about the war.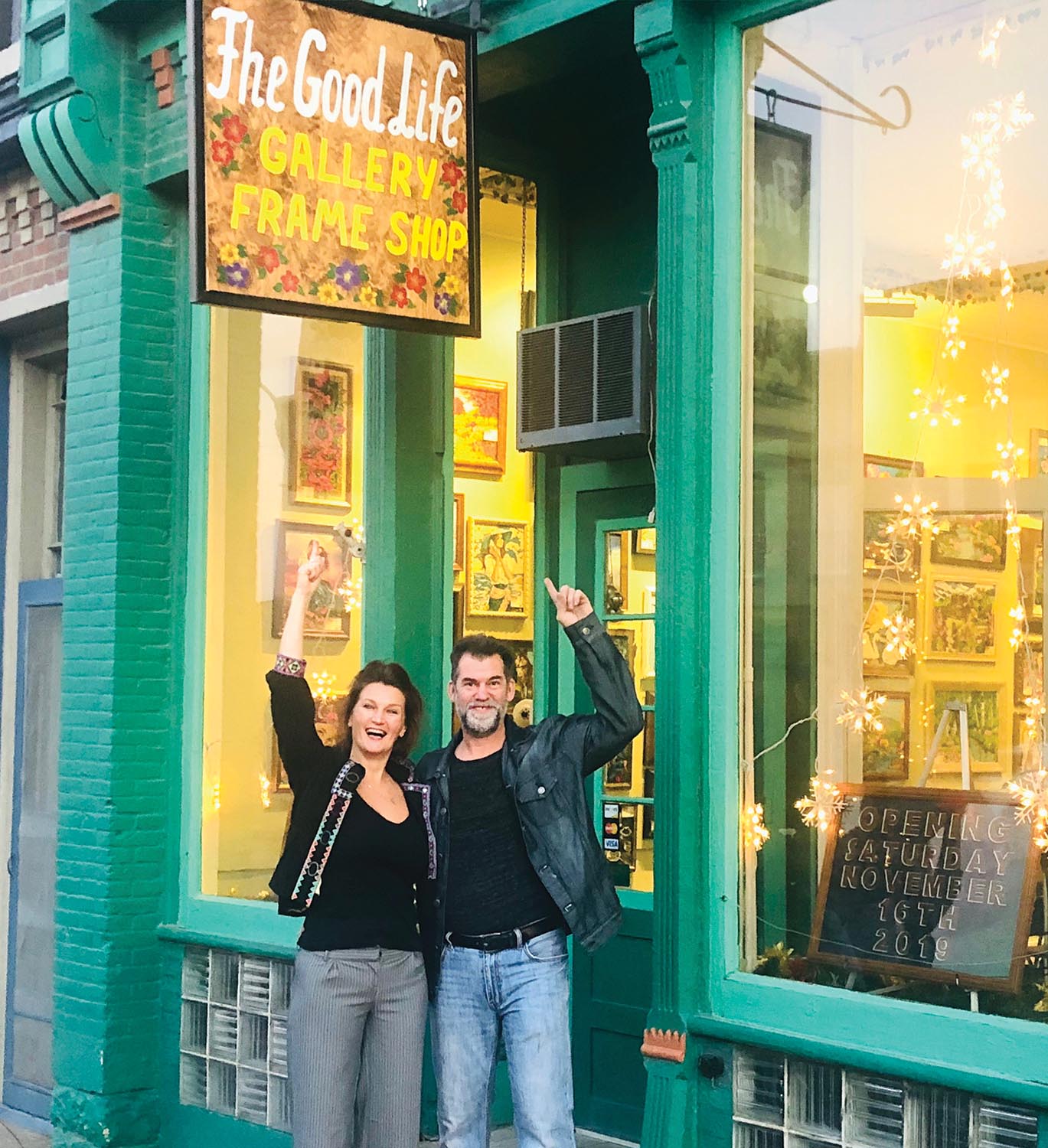 "A lot of people just stop here to talk about Ukraine. Because of the Ukrainian food pop-up events and the Ukrainian flag in my frame shop window, I have met so many people interested in helping, as well as fellow Ukrainians from La Crosse, Postville, Viroqua… all over!" Lesya says. "For the first year it was so hard, they started to talk and I would start to cry. It was just a shock to everybody. It's just a shock."
All of the proceeds from food purchased at the Ukrainian Village Pop-Up go to Ukraine. You can also send money directly – they have opened an account at Lansing's Kerndt Brothers Bank called, "Ukrainian Relief Fund," and you can send checks there or to P.O. Box 323 in Lansing, Iowa. You can also come into Lesya's shop to meet and talk to her – she welcomes it! Lesya enjoys talking about the two cultures.
Building a New Life…and Restaurant
"This life in America versus life in Ukraine, especially for women, there could be a whole article just dedicated to the differences! I can do what I want, I can get a driver's license, I can get an education, I can get a job, I can own my own business," Lesya says. "It honestly felt like my life just started when I came here to the USA."
If things continue to go well with the pop-up, Lesya and her family would love to start a brick-and-mortar restaurant in Lansing – the first Ukrainian restaurant within 100+ miles.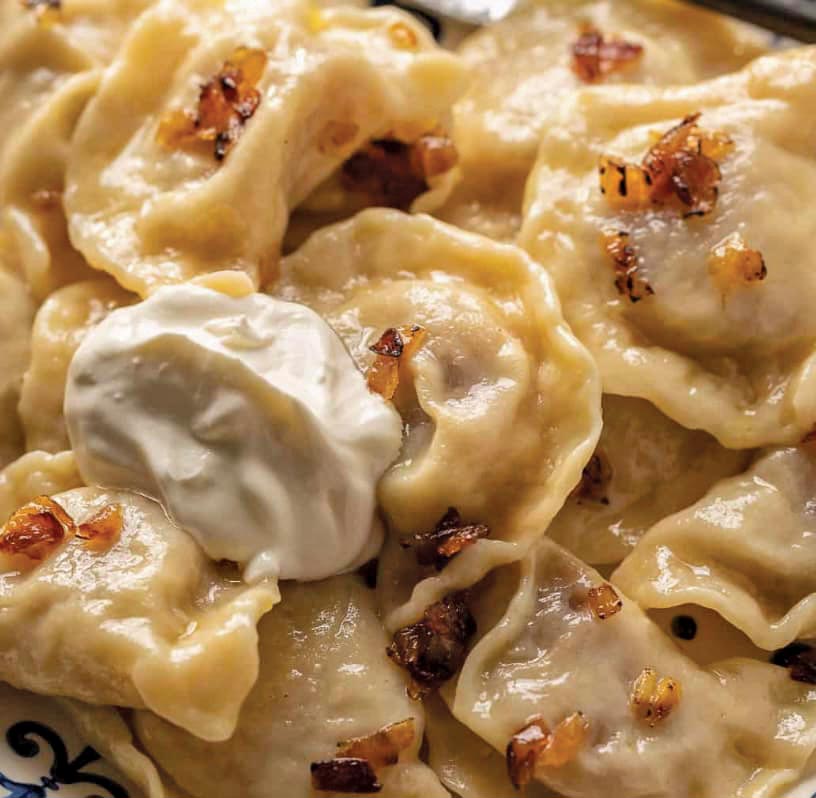 "Yes, being a restaurant owner means we will be busy all of the time," Lesya continues. "But, we love to do this. I will not look back at this experience and regret not trying. We are the type of people that cannot be still, we always have to be doing something! That is how we live our life. We love to talk to people."
Folks within the Lansing community have been nothing but supportive of this dream. In fact, one of the other local restaurant owners came to offer ideas, guidance, and help with anything they might need. Their friend, Maryann Baldwin, owner of Lansing Office Works and Lansing Kitchen Space, has allowed them to use the Kitchen Space to prepare their pop-up fare. Another friend, Andrew Boddicker, the new Executive Director of Main Street Lansing, helped get their order form created and posted online. The list of support is never-ending.
"I love this town. I love this community. I will never leave this place. I am so proud that we, as Ukrainians, can show you who we are, what we eat, how we celebrate, how we dance, how we sing… who WE are. I want to show more. Show the JOY!" Lesya exclaims. "When you come in to dine at our future restaurant, we hope people will walk in and be transported to Ukraine for an hour or two. Our music, our dances, our food… the whole experience!"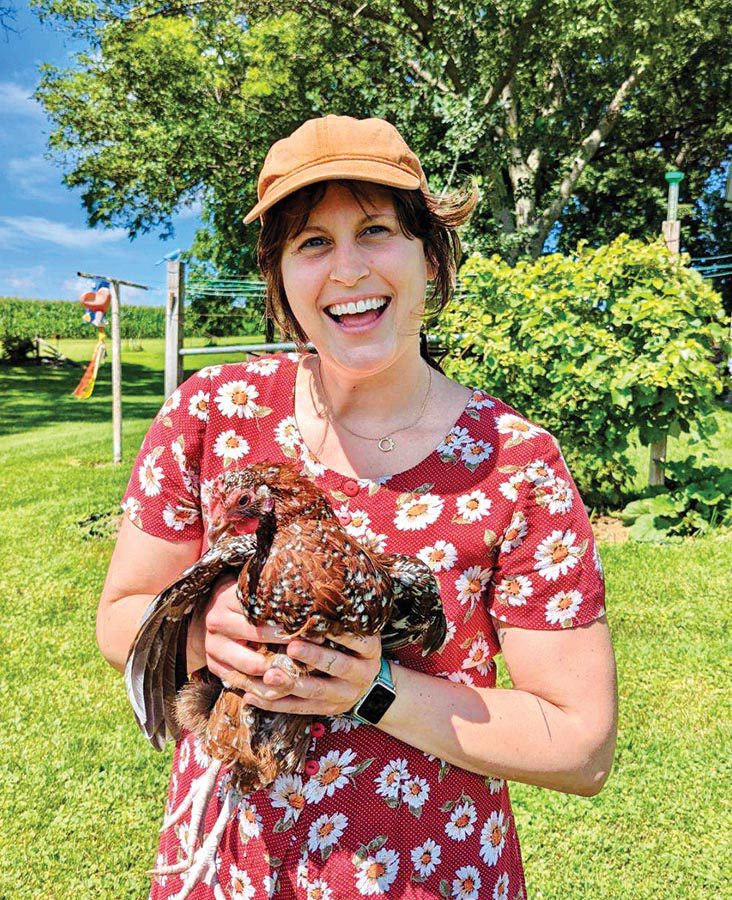 Lynsey D. Moritz
Lynsey is a Decorah, Iowa, native who now lives on an acreage overlooking the Mississippi River in Southwest Wisconsin with her husband and their dog. She enjoys exploring the Driftless area, learning new skills, traveling as much as possible, and eating all of the delicious food!
How to order from Ukrainian Village:
All proceeds from food purchased at the Ukrainian Village Pop-Up go to the Ukrainian Relief Fun. Ordering and enjoying the food from Ukrainian Village, is as easy as 1-2-3!

1. Place order before midnight on Friday – visit "Ukrainian Village in Lansing" on Facebook for details, or click here for an easy link to their jotform ordering page.

2. Choose a pick up time for Sunday (between 11am – 2pm)

3. Head to Lansing Kitchen Works, 274 Main Street, Lansing Iowa, to pick up your food at your chosen time on Sunday! And enjoy!

Notes:
• Didn't put in an order before Friday at Midnight? You could chance it – they always make a little extra food that people can pick up the day-of (but do try to order ahead). "We cannot make everything and do not want to make too much extra, because we do not want to be wasteful and throw any food away. Do you know how many people in Ukraine, and all over the world, are going hungry?!"
• They are also open to select special orders + events. "We have had some special orders," Lesya says. "One family wants us to come to their house to cook for them, or for big orders that people might like on other days [other than Sunday] we are open to coordinating that! Call me directly." 563-794-0813

Looking to support the fundraising effort to help Ukraine, but can't order food through the pop-up?

Any help is welcome – you can send checks written to:
"Ukrainian Relief Fund"
P.O. Box 323
Lansing, IA 52101

Or send it directly to Kerndt Brothers Bank, where the account is hosted:
"Ukrainian Relief Fund"
Kerndt Brothers Bank
370 Main St
Lansing, IA 52151