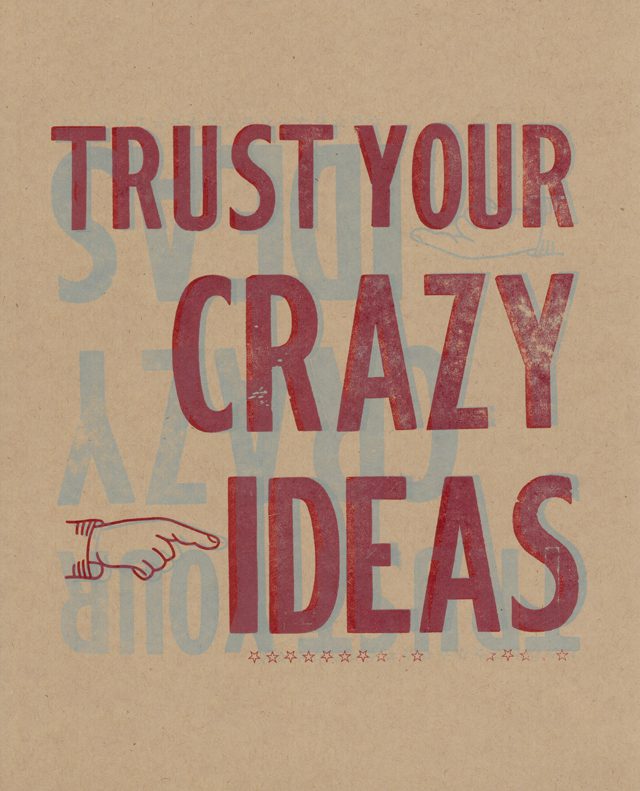 Trust Your Crazy Ideas print by Danielle Ameling, of Iron Leaf Press
By Aryn Henning Nichols • Originally published in the Fall 2013 Inspire(d)
Ossian, Iowa, native Danielle Ameling trusted her crazy idea and started her letterpress and design business, Iron Leaf Press. Turns out, it's a winner.
Everybody knows we love a good entrepreneur around here. Starting a business is… dare we say… inspiring!
It's damn hard too.
The first step is, obviously, a really great idea. The next? A really great plan.
So to help build a fire under everyone's collective bums, many cities and states are hosting business plan contests. To enter, you submit your great idea, all laid out and ready to go in a plan that says "I could start this tomorrow". Winnings range from hundreds of dollars to tens of thousands of dollars to more abstract – but equally helpful – booty like free rent and business consulting.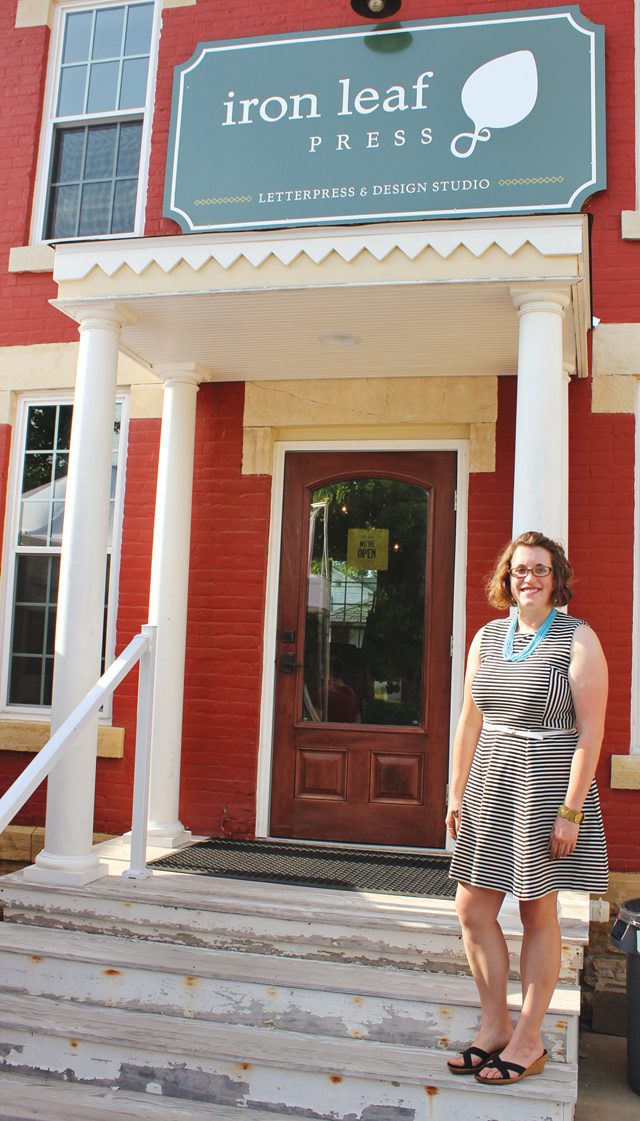 Such was the case for Ossian native Danielle Ameling (pictured at right – photo by Michael Wagler). Her business, Iron Leaf Press, won free rent for two years – plus support services and a utility stipend – through the 2013 Project Bright Idea Business Plan Contest.
Project Bright Idea was created by a group of volunteers partnering with Lisbon-based Moon Eye Ventures. It was created to encourage regional entrepreneurs to take the leap and get their plans on paper, with a goal of luring new startups to fill in vacant downtown buildings in Mount Vernon and Lisbon.
Iron Leaf Press, a custom design and letterpress studio – in business since 2011 (although Danielle started printmaking in 2007) – has now set up shop in the grand prize: a completely renovated, 1,000-square-foot historical building in downtown Lisbon, Iowa. Danielle has moved in her three presses – the Nolan proof press, a Kelsey 6"x10" tabletop platen press, and a Chandler and Price 10"x15" platen press – and has been busy making all sorts of cool stuff from invitations to posters to packaging to business cards. The only real printing stipulation: It should be flat. In addition, Iron Leaf Press provides graphic design and branding services. It's a business that's been a long time in the making for Danielle.
Above photo by Studio eM Photography
After graduating from South Winn High School in 2005 and from Grand View University in Des Moines summa cum laude with a degree in graphic design in 2009, Danielle worked at Main Street Iowa, then as a graphic designer at Cedar Rapids-based RuffaloCODY. But she had other ideas in the works. Really great ideas. (Remember: That's the first step.)
"I've always been crafting, painting, and drawing since I was a kid," she writes. "I really enjoyed drawing lettering in particular and that eventually led me to graphic design." Which eventually led her to printmaking which then led her to letterpress and finally to Iron Leaf Press.
We caught up with Danielle via email this summer (2013). In between runs on the press and helping run her boyfriend's fiancée's farmers market beignet stand, Sweet Dee's (for which she developed the branding), she managed to share some of what's inspiring her now and some strategies for starting a new business and entering a business plan contest yourself.
Interested in doing just that? Check out the listings at the end of the article for some business plan contests in the tri-state area.
Q&A with Danielle Ameling, founder of Iron Leaf Press
What's inspiring you right now?
Everything and anything really. I particularly enjoy vintage typography and illustrations, especially vintage packaging. I usually get inspired by my surroundings and friends. At one point I decided I was going to host a show called "Fun with Paper" (a la Sheldon Cooper) after trying to describe the difference between text and cover weight paper to a group of friends (paper nerd!). A lot of the greeting cards come about from off the cuff comments in these discussions. (ed. note: one of her cards reads: "sh*t happens when you party naked".)
I also am a member of both the Ladies of Letterpress and the Amalgamated Printer's Association. Both groups have some amazing printers and I continually am inspired by the work that they put together.
Photo by Jen Madigan Photography
Why letterpress?
Letterpress, for me, is a way to be creative not only in the design, but in the production. I like being able to work with clients on special projects – those that have a very personal impact. I also really enjoy the challenges of working through production. Using antique printing presses can create their own challenges, but I like being able to have that control over the end product.
I create the majority of my greeting cards using hand-set type, which is a challenge in itself. Each letter is a separate piece of metal or wood type and must be locked in place or the type will be "pied," meaning the type will fall and have to be re-set. It really makes me appreciate how much skill and craftsmanship went into printing in the past.
Beyond all of that, the machinery related to the printing field (especially those in the late 19th century) are amazing feats of engineering and technology. It's amazing to know that I can produce these items with this antique machinery, and currently all of my equipment runs on NO electricity (other than my computer). Everything is human powered.
Photo by Jen Madigan Photography
You're kind of a jack-of-all trades, design-wise. What else do you do? (Or should we ask what DON'T you do?!)
🙂 I do work on a lot of different projects. The main projects I focus on are commercial and social stationery including invitations, notecards, business cards, packaging, posters, and greeting cards. I also do logos and branding. I can print on most things, as long as they are flat, so there are many options out there – I've even printed on boxes and gift bags before.
In addition to the custom and commercial work I do, I have a line of greeting cards and paper goods that I sell online, at art/craft shows, and in select retailers.
I have some experience doing email and web design (I take care of those for Iron Leaf Press) but that's really the only design area that I don't do a ton of work in –I've always been more of a print designer.
Out of all that, what's your favorite?
I think my favorite projects are the ones where I get a chance to really connect with the recipient. Hearing the story on how a couple met for a wedding invite or how someone is looking for a gift to celebrate a promotion, etc. – the stories behind the pieces are always fun for me.
Tell us about the business plan contest process.
I had participated in the Dream Big, Grow Here regional contest back in the fall (run by University of Northern Iowa's MyEntre.Net). I didn't end up winning, but that helped propel me forward into pursuing Iron Leaf Press more full time. I had been on the lookout for a larger studio space to add some larger equipment and heard about Project Bright Idea in Lisbon. Each applicant had to provide a detailed business plan (prior to winning this space, everything was in a small room in my second-floor apartment). The committee met and reviewed the applicants (I wasn't privy to this part of the process so I'm not sure all of what happened behind the scenes). Eventually Moon Eye Ventures wanted to meet with me and discuss my business plan and goals. I met with them a few additional times and they ended up choosing me for this space.
Photo by Jen Madigan Photography
Advice to others who want to start their own business? How about others who want to enter a business plan contest?
Keep your chin up and keep moving forward. Throughout this process I kept asking myself if I was crazy – especially once I bought my largest press that weighs in at over 1500 lbs – but I bought it anyway. If you believe in your business and it is a passion, you will find ways to make it work.
Also be sure to surround yourself with people that love and support you with your crazy ideas. My family and boyfriend and friends have been extremely supportive and that makes a huge difference. Meeting with other business owners is a great resource as well. They know the type of things you are working through and often have ways to help you grow.
Specifically with business plan contests, plan your business like you are going to win. Make your plan show exactly how you are going to use the winnings and how it fits into your overall goals. Be confidant, but humble. For someone to "buy into" your business, they are just as much buying into your personality and demeanor.
————————————
Aryn Henning Nichols is also a paper and print nerd. Wouldn't it be fun to print Inspire(d) all old-school? Okay, maybe just one. Okay, maybe just one cover. Oh wait! No need; it's already done. You can buy those at ironleafpress.com! Seriously, folks: trust your crazy ideas!
P.S. Danielle says the Printer's Hall in Mt Pleasant, Iowa, is worth a visit for any print inclined folks. "It has some amazing printing equipment, including a machine that lines paper – that's all it does (in the past it would do mostly ledgers) but it looks similar to a giant weaving loom." The old Ossian Bee printing press is also there, as well as the lock up for the last front page it printed for the Bee. "It runs off a steam engine and is a wild machine."
———————————————————
Got a Great Idea? Make a Plan. And WIN!
——————————————————–
Dream Big, Grow Here / NE Iowa Business Network
Deadline: Current contest deadline has passed, but stay tuned and start planning for the next round!
www.dreambiggrowhere.com
This is a grant contest is open only to Iowans.  Dreamers compete online for votes for a shot to win a $5,000 regional grant, and then become eligible to further compete for a chance to win a $10,000 grand prize to be announced at EntreFEST 2015.
Wisconsin Govenor's Business Plan Contest
Deadline: 2015 deadline has passed, but stay tuned and start planning for the next round!
www.govsbizplancontest.com
The mission of the Governor's Business Plan Contest is to encourage entrepreneurs in the creation, startup and early-growth stages of high-tech businesses in Wisconsin. Finalists will share in more than $100,000 in seed capital and in-kind services. Since its inception in 2004, nearly 2,300 entries have been received and about $1.5 million in cash and services have been awarded.
The John Pappajohn Entrepreneurial Centers Iowa Business Plan Competition
Deadline: June 20, 2015
www.iowabusinessplancompetition.com
The plan must be an original idea for a business in operation for four years or less or have not yet reached cash flow positive financial status. The principal business operations of the business must be located in Iowa. One Grand Prize Winner will receive $25,000 and, in addition, recognition of their work on the website for the competition. ($15,000 for Second Prize and $10,000 for Third Prize.)
The Minnesota Cup
Deadline: May 8, 2015
mncup.org
Since 2005, the Minnesota Cup has attracted over 7,000 entries and is now the largest new venture competition in the country. This program is for Minnesota's entrepreneurs, inventors and small business people. It is for those individuals or early stage businesses that are pursuing their dreams and working on their breakthrough business idea. Prizes range from $5,000 to $40,000.