By Sara Friedl-Putnam • Orginally published in the Winter 2014-15 Inspire(d)
Have you ever tried pilates? Gotten a chiropractic adjustment? How about acupuncture? There are so many new, interesting, and – yes – alternative ways to treat yo' self, and we can't imagine a better time than RIGHT NOW to make it a priority. It's dark at 5 pm. May as well meditate! Nothing to do this weekend? Volunteer! Feeling stir crazy? Give spinning a chance! Who needs a New Year's resolution? Start a New You resolution to make the most out of these cold winter days.
National Treat Yo' Self Day (Parks and Recreation, anyone?) has passed (October 13), but the idea inspired us: We should be doing this all winter! Or even all year! We put Inspire(d)'s Sara Friedl-Putnam on the task. She chatted with local experts to learn more about new ways to be healthy, find happiness, and take care of YOU this winter season.
Don't put much stock in this stuff? Consider it a challenge: Try something new! Don't think you have time to treat yourself? Think again – nothing could be more important!
(Above photo by Andrey Ezhov / Shutterstock.com)
Acupuncture
Brenda Harris, owner, Acupuncture Center
309 West Broadway Street, Decorah, Iowa
www.acupuncturecenterdecorah.com; (563) 382-9309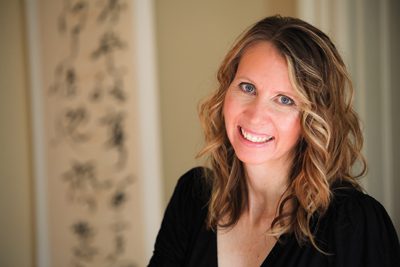 (photo at left by Silver Moon Photography)
"The needles don't hurt," says Brenda Harris, licensed acupuncturist, displaying one of the wisp-thin (think hair-width) needles she uses during a typical session at the Acupuncture Center in Decorah. "That's the question everyone asks, but while you may feel a little sensation or 'zing,' there's typically no pain involved."
A little "zing" seems a small price to pay for the potential benefits of acupuncture, a traditional Chinese medical practice that involves inserting needles through the skin at strategic points to treat (and prevent) pain and maintain good health.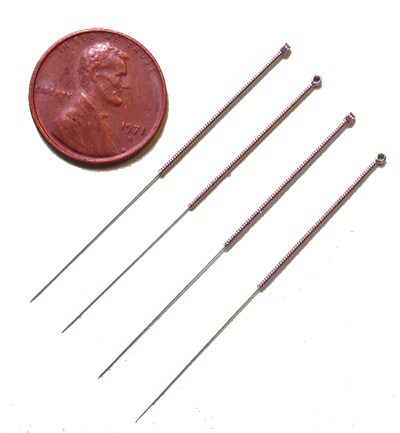 "Acupuncture, like all Eastern medicine, works on the entire person, not just the symptoms," says Harris, who also offers Qigong classes as well as herbal medicine remedies. "There's less importance placed on the diagnosis you're coming in with than on what's happening in your whole body – almost anything can be treated with acupuncture, from a mild common cold to something more severe like autoimmune disease. It's also becoming more known for addressing mental-health issues like anxiety and depression."
(Creative Commons image at right)
So how, exactly, does it work?
Traditional Chinese medicine embraces the belief that, along with blood vessels and nerves, people have channels of energy – called qi (pronounced "chee") – that flow right alongside their other body systems. "As long there is flow and that energy is running the way it is supposed to, you are well," explains Harris. "But when that energy gets stagnant or deficient, then you get illness or pain." The needles open up blocked channels or, when used preventively, help ensure those channels remain open.
"Acupuncture works very well in concert with Western medicine; it's not like someone has to do one or the other," says Harris. "It really can help almost anybody – from the very young to the very old – there is no target audience."
Chiropractic adjustment
David Gehling, doctor of chiropractic and owner, Decorah Chiropractic Center
405 College Drive, Decorah
www.decorahchiropractic.com; (563) 382-0700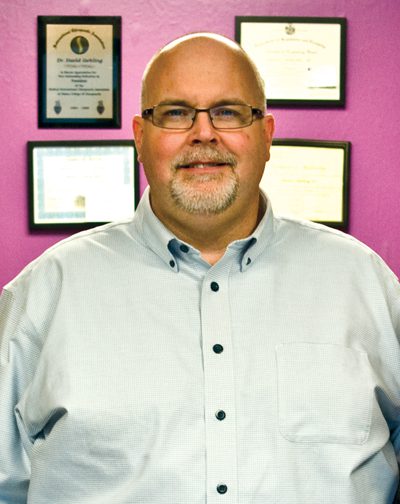 While its roots aren't quite in the Driftless Region, chiropractic care was formalized pretty nearby, says longtime Decorah-based chiropractor Dr. David Gehling.
"Chiropractic began in 1895 in Davenport, Iowa, with D.D. Palmer, so it's fairly local and it's fairly new."
That said, there is evidence that chiropractic adjustment – i.e. spinal manipulation – has been around far longer than that.
"It's 'new' in the sense that spinal manipulation became scientific, licensed, and specific through Palmer in Davenport," he says. "But hieroglyphs in Egypt appear to show people being adjusted – it's definitely been around for a long time."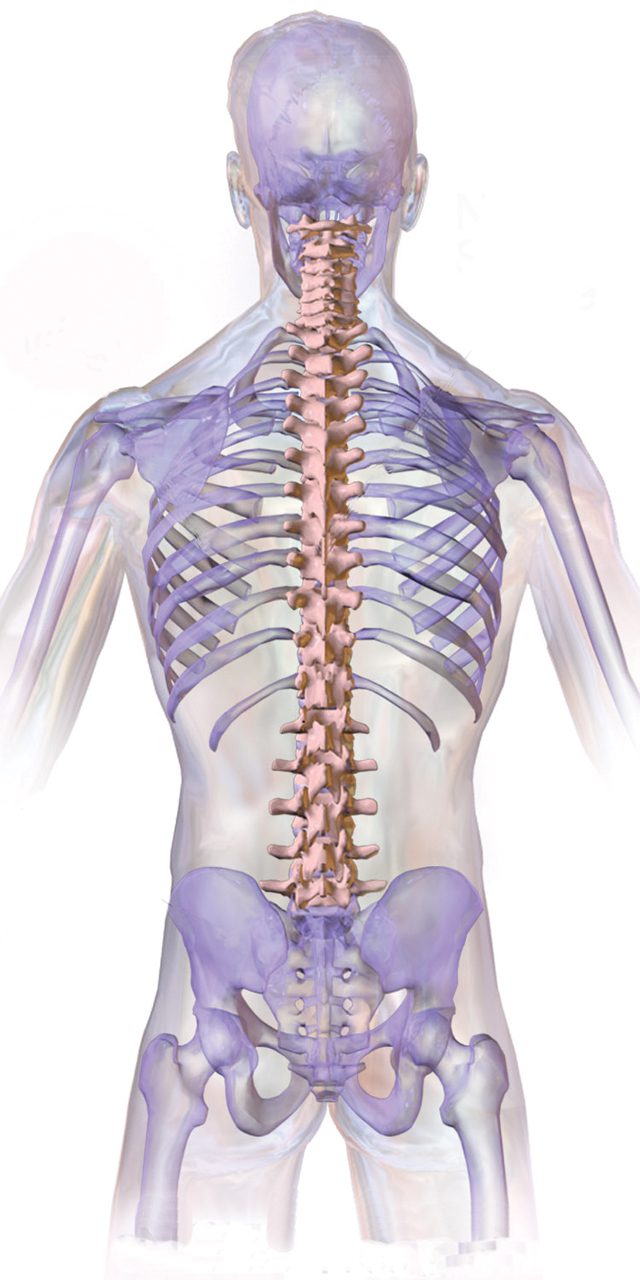 Modern-day folks are starting to catch on as well. "More people are seeking chiropractic care because they want a natural approach to health, an approach that will ease pain and may help them avoid drugs or irreversible surgery," he says.
Chiropractors practice a drug-free, hands-on approach to health care that includes patient examination, diagnosis, and treatment. That might include x-rays, mobility assessments, spinal manipulation, and even electrical muscle stimulation. (Electrodes that send light electrical pulses to different areas of the body are placed on the skin to reduce inflammation, muscle spasms, and back pain.)
(Creative Commons image at right)
The main goal of spinal manipulation is to correct structural alignment and improve the body's physical function. While low-back pain, neck pain, and headache are the most common ailments being treated, adjustments benefit the whole nervous system – from your brain to your spinal cord to every single nerve, says Gehling.
"Getting your nervous system adjusted has even been proven to increase T helper cells in your body, which are the 'little guys' that attack germs," he says. "Someone whose immune system isn't functioning well can in fact boost it by adjusting their spine, which sounds like a total 'quack' thing."
A growing body of research suggests that it's not "quack" at all. The central nervous system, which is protected by the spinal column and the cranium, controls the function of all the cells, tissues, organs – and, yes, the immune system – in the human body.
Therapeutic Massage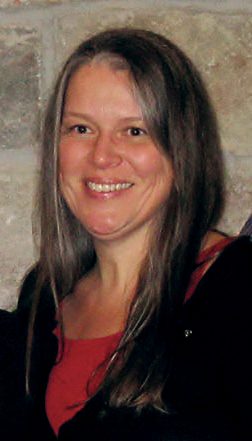 Michelle Williams, owner, Day Spring Spa
116 Washington Street, Decorah, Iowa
www.dayspringspa.net; (563) 382-0799
Even the ancient Greek physician Hippocrates gave therapeutic massage two thumbs up: "The physician must be experienced in many things," he wrote, "but most assuredly in rubbing."
Michelle Williams, licensed massage therapist and owner of Day Spring Spa in Decorah, believes just as firmly in the healing power of massage. "It addresses specific injuries and chronic pain; improves circulation and mobility; and reduces muscle tension," she says. "It also provides relaxation and relief from stress, gives an improved sense of health and well-being, and boosts the immune system… all especially beneficial in the winter."
According to studies at Mayo Clinic, massage may help treat a myriad of ailments – from anxiety and digestive disorders to headaches and fibromyalgia.
The types of massage offered today are just as varied as its potential benefits. During hot-stone massage, for example, practitioners place heated, smooth stones on certain body points to warm and loosen tight muscles and balance the body's energy centers. A session of Ashiatsu massage – ashi for foot and atsu for pressure – calls upon the practitioner to (you guessed it!) use their feet to deliver a strong deep-tissue massage. Of course, if neither of those is your cup of tea, there are many other techniques offered at Driftless Region spas, including the most common Swedish massage, where practitioners use long, rhythmic strokes to relax both mind and body.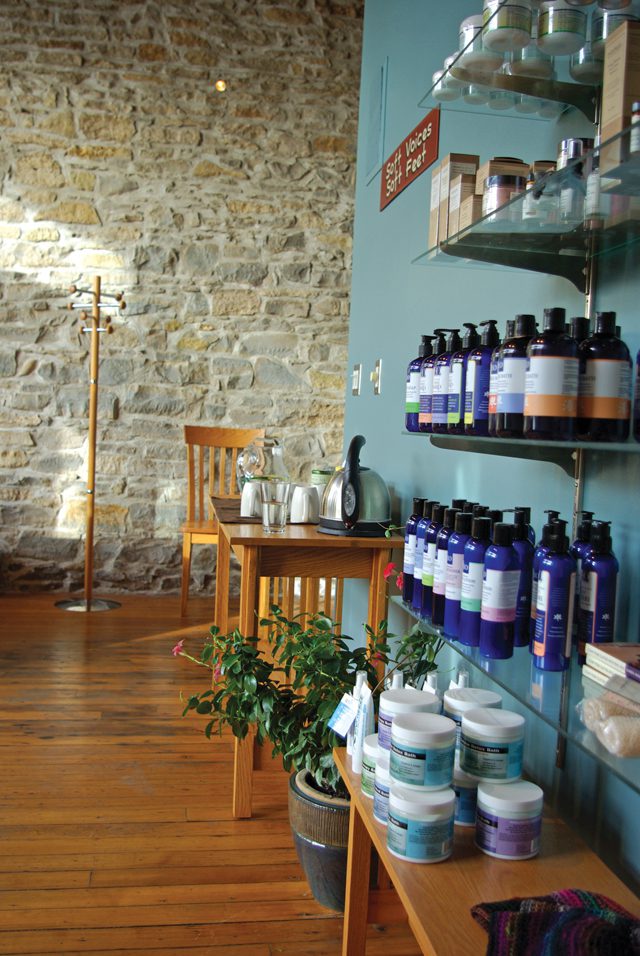 (The lobby of Day Spring Spa – photo by Aryn Henning Nichols)
Williams believes anyone can reap the benefits of massage. "It's always good therapy and really does work for every age and stage of life, including pregnancy," she says. "Massage is one of the best things we can do to become and stay healthy in body, mind, and spirit." 
Mental Health
Marcia Oltrogge, executive director
Becky Loven, clinical director
Northeast Iowa Behavioral Health (NEIBH)
905 Montgomery St, Decorah, Iowa
with branch and satellite offices throughout Northeast Iowa
www.neibh.org; (800) 400-8923
Think you have to have be schizophrenic or bipolar or – at the very least –super depressed to go to see a therapist – a psychiatrist or psychologist – or even a counselor? Think again. Everyone has "stuff" to work out, and almost (or dare we say, yes,) everyone would benefit from a visit with a mental health provider at some point in their lives – often many points in their lives.
Becky Loven, clinical director at Northeast Iowa Behavorial Health (NEIBH) – a community mental-health center that provides services in five Northeast Iowa counties – agrees.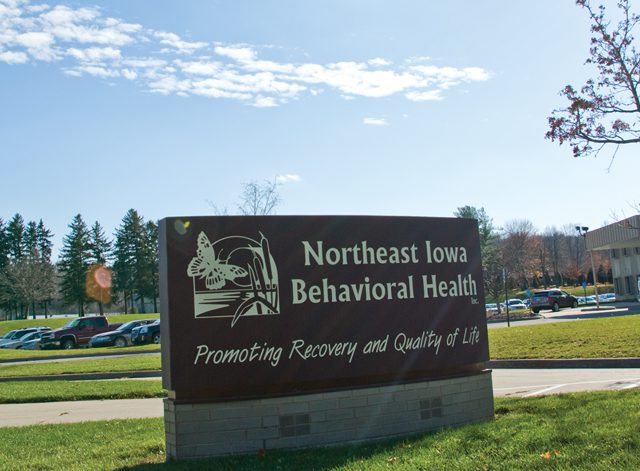 "Up to 90 percent of the population would benefit from touching base with a mental-health provider to get a reminder of how best to take of themselves," says Loven. "A lot of people just tough it out themselves, but how difficult is that and how long does it take?"
Mental health and counseling services can help people feel better about or work through a variety of struggles: anxiety, body image, PTSD, post-partum, marital issues, substance abuse, grief, depression, or even just a feeling you can't quite put your finger on…and that's just to name a handful! Achieving good mental health could even be the switch that allows you to find good physical health in your life as well.
Want to try some things out at home when you're feeling low? "Take a quick walk or get up off the couch and do a little jig during TV commercials," says NEIBH executive director Marcia Oltrogge. "Have a cup of coffee with a friend. Pull open those shades to let in the sunshine. Take a minute or two to jot down your schedule for the day."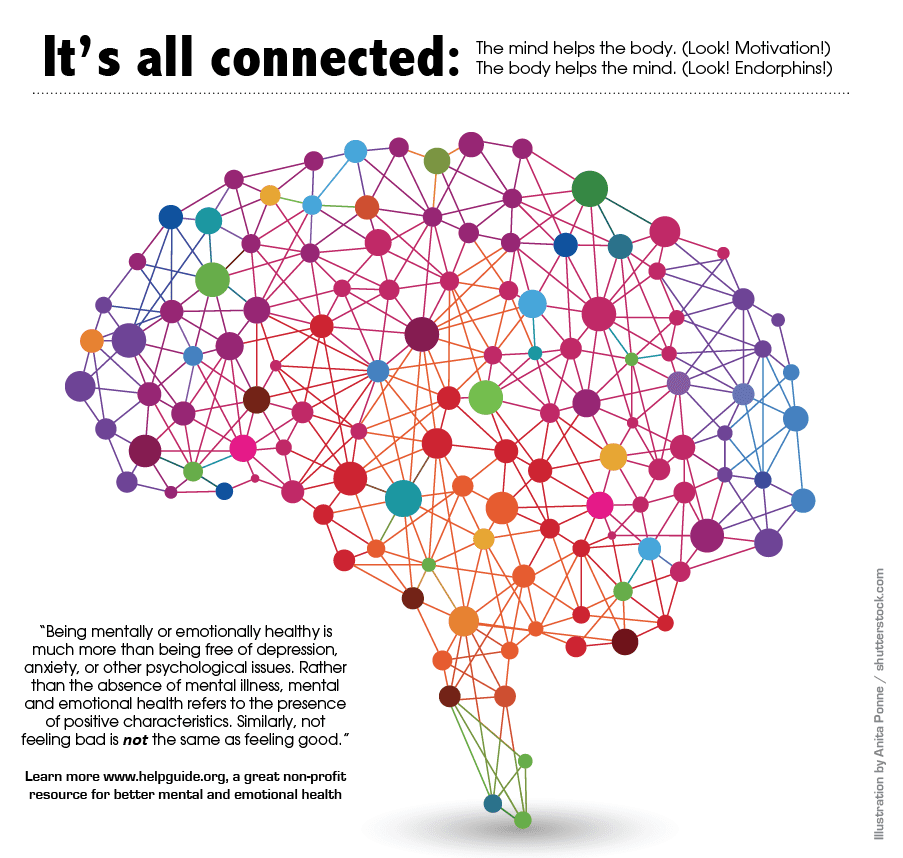 NEIBH also advocates for the Wellness Recovery Action Plan – WRAP – authored by Mary Ellen Copeland. NEIBH was one of the first programs west of the Mississippi to be trained in WRAP. "It is something we use with individuals to help them identify when things are starting to slip, before you are having a really tough time and can't remember what it looks like to be happy and well," says Oltrogge. "It seems simple; it seems very common sense, but to have that structure and to use it as a daily preventive tool is very powerful."
For area residents who may be struggling, NEIBH offers plenty of help – crisis counseling and individual and group counseling for most any mental-health or substance-abuse issue – as do a range of other Driftless Region mental-health providers. Choosing a therapist who works well with you is vital to the process. NEIBH has a great resource page (www.neibh.org/links), as does counseling service page for Luther College (www.luther.edu/counseling/off-campus).
Volunteering
David Runyon, executive director, Helping Services for Northeast Iowa
P.O. Box 372, Decorah
www.helpingservices.org; (563) 387-1720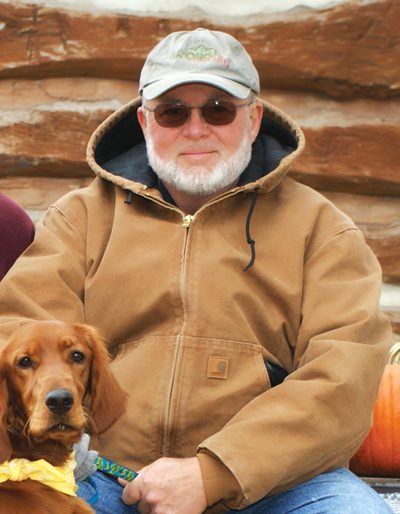 Volunteering not only helps others, but makes you feel pretty good too.
"We all win when we volunteer," says David Runyon, (now retired) executive director of Helping Services for Northeast Iowa. "I firmly believe there's a link between good mental health and giving back – volunteers benefit by working together to help their community, have fun, develop new skills, and perhaps even learn about new career paths."
Runyon estimates that this past year, Helping Services accrued more than 8,000 volunteer hours at their agency along, and other opportunities abound throughout the Driftless Region as well – at schools, churches, libraries, shelters, and nonprofits where the need for time and talent is large and the paid staff is small. "Delivering quality services at many nonprofits absolutely requires the skills and commitment of volunteers," says Runyon. "They are the heart of most nonprofits, including Helping Services."
Founded in 1973, Helping Services for Northeast Iowa promotes the health and wellbeing of children and adults through direct-service programs in seven counties. Interested in mentoring a child or perhaps joining a steering committee for the mentoring program? Feel a calling to answer the domestic abuse crisis line? Want to staff the annual (and aptly named!) "Holiday Lights, Magical Nights" fundraiser? Then give Helping Services a call (or find out what's options are available in your area).
"Explore what your interests are and match them with opportunities," urges Runyon. "We really need you and, more importantly, so does your community."
——
We'd be remiss if we didn't talk about the two of the most important – albeit, less "alternative" – things to taking care of you: healthy food and active bodies.
Diet and Nutrition
Jacky Budweg, registered and licensed dietician
Decorah, Iowa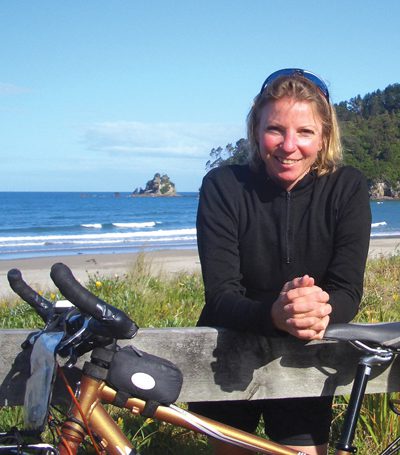 Eating well is important year-round but even more so in the winter months – i.e. the dreaded cold and flu season. "There absolutely is something to 'we are what we eat,'" says Jacky Budweg, registered and licensed dietician. "If we eat healthy foods, we will feel better and be better able to fight off colds, the flu, and other illnesses."
In fact, just a few simple changes can mean big improvements in health. Merely increasing consumption of rich-colored (purple, blue, red, orange, and yellow) fruits and vegetables loaded with antioxidants like beta-carotene and vitamins C and E will boost the immune system and its ability to ward off illness.
"I could go on and on," she says. "A good diet helps our body function properly, gives us muscle strength, and aids us in maintaining a healthy weight."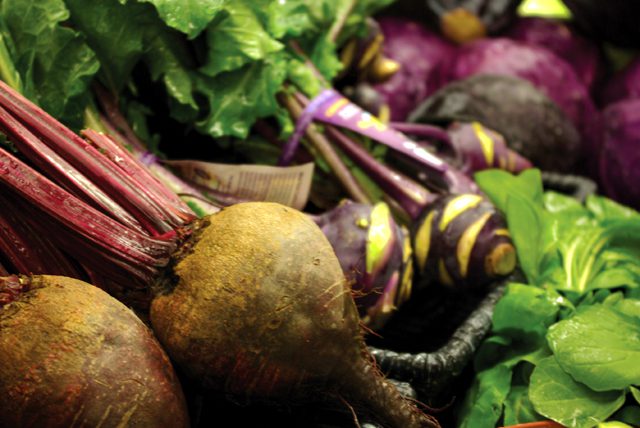 Think you don't have enough time to eat well? Try planning ahead – preparing and freezing a good meal when you have the time. Are you on a tight budget? Then shop strategically, says Budweg. "Clip coupons that you will actually use, always grocery shop with a list, check out the unit price, grow a garden in the summer and freeze or can vegetables for future use, and buy store brands if available," she advises. "Also remember that meals don't have to be fancy or complicated to be healthy."
Looking to explore even more? Maybe this winter, you could taste-test some organic fruits and veggies or take a healthy cooking class (try Oneota Co-op's options!)
"There are so many options," she says. "Everyone can find healthy foods they like to eat, you just have to try!"
Exercise
It's common knowledge that exercise promotes weight loss, strengthens muscles, and combats health conditions like heart disease and high blood pressure. But did you know that you can actually change your improve your mental health after only 10 minutes of physical activity?
The Driftless Region offers plenty of fun outdoor exercise options in the winter months – from cross-country and downhill skiing to snowshoeing and – for the diehard – running or power walking. (Just make sure to get those Yaktrax for slippery spots!) But if exercising in snow and chilly temps isn't your thing – or you just want to shake up your routine – check out some exciting indoor options in Decorah!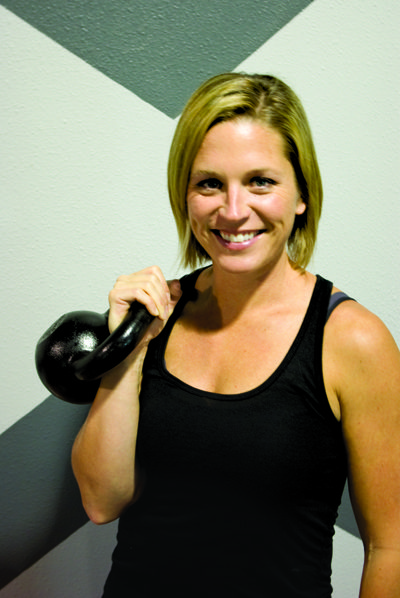 Alecia Bucksa, owner, B.Fit Studio
105 Railroad Avenue, Decorah, Iowa
www.bfitdecorah.com; (651) 341-2512
The temps may be dropping, but the heat (and energy level!) is most definitely rising inside B.Fit Studio as members hoist kettlebells, beat battleropes, swing sledgehammers, and, oh yeah, sweat buckets during a fast-paced, 45-minute workout designed specifically for strength training and cardiovascular conditioning.
"Feeling good physically increases mental satisfaction," says Alecia Bucksa, who bought B.Fit (formerly Rejuvenation) in October 2013. "Once you start to feel stronger and healthier – and once your jeans start fitting better – your self-esteem rises."
Certified in KBI-style kettlebell instruction, Bucksa works with a team to create constantly changing workouts that incorporate props like jump ropes and TRX suspension trainers, but are centered around the kettlebell, a cast-iron or steel weight with an attached handle. The kettlebells are used to perform ballistic exercises that combine cardiovascular, strength, and flexibility training. Movements such as the swing, the snatch, and the clean-and-jerk (to name just a few) engage the entire body simultaneously to build strength and endurance – and can be really fun to boot!
Be it kettlebells or a different form of physical activity, Bucksa advises new exercisers to stick with their chosen fitness routine, not expect immediate results, and make it a part of their daily routine. "I see it all the time – as people start to feel the difference from exercising, they get hooked," she says. "From there, working out becomes habit, and missing a workout just doesn't feel right."
Laree Schouweiler, owner
Reefuel indoor cycling and yoga studio
105 Railroad Avenue, Decorah, Iowa
(Housed in the same building as B.Fit, the two gyms now offer "cross-over" packages!)
www.reefuel.biz; (612) 207-1901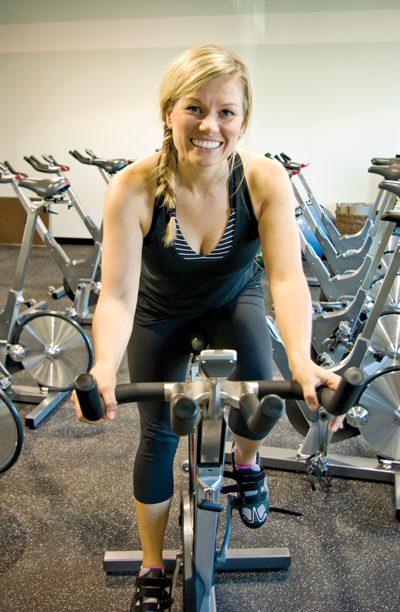 "Push-pull, push-pull," encourages indoor-cycling instructor Laree Schouweiler, her radiant smile lighting up the Reefuel studio very early (think 6 a.m.) most mornings. "Even if the music stops, remember you do not."
Opened in early 2014, Reefuel offers a range of indoor cycling classes (most lasting 45 minutes) for people of all ages and abilities. "Indoor cycling is something that I feel like every able-bodied human can do," says Schouweiler, who also offers Vinyasa yoga classes. "You can literally sit on the bike and not increase your tension and at least you're moving – as a culture, we sit a lot and need to do a lot more moving."
Schouweiler describes the classes as "super high-energy." Participants mount adjustable Kaiser M3 indoor cycles and, motivated by loud tunes and enthusiastic instructors, mimic outdoor rides – a steep hill climb, a sprint, a gradual ascent, you name it.
The same holds true for the studio's Vinyasa or "flow-yoga" classes, in which participants link breath to movement to achieve a meditative state. "The most common myth is 'I'm not flexible so I can't do yoga'," says Schouweiler. "That's actually the biggest reason why you should do yoga." Starting early 2015, Reefuel will also offer warm and hot yoga classes.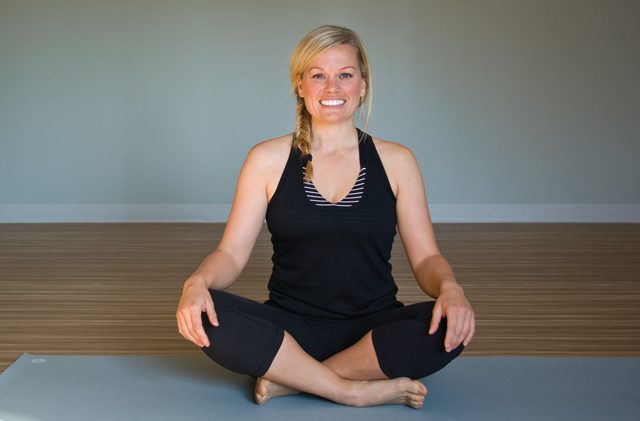 A lifelong athlete, Schouweiler acknowledges that even the most motivated exercisers don't always budget time for a workout, but stresses its importance: "You can never replace the benefits of a workout, but you can always get back to your to-do list."
Amanda Rhine, owner, Discover Happy
222 East Water Street, Decorah
www.discoverhappydecorah.com; (563) 419-0346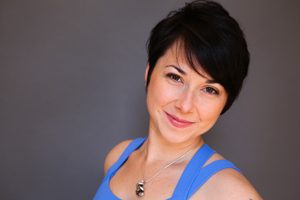 "Moving your body can fuel more possibilities in your life," says Amanda Rhine, owner of Discover Happy Pilates and Wellness Studio in Decorah. "Why wait for that? You have nothing to lose by moving."
(Photo at right by Silver Moon Photography)
Pilates – among the fastest-growing activities in the United States – boasts millions of practitioners in gyms, community centers, and studios across the nation. It improves flexibility, builds strength, and develops control and endurance in the whole human body. There is an emphasis on alignment, breathing, and developing a strong powerhouse, in addition to improving coordination and balance. But, Rhine says, there are benefits beyond the physical as well.
"It absolutely does build flexibility, muscle strength, and endurance in the legs, abdominals, arms, hips, and back, but it's not just a workout," says Rhine of the exercise philosophy developed by Joseph Pilates in the first half of the 20th century. "It's a system by which to live – a system that changes the way you feel about yourself, your life, and the world that surrounds you."
Discover Happy offers private lessons along with a full range of Pilates classes, including mat, demi-bar, apparatus (think stick and tower), adaptive response, and stretching. The newest class additions? Aerialates and cardio-dance – the latter of which Rhine describes as "just flippin' fun." "How many times in the week do you have your instructor say, 'you better twerk it…you better twerk it good?'" she says with a laugh.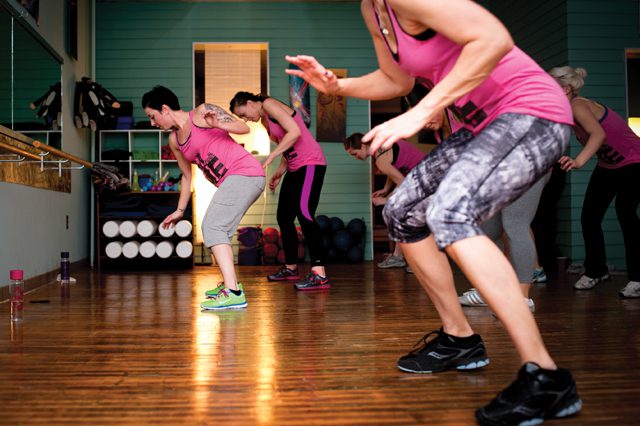 (Photo by J&A Photography)
Whether twerking is your thing or not, Rhine encourages folks to explore not only Discover Happy's but also the community's numerous exercise options. "Sometimes people don't know what exactly is going to be effective for them – if it's something that makes them sweat, or something that makes them more mentally present," she says. "There is something for everyone, and once you discover the thing that you love, that's when you discover how happy it can make you."

———————-
An avid exerciser, (somewhat) healthy eater, community volunteer, and strong proponent of mental-health services, Sara Friedl-Putnam thoroughly enjoyed learning more about these and other ways to attain and maintain health and happiness while working on this article.
Disclaimer: Alternative healing practices (such as chiropractic care, acupuncture, or massage therapy) are called complementary and alternative medicine (CAM). If you think you might need medical attention, it is recommended that you check with your regular physician before seeking alternative treatment.
Perhaps you've heard the phrase "Treat Yo' Self" – probably said by your funny/fun friend when you're deciding whether to eat that cupcake or leave work early to go to yoga. It originated from the TV show Parks and Recreation, when Asiz Ansari's character and Donna plan a day that would be all about them. It's since taken off, and become somewhat of a movement. We love it.
Treat Yo' Self day is about pampering, relaxing, and rewarding yourself for being awesome. And we all are awesome. Each and every one of us. We need to remember that we don't have to be busy, busy all the time. We don't have to work every second of the day. We can treat ourselves. Go to a movie. Make a date with a friend. Have that mimosa. And beyond that – make time for things that will make you feel better. Massage. Pilates. Acupuncture. Try it out. See what you think. Treat Yo' Self!