Driving down Water Street, approaching Decorah from the west, peek left to see the giant wrap-around mural gracing Vesterheim Museum's Mill Street wall. It's a colorful kick-off to a vibrant downtown.
"I wanted to convey that communities can be beautiful patchwork quilts rather than melting pots – that the families who have been here for generations and those who have arrived more recently all contribute to the larger community, both its past and its future," says Decorah-based illustrator and designer Lauren Bonney, who designed and painted the mural last year.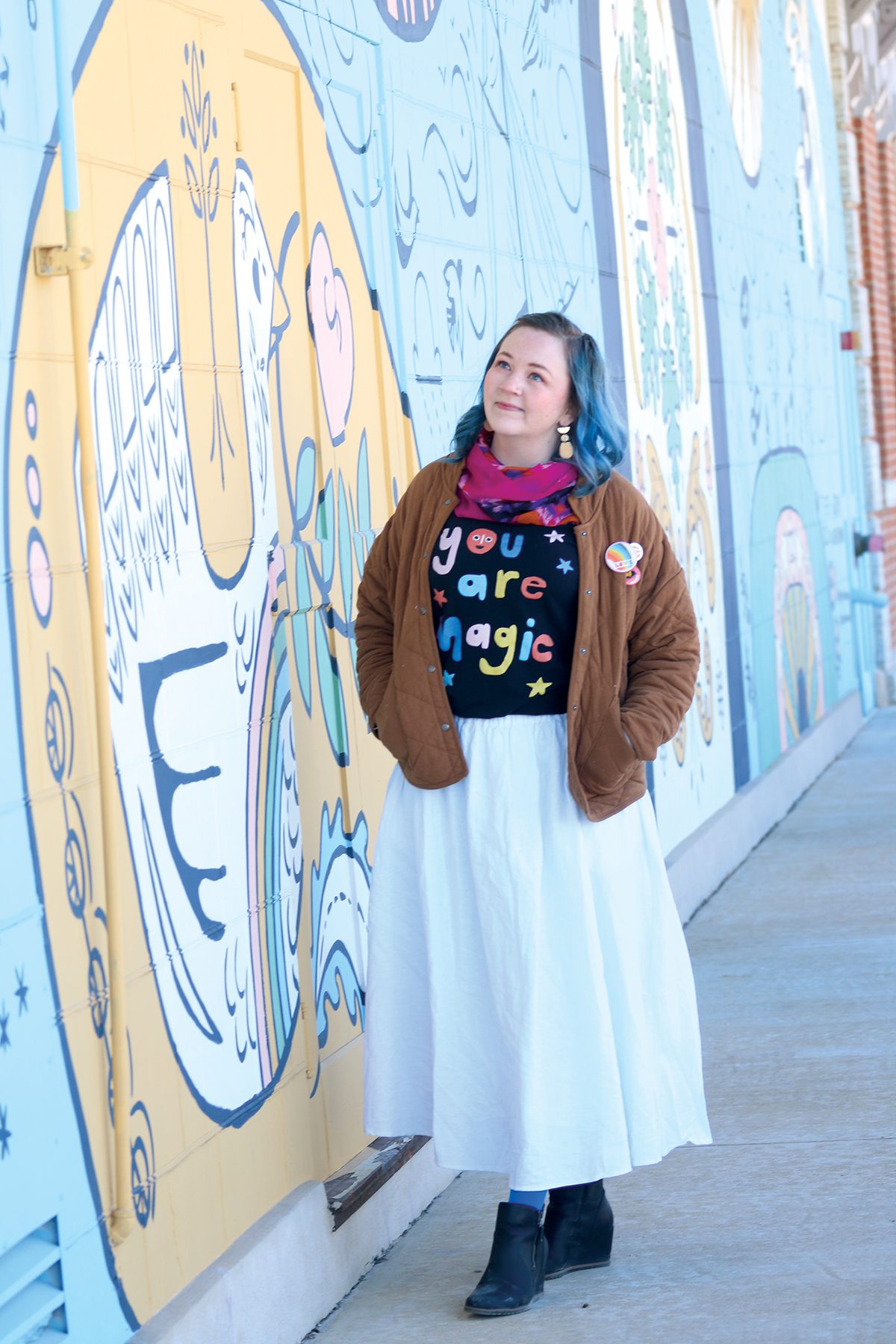 Lauren's "deceptively whimsical" work has been featured on the walls of Decorah's ArtHaus, the merchandise of Nordic Fest, and the cover of Inspire(d) magazine (indeed, this very one!). But it was the Vesterheim Museum that provided her biggest canvas yet, with space to "touch on the themes of community and immigration, as well as the specific sense of place that defines Decorah," Lauren says. She completed the mural, Together in Decorah, in August 2021.
It tells the story of Decorah – its intriguing past, its ever-changing present, and its hope-filled future. One star– and fireball–emblazoned vignette illustrates the meteor strike some 470 million years ago that formed the Decorah Impact Structure (better known as the Decorah Crater). Another, featuring a trumpet-bearing angel, celebrates the Indigenous people that called Decorah home long before European settlers arrived.
"The angel looks toward the past to celebrate and remember the people who lived here before the Europeans came and how important they have been in making and keeping this space as beautiful as it is," Lauren says.
Another vignette depicts the journey of immigrants, its focal point a drawing of Tradewind, the 25-foot sailboat displayed in Vesterheim's Westby Ship Gallery. Yet another depicts a rainbow-festooned dove, conveying the hope that immigrants brought with them, and another the Upper Iowa River with fossils by its side.
She spends perhaps the most time describing the distinctive white arch that has already served as a backdrop for wedding, engagement, graduation, and numerous other photos. "I incorporated elements of Lutheranism while designing something akin to the stained-glass windows in European cathedrals," she says. "The rose in the center is based on the Iowa state flower, the Wild Rose, and it is surrounded by bur oak leaves, also native to the state."
She drafted the initial design for the mural in 2020 while taking part in an ArtHaus program (funded by the Iowa Arts Council) to encourage the creation of public art. Participants not only received expert instruction on how to paint murals but were also connected with local businesses seeking artists to create murals for their brick-and-mortar spaces. "We were so pleased with Lauren's vision for the mural and so excited to make it happen," says Marcia McKelvey, Vesterheim's director of administration, on the museum's selection of her design at that time.
Vesterheim – officially the National Norwegian-American Museum and Folk Art School – houses more than 33,000 artifacts and comprises 12 historical buildings that draw visitors from around the globe. It's perhaps best known for its exhibits that, per its website, "explore the diversity of American immigration through the lens of the Norwegian-American experience and highlight the best in historic and contemporary Norwegian folk and fine arts." The museum also provides tours of Norway and varied educational programs beyond its (now colorful!) walls.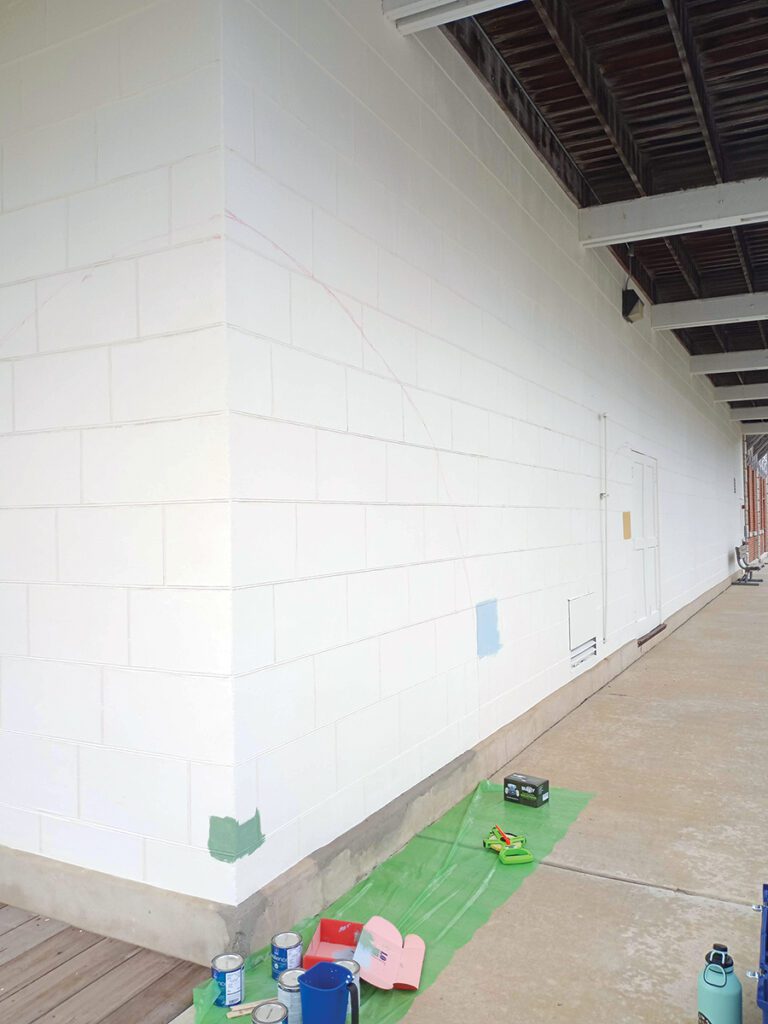 Making those colorful walls happen, as one might expect, took a hefty amount of time, effort, and talent. Lauren first conducted research, touring Vesterheim and studying photos and artifacts that might inform her vision.
"I talked with the museum about creating an immersive folk-art experience," she says. "Instead of traditional rosemaling, I combined folk-art patterns of objects within the museum and my personal playful style and illustrations."
She then fleshed out her original design so that museum staff could take it to the Decorah City Council and Decorah Historic Preservation Commission for review and approval.
By June 2021, Lauren was ready to break out the markers, prop up the ladders, and begin sketching on the professionally primed walls. "I had this beautiful, creamy surface to start sketching on," she says with a smile. "I decided to draw directly on that surface rather than project and trace an image, which worked really well because one of the beauties of folk art is that its imperfections are what gives it character."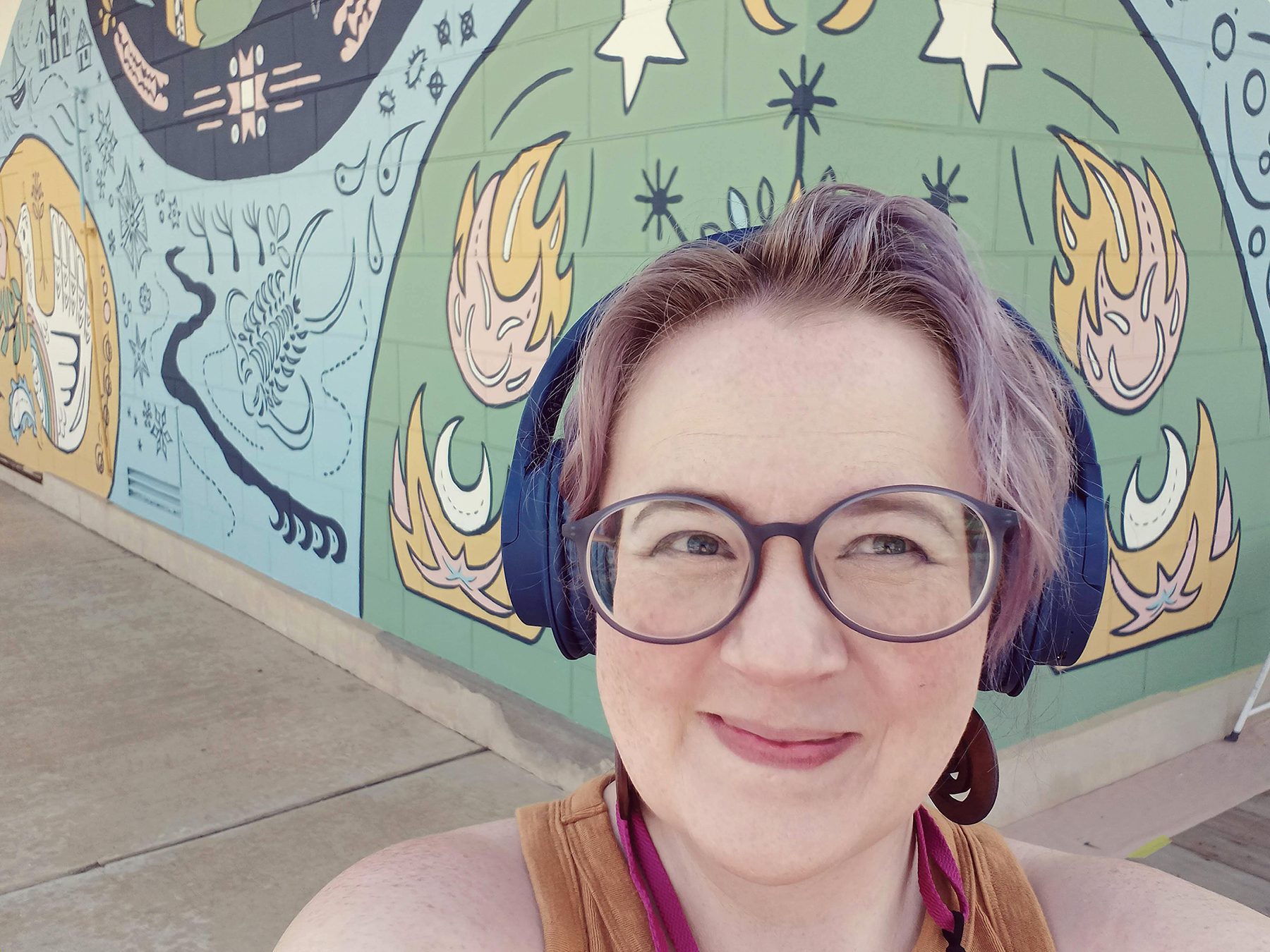 The original vision was for the mural to be finished in "paint-by-numbers" fashion by museum staff/volunteers and community members – bringing everyone "Together in Decorah" – but COVID, unfortunately, had other plans. Lauren completed the mural by herself just in time for the dedication this past August of Vesterheim Heritage Park, a new landscaped area that connects the museum's historical buildings. "The title of the mural is Together in Decorah, but in finishing it, I felt very alone," she reflects.
Luckily, folks will still get a chance to get together with Lauren at Heritage Park this summer through Vesterheim's Family Frilufstliv Fun program. (The concept of Friluftsliv – or "outdoor life" – captures the Norwegian love for the great outdoors.) "I'm really looking forward to talking with families about the mural and doing some art based on some of the things we discuss," she says. "We have a second chance to make the [spirit of the] original vision happen."
For Lauren, the mural is just the latest of many projects inspired by her passion for creating art. As a child, she filled her notebooks with playful drawings. As an adult, she has compiled an impressive portfolio of work, including a coloring book (created with ArtHaus) featuring sites in Winneshiek County (in fact, Lauren designed a coloring page for this issue, page 53), plus branding images and logos for small businesses in and beyond Winneshiek County. At the heart of all her work – not unlike that of famed Disney illustrator Mary Blair, whose work she had long admired – is a playful, colorful style that conveys a deeper meaning.
"I love working with shapes and color to tell a story or communicate a feeling," she says, "and I think that's all art boils down to in its most basic elements."
Learn more about Lauren and her work at laurenbonney.com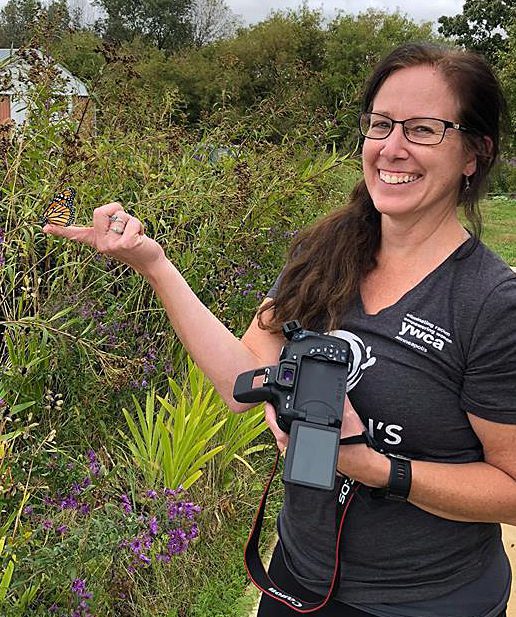 Sara Friedl-Putnam fully believes in the power of public art – like murals! – to spark conversation and build a sense of community. She is thankful for Vesterheim Norwegian American Museum, ArtHaus, and other area organizations that have supported the creation of new murals in Decorah and other parts of the Driftless Region. 
Live life outdoors!
A mom of two young kids herself – daughter Juniper (five) and son Sylvan (three) – Lauren Bonney knows a thing or two about exploring art with children. And on Saturday, June 18, 2022, she used her mural Together in Decorah to demystify the process of telling stories through art in a program sponsored by Vesterheim Norwegian American Museum.

Her Art in Heritage Park program is part of Family Frilufstliv Fun, an outdoor educational series launched in April and designed for families with children under the age of 10. Each month, participants spend an hour (11 am to noon) exploring nature in Vesterheim's Heritage Park or nearby Decorah trails through walks, observations, and hands-on activities. On July 23, program participants will explore Twin Springs, and on August 20, Dunning Springs.

At least one adult per family must attend. Cost is $5 per family per event, and pre-registration for each event is required. Visit vesterheim.org/folk-art-school/friluftsliv/ to register.
What else is going on at Vesterheim?
In addition to awesome exhibits and online + in-person classes in Norwegian language, cooking, folk art, and more (sign up online!), Vesterheim is working on an exciting new building: Vesterheim Commons. Work began spring 2022, with a completion goal of early 2023.

The project plays an important role in collaboration with local community members and business partners in making Northeast Iowa a destination, including for Viking Cruise visitors. Two of Viking's new Mississippi River itineraries – America's Heartland and America's Great River – give guests the option to choose a day trip from La Crosse, Wisconsin, to Decorah to experience exclusive museum tours and enjoy the town, bringing hundreds of visitors from July-October.

The Commons design has been driven by programming that inspires community engagement and experiences, and it emphasizes the building as a cultural gathering place, with multi-use space on the ground floor that seats 100 people for lectures, meetings, concerts, receptions, and classes and can be set up for luncheons and other meal service, a full-service kitchen, indoor/outdoor space for special exhibits, and more.

The building will include mass timber frame construction, regionally sourced brick from Adel, Iowa, and great views of campus and the surrounding Decorah area.
Campaign volunteers and museum staff are actively meeting with friends of Vesterheim to seek support for the Strong Roots Bold Future Campaign. Fundraising efforts will continue through the completion of the Vesterheim Commons project.

Planning a visit? The Second Saturday of each month, admission to Vesterheim is free! Learn more at vesterheim.org