September! Get a head start on your fun-planning with this handy-dandy September 2015 calendar (and you can download the pdf here). Enjoy!
XO,
Inspire(d)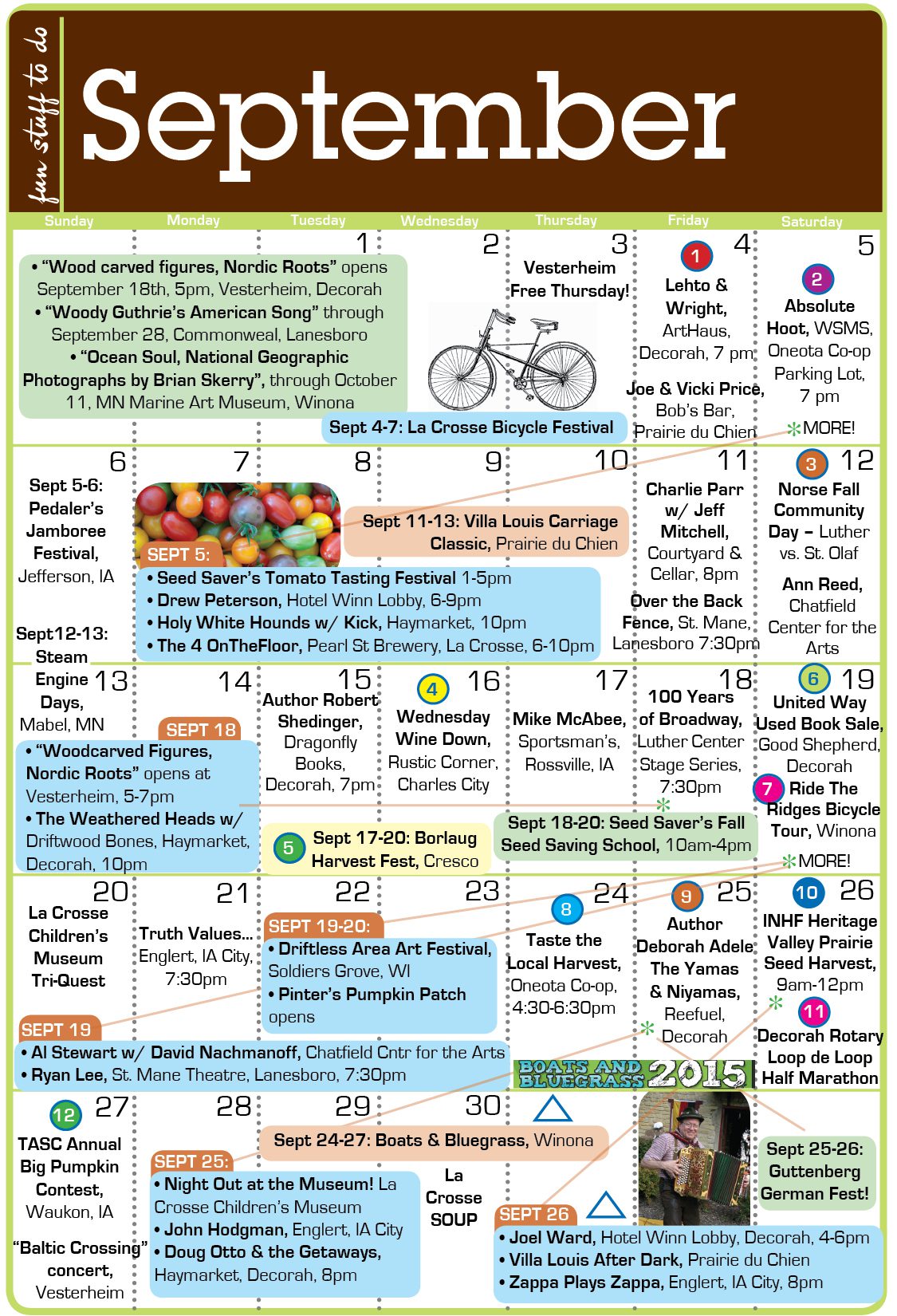 LOOKING FOR MORE DETAILS ABOUT EVENTS ON THE CALENDARS?
Check out these great fall activities!  In chronological order, each event's number coincides with its number on the calendar!
1. September 4: Celtic folk rock with Lehto & Wright presented by ArtHaus, 7pm. $12 adults / $10 students. Sponsored by Country Inn by Carlson. Tickets on sale now! arthausdecorah.org
2. September 5: Water Street Music Series: Absolute Hoot. WSMS kicks off their fourth season with Absolute Hoot, 7 pm, Co-op Parking Lot. Free! Bring a blanket/lawn chair. www.wsmsdecorah.org
3. September 12: Norse Fall Community Day Picnic! Join us for U-2 BBQ, "GO NORSE!" t-shirts for kids (sponsored by Bank of the West), family passes for the Luther vs. St. Olaf Football Game! Register: www.luther.edu/alumni/events
4. September 16: Wednesday Wine Down 4pm-8pm Paint & Sip this night! Visit www.FaceBook.com/TheRusticCorner for tickets. Get Uncorked at The Rustic Corner in Charles City!
5. September 17-20: Norman Borlaug Harvest Fest in Cresco Iowa! Inspire Day, Quilt Auction, Cruise to Cresco, 5K Run/Walk, Meals From the Heartland Packaging event, Food, Music, Games, & FUN!  www.howard-county.com
6. September 19: United Way Used Book Sale Good Shepherd Lutheran Iowa Avenue, Decorah. 8AM – 12PM Saturday. Access pre-sale through free-will donation Friday evening. Supports books for pre-schools!
7. September 19: RIDE THE RIDGES bicycle tour – Winona, MN. Four routes along Southeastern Minnesota's most scenic valleys and towering bluffs overlooking the Mississippi. www.ridetheridges.info
8. September 24: Taste the Local Harvest at the Oneota Co-op – meet local producers, sample local products: 4:30-6:30 pm. Free. www.oneotacoop.com
9. September 25: Reefuel Yoga studio presents a meditation workshop with author, theologian, and yoga teacher Deborah Adele to discuss her book: The Yamas & Niyamas. For more info: www.reefuel.biz/workshops
10. September 26: Iowa Natural Heritage Foundation invites you to a seed harvest on scenic prairie! 9/26, 9a-12p @ Heritage Valley. No experience needed – More info: mrunkel@inhf.org 515-288-1846 www.inhf.org/volunteer
11. September 26: Run the Trout Run Trail! Decorah Rotary Club Loop de Loop 5k-10k Run-Walk, and Half-Marathon. Start time: 8:00 A.M. Registration information available at: www.decorahrotary.org.
12. September 27: TASC Big Pumpkin Contest, 2213 Mt. Olivet Road NW, Waukon Weigh off, meal, fun! For more information about the event, contact TASC at 563-568-4060.