It's fall! Whew – where is the time going? Get a head start on your fun-planning with this handy-dandy October 2015 calendar (and you can download the pdf here). Enjoy! XO, Inspire(d)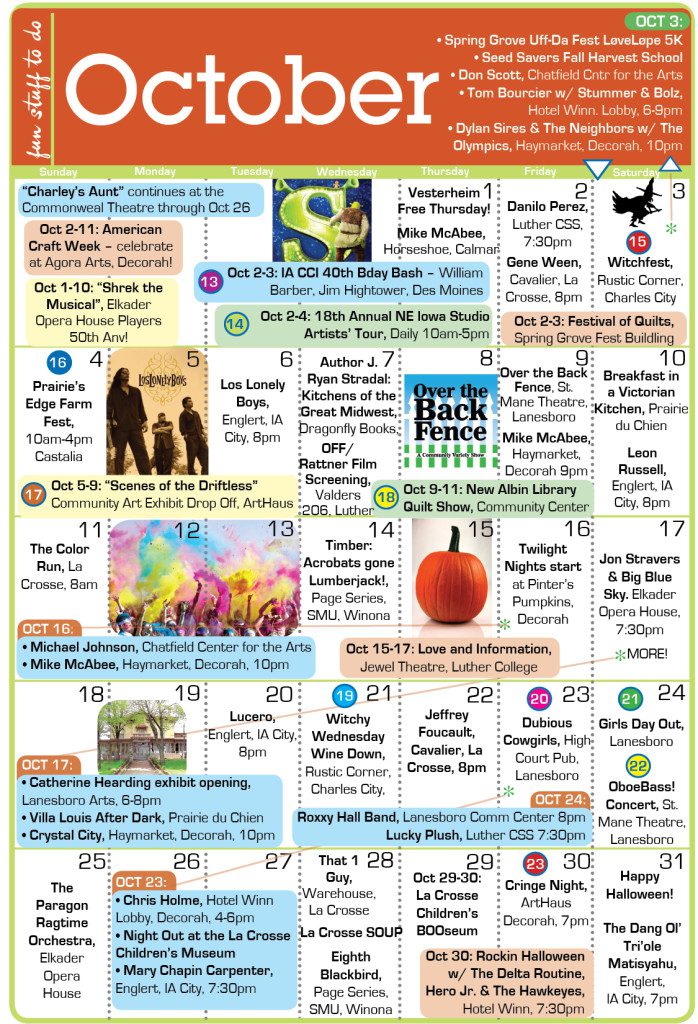 LOOKING FOR MORE DETAILS ABOUT EVENTS ON THE CALENDARS?
Check out these great fall activities!  In chronological order, each event's number coincides with its number on the calendar!
13. October 2-3: Iowa Citizens for Community Improvement's 40th Birthday Bash! Get inspired by Rev. William Barber, Jim Hightower and other big-name thinkers/doers. Oct 2-3, Des Moines, www.iowacci.org
14. October 2-4: 18th Annual Northeast Iowa Artists' Studio Tour. 55 Artists at 42 locations – all within 35 miles of Decorah! Most Artists ever – Free! Daily 10-5. www.iowaarttour.com
15. October 3: WitchFest at The Rustic Corner. Put on a pointy hat and enjoy a day of shopping in Charles City. Go to www.FaceBook.com/TheRusticCorner for details!
16. October 4: Farm fest at Prairie's Edge Farm! Join us for hay rides, critters, cider pressing and more at Prairie's Edge Farm. Meat and more for sale. 10am-4pm. 1206 150th Street Castalia www.facebook.com/PrairiesEdgeFarm
17. October 5-9: Scenes of the Driftless: A Community Art Exhibit at ArtHaus, Open to all to submit for free, Dropoff Oct 5-9, Reception October 9 from 6-8pm, On display through Nov 20, arthausdecorah.org
18. October 9-11: New Albin Library quilt show. Over 200 quilted items on display. Antique section, vendors, demonstrations, and more. New Albin Community Center. $5 Admission. More info 563-544-4325
19. October 21: Witchy Wednesday Wine Down – 4pm to 8pm at The Rustic Corner, Charles City. Get uncorked with a Halloween flair! More info at www.FaceBook.com/TheRusticCorner
20. October 23: Dubious Cowgirls duo at High Court Pub in Lanesboro, MN with food and drink specials to kickoff Lanesboro Girls Day Out weekend. www.highcourtpub.com
21. October 24: Girls Day Out Lanesboro, MN featuring the band Drinkwine with Friends. Shop all day, dance the night away! Like us on facebook: Girls Day Out Lanesboro.
22. October 24: OboeBass! Concert. Award-winning Vecchione/Erdahl classical duo: Engaging audiences with folksong, jazz, tango and literary inspirations. St. Mane Theatre, Lanesboro, MN. $15/$12. www.lanesboroarts.org
23. October 30: Cringe Night presented by ArtHaus, Hosted by June Melby. Friday, October 30 at 508 W Water St. Doors open at 6:30pm, event starts at 7pm. $5 admission.arthausdecorah.org.