November! Get a head start on your fun-planning with this handy-dandy November 2015 calendar (and you can download the pdf here). Enjoy! XO, Inspire(d)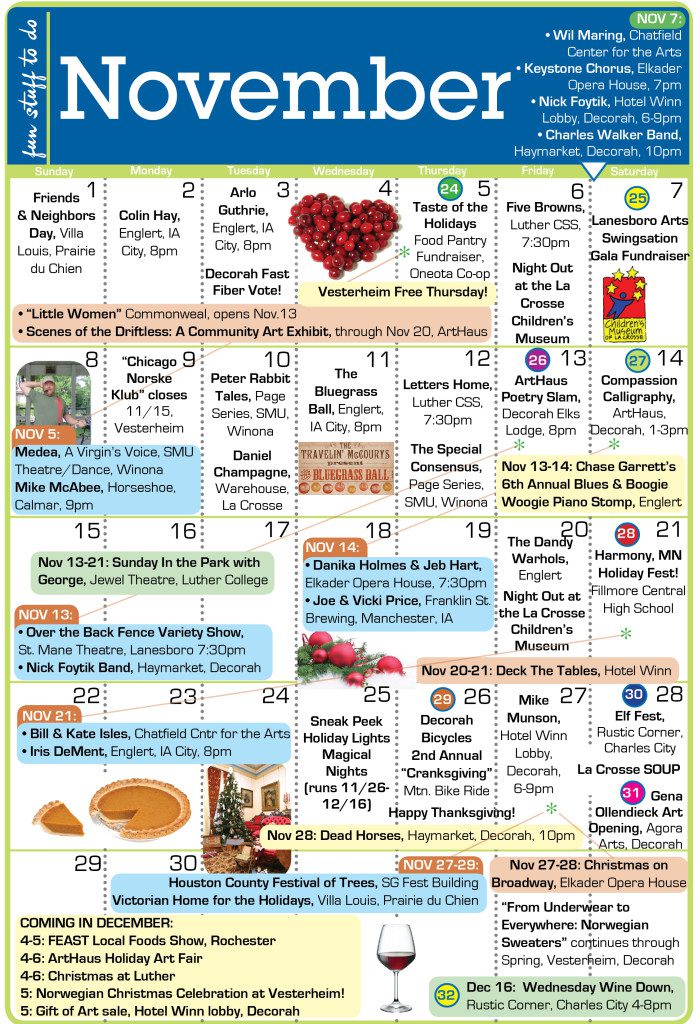 LOOKING FOR MORE DETAILS ABOUT EVENTS ON THE CALENDARS?
Check out these great fall activities!  In chronological order, each event's number coincides with its number on the calendar!
24: November 5: "Taste of the Holidays" food pantry fundraiser/holiday meal at the Co-op. Register by calling563-382-4666. $15 suggested donation. New take-away option available this year. www.oneotacoop.com
25. November 7: Swingsation! LANESBORO ARTS' Gala Fundraiser: Scrumptious tapas food, lively music featuring blues & more, art & other auctions, cash bar, fun ambiance. $65. www.lanesboroarts.org.
26. November 13: Poetry Slam presented by ArtHaus, Sponsored by Dragonfly Books. Doors open at 7:30pm, event starts at 8pm. Decorah Elks Lodge. $5 adults / $3 student admission. www.arthausdecorah.org
27. November 14: Compassion Calligraphy Workshop with Daishin McCabe at ArtHaus. 1-3pm. $50 per person open to ages 16+, Register online at www.arthausdecorah.org
28. November 21: Harmony Holiday Fest! Get a jump start on holiday shopping with 40+ vendors showcasing a variety of arts, crafts, foods, & more! Fillmore Central High School Harmony, MN www.exploreharmony.com
29. November 26: Earn your 2nd piece of pie on the Decorah Bicycles 2nd Annual Cranksgiving Ride! Casual & No-drop Mountain Bike Ride – starts from Decorah Bicycles (College Drive next to Whippy Dip) 2pm. Fat bike rentals available. www.decorahbicycles.com
30. November 28: ElfFest begins at The Rustic Corner! Beat the big box and enjoy small town shopping at it's best in Charles City. Details: www.FaceBook.com/TheRusticCorner
31. November 28: Gena Ollendieck Art opening, 1pm – 3pm at Agora Arts in Downtown Decorah. Come experience American Craft and this unique art opening! www.agoraarts.com
Coming Up:
32. December 16: Wednesday Wine Down at The Rustic Corner in Charles City 4pm-8pm! Wine & holiday snacks to help you unwind from the hustle. More info www.FaceBook.com/TheRusticCorner