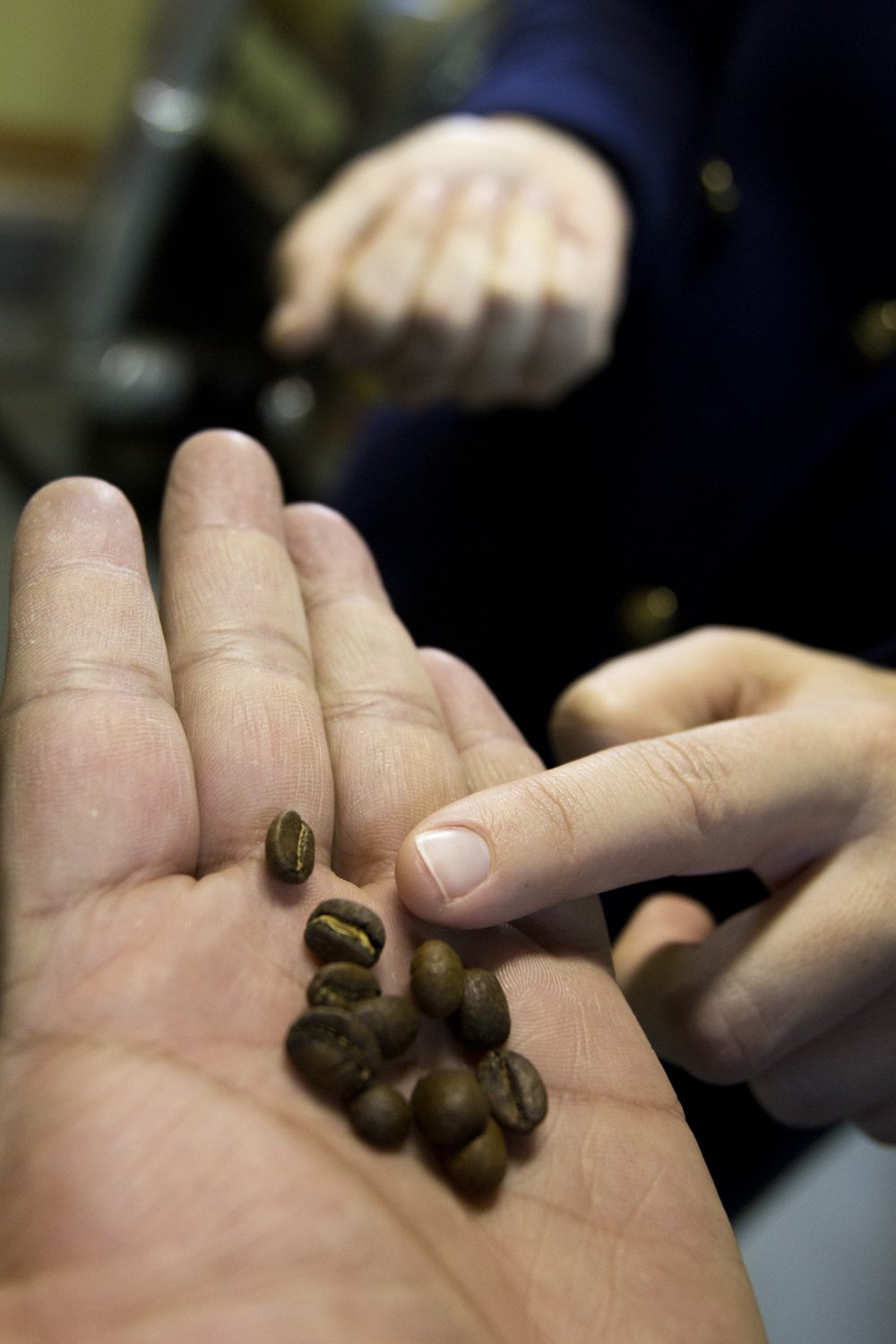 The K'uun Coffee Bar in Decorah recently opened its doors, so readers can now grab a cup of brew right here in Decorah!
By Kristine Kopperud Jepsen • Photos by Aaron Zauner

There's nothing like that first warm-sweet-nutty sip of coffee in the morning. At our house – maybe yours too? – it practically constitutes a food group. Coffee brings order, wakefulness, and even, yes, a certain assurance that we're right with the world – especially on dark winter days like these.
We're not alone in this dependence, say Honduran natives Fernando and Barbara Vaquero, and they're betting their combined 25 years in food and agricultural engineering on it. In 2012, they founded K'uun Coffee, a micro-roastery based out of their home in Calmar, Iowa. Their mission? To reveal the soul of Coffea Arabica and the memorable flavor and aroma that makes it so indispensable.
More than 2 billion cups of coffee are poured every day over the world, and the beans that make it happen change hands at a pace second only to crude oil among commodities traded on the global market. As Fernando, the roast master, explains coffee's origin, his animated eyes leap from topic to topic as his hands sweep points along, like phrases in an orchestral score.
Barbara, who wears most other hats in the business while also caring for their two daughters, ages 10 and two, interjects with subtle but telling clarifications. This is, after all, the third business they've built together, all while one of them – sometimes both – is employed full-time elsewhere. In this case, Fernando works as Assistant Plant Manager for Swiss Valley in Luana, Iowa.
Barbara apologizes for the split-seconds, really, that it takes her to translate phrasing from her native Spanish language; but she needn't have to. Her words are as clear as her passion for the roast. "We just wanted people to really taste the coffee – not the over-processed version of it that is so common," she says.
The craft of custom coffee roasting is a part of their heritage – having grown up, literally, in coffee production in rural Honduras. Unfortunately, the more displaced the coffee drinker is from coffee's origins – predominantly Mexico, Central and South America, Africa and Asia – the more misunderstood the process, Fernando says.
"People don't know what they're drinking, or how it can taste if it's crafted right." Ever had a dark, dark roast that scraped the buds from your tongue? he asks. "That's what failed roasting tastes like, and it's been giving 'dark' roasts a bad reputation for years." His other favorite myth? That lighter roasts contain less caffeine. "The roasting process intensifies the nuanced flavors of the bean," he says, "but it also extracts the caffeine." In other words, that 'blonde' roast really is more of a bombshell.
At K'uun, they roast to order – to order! – and deliver the freshest coffee available, making batches as small as one pound or as large as 20, and hand-delivering them within a week. This prevents the oils that surface after roasting from oxidizing and getting stale or rancid. They specialize in helping customers hone in on the flavor and feel they most enjoy in their coffee, then creating it from their current inventory of beans.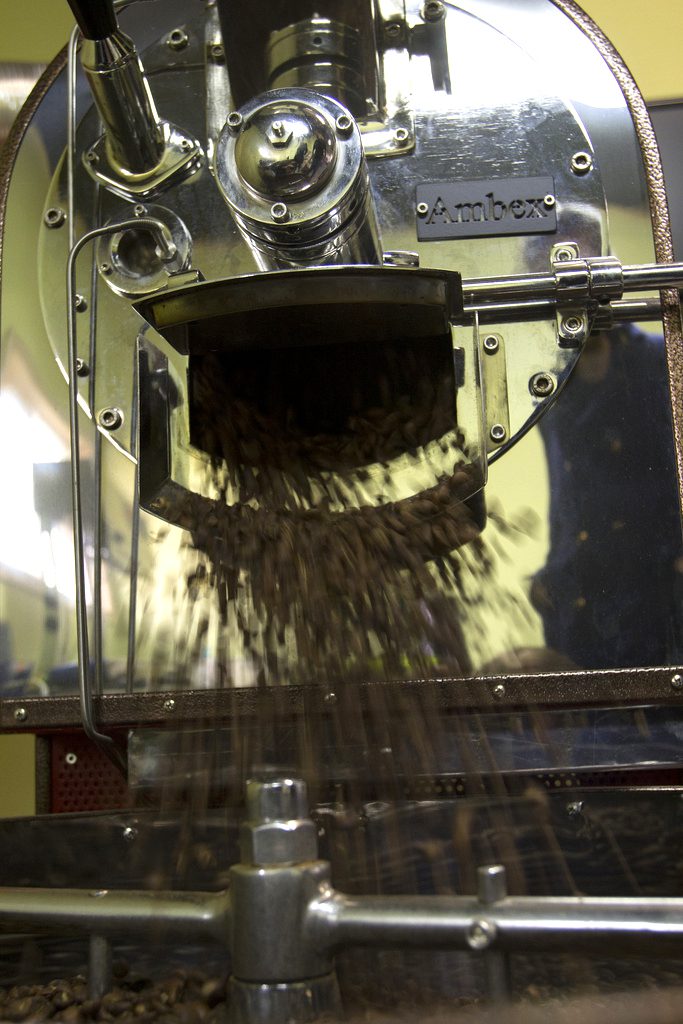 "I really enjoy it from a food science point of view," Fernando says. And no wonder. Growing up, his family produced oil palm, coffee, and livestock. By trade, he became an industrial engineer, fascinated by how things work, and, more specifically, how to help farmers in developing countries build profitable enterprise and trade relationships.
That's where his interests overlapped with Barbara's. They met when she applied for an agribusiness position – like him – at the Department of Agriculture in Honduras. Fresh off a degree program in agricultural economics at the University of Illinois, Barbara was among many applicants leading a peer discussion as part of the job interview. "Fernando almost killed my presentation, asking question after question after question," Barbara says with a laugh. "I thought, 'Who is this guy? And what does he need to know all this for?' But, that's how he gets from the start of something to a solution: You ask a lot of questions. He's still the same man today."
Together, the Vaqueros moved their interests north, settling first in New Mexico, where Barbara worked as a health inspector for the State, and Fernando in plant management for Leprino Foods, the dairy conglomerate that produces cheese for many pizza companies.
With their older daughter, Barbara Cecilia, in the mix, they started their first business together: A donut shop, Daylight Donuts, they built from scratch. Needing to pair their fresh-baked pastries with the best coffee around, Fernando turned his attention to coffee roasting, creating a blend that met the New Mexican culture's requirements for a light but bold roast.
In 2011, they sold the shop and moved to Calmar for Fernando's position at Swiss Valley, bringing their commitment to really good, affordable coffee with them. Today they source the majority of their single-origin beans through a Fair Trade certified broker in Minneapolis that represents Honduras, Costa Rica, Guatemala, Peru, Chile, Colombia, Ethiopia, Mexico, Brazil, and more. Knowing how U.S. customs work, they've also established a direct-trade relationship with a grower in Cameroon. Plus there's Barbara's favorite coffee – their Peruvian decaf – decaffeinated by a natural washing method using pure water, not chemicals.
Barbara delivers the finished product, most often to Decorah's The Perfect Edge, a local pick-up point where they recently opened The K'uun Coffee Bar. They also sell through Oneota Community Food Co-op, their (newly relaunched) website, www.kuuncoffee.com ($11/lb), and in bulk, as they do for the dining services at Luther College and other business around Northeast Iowa.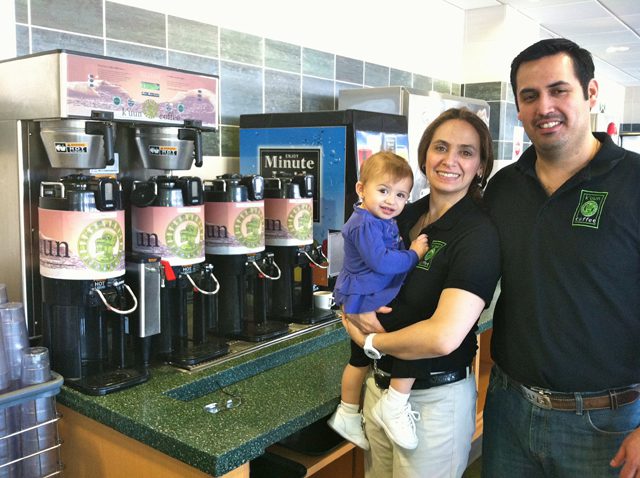 (Above photo courtesy K'uun Coffee)
"Coffee is unbelievably complex – it's true! – followed by cigars, wine, beer and cheese," Fernando says, offering a taste of the different 'notes' of beans from each of the coffee-producing regions, ranging from chocolate to earthy to citrusy to floral. Each is affected by the growing location's altitude, the latitudinal climate, the composition of the soils that nourish the trees, and that growing season's particular weather.
But it's in the roasting that all that potential comes to full bloom – or goes up in acrid smoke. There's the physical heating of the beans – at K'uun, that's in state-of-the-art Ambex roasters – and then there's the seasoned intuition to sense – in the aroma and sound and feel of the beans as they heat – when a particular batch has reached its potential.
"Roasting is the perfect release of what's already in the bean," Fernando explains. "I can't 'put' flavors into it – it's my job to bring its natural complexity out, and there's no 'second chance.'"
Their incorporated name, Bean Masters, Inc, leaves room for another native of Central and South America: Cacao. But with the addition of their younger daughter, Isabella, now two years old, the Vaqueros are intent on growing their cottage business as sanely as possible, enjoying the way roasting, distribution, and marketing offer teachable moments and routines for their young family – without over-committing their time.
"You get back what you put into it," Barbara says. "We come from a culture that's very social, made up of very small, close communities. You have to be honest with people, make them a good, fair product, and take the time to share it. It's the right thing to do."
Having won some of their start-up funding in 2012 through Winneshiek County Development Inc, K'uun Coffee is also intent on giving back to the community through a fund-raising initiative called "Growing Together." The program helps organizations such as The Family School of Religion (CFSR) of Calmar achieve fund-raising goals. K'uun also partners with Luther College, designating five percent of total coffee sales on campus to a scholarship fund for students. In October 2013, they presented the first installment – more than $900.
That fusion of culture and enterprise is, in fact, the origin of their business name. "'K'uun' means gold in Mayan, the foundation of our ancestry in Honduras," Barbara explains, "and agricultural products are the currency of our region's culture. So we combined them –'gold' and 'coffee.'"
——————-
Disclaimer: While the heaven of great coffee brewing is a welcome start to Kristine Jepsen's midwinter work routine, she isn't usually the first one to the coffee pot in the morning. She's more of an early afternoon devotee, which perhaps explains why her most creative hours are in mid-evening!
How to Order Custom-Roasted Coffee
Intimidated by having to pinpoint the winning characteristics of your favorite cup of coffee? Don't be. The Vaqueros love the opportunity to connect with customers and share both their knowledge of the roasting process and the unique personalities of the beans they have on hand. Just call them (563-562-9033) and ask! Are you looking for a caffeine kick? (This might mean you're after a light or medium roast.) Complex, full body? (Perhaps a medium or dark roast, using beans of the origin best suited to produce desired flavors.) Earthy? (Asian.) Chocolate? (Central America.) Citrus or floral? (African.)
"There's no single 'perfect' answer – it's what you like," Fernando says with a grin.