June 2017! Helllooooooooo, summer! Can you believe it's here?! Start your planning now with this handy-dandy June 2017 calendar (and you can download the pdf here).
Enjoy! XO, Inspire(d)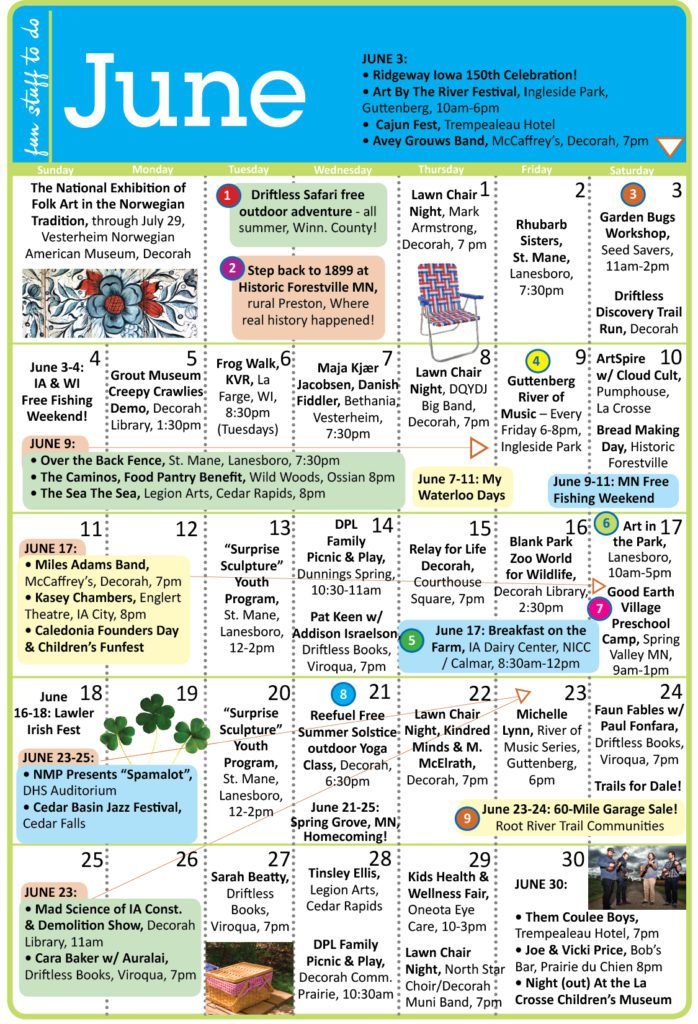 LOOKING FOR MORE DETAILS ABOUT EVENTS ON THE CALENDARS?
Check out these great June 2017 activities!  In chronological order, each event's number coincides with its number on the calendar!
1. June 1: Driftless Safari offers free outdoor adventure and exploration in Winneshiek County all summer long! Visit www.driftless-safari.org or stop by any Winneshiek County library to join!
2. June 1: Step back in time to 1899! Visit Historic Forestville, rural Preston. Memorial Day Weekend-Labor Day: Thur- Sun, (Saturdays only Sept/Oct) $6-$8 507-765-2785 forestville@mnhs.org  – Where real history happened!
3. June 3: Garden Bugs Workshop: Friend or foe? Learn to identify & manage garden insects while attracting pollinators. Seed Savers Exchange. 11am-12pm. $5 registration: seedsavers.org/events 563-382-5990
4. June 9: Guttenberg's River of Music (ROM), EVERY Friday, June 2-August 11, 6-8 pm in Ingleside Park Bandstand along the Mississippi River (Rain location – City Hall)
5. June 17: Breakfast on the Farm- 8:30a.m.-noon at Iowa's Dairy Center, Calmar, Iowa. Including: wholesome breakfast, dairy tours, and more! On-site parking available; donations are appreciated. www.iowadairycenter.com
6. June 17: Art in the Park Fine Art Festival featuring 100+ artist booths, live music, craft beer & food vendors at Sylvan Park in Lanesboro. 10am-5pm www.lanesboroarts.org
7. June 17: Good Earth Village welcomes their littlest campers yet! Preschoolers, invite an adult to experience camp with you from 9am-1pm! Spring Valley, MN. More at GoodEarthVillage.org/preschool
8. June 21: FREE Summer Solstice yoga class outdoors at Reefuel! You'll perform 108 Sun Salutations soaking up the rays to ring in summer! 6:30pm. More Information: www.reefuel.biz
9. June 23-24: 60-Mile Garage Sale! Join the communities along the Root River Trail System for garage sales in nine communities! Online map and more info available at www.rootrivertrail.org