December! Get a head start on your fun-planning with this handy-dandy December 2015 calendar (and you can download the pdf here). Enjoy! XO, Inspire(d)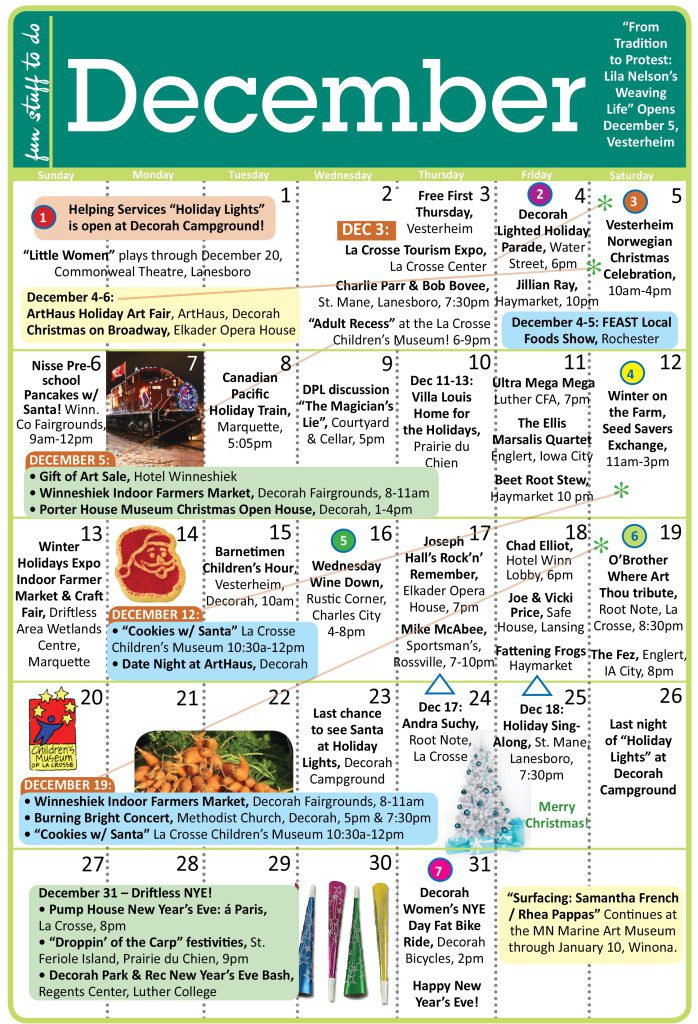 LOOKING FOR MORE DETAILS ABOUT EVENTS ON THE CALENDARS?
Check out these great winter activities!  In chronological order, each event's number coincides with its number on the calendar!
December 3-6 & 10-26: Helping Services of NE Iowa presents Holiday Lights Magical Nights at the Decorah Campground. Dec. 3-6, and then every night Dec. 10 through 26! Ho Ho Ho! www.helpingservices.org
December 4: The Decorah Area Chamber of Commerce Annual Lighted Holiday Parade makes its way down Water Street at 6pm. Lighted floats, community fun, Holiday cheer! Visit www.decorahareachamber.com for more info.
December 5: Bring the whole family to Vesterheim Museum's Norwegian Christmas Celebration from 10 a.m. to 4 p.m. Holiday traditions, food, crafts, Julenisse, shopping, and more! www.vesterheim.org
December 12: Seed Savers Exchange hosts Winter on the Farm. Horse drawn sleigh or wagon rides 11-3. Visitors Center open 10-5. Hot Chocolate, Cookies & Holiday Sales. www.seedsavers.org
December 16: Wednesday Wine Down at The Rustic Corner in Charles City 4pm-8pm! Wine & holiday snacks to help you unwind from the hustle. More info www.FaceBook.com/TheRusticCorner
December 19: The Root Note presents a tribute to "O'Brother Where Art Thou", 8:30pm. Great taps, coffee, and crepes – 115 4th St South, La Crosse. www.facebook.com/theRootNote
December 31: Decorah Women's NYE Day Fat Bike Ride! All women are welcome – bikes available for rent. Meet at Decorah bicycles for a 2pm departure, 101 College Drive, www.decorahbicycles.com