February! Get a head start on your fun-planning with this handy-dandy February 2016 calendar (and you can download the pdf here). Enjoy! XO, Inspire(d)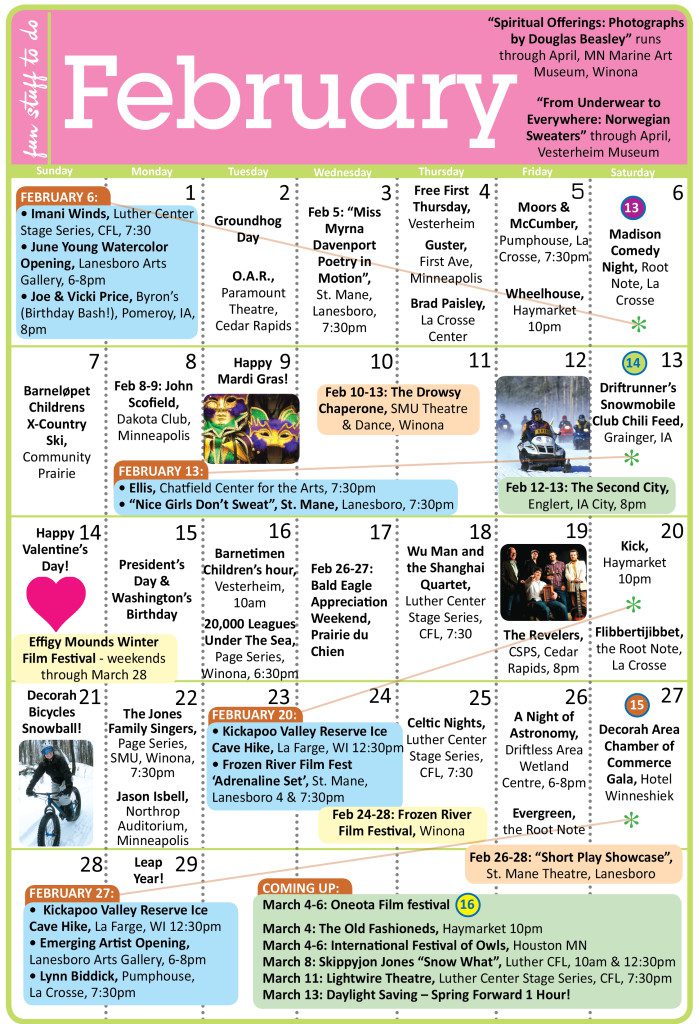 LOOKING FOR MORE DETAILS ABOUT EVENTS ON THE CALENDARS?
Check out these great winter activities!  In chronological order, each event's number coincides with its number on the calendar!
February 6: The Root Note presents Madison Comedy Night, 9pm. Great taps, coffee, and crepes – 115 4th St South, La Crosse. www.facebook.com/theRootNote
February 13: Ride your snowmobile to Driftrunner's Warming Bin near Grainger for Charlie's Chilli Feed. Soup and food available to warm you up. Facebook "Driftrunners-Snowmobile-Club" for details.
February 27: Join the Decorah Area Chamber of Commerce for their annual fundraising Gala at the Hotel Winneshiek! Celebrate the local business community and connect with friends alike. Hotel Winneshiek, more information & tickets at www.decorahareachamber.com
Coming Up:
March 4-6: Oneota Film Festival! 3 days of free films & events for the whole family hosted by Luther College. Schedule, information: www.oneotafilmfestival.org