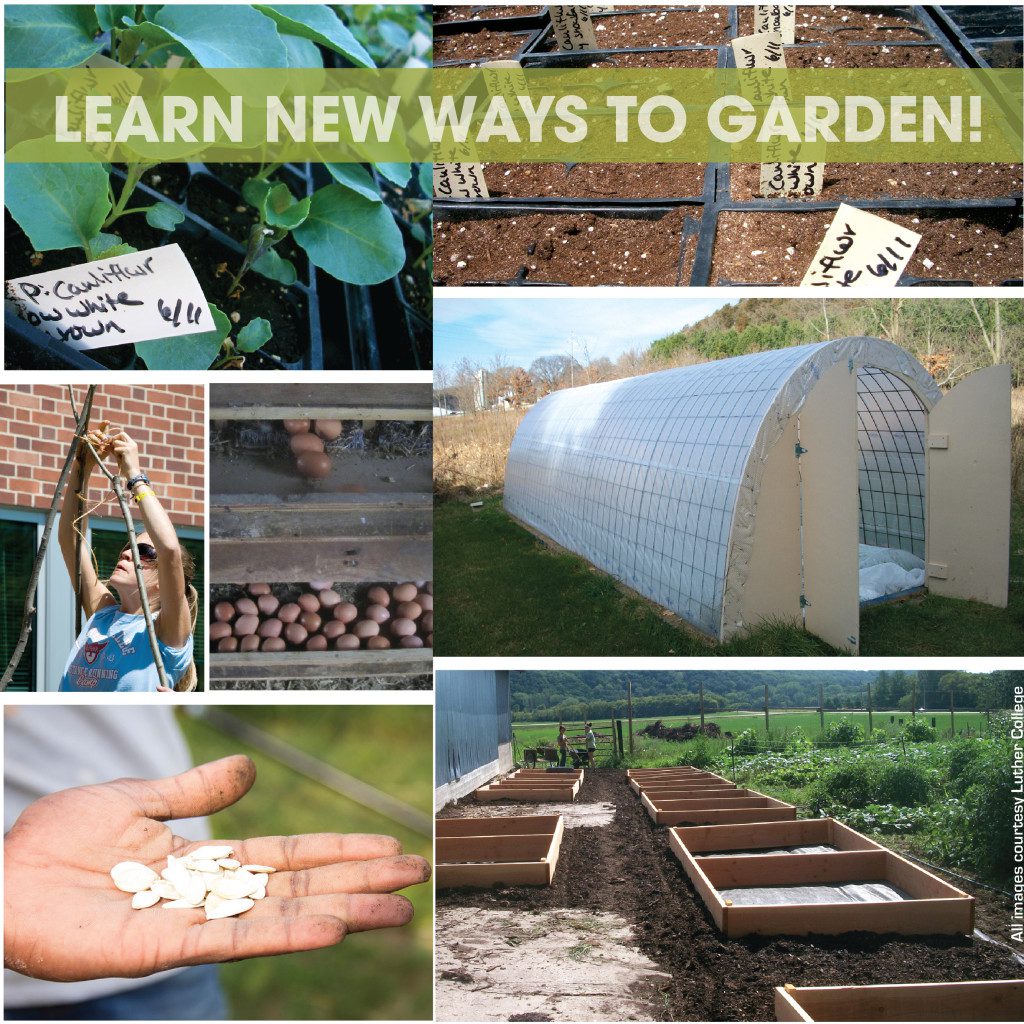 2015 Luther Gardening Classes
We love the series of gardening classes that Luther College's sustainability department has put together – you can learn about everything from picking out seeds to making your very own hoop house! Classes are free and open to the public – all you have to do is register in advance. Find more information and registration forms at www.luther.edu/sustainability/campus/food/education/classes/gardening/
Questions? Email sustainability@luther.edu
Seed Starting 101
Thursday, March 12, 2015 • 9:45-10:45am • Valders 362
There are many reputable places to buy high quality transplants, but have you ever thought about growing your own? Benefits of growing transplants at home include the ability to choose your favorite varieties, as well as the potential for significant cost savings. Jeff Scott of Driftless Gardens will discuss strategies and techniques to help you learn to grow your own plant starts this year.
How to Build a Raised Bed
Thursday, April 9, 2015 • 9:45-10:45am • Valders 262
There are a myriad of benefits to gardening within a raised bed system. Benefits can include easier weed and pest control, better soil, accessibility and aesthetics. Jeff Scott of Driftless Gardens will discuss key considerations and show plans and budgets for various raised bed systems.
How to Make a Bean Tipi
Thursday, April 30, 2015 • 9:45-10:45am • Valders 362 / Valders Edible Landscape
Bean tipis are an easy way to maximize the use of your garden space while also adding making the garden more topographically interesting. David Cavagnaro of the Pepperfield Project will work alongside participants to build a bean tipi in one of Luther's edible landscapes.
Container Gardening
Thursday, May 14, 2015 • 9:45-10:45am • Valders 362
Containers can be great places to grow a garden! David Cavagnaro has been photographing container gardens for years and will share his expertise on creating beautiful container gardens with combinations of flowers, plants and herbs. Perry Halse, of Luther's ground crew has been incorporating edibles into flower pots all across campus. Participants are sure to leave feeling inspired to create container gardens that will be the talk of the neighborhood.
How to Build a Low-cost Hoophouse for Home Production
Thursday, June 11, 2015 • 12-1pm • College Farm – 2132 Pole Line Road, Decorah
Hoop houses can provide shelter for seedlings and early and late season crops. Giles Teslow and Perry Halse have both built multiple low budget hoop houses and will be on hand to provide you with design ideas and tips for constructing your own.
Backyard Chickens
Thursday, July 16, 2015 • 12-1pm • Valders 362
Do you like omelettes and quiche? Have you always dreamed of being able to have fresh eggs for breakfast from a coop right out your back door? Jon Jensen and Rachel Sandhorst have been raising their own broilers and laying hens for years and will share some of what they've learned with participants during this session. They will discuss housing, light requirements, seasonal needs, feed and other considerations.
Growing Grapes
Thursday, September 17, 2015 • 9:45-10:45am • Valders 362
Think grapes and Iowa don't mix? Think again. Join David Cavagnaro for a conversation about growing grapes in this region. David has successfully grown grapes at his farm north of Decorah for years and will share with you some of his best tips and tricks. He will provide recommendations on varieties that do well in your Midwestern home garden.
Saving the Season: Storing Vegetables Through the Winter
Thursday, October 1, 2015 • 9:45-10:45am • Valders 362
You've grown bushels of beautiful sweet potatoes, carrots, potatoes, brussels sprouts, leeks, squash and onions. They are still happy in the garden but you know the frost and cold temperatures are imminent. Have no fear. Regardless of whether or not you have a root cellar, there are many creative solutions for storing your homegrown vegetables so that you can enjoy them throughout the winter and spring. Come learn how.