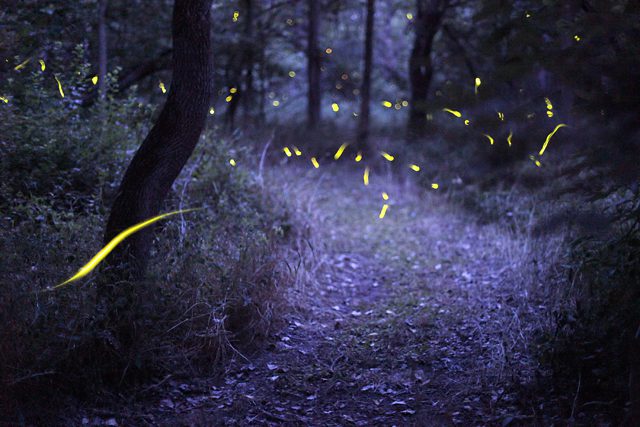 By Aryn Henning Nichols • Photo by Radim Schreiber
Originally published in the Summer 2014 Inspire(d)
You know what's super magical? Light-up bums.
I'm talking fireflies, of course! A field or dark forest flooded with those little flickering butts is some seriously super science. It's one of my favorite things about summer. But have you ever wondered how they do it? Or why?
First off, fireflies – or lightning bugs (whichever you prefer) – are neither flies nor bugs. They're beetles. But lightning beetle just doesn't have the same ring, does it? (1)
These little beetles produce a chemical reaction inside their bodies called bioluminescence, which allows them to light up. Inside their light organs, oxygen combines with calcium, adenosine triphosphate (ATP), and the chemical luciferin – all while the bioluminescent enzyme luciferase is present. This produces light. (2)
And it's not just any light. An average electric light bulb gives off 90 percent of its energy as heat, and only 10 percent as light. If fireflies produced that much heat when they lit up, they'd probably not live through it (giving new meaning to "fire"flies). Luckily, fireflies are amazingly efficient light-producers. During bioluminescence, a hundred percent of the energy goes into making light. (1)
The firefly controls the beginning and end of the chemical reaction, and thus the start and stop of its light emission, through oxygen. Insects do not have lungs, but instead transport oxygen from outside the body to the interior cells through a complex series of successively smaller tubes known as tracheoles. When the firefly wants to light up, it adds oxygen to the other chemicals needed to produce light. When there's no oxygen available, the light goes out. (2)
They appear to light up for a variety of reasons: to communicate their distastefulness to predators, to help identify certain types of species, or, more commonly, to attract members of the opposite sex. Yes, fireflies get right to the point in their short two-to-three-week lifespan. Studies have also shown that some female fireflies like males with high flash rates and/or increased flash intensity. Ooh la la! (2)
Unfortunately for some sad folks in a few sad regions, not all fireflies flash. Fireflies that inhabit the western areas of North America don't use light signals to communicate. Because of this, many people inaccurately believe that they don't exist west of the Rockies, since flashing populations are rarely seen there.
But for some lucky folks in a few lucky regions, fireflies synchronize their flashes! It's rare – in the US, you can see this phenomenon (usually during a two-week window in late spring) at Great Smoky Mountains National Park in Tennessee – but amazing to see. Thousands of fireflies will light up at the same time, over and over, in what's called simultaneous bioluminescence! Not coincidentally, thousands of people come from all over to witness this amazing show each year. (3)
And now, final interesting firefly fact: Firefly luciferase is also useful in medical research! It can be used as markers to detect blood clots or to tag cells and genes, and to monitor hydrogen peroxide levels in living organisms (hydrogen peroxide is believed to play a role in the progression of some diseases, like cancer and diabetes). Scientists can now use a synthetic form of luciferase – fortunately – as we'd all like to keep those little bums flashing for many years to come. (1)
Sources:
1. insects.about.com/od/beetles/a/10-Cool-Facts-About-Fireflies.htm
2. www.scientificamerican.com/article/how-and-why-do-fireflies
3. www.nps.gov/grsm/naturescience/fireflies.htm
——————-
Aryn Henning Nichols has watched, chased, or caught fireflies every summer of her life. She may also have squished and smeared a few, and feels more than a little guilty about it, especially after writing this Science, You're Super! Sorry, fireflies. Never again!
——————-
Radim Schreiber, born in the Czech Republic, is an artist/photographer and cinematographer. His passion for photography began while photographing insects during his college years in Iowa. After completing his BFA at Maharishi University of Management, he started working for The Sky Factory, LLC in Fairfield, Iowa, as a nature photographer, cinematographer, and digital artist. Radim has won multiple national and international photography competitions, including the Smithsonian Magazine Photography contest. Radim's latest project is photographing the bioluminescent glow of fireflies.