Looking for some fall fun? Here are just a few events we're hoping to join in on right here in the Driftless Region! See you there?
Live on Water St. – Sept 9, 3-8 pm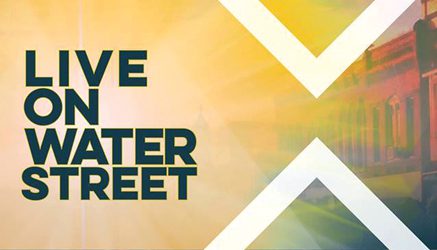 Water Street Music Series is presenting an afternoon of awesomeness at "Live on Water Street" and we're excited for a little hometown fun in Decorah! The festivities will take place in front of the Oneota Community Food Co-op, where they'll be serving up tasty food and Pulpit Rock and Toppling Goliath will be selling local brews for the (21+) masses. And, of course, there will be great live music, with sets by John Goodin & Erik Sessions, Cedar Rapid's DICKIE (Dick Prall), and headliners, Farewell Milwaukee. Make sure to bring your favorite lawn chair / blanket / dancing shoes! Inspire(d) is happy to help sponsor this event –  see you there! Check Live on Water Street on Facebook for details.
Root River Trail Towns Taste of the Trail Series – Sept 9, 16, 23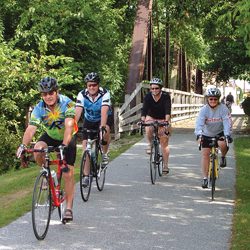 School is in, and schedules are filling up – but it's not too late to enjoy an afternoon on the Root River Trail system of SE Minnesota. In fact, this may be the most beautiful time of the year to enjoy a ride through the trees and bluffs. For three Saturdays in September (9, 16, 23), you can visit different sections of the trail and enjoy a "Taste of the Trail". Stops will include samples of foods and beverages, along with activities like wagon rides, outdoor programs, music, and more! Visit www.rootrivertrail.org to see which towns are featured each day – and tell them Inspire(d) sent you!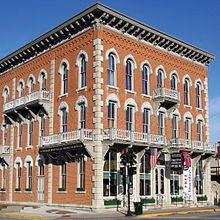 Vesterheim Museum is 'takin' to the streets' with a Takke- i.e. "thank you" -fest this fall! Ok, so actually, they're taking it to the Open Air Division of Vesterheim, but we're sure it will be a blast! Scandinavian foods and treats (Nordic Waffles are coming back!!!), beverages and dancing are all on the docket. Hop in and do a schottische, or settle in to do a craft, pioneer activity, or mini folk art class! The street party starts with Nordic Dancers, then the Foot-Notes, and finished up after SE Minnesota band Root River Jam. So, as they've been saying at Vesterheim, "let's loosen up our bunads and kick up our heels" for a little harvest party fun! We'll be the ones throwing bean bags with one hand and eating lefse with the other…! Find details at www.vesterheim.org
 Viroqua Harvest Parade – Oct 14, 2 pm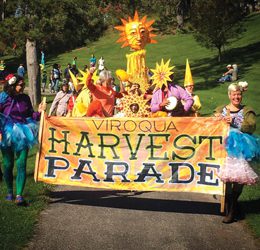 On the second Saturday of October each year, the Western Wisconsin town of Viroqua comes alive with giant puppets and festively costumed characters parading down Main Street: It's the Harvest Parade, a one-of-a-kind event from the heart of the Driftless. Happening since 2010, the event's mission is to build community, foster connections in the arts, and provide artistic opportunities to youths and adults. Entries are more-or-less Harvest themed, people powered, and utilize as many re-used materials as possible. After the parade, enjoy the Harvest Celebration with music, food, and more entertainment. Check Facebook page for details.
Inspire(d) 10th Anniversary Party – Oct 21, 1-4 pm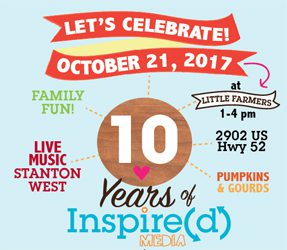 Did we mention we're celebrating our 10th year in business? (Ha, a few times, right?) We're pretty excited to celebrate and thank you all for helping us get here. We're throwing a party – well actually, a benefit party for some friends of ours who are opening a really neat preschool just north of Decorah: Little Farmers. So it'll be a farm party! Come out to help us celebrate and enjoy music from Viroqua's Stanton West, pumpkins and gourds, fall treats, and family fun while checking out the new school, chickens, bunnies, and more! It's free to attend, but we hope you'll help us raise some funds for the soon-to-be non-profit preschool. 2902 US Hwy 52 (just south of Nob Hill).
Like us on Facebook to stay up-to-date on super awesome party details!
Save the Date: FEAST – Dec 2, 10 am – 4 pm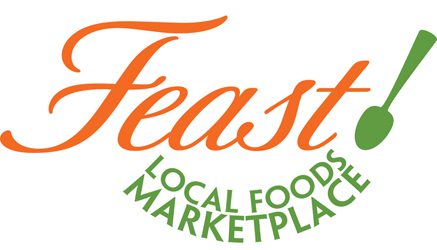 Meet the folks who grow and create what you eat, at the fourth annual FEAST! local food fest at the Mayo Civic Center, Rochester. Savor and shop with more than 100 of the region's best food artisans, and enjoy cooking demos and activities for kids. It's a great chance to purchase your favorite local foods right from the food-makers, either to stock up or to share. Samples are free, but bring cash to purchase items to take home. Vendor applications are still being accepted. To learn more about Feast! visit local-feast.org, check them out on Facebook, or follow @Local_Feast on Twitter.