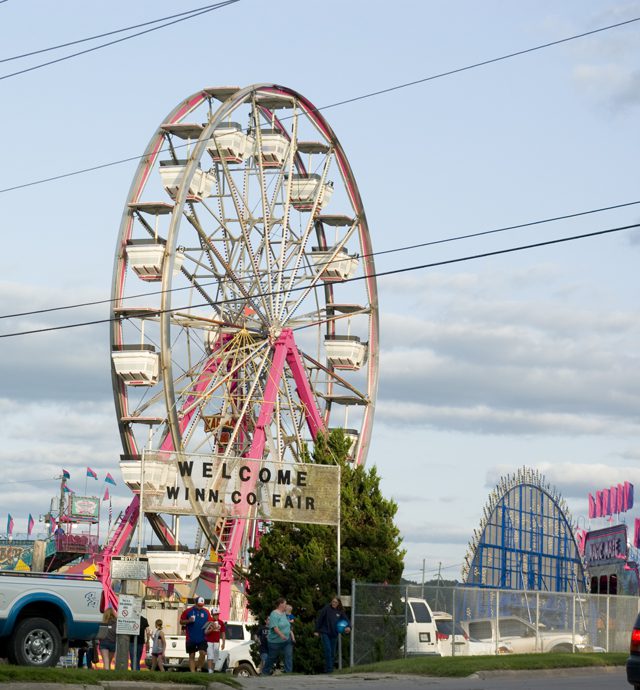 One of the true signs of summer in the Midwest is Fair Season – and the 2015 Winneshiek County Fair is, literally, right around the corner from our house…right now through July 11! Grandstand shows, livestock judging, competitions, exhibits, demolition derbies, races, rides, auctions, dances, and the inevitable fair food – it's enough to not only get the kids excited, but the kid-at-heart folks too. We go pretty much every day!
We've put together a list of 7 of our favorite things at our hometown (neighborhood, really) fair to get you started:
1. Animals! Right now (like as of yesterday, opening day of the fair), Roxie is enjoying the cow barns the best – other favorites: the sheep and goats, pigs, and, of course, the bunnies!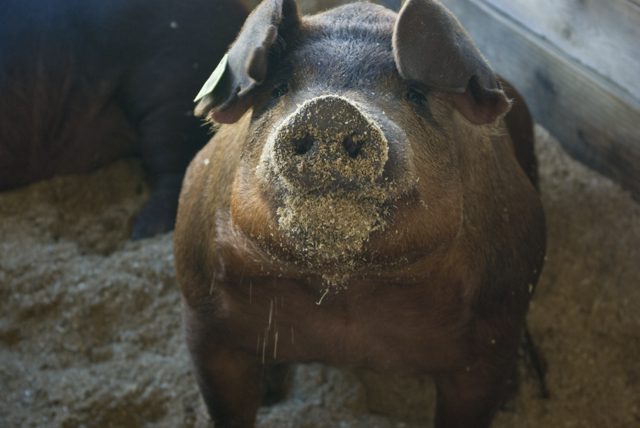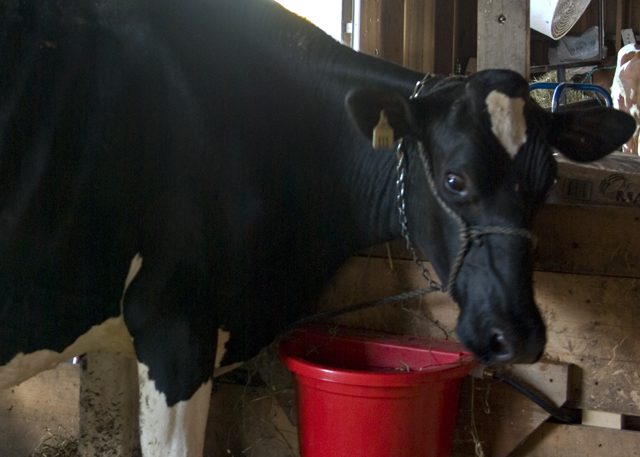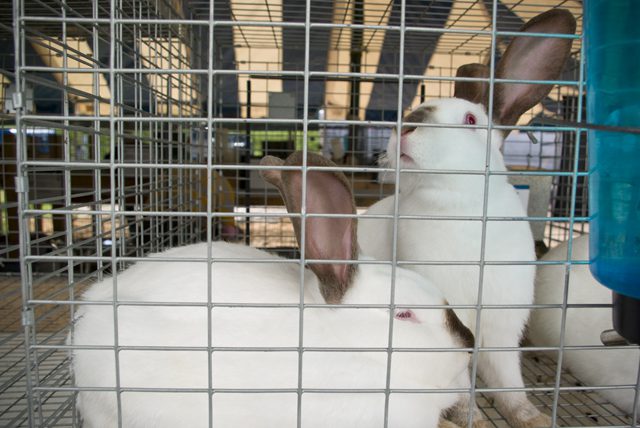 2. 4-H Projects Building! Aryn was in 4-H growing up, and loves seeing the sewing, craft, and photography projects that bring back memories of childhood summer fun.
3. Food! We usually head straight to the Luren Booth for pie, but surprisingly, haven't gotten any pie yet (which is our favorite thing of this favorite thing), but yesterday we did grab a couple breakfast specials. Pancakes, eggs, yummy sausage, and coffee (or milk or juice if that's your thing). Lunch at the Green Clover Cafe 4-H stand around the corner is a great spot too – Roxie is excited they have Gogurts (maybe your toddler will be too)! And don't forget about ALL THE OTHER FOOD options (so many). Pork chop on a stick, hot beef sandwiches, the Moo Mobile…oh, and funnel cakes, nachos, pizza…better go with an empty stomach! (More food pics inevitably coming…)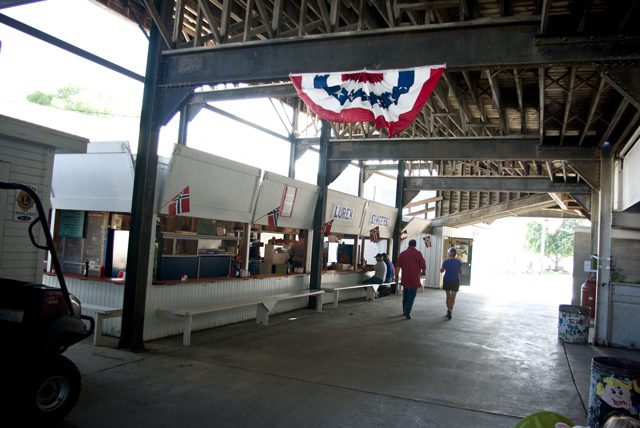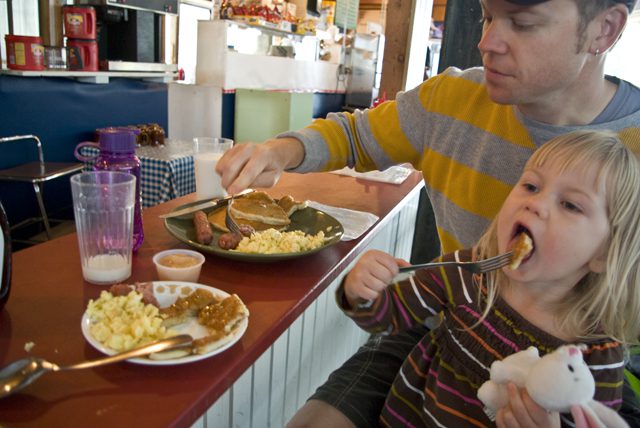 4. Rides! Who doesn't love a Ferris wheel ride? Well…we'll see if our kid does (first-timer), but even if she doesn't, there are lots of fun mild-to-wild rides to check out. $20 for 20 tickets! Wristband Days are Wednesday & Friday 6-10 pm, Saturday 2-6 pm.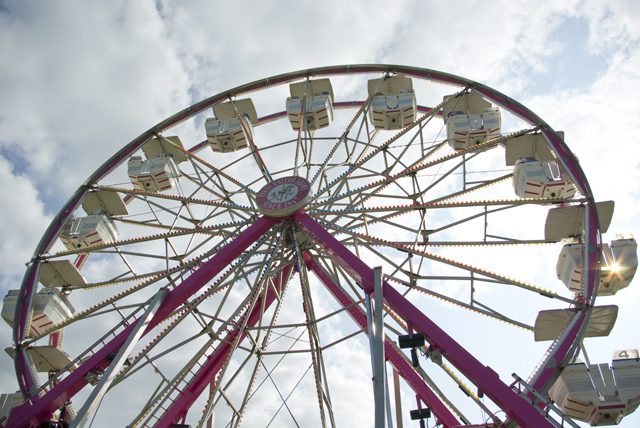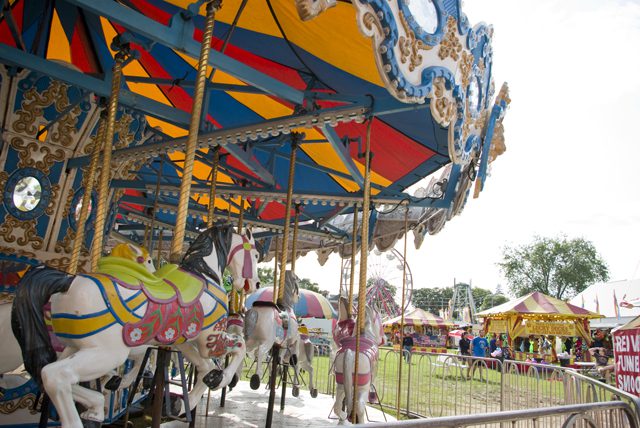 5. Grandstand Events! Buying a button gets you in to all the events. Check out the schedule here.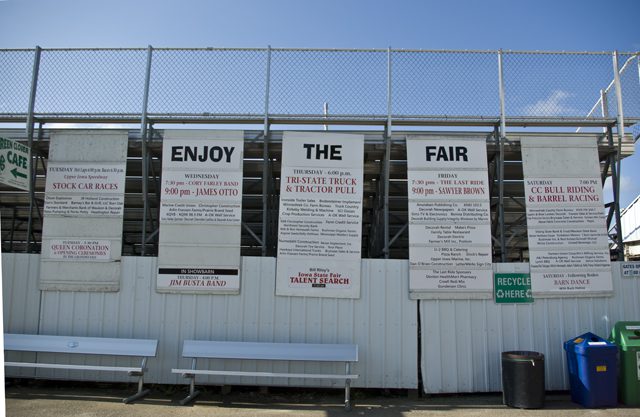 6. Kids Activities! We hit up the petting zoo yesterday – entrance is free, and you can buy some food for $1. Be careful, though…those goats can get pretty excited when you've got food in hand (see below…sorry, Rox)! There's also magic shows and bean bag contests!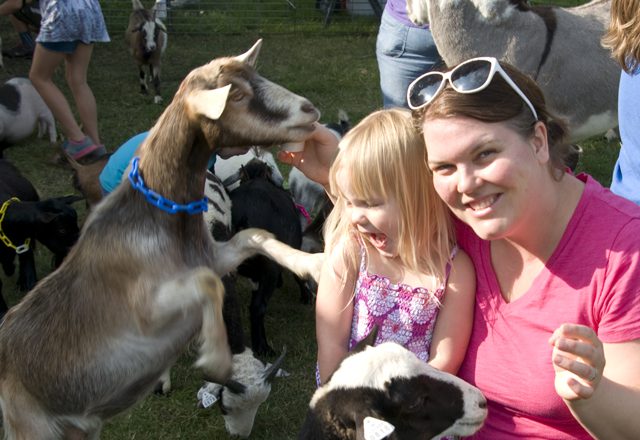 7. Great Free Music! Although it's great to buy a button and check out the larger entertainment acts, there are other fun options too – from the Buck Hollow barn dance to the Jim Busta Band, you'll be happy you wore your dancin' shoes.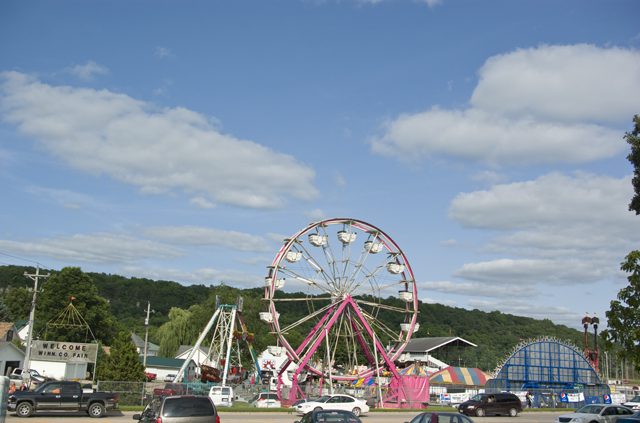 Here in the tri-state area there are tons of county fairs that offer up great family entertainment at affordable prices. Here's a list of a few of them you can still catch! Did we miss one you love? Let us know!
NE Iowa:
Winneshiek County Fair: July 7-11, 2015
Allamakee County Fair: July 15-19, 2015
Dubuque County Fair: July 28-August 2, 2015
Fayette County Fair: August 5-9, 2015
Clayton County Fair: August 5-10, 2015
SE Minnesota:
Winona County Fair: July 8-12, 2015
Wabasha County Fair: July 15-18, 2015
Fillmore County Fair: July 21-25, 2015
Olmsted County Fair: July 27-August 2, 2015
Houston County Fair: August 19-23, 2015
SW Wisconsin:
Trempeleau County Fair: July 23-26, 2015
Grant County Fair: August 16-23, 2015
Crawford County Fair: August 26-30, 2015
Vernon County Fair: September 16-20, 2015
————————————————————-

P.S. Don't forget to make your plans to attend the Iowa State Fair August 13-23 in Des Moines! Since 1854 Iowans have enjoyed what has been rated one of the top summer attraction in the US by publications such as USA Weekend, Midwest Living, and the New York Times.
The Iowa State Fairgrounds in Des Moines feature an incredible park-like 400-acres (the Fair's home since 1886) and also adjoin 160 acres of Campgrounds – both parcels that are listed on the National Register of Historic Places. The fair has provided a place through history that has educated, informed, and entertained people from every walk of life. It is also host to "one of the world's largest livestock shows," as well as the largest art show in the state.
Entertainment is also high on the list at the Iowa State Fair with over $400,000 / year spent on bringing in top-notch acts. This year's grandstand line-up includes performances by Casting Crowns, Justin Moore, Def Leppard (yes!), Reba, Carrie Underwood, YES & Toto, Alabama, The Fray, Meghan Trainor, Rock-A-Thon, and of course the excitement of the Grand Outlaw National tractor & truck pull, and more.
And as if that weren't enough, don't forget about the butter cow – hand crafted out of over 600lbs of butter by Norwalk sculptor and expert cake decorator Sarah Pratt. Not to mention the 50+ foods available… on a stick.
Fair time is fun time! See you there!