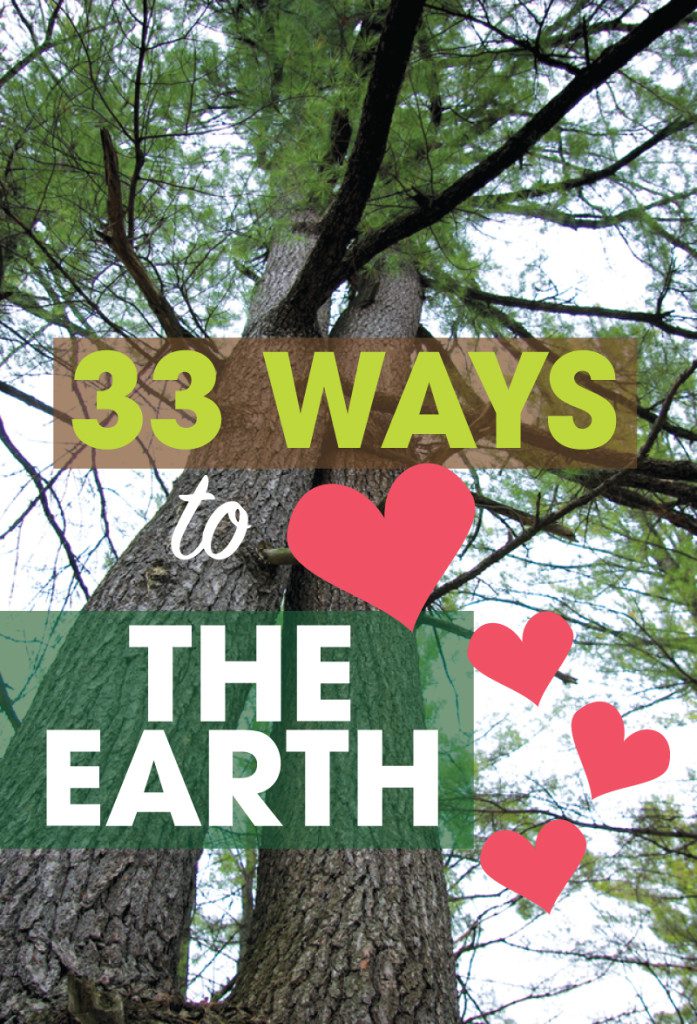 By Maren Stumme-Diers • Originally published in the April/May 2010 issue of Inspire(d), updated Spring 2015
Looking to green your life on earth day? How about any day? Here are 33 ways to love the earth – because, c'mon, it's pretty darn lovable! (Above photo by Lauren Kraus)
———————————————
1. Bury your car in your backyard (or at least pretend you did). Don't drive for a day. A week. A month?
2. Stick Around! Rather than packing up the car and heading to New York or San Francisco, kick it local. Bike the Elroy-Sparta Trail, canoe the Turkey River or take a trip to Effigy Mounds (pictured below, photo by Lauren Kraus). Check out Inspire(d)'s Boxed (IN) trips for ideas. You'll save money AND have fun.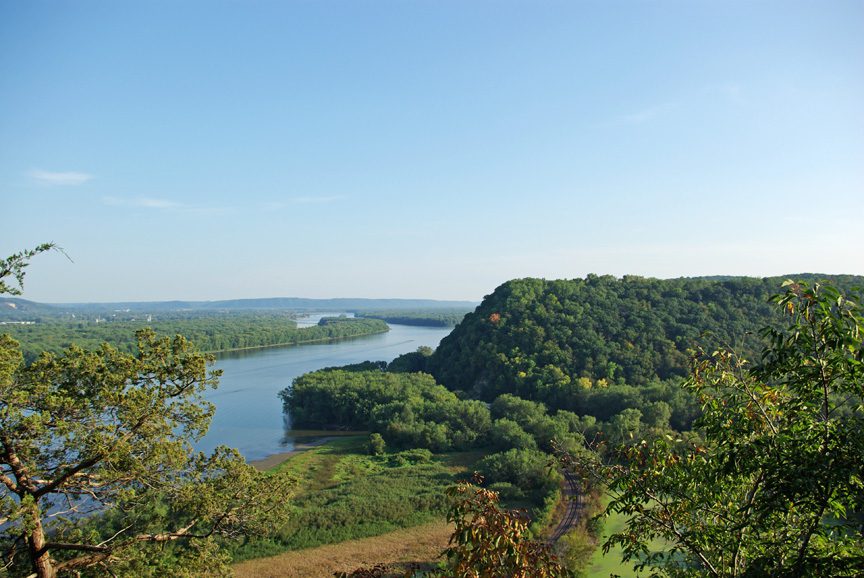 3. Play disc golf. Disc golf courses typically use natural surroundings and obstacles to create fairways and holes, which connects players to the natural environment. As local disc golf guru Dan Bellrichard says, "Playing is like a walk in the park…only so much better!" You can find courses at Luther College, Waukon City Park, Upper Iowa University, Cresco, New Hampton, Hokah, Sparta, La Crosse and Lanesboro.
4. Check out a new trail. For ideas on where to go, visit exploredecorah.com or read past Inspire(d) trail reviews in the "Read: Driftless Trails" section. Wanna take it up a notch? Check out the mountain bike rides that Decorah Bicycles is hosting – FWD (Fearless Women of the Dirt) looks pretty rad!
5. Sign the kids up for Summer Discovery Camps at Luther. Campers will learn about woodland, wetland and prairie ecology, wilderness camping and survival, alternative energy, and more. (environment.luther.edu/discovery)
6. Let the worms eat your garbage. If vermicomposting can be successful in the Luther Residence Halls (yes, it's true), then it can definitely work in your home, office space or classroom. Worms enjoy a vegan diet and love to crawl around in your shredded up newspaper or confidential documents. If you are a teacher, make a worm bin for your classroom and nominate a student to be the official "wormkeeper." All you need are worms (can be purchased online at happydranch.com), a Rubbermaid container with holes drilled around the top, newspaper and food scraps. Population will double in three to six months, so you will get to share the worm love with favorite friends and colleagues. Reducing waste has never been so fun.
7. Throw your television out the window (or pretend you did) and spend time reading, writing, drawing, telling stories making music or (insert favorite activity here). (Art, below, by Roxie Nichols, age 2.)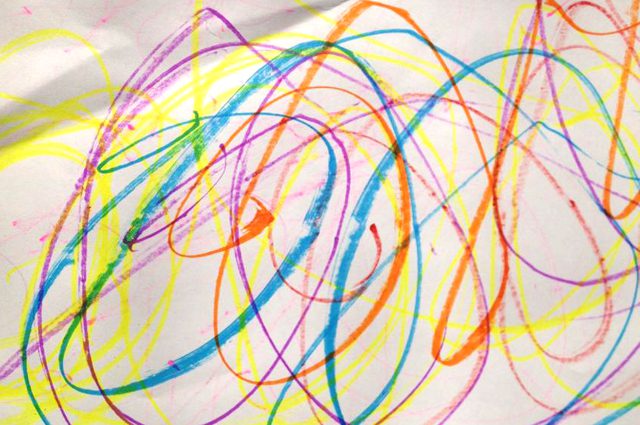 8. Pick up a copy of the "Better World Handbook" co-authored by Luther College Environmental Sociology Professor Brett Johnson. In this easy-to-use book you will find tips on responsible shopping and investing, as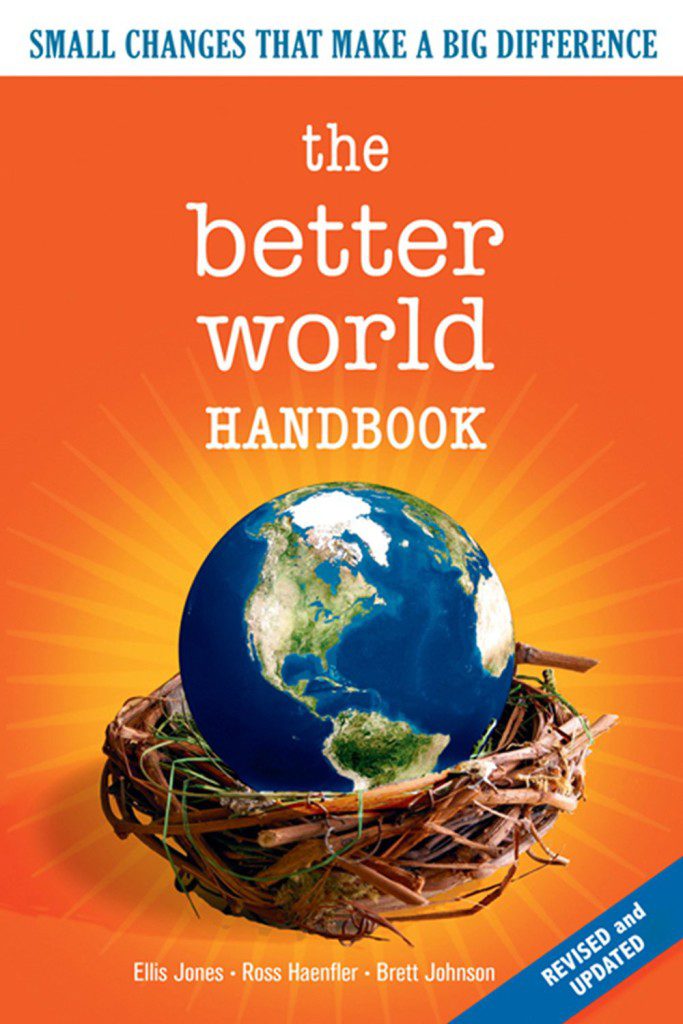 well as resources that will help you make the world, fittingly, a better place. Find copies in the Luther bookstore or online at betterworldhandbook.com.
9. Use your dollars as votes for a better world. Explore opportunities for socially and environmentally responsible investing, support entrepreneurs in developing countries by providing microloans through organizations like KIVA (kiva.org) and pay attention to the practices, people and businesses you are supporting when you spend your money.
10. Live like we're in an "ession" (depr- or rec-…you choose). Er…wait…that's now.
11. Pay your bills online. If every house in the United States did this we would save 18 million trees every year
12. Buy used. You will be amazed at what you can find at places like the Depot, Goodwill, Spectrum Thrift Store, DecorahNow.com, Rien de Nouveau, Toys Go Round and more.
13. Ask your utilities providers for an energy audit. You may be surprised at the rebates and incentives available for making your home more energy efficient.
14. Switch out incandescent light bulbs for their more energy efficient counterpart: the compact fluorescent light bulb (CFL). This small, inexpensive action can have quite an impact on your electricity bill.
15. Wash your laundry in cold water and ditch the dryer – use a clothesline or drying rack.
16. Replace your showerhead with a low flow model.  Or…shower with a buddy (it's more fun and it saves H20)!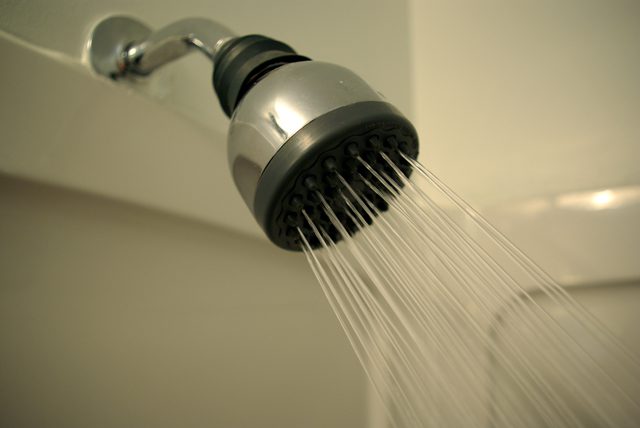 17. If it's yellow, let it mellow. If it's brown, flush it down. If it's green…you may be taking this whole "loving the earth" thing a little too far.
18. Un-load (the "phantom load," that is). Did you know that cell phone and computer chargers always use energy when plugged into the wall – even if nothing is attached to them? To save energy unplug chargers when not in use.
19. Switch to cloth napkins.
20. Conduct a waste audit of your home/office/classroom/church. If recyclables are ending up in the trash, perhaps you need a more convenient recycling system. If compostables are in the trash, it sounds like you may just need a worm bin (see a theme here?). If there are large quantities of items that can't be recycled, composted, or reused in your trash, you may need to reevaluate what you are purchasing. Seek out products with less associated waste or talk to companies and let them know that you want less packaging. They will listen.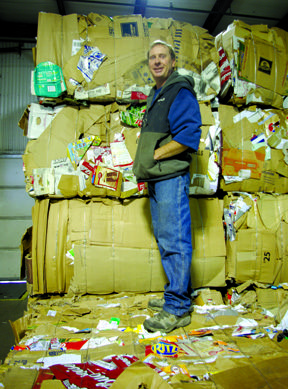 21. Visit Terry at the Winneshiek County Recycling Center (or at least become a friend of the Winneshiek County Recycling Center on Facebook). His passion for recycling is contagious and I assure you that he will be able to answer any questions you have about recycling in this area (he's pictured, at right).
22. Slow down! Don't drive so fast.
23. Help to eradicate invasive species like Garlic Mustard and Buckthorn!
Garlic Mustard: This invasive species crowds out woodland plants, prevents tree seedlings from growing, and can spread at a prodigious rate. Learn how to identify and weed this destructive plant at local events.
24. Reuse containers before you recycle them. Remember this order: reduse (buy less packaging and stuff), reuse (that pickle jar can hold chicken stock too!), recycle (don't throw away what can be made new again!).
25. Expand your knowledge of gardening by attending Seed Savers Garden Workshops (www.seedsavers.org)
26. Plant a Garden! This could be as simple as a container garden on your patio. Or if you just want to take a field trip, come visit the Luther Gardens (I may even give you a personal tour). While in Decorah you should also visit the Winneshiek Medical Center's garden (Learn more at the Pepperfield Project). Or check out Sonya Luse Geenen's great garden plans here!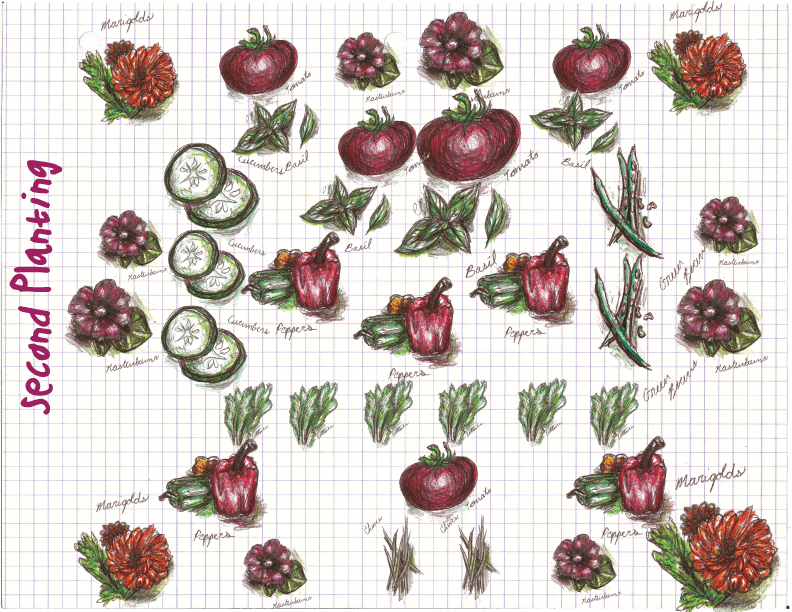 27. Collect rainwater and use it in those gardens.
28. Eat food. Not too much. Mostly plants. (Thanks, Michael Pollan). And when you aren't in the mood to eat mostly plants, be sure to support local meat producers.
29. Visit your local farmers market to meet the faces behind your food. Winneshiek Farmers Market opens on Saturday, May 1 (barring weather constraints) and runs through October. The market is open on Wednesday from 3-6 pm and Saturdays from 8-11 am. Goodbye snow, hello fresh veggies! Or find a market near you at www.localharvest.org.
30. Give your palate many reasons to celebrate the seasons. I recommend picking up two cookbooks:
–From Asparagus to Zucchini: A Guide to Cooking Farm-Fresh Seasonal Produce by the Madison Area Community Support Agriculture Coalition. Recipes are presented according to ingredient.
–Simply In Season not only provides delicious recipes, but also explores how the food we put on our tables affects our global and local neighbors.
**Once you find your favorite recipes, host a local foods potluck or dinner party.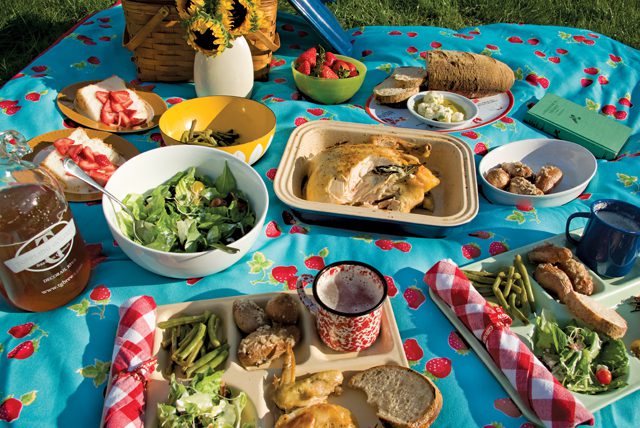 31. Get locally buzzed. Forget about Belgian beer, Argentine wine and Irish whiskey. Visit Toppling Goliath in Decorah and taste what they have brewing (I love the Naughty 90). Winneshiek Wildberry Winery is located outside of Decorah and offers a wide variety of local wines. A new-found personal favorite is Iowa's delicous Templeton Rye.
32. Like B Kind 2 Earth Day on Facebook and socially pledge how you'll love the earth on earth day and beyond.
33. Learn more about the Winneshiek Energy District and sign up for a Home Energy Check-Up! You can save money AND the earth!
——————-
When she's not busy finding ways for Luther to love the Earth, Maren enjoys cooking, yoga, and moonlit morel hunts and welcomes any outdoor adventure that comes her way.