The Hotel Fortney, built in 1899, is one of the longest-standing buildings in downtown Viroqua, Wisconsin. It's a striking city landmark, with its three-story Queen Anne styling and circular corner oriel bay window. But time had not been kind to the historic building.
By 2017, brickwork on the oriel bays was starting to come loose, windows were detaching, and a back corner wall was caving in…but it was for sale.
This was when Amy and Brian Wrobel, of Stoddard, Wisconsin, toured the building.
"There was clearly a lot of potential there, but the amount of work that would need to be done was staggering," Amy explains. "We continued to discuss the possibilities off and on for the next three years, sketching hundreds of floor plans on napkins and scratch paper, until we finally came up with a way to make it all work."
The couple approached Brian's parents, Larry and Sue Wrobel, about jumping in on the project, and the group decided to go for it. They officially purchased the building in January of 2020, with plans to eventually return it to its former hotel status.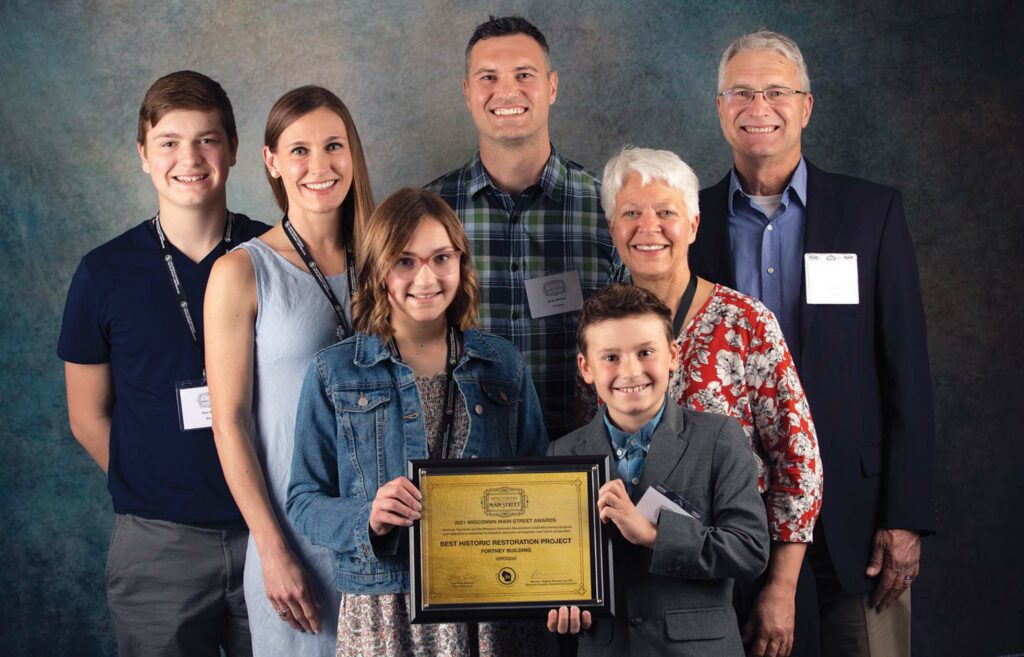 Work began immediately, starting off with large amounts of cleaning, then moving into a full building renovation, taking the interior all the way down to the studs and addressing immediate repair needs, like the falling brickwork, detaching windows, and sinking wall. Eventually the building's entire exterior was also repainted for the first time since around 1979.
It's been a true family affair. And while the Wrobels never imagined being the owners of a lounge or boutique hotel, they have each settled very easily and naturally into a niche role on an ownership team that just works.
"Larry is our jack-of-all-trades, constantly on the move demoing, hauling, cleaning and overseeing the project on a daily basis," Amy says. "Sue is the boss of our day-today operations, serving as HR manager and bookkeeper, to name just a few. She has also spent countless hours refinishing all things wood found throughout the building from huge oak doors, to the original lobby desk, and most recently the grand staircase. Sue and I have been able to unearth the natural beauty found beneath layers and layers of paint and years of heavy use."
In addition to elbow grease and hard labor, Amy brings a design eye to the massive project, which won "Best Historic Restoration Project of 2021" at the Main Street Wisconsin Awards held in April of 2022.
"I serve as the design coordinator, researching and exploring the design styles that would have been characteristic at the time this hotel was in its heyday," Amy says. "I have been working hard to find creative, modern solutions to bring that old-time look and feel back to this restoration."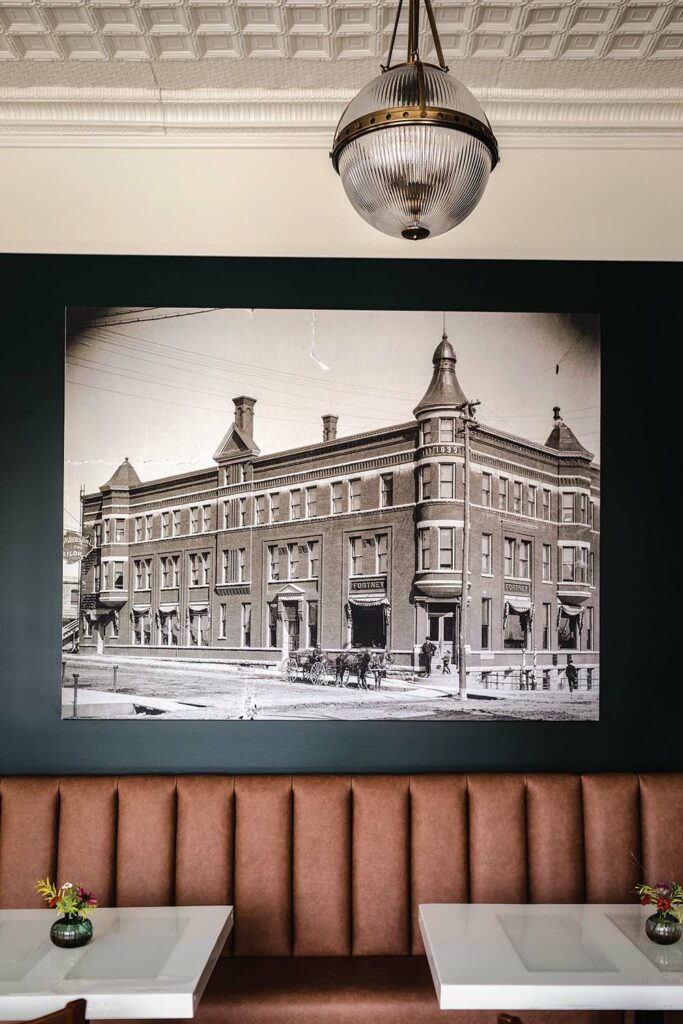 In that heyday, the grand Hotel Fortney featured a large dining room, waiting room, a grand lobby, reading room, and writing room all on the first floor with a magnificent three-story open staircase leading to luxurious guest rooms on the second and third floors. Built by Toger and Hannah Fortney, it rivaled hotels of much larger cities. Through the years, as time began to take its toll, the building continued to operate as a hotel or short-term occupancy living model with a variety of different businesses housed on the first floor and basement.
The Wrobel's plan was to restore the first floor for commercial business spaces and then renovate the second and third floors into hotel rooms.
"My husband, Brian, is the visionary for our project and has brought so many of the pieces to this puzzle together," Amy says. "He is constantly brainstorming ways to make a square peg fit into a round hole, so to speak, in a 123-year-old building where nothing is straight or level and everything needs to be brought up to present day building code."
As of this writing, the first floor has been completed and now houses The Historic Fortney Lounge, which is operated by the Wrobels, as well as four additional businesses: Noble Rind Artisan Cheese Co., Driftless Healing Arts, Pink Spruce Photography, and Linnea Wyant Salon (see sidebar for details).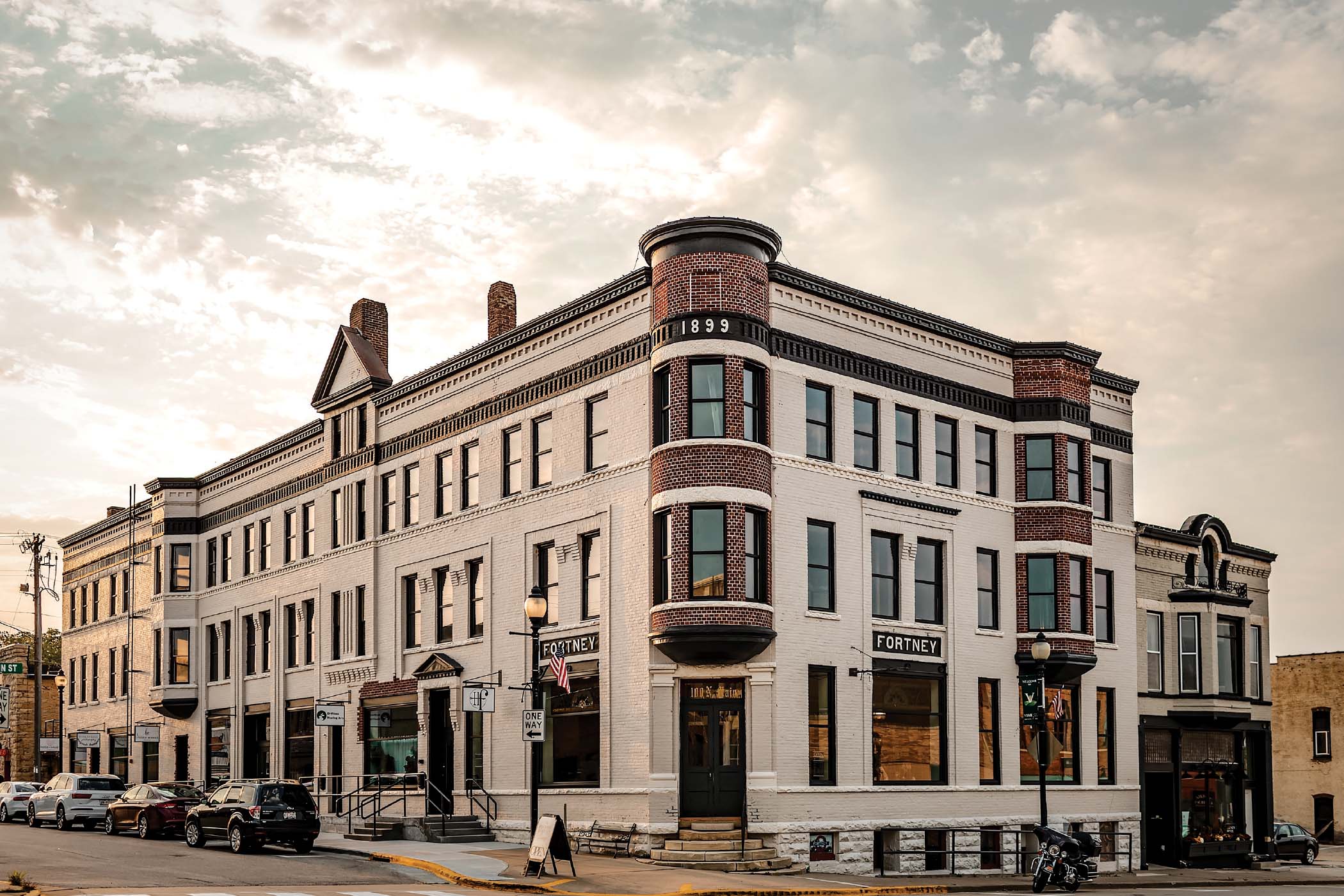 As each new business planned to move into the building, the Wrobels first spent time getting to know the owner and their specific needs in order to create a unique space that would fit.
"Brian is a project manager for a commercial construction company and provides a wealth of knowledge pertaining to the ins and outs of the construction phase," says Amy. "We walked them through every detail of their build out so nothing was forgotten. Each commercial space is uniquely different, while still maintaining the characteristic charm of this big, old historical landmark building."
When the final commercial tenant, Noble Rind Artisan Cheese Co., opened their doors in February 2022, the Wrobels switched their focus to stage two of renovations: the second and third floors of the building, which will house 14 boutique hotel rooms, currently set to open in late 2022 or early 2023.
"All of the businesses within the building are growing and thriving, and each one is incredibly supportive of all the others," says Amy, who is excited to soon be able to offer unique hotel rooms for folks who will inevitably come to check out these unique businesses and spaces. "There seems to be a widespread belief in Viroqua as a whole that we can all benefit from the success of others around us. It's a very collaborative and vibrant community that we're thankful to be a part of."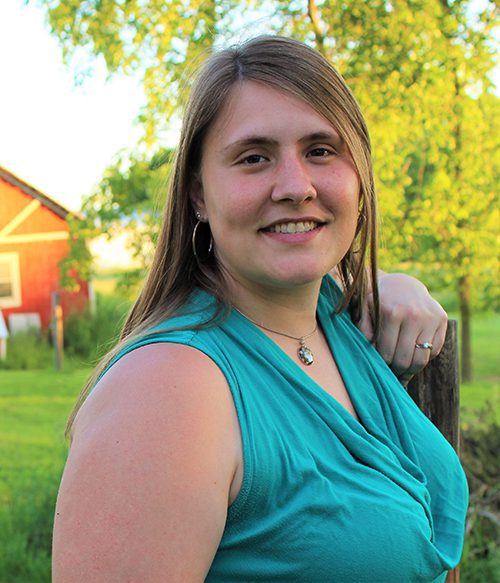 Tallitha Reese is a freelance writer and content manager based in Cashton, WI. She owns Words By Reese and you can find out more about her and her work at www.wordsbyreese.com. 
Amy Wrobel shares details about the Fortney businesses:
• The Historic Fortney Lounge serves craft beer and wines along with food from the local Driftless Café and Noble Rind Artisan Cheese Co. and is a favorite place for customers to come and relax while meeting with friends and family.
• Noble Rind Artisan Cheese Co. offers a full menu of specialty cheese and charcuterie boards, soups, salads, sandwiches, beverages and a variety of retail items.
• Driftless Healing Arts offers naturopathic medicine consultations, Tai Chi instruction and acupuncture treatments, focusing on natural and holistic approaches for healthy lifestyles.
• Jen Casselius, of Pink Spruce Photography, is an award-winning wedding photographer who also offers small business branding packages.
• Lennea Wyant Salon provides exceptional salon services in a relaxing and luxurious space – their extensive knowledge of color technique is second to none in the area.
Learn more at hotelfortney.com