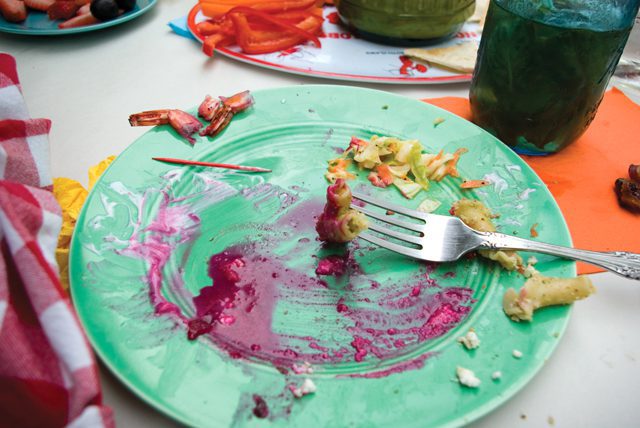 Taking a Midwest Tradition Local
Story and photos by Aryn Henning Nichols • Photo/Food Assistant Thea Satrom • Originally published in the Summer 2015 Inspire(d)
Getting together with friends is the stuff of summer.
Getting together with friends, eating food grown by friends, is the stuff of a Driftless summer.
When you live in a place like the Driftless Region, you sometimes forget that you're even eating local…you're just serving up the produce grown by farmers up the road! They might even be sitting across the table from you – 'cause this is the Midwest, people. We're friendly. And we like to potluck.
In case this is your first day in the Midwest, a potluck is "a gathering of people where each person or group of people contributes a dish of food to be shared among the larger gathered group."
It's a beautiful thing not just because it's a great format for a party, but also because sometimes summertime livin' isn't so easy; it's busy. Make it a little simpler by having your friends make all the food. Okay…you still have to make one dish, but that's a lot better than a whole meal.
What goes into planning a potluck? Just an email, text message, or phone call with a loose "you do a main course, I'll do veggie, they'll bring dessert" sort of thing. Take it a step further and challenge potluck-goers to use local produce in their dishes. Buying locally is good for your environment, economy, and – most importantly – yourself. And shopping in season at your area farmers markets and food co-ops is also way more affordable than you'd think!
We put together our own potluck of local foods for this issue – from local shrimp (yep!) to bacon-wrapped dates to a beet and apple salad to cheese curd caprese skewers, we've got you covered.
In a pinch and don't have time to actually cook something? That's totally okay too! We looked to the bulk section of our local co-op for a few ideas…chocolate-covered ginger, anyone? Goes great with a mint julep, we think!
Make it a potluck-y summer, friends, and enjoy!
—————————-
We love a good salad around here – our "regular" is fresh, local greens, walnuts, cranberries, and goat cheese (Yellow River Dairy's is a delightful local choice!). We went a little out of our norm for the two salads on our potluck list, though, and they turned out to be winners (plus did well on a table for a little bit of time). Check out out potluck salads below, and let us know what you think!
——————————–
PRINT RECIPES HERE
——————————–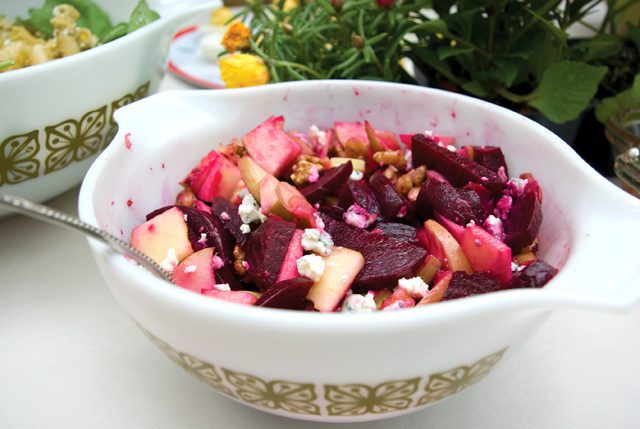 Beet & Apple Salad
2 T honey
1 T apple cider vinegar
1 T olive oil
Four beets, roasted or boiled, skins removed, sliced into bite sized-pieces
1 Fuji apple, sliced into bite sized-pieces
1/4 cup crumbled blue cheese
1/4 C walnuts
Whisk together honey, vinegar, and olive oil. Season with salt and pepper to taste. Set aside. Toss walnuts, cooked beets, and apple slices in bowl and combine with dressing. Top with blue cheese and give a little stir. Add another drizzle of olive oil if needed. Season with salt and pepper.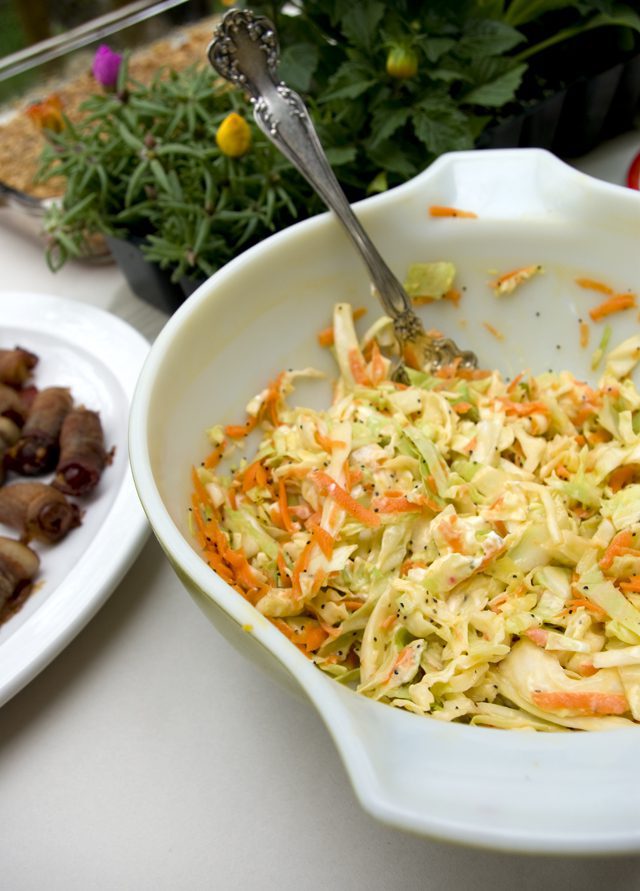 Coleslaw
1 sm cabbage sliced thin
1/3 C mayo
1T poppy seed
1/4 C cilantro, chopped
2 med carrots, shredded
1 T rice vinegar
1 T honey
1 tsp salt
1 tsp pepper
1 pinch celery seed
Combine all ingredients. Let sit at least one hour before serving so flavors can meld. (Doh, we forgot the cilantro for our potluck, but think it really would have brought this recipe to the top of the chart! Let us know what you think!)
——————————–
PRINT RECIPES HERE
——————————–