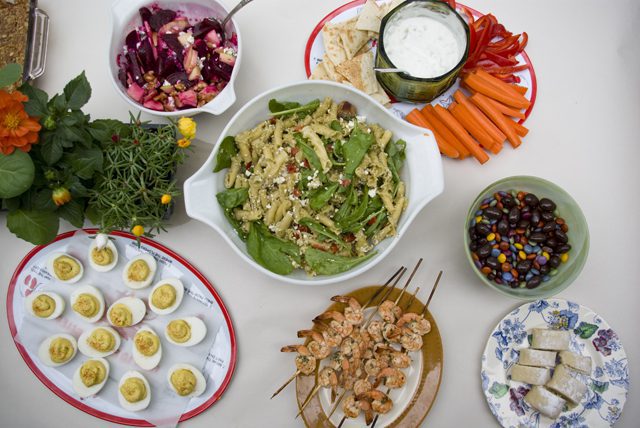 Taking a Midwest Tradition Local
Story and photos by Aryn Henning Nichols • Photo/Food Assistant Thea Satrom • Originally published in the Summer 2015 Inspire(d)
Getting together with friends is the stuff of summer.
Getting together with friends, eating food grown by friends, is the stuff of a Driftless summer.
When you live in a place like the Driftless Region, you sometimes forget that you're even eating local…you're just serving up the produce grown by farmers up the road! They might even be sitting across the table from you – 'cause this is the Midwest, people. We're friendly. And we like to potluck.
In case this is your first day in the Midwest, a potluck is "a gathering of people where each person or group of people contributes a dish of food to be shared among the larger gathered group."
It's a beautiful thing not just because it's a great format for a party, but also because sometimes summertime livin' isn't so easy; it's busy. Make it a little simpler by having your friends make all the food. Okay…you still have to make one dish, but that's a lot better than a whole meal.
What goes into planning a potluck? Just an email, text message, or phone call with a loose "you do a main course, I'll do veggie, they'll bring dessert" sort of thing. Take it a step further and challenge potluck-goers to use local produce in their dishes. Buying locally is good for your environment, economy, and – most importantly – yourself. And shopping in season at your area farmers markets and food co-ops is also way more affordable than you'd think!
We put together our own potluck of local foods for this issue – from local shrimp (yep!) to bacon-wrapped dates to a beet and apple salad to cheese curd caprese skewers, we've got you covered. For this post, we're featuring main courses – sometimes you just want to bring something a little heartier, especially as weather starts to turn chillier in the fall!
In a pinch and don't have time to actually cook something? That's totally okay too! We looked to the bulk section of our local co-op for a few ideas…chocolate-covered ginger, anyone? Goes great with a mint julep, we think!
Make it a potluck-y summer, friends, and enjoy!
——————————–
PRINT RECIPES HERE
——————————–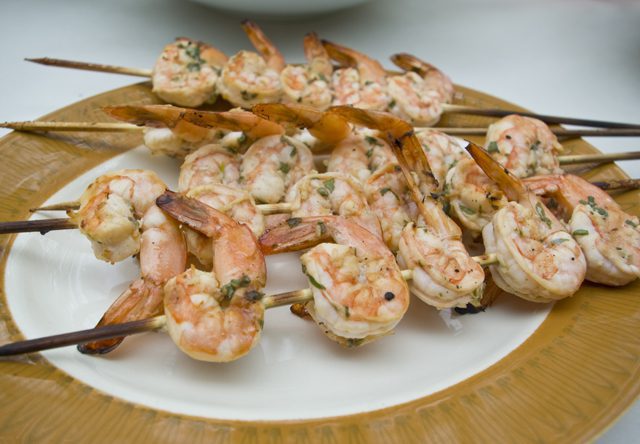 Marinated Grilled Shrimp
Did you know there's local shrimp now? There's a new farm north of Fayette called Shrimptastic and also a farm in Ridgeway called Sherlock Shrimp. It works like this: You head to the farm, they harvest your shrimp fresh, you bring them home and cook 'em. Pretty cool! (P.S. the above photo was taken before local shrimp was available, so it's actually from the freezer section of the Oneota Co-op. The local shrimp is WAY bigger!)
2 cloves garlic, minced
2 T olive oil
2 T chopped fresh basil
1/2 tsp salt
Juice from half a lime
Juice from half a lemon
1 lb fresh shrimp, peeled and deveined
skewers
In a large plastic bag, mix the marinade.  Add shrimp and coat evenly. Refrigerate for 30 minutes to 1 hour.
Preheat grill for medium heat. Thread shrimp onto skewers, piercing once near the tail once near the head. Discard marinade.
Cook shrimp on preheated grill for 2 to 3 minutes per side, or until opaque.
Head over to shrimptasticllc.com for a how-to on peeling & deveining shrimp
Pesto Pasta Salad with Local Sausage 
1 lb package of pasta (we used campanelle, but also love penne or other hardy pastas)
1 red bell pepper, diced
1 package (4) local sausage (we used chicken, but any sausage would work great), grilled and sliced.
2 cups arugula
1/4 cup goat cheese
1/2 cup pesto (see recipe below)
Cook pasta according to package directions. We always undercook a bit, because mushy pasta is no good! In a large bowl (or just use the same pot you made the pasta in), combine pasta, red pepper, and chicken sausage. Add in 1/2 to 1 cup of pesto…whatever your taste preferences are. Gently stir in arugula leaves and top with goat cheese. Great served warm or cold!
Walnut Pesto
1/2 C walnuts
2 cloves garlic
3 cups packed basil leaves
1/2 tsp salt
1/2 freshly ground black pepper
1/3 C olive oil (or more if needed)
1/2 C grated Parmesan cheese
1-2 tsp lemon juice
Place basil, walnuts, garlic, salt and pepper, and olive oil in food processor.
Blend until thoroughly combined. Add Parmesan and blend 5-10 seconds more. Splash in lemon juice to taste. Add additional salt to taste, if needed. For storing, a layer of olive oil on top keeps the pesto from browning. It also freezes great, so double the batch to get a little summer freshness when winter hits!
——————————–
PRINT RECIPES HERE
——————————–