Shiny new bike day is a happy day.
But sometimes the joy is found in the journey. Restoring a bike – shining up something old and making it new again – can make that two-wheeled reward even sweeter.
Like an old bike, La Crescent, Minnesota, had the framework to build a healthy and active community. It had the support of its citizens, city, and schools. It had natural beauty, visible from its neighborhood streets and scenic byways. And it had growing families looking for ways to spend time outside with their children. 
But to become a truly bike-friendly city, it needed a tune-up. In 2007, a grant from Blue Cross Blue Shield of Minnesota set the wheels in motion. With this money, community members created Active Living La Crescent, which worked to build a presence in the school district, add bike racks, and create bicycle-related programming. Active Living La Crescent operated under Healthy Community Partnership (HCP), a local group that serves as an umbrella organization for La Crescent nonprofits. With a mission of impacting the health, wellness, and livability of the city, HCP was the perfect partner, and ultimately, a very qualified predecessor. When the grant money ran out, HCP didn't want all that work to be lost.
"We essentially had a bicycle shop in a box," describes Linda Larson, who at the time was serving on the HCP board. She and other community volunteers looked to examples of other bike-friendly cities like Minneapolis, Minnesota, and Boulder, Colorado, and decided that a community bike shop was feasible given the great groundwork laid by Active Living La Crescent.
With these other cities in mind, Linda took on the role of Project Manager and worked to develop The Bike Shoppe. "We knew what we needed to do, we just had to do it on a smaller scale," she explains. And although they started small, they've outgrown several locations over the last 10 years, and interest is always increasing. "It just grows and grows and grows. Every year there's more interest as people learn more about what we do, and then they support us even more."
In a nutshell, the Bike Shoppe is a small-scale used bike shop with limited hours and a community-based mission. Continuing to operate under HCP, it offers many services to the community, including bike repair and tune-ups, bike sales, and bike education. And impressively, all of this is completely done by volunteers. In 2022 alone, the Bike Shoppe volunteers put in over 1,000 hours of work.
Volunteers work to restore used bikes that have been donated by community members – there were 80 in 2022. These bikes are sold at an affordable price on Saturdays during the spring and summer, or are used for things such as donations and giveaways to organizations in the area.
In addition, the Bike Shoppe volunteers completed 63 service appointments in 2022 – including tune-ups and repairs – for La Crescent riders. Their trained technicians work on all kinds of bicycles, from e-bikes and road bikes, to recumbents and tricycles. Repair and service hours are varied, so it's best to reach out and schedule an appointment or connect with The Bike Shoppe crew during the Saturday sales.
Replacing tires, greasing chains, tightening brakes, wrapping handlebars, and more – it all takes time and patience, but Scot McCollum enjoys his time volunteering at the shop. An avid cyclist himself, it's how he returns the favor to those who support the rides and the races he participates in. "I see this as a way to give back to the bicycling community," says Scot.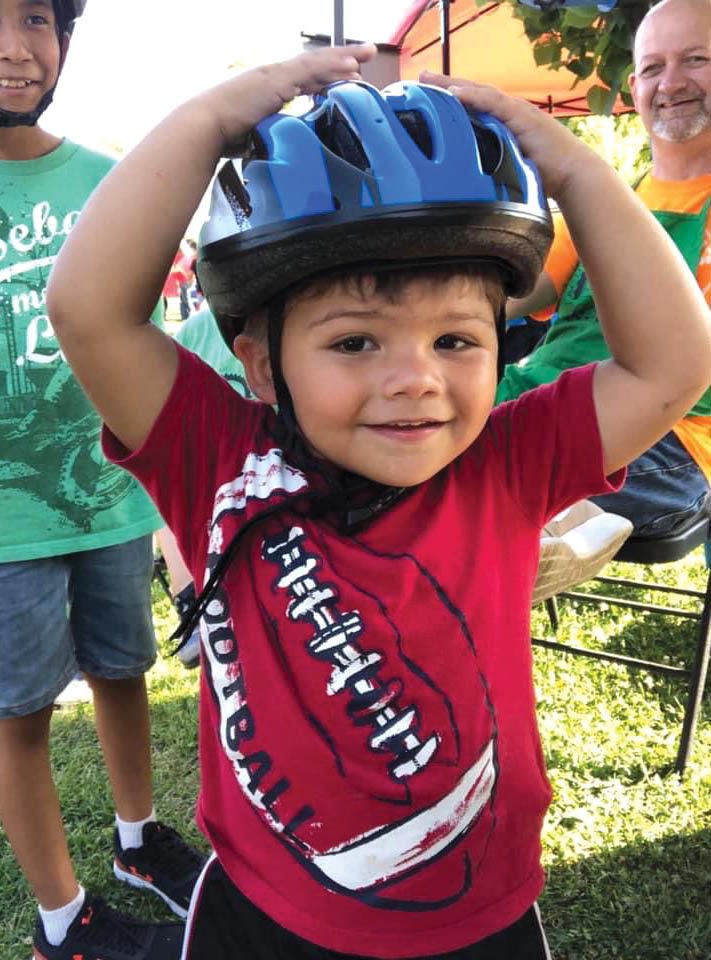 He also sees the empowerment that comes from learning to take care of your own bike, which he often teaches the Bike Shoppe customers. "A bad experience such as a flat tire or squeaky brakes can be off-putting and leave people feeling on the outside. I try to encourage and empower riders through education in maintenance, provide better functioning and fitting bicycles, and help riders get more out of their bicycles," he says.
A big part of the Bike Shoppe's mission is giving back as well. In 2022, they donated 25 bikes to organizations supporting both adults and children in La Crescent and neighboring communities. They also gave out 65 bike helmets at National Night Out in August.
Michele Coulombe's son, Yazan, was one recipient of the group's generosity. Nine-year-old Yazan likes to ride his bike everywhere. But last summer the tires stopped holding air. "I'm a single working mom with no family here and I couldn't afford a bike for him. The other kids were riding and all he could was watch them," explains Michele.
A friend of hers had heard of the Bike Shoppe and shared Michele and Yazan's story with the staff. Soon after, Yazan had a new set of wheels. "We were given what looks like a brand new bike," she says. "He was over the moon and even cried. After that he was outside day and night riding."
In true cyclical fashion, Yazan's old bike went to the shop so they could repair it for another child in need. Michele is so grateful for their assistance. "They were an absolute blessing," she says. And Yazan is happy to be out riding again. He likes to ride to the store for his mom and is hoping to ride to school this spring.
A decade of this kind of work has helped to give La Crescent the tune-up it needed. "Riding is contagious," says Linda. "Families see each other out riding and then they want to go, too."
The Bike Shoppe has done its part to get properly working and safely operating bikes in the hands of La Crescent residents. And luckily, they've got great partners at city hall that have worked diligently to provide places for folks to ride.
Until 2022, Highway 14/61 has separated the community with busy traffic and hard-to-cross intersections. Children, living on the side opposite the schools, had to be bussed less than a mile because crossing was too dangerous. The community also had limited access to the Wagon Wheel trail, an old stagecoach road that runs through the Mississippi River marsh next to the city. The new bridge connects to the Wagon Wheel trail, which connects homes in the Shore Acres community to the rest of La Crescent.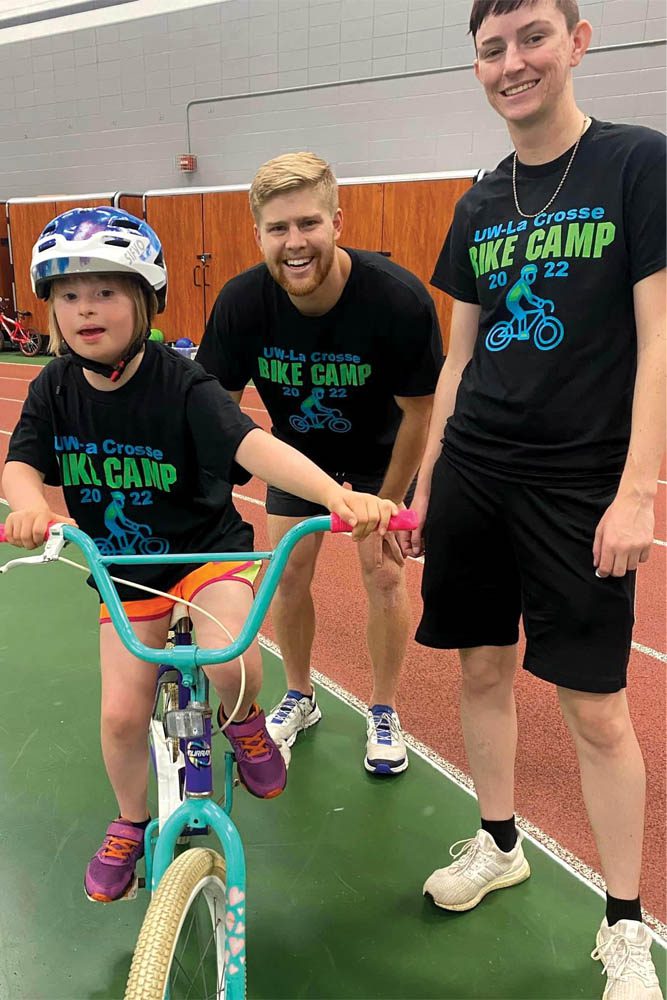 It has been a years-long project. With the help of a $2.5 million bonding bill in 2018, and a $1 million grant from the Minnesota Department of Transportation, the city was finally able to complete this phase of the development in 2022 with the construction of a biking and pedestrian bridge across Highway 14/61.
The bridge has become "an overnight landmark" says City Administrator, Bill Waller. "It has created an energy, an excitement. People gravitate to it. Overnight it just became a focal point in the community." Linda loves what it represents about the city. "Nothing says 'this is an active town' quite like putting a bridge right on the highway," she laughs.
Bill heard from downtown La Crescent merchants that upon completion of the bridge, there was an immediate uptick in traffic to their businesses. Allie Benish, owner of Current Clothing Co., gets a first-hand view of the bike and pedestrian traffic. Her store is located within Johnson Livings on Walnut Street, just steps from the bridge. She's used it herself with her eight-year-old son, Jase, and sees other community members accessing it all the time. "It's great that it makes downtown more accessible," she says. It's also something that homebuyers really value, says Allie, who sells real estate in the La Crosse area as well. "Families want to live in areas that have access to bike routes and trails so this is an excellent value-add for La Crescent."
Bill has also seen the benefit for La Crescent families. "We've got kids safely crossing into downtown and to school. We're even seeing kids riding their bikes across it with their fishing poles," he shares, describing how they now have access to the Mississippi River.
Providing even more trails for families to utilize is still in the works, says Bill. Representatives from the cities of Hokah, La Crescent, and Houston, as well as from Houston County, have entered into a cooperative agreement to work together to connect La Crescent to the Root River State Trailhead in Houston. It's a big undertaking, but Bill feels confident they've got the right people in place to make things happen. "There's a lot of work to be done," says Bill, who adds that there is no definitive timeline for the project. "But we've got good people on board."
Meanwhile, other developments continue. In addition to the bridge, The Wagon Wheel trail got an upgrade from crushed rock to black top last year, and a bike lane was added on Shore Acres Road. This route will extend even further when the City of La Crosse begins construction on a bike and pedestrian bridge near the Sportsman's Boat Landing that will cross the west channel of the Mississippi. This project is slated for 2025-2026. When it's completed, bikers will be able to safely ride from La Crescent to La Crosse – despite the major roadway and river.
"These trails have improved connectivity in our area and offer a greater number of options for local bicyclists," Scot says. "New and existing riders are not just talking about these amenities, but are getting out there and using them and that momentum is growing."
Providing this kind of access is why Linda became involved with The Bike Shoppe in the first place. "Until you build the infrastructure to make it easier for your community to be active, there will be barriers," she explains. Linda raised her own family in La Crescent and strived to be active with them. She knows others want this, too. And luckily for them, La Crescent is well on its way to becoming another of the Driftless Region's most bikeable cities.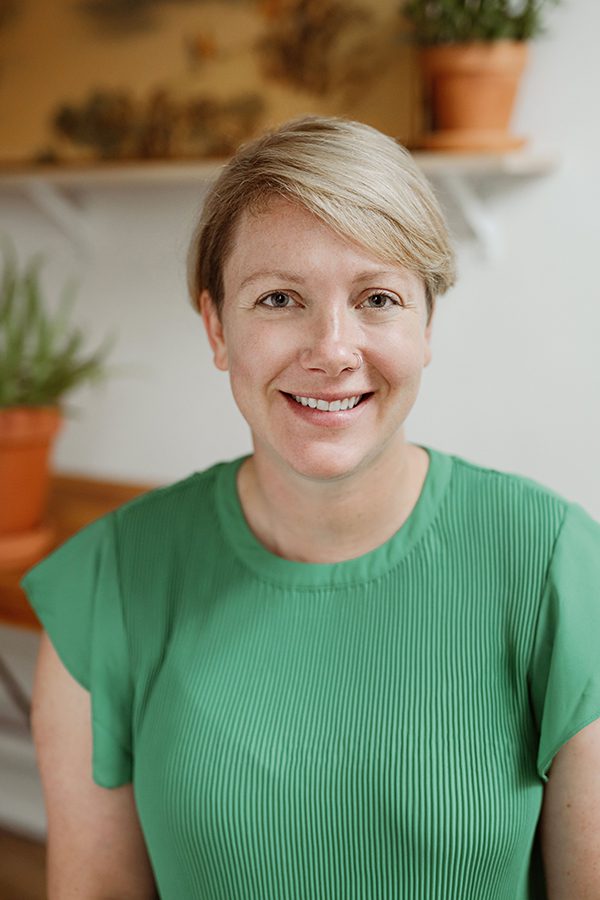 Sara is a mom and writer living in La Crosse, Wisconsin. She has been an Inspire(d) contributor since 2018. 
More about The Bike Shoppe
Shop for a new bike or drop off an old one on Saturdays
(May-August) from 9 am – 12 pm in the Corky's Pizza parking lot at 25 S Walnut St. La Crescent, MN. Call (608) 790-2580 or email bikeshoppe@lacrescenthcp.org for repair/service inquiries.
See updates and news at facebook.com/lacrescentbikeshoppe