July! Get a head start on your fun-planning with this handy-dandy July 2016 calendar (and you can download the pdf here). Enjoy! XO, Inspire(d)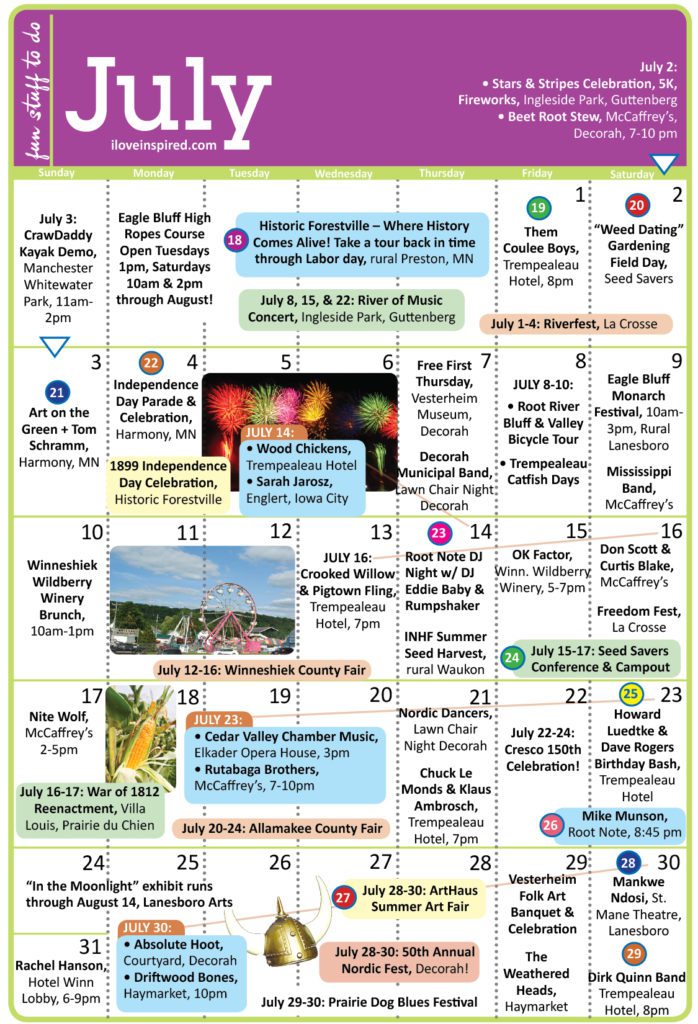 LOOKING FOR MORE DETAILS ABOUT EVENTS ON THE CALENDARS?
Check out these great summer activities!  In chronological order, each event's number coincides with its number on the calendar!
18. July 1: Step back in time to 1899. Costumed guides portray residents and their daily life. Where real history happened! Historic Forestville – rural Preston, MN. Open through Labor Day: Thur- Sun $6-$8, 507-765-2785, forestville@mnhs.org.
19. July 1: Them Coulee Boys release their brand new CD at the Trempealeau Hotel, 8pm. The swinging gals of Seasaw open for the masters of "punk-grass". www.trempealeauhotel.com
20. July 2: Weed Dating, Seed Savers Exchange: July 2, 1-4pm, ages 18+: Lend a hand during this gardening field day. Dig up weeds, uncover friendships. Register www.seedsavers.org/events
21. July 3: 'Art on the Green' outside the Harmony Visitor Center. 1-6pm. A celebration of local arts and crafts with live music by Tom Schramm from 3-6pm. More info  www.exploreharmony.com
22. July 4: Independence Day Celebration in Harmony, MN! Grand Parade 3pm, Jim Busta Band 4-7pm, Food, Games, Beer Tent, Fireworks & more. Visit www.exploreharmony.com for more info.
23. July 14: Root Note DJ Night with DJ Eddie Baby and Rumpshaker! The Root Note – Great taps, coffee, and crepes – 115 4th St. South, downtown La Crosse www.facebook.com/theRootNote
24. July 15: Conference& Campout, Seed Savers Exchange: July 15-17. Workshops, barn dance, taste trials, keynotes Aaron Keefer, Rowan White, Carol Deppe, Glen Roberts, Dr.David Shields. Register: www.seedsavers.org/conference
25. July 23: Trempealeau Hotel presents Howard Luedtke and Dave Rogers Birthday Bash with Nick Foytik Band opening – celebration of two of the areas most prolific blues guitarists. www.trempealeauhotel.com
26. July 23: Mike Munson shakes down the Root Note with his folk blues sound. 8:45pm. Great taps, coffee, and crepes – 115 4th St. South, downtown La Crosse. www.facebook.com/theRootNote
27. July 28: Summer Art Fair, July 28-30, with ArtHaus. Local artists, loads of talent, two spaces, 3 days, your opportunity to shop handmade. Details www.arthausdecorah.org 
28. July 30: Mankwe Ndosi celebrates influences from Jazz and African legacies, Hip Hop and Soul, performance art, theater, and improvisation. St. Mane Theatre, Lanesboro, MN www.lanesboroarts.org
29. July 30: Dirk Quinn Band at the Trempealeau Hotel. High energy funk/jazz from Philadelphia. Impossible to describe this insanity, but a must hear! www.trempealeauhotel.com