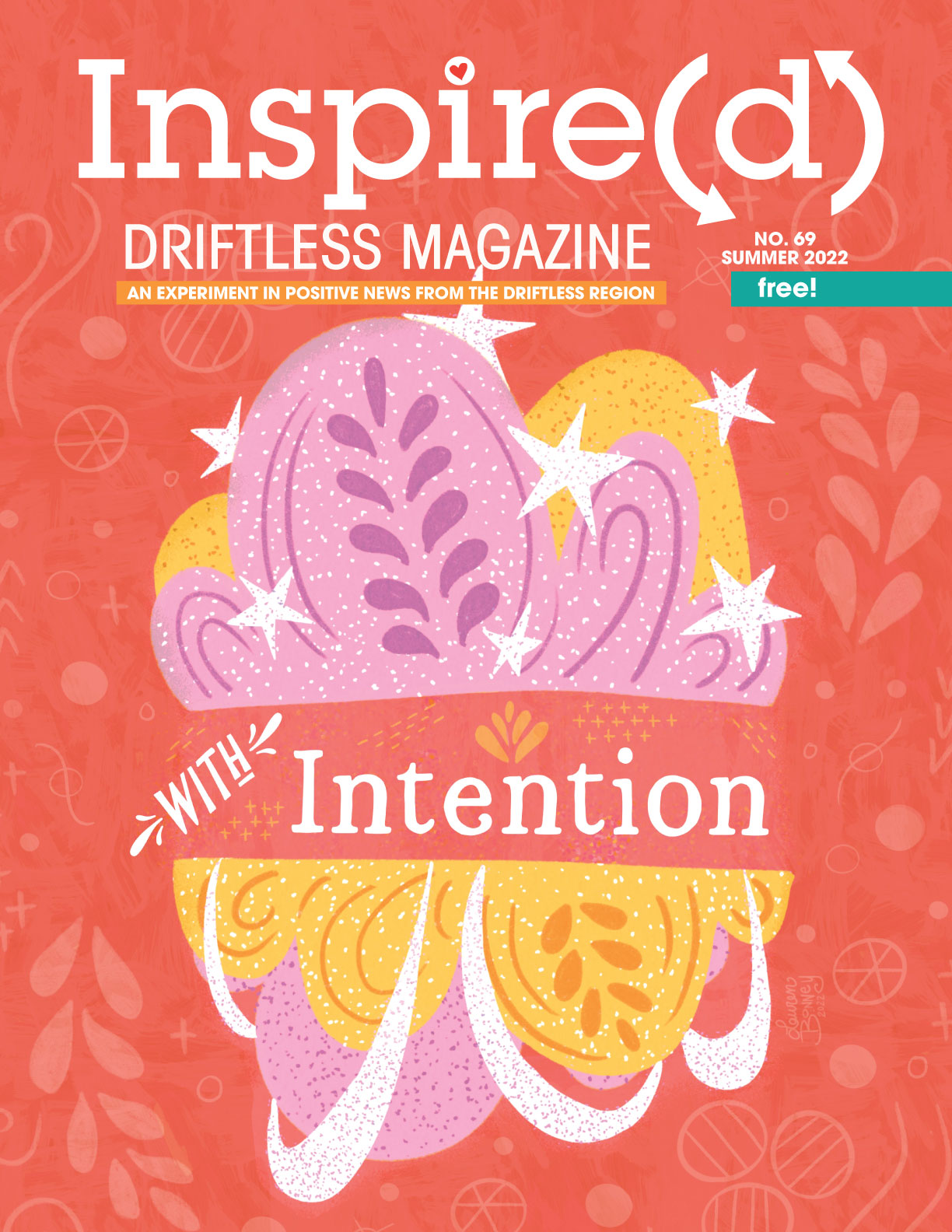 The Summer 2022 Inspire(d) is all about living with intention. Look inside for inspiration for slowing down, being mindful, and having fun this season!
Summer…With Intention: Cover Artist Lauren Bonney • Terri Wolfe / Paperback Rider • Stephanie Fromm • Maryann Baldwin / Lansing Office Works • Starlite 14 Drive-In • Linda Tacke • 10 InTENtional Summer To-Dos • Mental Health: Mindfulness • Fireflies • Dyersville Day Trip • Sum Biz: Country View Dairy & More!
Read the whole thing online here!
A note from Aryn: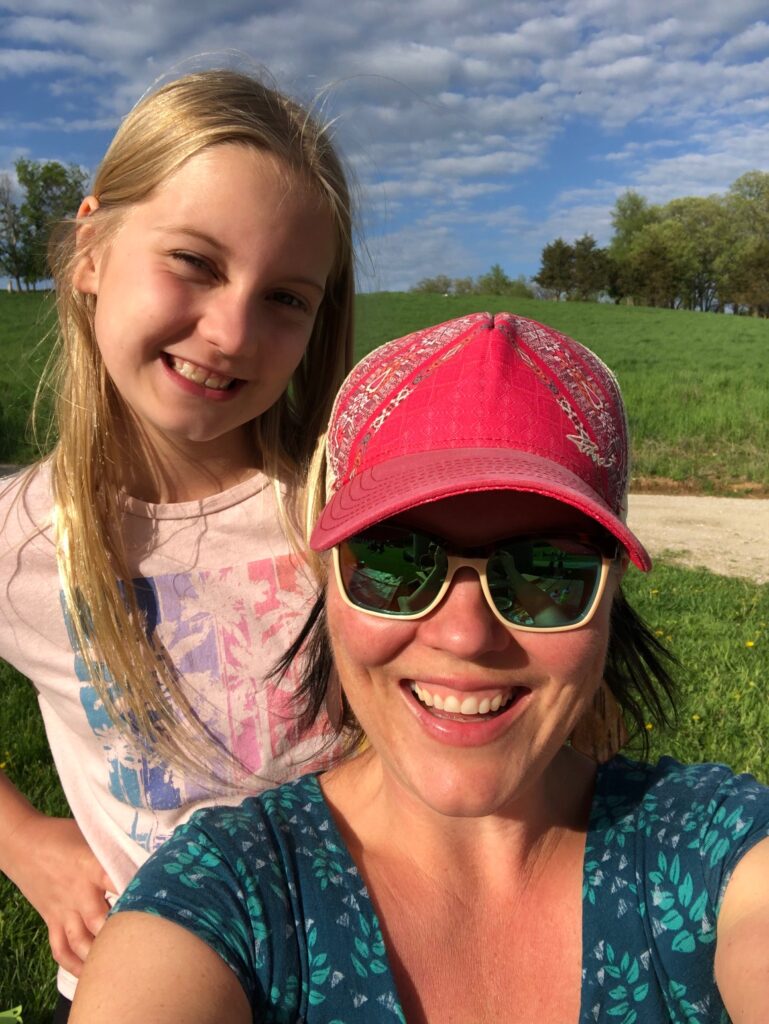 I'm writing this letter on the eve of my 41st birthday. Our daughter is turning 10 this summer. And Benji and I will celebrate 15 years of marriage (and business) this year.
I'm starting to feel a real sense of urgency with things; I can almost see time going by. Moments like these – where there seems to be just a little edge of panic to the passing of days – make me want to pause, assess, and set forth into the future …with intention.
Really, you can put the phrase "with intention" after most everything.
Let's have a great summer…with intention. I want to hang out with friends more…with intention. Let's explore the region…with intention.
So for this issue, we've collected stories of Driftless folks living and doing life with intention, plus inspiration for planning your own awesome, intentional summer.
On the cover of this Inspire(d) is a design by Decorah artist Lauren Bonney. Sara Friedl-Putnam chatted with her about how she created her mural, Together in Decorah, on the Mill Street wall of Vesterheim Museum last year (pg 16). This summer offers an opportunity for folks to get Together in Decorah at Vesterheim through their Family Friluftsliv program – Lauren leads one in June! And don't miss Lauren's coloring page (pg. 53)! Pull out the colored pencils and enjoy a moment of calm.
We love that Community Builders set out with the intention to, well, build their communities up – we believe this is one of the most important things you can do in life. This issue, we feature Maryann Baldwin of Lansing, Iowa; Stephanie Fromm of Decorah, Iowa; and Terri Wolfgram of La Crosse, Wisconsin. Each individual brings their own unique talents to their communities, making a difference in the lives of those around them.
Mental health writer Olivia Lynn Schnur helps us tap into our mindfulness this season – an incredibly important skill for living with intention.
Erin Dorbin dives into the fascinating history of the Starlite 14 Drive-In theatre in Richland Center, Wisconsin. Make a plan to check it out this summer – it's one of roughly 300 drive-ins that remain in operation in the entire nation.
And conservationist writer Craig Thompson tells us how we can help our flickering friends, the fireflies around. FYI, I learn a new word almost every issue from Craig. This time it's semaphore: "the use of an apparatus to create a visual signal transmitted over distance." 🙂
Heading out on a road trip soon? Add Dyersville, Iowa, to your list and read Benji's story all about the awesome folks making it a great place to live and visit (pg 74).
Get other road trip (and fun) ideas in Sara Walter's "10 InTENtional Summer To-Dos" (pg 36) – of course, there's ice cream on the list, plus froyo from Country View Dairy in Hawkeye, Iowa. You can read more about this family-run dairy/farm store in our summer Sum of Your Business (pg 59).
Alternatively, heading out on a bike trip soon? Lanesboro's Linda Tacke might inspire you to do so in Steve Harris's story about her epic adventure riding across the US (pg 48). Make sure to note her highway-riding safety tips.
There lots more fun and inspiring things pieced together in this whole issue – and you might notice, it's thicker than usual! We've got 84 pages of positive news coming at you, and we hope you enjoy each one…with intention!
Looking forward,


Aryn Henning Nichols