October 2019! The fall fun just keeps on coming! Start your planning with this handy-dandy October 2019 calendar (you can download the pdf here). Have a blast – here's hoping we have a nice, long fall season! XO, Inspire(d)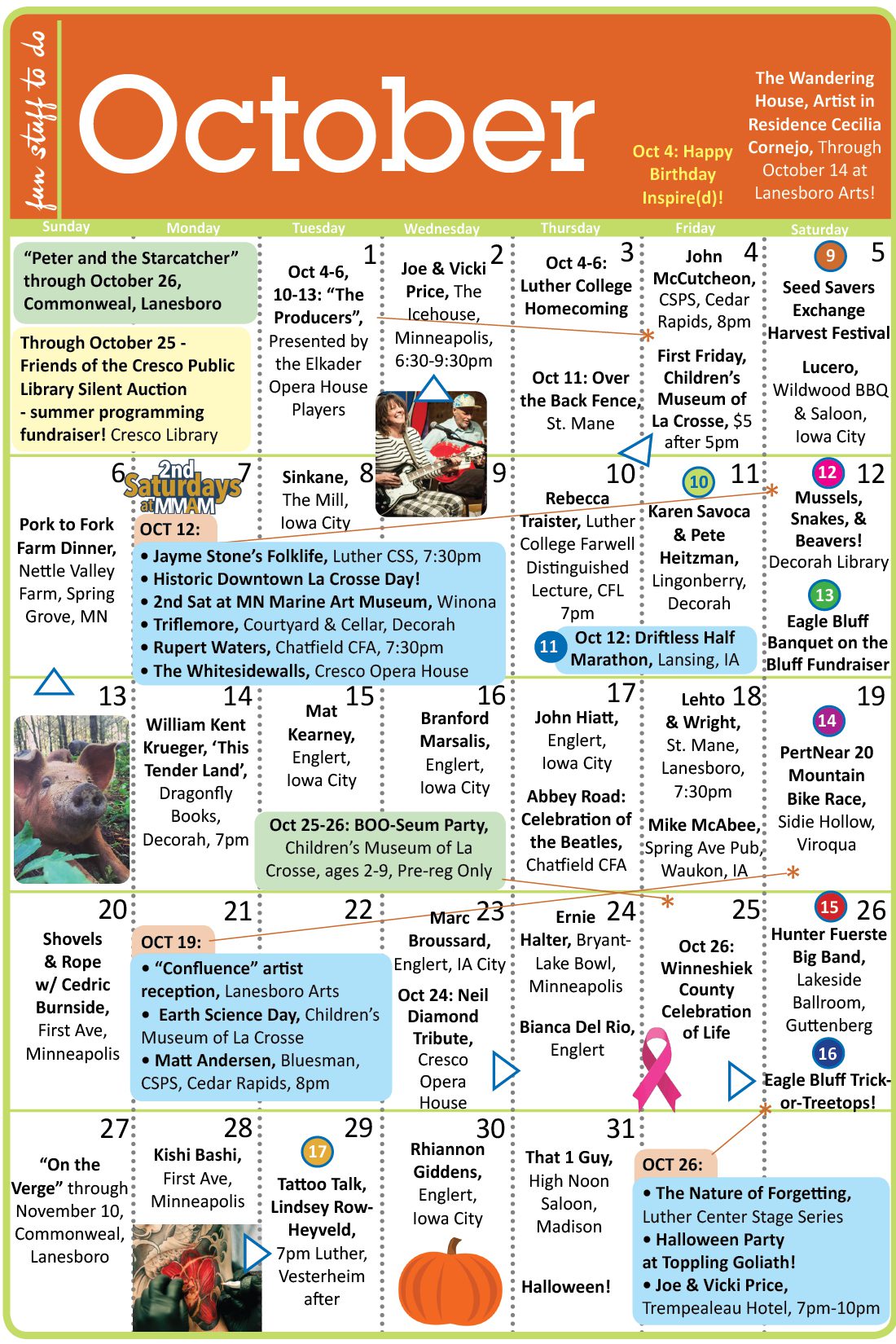 LOOKING FOR MORE DETAILS ABOUT EVENTS ON THE CALENDARS?
Check out these great October 2019 activities! In chronological order, each event's number coincides with its number on the calendar!
9. October 5: Visit the Seed Savers Exchange Heritage Farm for Harvest Festival. Activities and fun for all ages on the farm! Details: www.seedsavers.org/harvest-festival
10. October 11: Karen Savoca and Pete Heitzman live in concert at Lingonberry, 218 W Water St,  Decorah, 7:30pm. Tickets: Oneota Coop, or 563-419-2999. Sponsored by The Retreat on Maple and Rocket Dog Books.
11. October 12: Run the Driftless Half Marathon – Iowa's Most Scenic Half Marathon in Lansing, IA. Takes place on Great River Road National Scenic Byway. Relay and 5k options. www.thedriftlesshalfmarathon.com
12. October 12: Mussels, snakes and beavers; each has a role! Families are invited to explore Mississippi River Animals, Decorah Public Library, 11am & 1pm www.decorah.lib.ia.us
13. October 12: Eagle Bluff Banquet on the Bluff Fundraiser. Fun games, auctions, & delicious food round out this festive evening. Proceeds support our outdoor environmental education programming. www.eagle-bluff.org
14. October 19: pertNear 20 Mountain Bike Race. Come ride pert' near 20 miles of singletrack and county roads in beautiful Viroqua. Camping available at race site, families welcome, good times! Reg/Info: www.bluedogcycles.com
15.  October 26: Dance to the sounds of the Hunter Fuerste Vintage Big Band Orchestra at the Lakeside Ballroom in Guttenberg.  $20.adv/ $25. Door. 563-252-2095 (M-Sat., 9-5) for tickets.
16. October 26: Eagle Bluff Trick-or-Treetops. Trick or Treat 30 feet high as you traverse your way through wooden and wire elements that end with a zip line. www.eagle-bluff.org
17. October 29: Tattoo Talk – "Tattoos, Medievalism, and White Nationalism," Lindsey Row-Heyveld, Luther College Prof. of English, 7:00 pm at Luther, with After Party at Vesterheim. www.vesterheim.org