January 2019! Happy New Year! Let's start this year off right! Get planning with this handy-dandy January 2019 calendar (you can download the pdf here). Here's to a great year! XO, Inspire(d)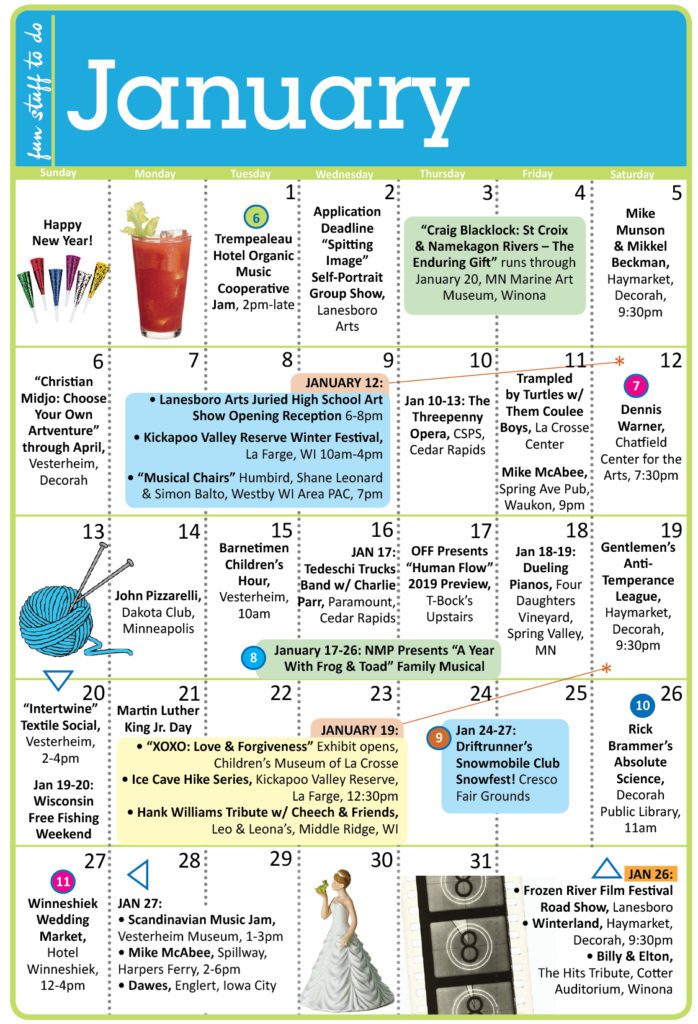 LOOKING FOR MORE DETAILS ABOUT EVENTS ON THE CALENDARS?
Check out these great January 2019 activities! In chronological order, each event's number coincides with its number on the calendar!
6. January 1: Trempealeau Hotel Organic Music Cooperative Open Jam 2pm – late, join artists young and old, experienced and just getting it together. Bring an instrument and hang out before the January break! Trempealeauhotel.com
7. January 12: Chosen Bean Concerts welcome Dennis Warner to Chatfield. Live acoustic music up-close and personal. Limited seating, $20 advance or at the door. 7:30pm performance. www.chatfieldarts.org
8. January 17: New Minowa Players presents A Year With Frog and Toad, a delightful family-friendly musical. January 17-20 and 25-26. More details at newminowaplayers.org.
9. January 24-27: 48th Annual Driftrunner's Snowfest! Cresco, IA Fairgrounds. Trail Rides, Raffle, Lonesome Road Band Saturday Night. Facebook "Driftrunners Snowmobile Club" for details.
10. January 26: Rick Brammer's Absolute Science – Decorah Public Library: 11:00 am- a fun and educational program that encourages children of all ages to be engaged in the world of science www.decorah.lib.ia.us
11. January 27: Winneshiek Wedding Market 12 pm-4 pm Hotel Winneshiek and Opera House Free Admission, Sample and experience the area's best wedding products. Details at www.hotelwinn.com