By Jim McCaffrey
Originally published in the Spring 2011 Inspire(d)
Happily, winter is just a sleeting memory. With the advent of spring comes an ever-changing cornucopia of newly-sprouting varieties of vegetation. Lilies of the Valley, Fiddlehead Ferns, Dutchman's Breeches, Bluebells, and Jack in the Pulpit abound in the woods around the Driftless Region. One finds the spark of new life in the cultivated gardens of the area as well. Asparagus loves to nudge its pointy little head out of the earth at the first advent of frost packing it in for another season. Freshly planted onion sets strive mightily to reach out and touch the sun. Lettuces frolic with wild abandon, seemingly screaming out "Pick me! Pick me! And slather me with homemade Green Goddess dressing!" But the most formidable spring garden plant just has to be rhubarb. Once it takes hold, it is just like the Energizer bunny. It keeps growing and growing and growing.
So let me share a story from the McCaffrey Family Chronicles. A tale of rhubarb deception or at the very least, a mother's indiscretion. I grew up the son of a father who went through the Great Depression and a mother who escaped with her sister from East Germany during World War Two. Together my parents some how came up with the down payment on an 80-acre farm just west of Decorah. I'm sure making the ends meet while raising five children and sending them to the Catholic school as well was no picnic in the park. After all, my dad was a rural mail carrier and like most families at that time, he was the sole wage earner. In order to make do, we had a couple of large gardens and raised various species of livestock that graced the table throughout the year. One year we raised 400 chickens in the garage. We spent an entire weekend butchering and pulling feathers. We then proceeded to have chicken for supper six days a week. On the seventh day we rested and had hamburger. I still do like chicken in spite of that experience. Needless to say, a lot of effort was necessary to keep the farm above the waterline.
We pretty much lived out of the gardens year-round. What wasn't eaten fresh was preserved in one fashion or another. Potatoes and onions were piled on pallets in a dark abyss of a corner in the basement. To this day I can remember distinctly the raw spud aroma that permeated the basement air. Hey, my father was Irish, so 400 pounds of potatoes hanging out in the basement was not uncommon. We also amassed a trove of canned vegetables and pickles that were stored in a large floor-to-ceiling cupboard in the cellar. Mom was the "preserve principal" in our family. She had a small wooden-handled paring knife that she used for her culinary cutups. As a chef I marvel at the amount of food she processed with that knife. Bushels of sweet corn were voided of their kernels by several swift strokes. She spent hours at the kitchen table being the human vegematic. I can just see her slicing strawberries, chopping up rhubarb, and cutting green beans French style.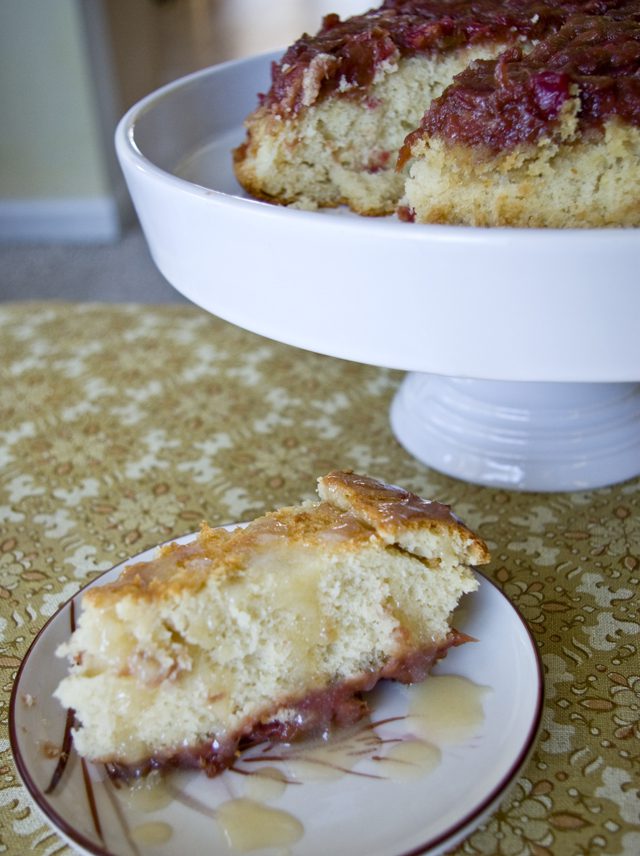 Rhubarb was usually the first of the yearly harvest. Mom would slice the stalks into small pieces and freeze most of them for when the strawberries were ripe and delicious. She then made some delicious strawberry and rhubarb jam and pies. My favorite of her desserts, however, was her so-called Rhubarb Upside Down Cake with a sweet butter sauce. Mom passed away a couple years ago and no one can find that recipe. I decided to use some Irish ingenuity and see if I could come up with something close. So I Googled Best Rhubarb Upside Down Cake. "What is wrong with this picture?" In fact, "PICTURES." Every recipe with a picture of the cake had the rhubarb on top. Even Martha Stewart's. (One can't argue with America's culinary maven). Mom's rhubarb was on the bottom. My childhood conception of upside down cake has been completely shattered. Mom, how could you have led me so astray? OK. Take a deep breath and breathe easy, breathe easy. Time to come up with a plan. In the future, I will call it Rhubarb Upside Upside down cake and the heck with Martha. I plan on making this for my family in honor of my mom on Mother's Day this year. It isn't the original recipe but it is close. Oh, and Mom, I still love you.
————–
Jim McCaffrey is a chef, author, and co-owner with his family of McCaffrey's Dolce Vita restaurant and Twin Springs Bakery just outside Decorah. He is author of a humorous cookbook titled "Midwest Cornfusion". He has been in the food industry in one way or another for 40 years.
——————————
RECIPE (PRINT HERE)
——————————-

Rhubarb Upside Upside Down Cake
8 Tbl butter
1 1/2 cups packed brown sugar
8 cups cut up rhubarb
3/4 cup butter
2 cups granulated sugar
4 cups all purpose flour
2 Tbl baking powder
2 cups milk
3 eggs
1 Tbl vanilla
Preheat oven to 350 degrees. Melt 8 Tbl butter in large skillet or pot.
Add brown sugar and stir until blended. Add rhubarb and mix until well coated.
Grease an 11 X 18 baking dish. Cover the bottom evenly with rhubarb mixture.
Cream butter with sugar in an electric mixer. Add the rest of the ingredients.
Mix until smooth. Gently pour over the rhubarb mixture and smooth with a rubber spatula. Bake 40-50 minutes until toothpick inserted in the center comes out clean.
Sweet Butter Sauce
1 cup butter
2 cups sugar
1 cup cream or 1/2 and 1/2
2 tsp vanilla
Combine all ingredients in a sauce pan on medium low.
Cook and stir for about 10 minutes or until sugar is dissolved.
Pour warm over cake slices and enjoy!
Ed. note: Benji made this delicious – seriously delicious – cake for these photos and halved the recipe, baking it in a 9" round cake pan and two eggs. It worked beautifully. (Sorry, Jim, it's not upside upside down, but we served that way, and MAN was it good.)