May! Get a head start on your fun-planning with this handy-dandy May 2016 calendar (and you can download the pdf here). Enjoy! XO, Inspire(d)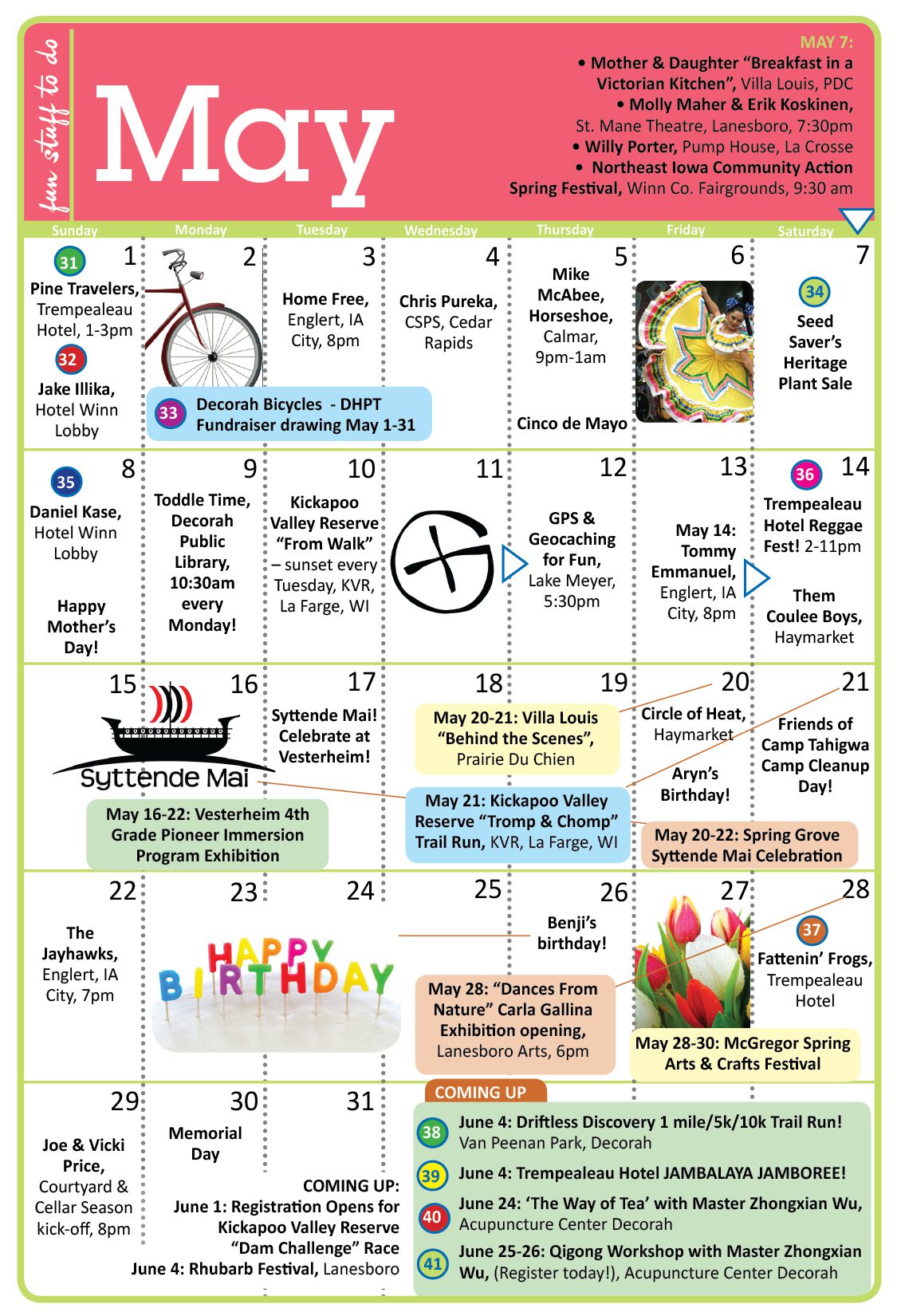 LOOKING FOR MORE DETAILS ABOUT EVENTS ON THE CALENDARS?
Check out these great spring activities!  In chronological order, each event's number coincides with its number on the calendar!
32. May 1: Illika & Ward duo play the Hotel Winneshiek Lobby, 6:00pm, Full bar & menu available in a great atmosphere! 104 E. Water St, Downtown Decorah – www.hotelwinn.com
33. May 1-31: Decorah Bicycles presents a Decorah Human Powered Trails fundraiser! Stop in to be entered into a prize drawing for 3 great prizes! All proceeds go to local trail maintenance and DHPT!
34. May 7: Heritage Plant Sale, Seed Savers Exchange: Discover rare family heirlooms & historic commercial varieties of flowers, vegetables, and fruit trees + garden tools & more. seedsavers.org
35. May 8: Daniel Kase plays the Hotel Winneshiek Lobby, 6:00pm, Full bar & menu available in a great atmosphere! 104 E. Water St, Downtown Decorah – www.hotelwinn.com
36. May 14: Trempealeau Hotel REGGAE FEST! Caribbean food, music, vibe, and crafts. 2pm -11pm. Let TUGG, DJ Trichrome (and others) transport you to an irie place. www.trempealeauhotel.com
37. May 28: Trempealeau Hotel Presents – FATTENIN' FROGS! Gritty, soulful, and always danceable, think Davina and the Vagabonds meets Howlin' Wolf. Come on out, sing, dance, and clap along! www.trempealeauhotel.com
COMING UP:
38. June 4: Hit the trails with the Driftless Discovery Trail Run, Van Peenan Park, Decorah. Little Drifters 1 mile 9am start, 5k, 10k on single track trails. Advance registration www.ddtr.us or www.active.com
39. June 4: Trempealeau Hotel JAMBALAYA JAMBOREE! Swamp Kings, Copper Box, and Dwayne Dopsie bring the southern end of the Mississippi to the North. Cajun food, BAM! www.trempealeauhotel.com
40. June 24: Register Now for 'The Way of Tea' with Master Zhongxian Wu 7:00-8:30 p.m. $20.00 Acupuncture Center Decorah 309 W. Broadway, Decorah – info@acupuncturecenterdecorah.com 563 382-9309
41. June 25-26: Qigong Workshop with Master Zhongxian Wu – Register now! 10am-5pm both days, Yoga Room Decorah 110 Washington St. $250.00 Early/$295.00 Regular info@acupuncturecenterdecorah.com 563 382-9309