November! It's the segue from Fall into Winter this month (in our opinions, anyway), but that doesn't stop the fun! Start your planning with this handy-dandy November 2019 calendar (you can download the pdf here).  Have a blast! XO, Inspire(d)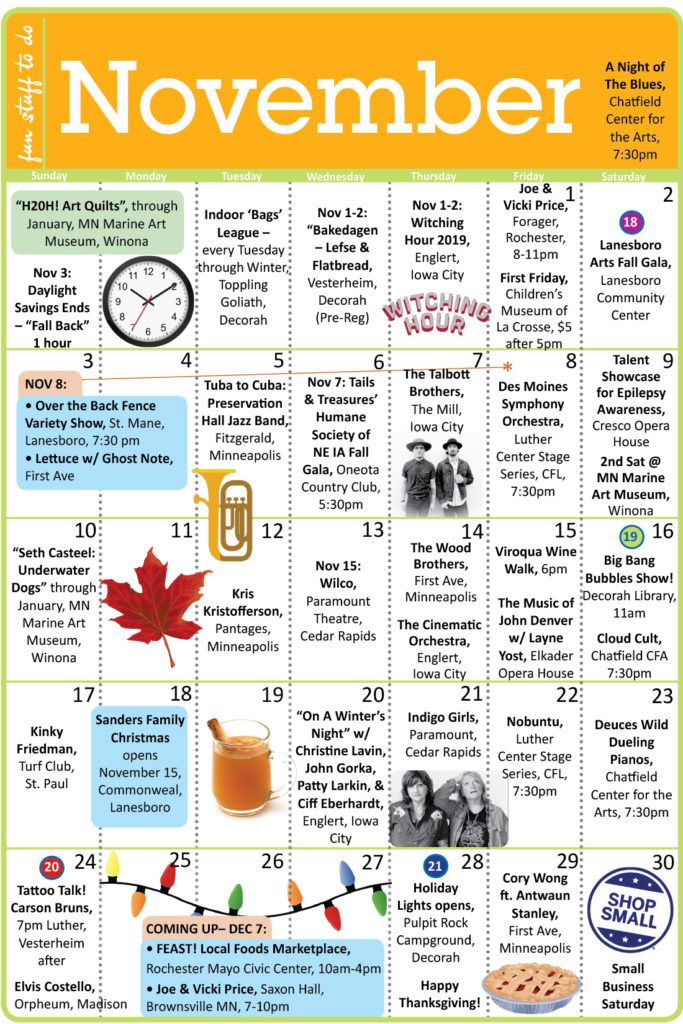 LOOKING FOR MORE DETAILS ABOUT EVENTS ON THE CALENDARS?
Check out these great November 2019 activities! In chronological order, each event's number coincides with its number on the calendar!
18. November 2: Support Lanesboro Arts  at the Fall Gala! Delicious dinner, great company, all for supporting the arts! Lanesboro Community Center, 6pm www.lanesboroarts.org
19. November 16: Absolute Science Big Bang Bubbles Show at Decorah Public Library. Mind-blowing bubble magic leaves all ages feeling like a kid again! Families are invited to come see ordinary bubbles go to the realm of extreme! 11am.  www.decorah.lib.ia.us
20. November 24: Tattoo Talk – "The Future of Tattoos," Carson Bruns, Prof. of Chemistry, Univ./Col., Boulder. 7:00pm at Luther College, with After Party at Vesterheim. www.vesterheim.org
21. November 28 – December 25: Holiday Lights. 5 pm – 9 pm at Pulpit Rock Campground in Decorah for Northeast Iowa's largest drive-through holiday lights display. Free will donations benefit Helping Services for Youth & Families.
HelpingServices.org/holidaylights