March 2019! Spring is coming! (And the people of the Driftless seem to know it!) Lots of fun this month – start your planning with this handy-dandy March 2019 calendar (you can download the pdf here). Have a blast! XO, Inspire(d)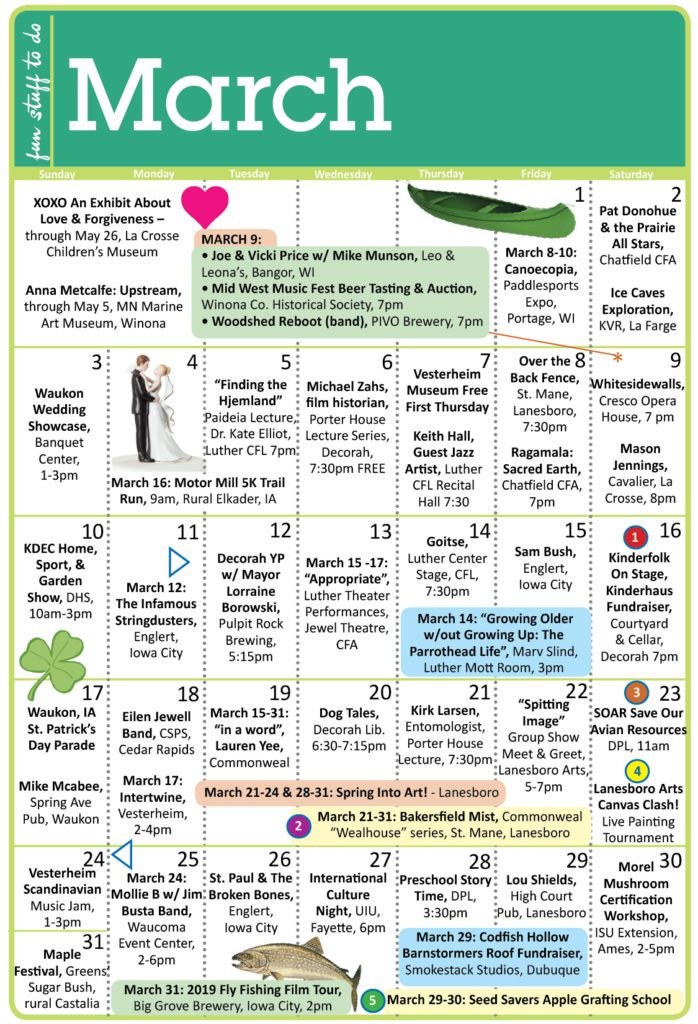 LOOKING FOR MORE DETAILS ABOUT EVENTS ON THE CALENDARS?
Check out these great March 2019 activities! In chronological order, each event's number coincides with its number on the calendar!
1. March 16: Kinderfolk on Stage: Enjoy live performances, appetizers, and cash bar at The Cellar, 7 p.m. Free-will donations will support Kinderhaus Preschool – ALL ARE WELCOME! kinderhausdecorah.com
2. March 21-31 – Commonweal Theatre in Lanesboro launches it's Wealhouse series with Bakersfield Mist, a hilarious and provocative comedy featuring Hal Cropp and Adrienne Sweeney. Nightly, March 21-31, St. Mane Theater – commonwealtheatre.org
3. March 23: SOAR! (Save Our Avian Resources) – Decorah Public Library, 11 am A LIVE raptor program for children of all ages about the amazing adaptations of local raptors and their role in the environment. Pre-registration required at www.decorah.lib.ia.us.
4. March 23: Make a day of Lanesboro! Art Making Crawl Downtown 11am-3pm, and Lanesboro Arts 'Canvas Clash', a Live Painting Tournament with craft beer and more. Commonweal Events Hall, 9pm lanesboroarts.org
5. March 29 & 30 or April 12 &13: Seed Savers Apple Grafting School. Graft and take home three apple trees in a half-day Seed Savers Exchange workshop. $60. Register in advance at seedsavers.org/events