July 2018! This month always feels like all summer, all the time!  And that means there's lots of fun stuff to do! Start your planning with this handy-dandy July 2018 calendar (you can download the pdf here). Enjoy! XO, Inspire(d)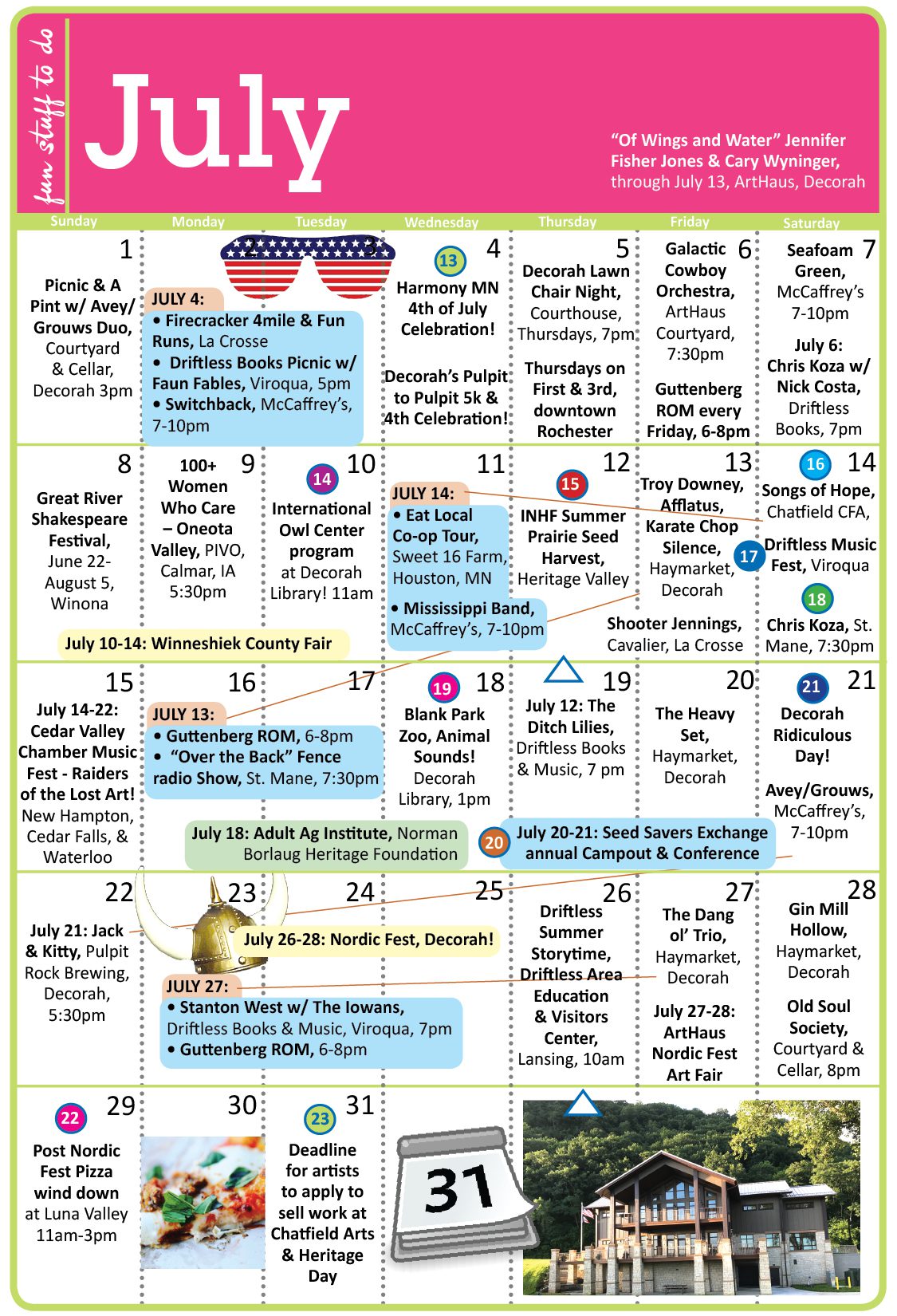 LOOKING FOR MORE DETAILS ABOUT EVENTS ON THE CALENDARS?
Check out these great July 2018 activities!  In chronological order, each event's number coincides with its number on the calendar!
13. July 4: Harmony's 4th of July Celebration – Including the Jim Busta Band featuring Mollie B., Grand Parade, pedal tractor pull, and fun for all ages! Full schedule of events at www.exploreharmony.com
14. July 10: International Owl Center: Build an Owl Program. Learn first-hand about owl adaptations by identifying the pieces and parts of an owl. See if a live owl will come out from under the "magic" box! Decorah Public Library, 11am
15. July 12: Join Iowa Natural Heritage Foundation for a Summer Prairie Seed Harvest at Heritage Valley! Find details and RSVP at inhf.org/events Rain date: July 19.
16. July 14: Songs of Hope returns! A free community concert, performances by 60 youth and young adults from around the world. 7PM, Potter Auditorium, Chatfield, MN. www.chatfieldarts.org
17. July 14: Lanesboro Arts presents acclaimed MN songwriter Chris Koza & his band at the intimate St. Mane Theatre. $15 – $12. 7:30 p.m. LanesboroArts.org
18. July 14: Enjoy amazing music in a gorgeous setting at the Driftless Music Festival, Eckhart Park, Viroqua. Noon-10pm, FREE admission! Zydeco, Funk, Americana, Reggae & Soul.  www.driftlessmusicfestival.com/
19. July 18: Blank Park Zoo: Animal Sounds and Stories. We all have a story to tell and so do the animals at the zoo! Come discover the many ways animals communicate. Decorah Public Library, 1pm
20. July 21: Decorah Ridiculous Day! Visit Water Street for sidewalk sales downtown. And be sure to check out ridiculous savings all around Decorah! www.decorahareachamber.com
21. July 20-21: Seed Savers Exchange Conference & Campout 2018: Celebrate our garden heritage. Lectures, workshops, garden tours, tastings & more. July 20-21. FREE. Register @ seedsavers.org/conference
22. July 29: Nordic Fest Weekend Pizza at Luna Valley! Come on out to the farm and relax after a weekend of Nordic-festing in town. Open Sunday, July 29th 11am-3pm. Rural Decorah. wwwlunavalleyfarm.com
23. July 31: Visual artists! Apply by today to sell your work at the 4th Annual Arts & Heritage Day on September 29, Chatfield, MN. Details @ www.chatfieldarts.org