March! Get a head start on your fun-planning with this handy-dandy March 2016 calendar (and you can download the pdf here). Enjoy! XO, Inspire(d)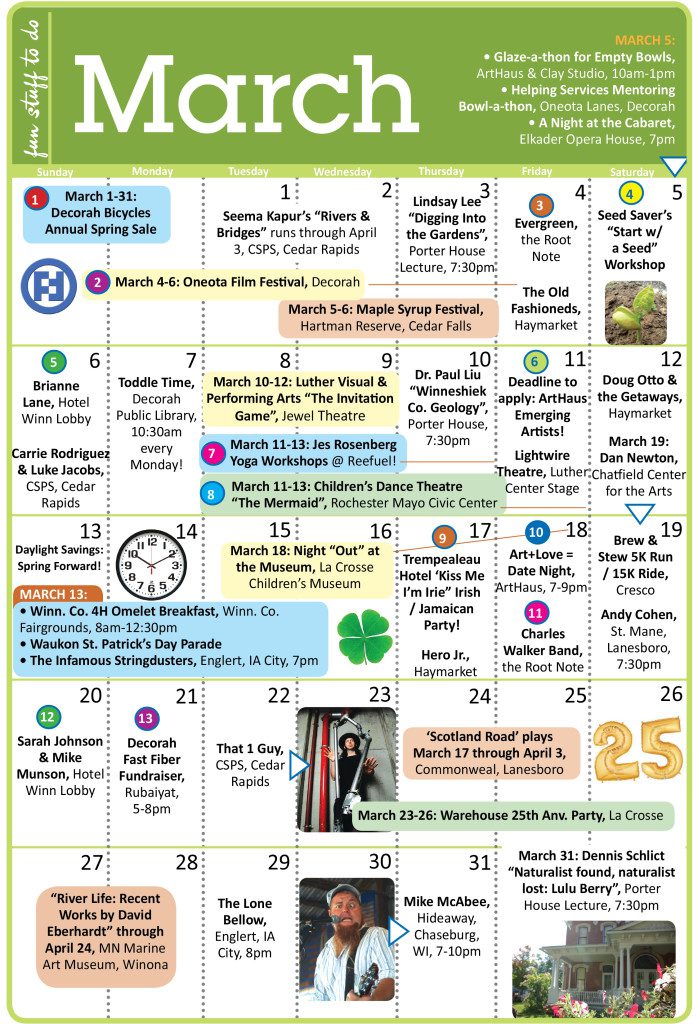 LOOKING FOR MORE DETAILS ABOUT EVENTS ON THE CALENDARS?
Check out these great winter activities!  In chronological order, each event's number coincides with its number on the calendar!

March 1-31: Decorah Bicycles Annual Spring Sale March 1st – 31st – 15% off of all non-sale items and special orders All month long! Stock up now so you can ride in style all summer. 101 College Drive. www.decorahbicycles.com
March 4-6: Oneota Film Festival! 3 days of free films & events for the whole family hosted by Luther College. Schedule, information: www.oneotafilmfestival.org
March 4: Evergreen brings the jams to the Root Note in downtown La Crosse. Great taps, coffee, and crepes – 115 4th Street South. www.facebook.com/theRootNote
March 5: "Start with a Seed" free workshop and farm tour at Seed Savers Exchange: Learn basics of at-home seed starting from 11am-12pm, Farm Tour at 12:15pm. www.seedsavers.org
March 6: Minneapolis songwriter Brianne Lane plays the Hotel Winneshiek Lobby, 6:00pm, Full bar & menu available in a great atmosphere! 104 E. Water St, Downtown Decorah – www.hotelwinn.com
March 11: Deadline to apply for ArtHaus' Emerging Artist Exhibition! Open to artists ages 18-25 living within 150 miles of Decorah. $20 to enter, details at www.arthausdecorah.org.
March 11-13: Popular Twin Cities Yoga Teacher, Jes Rosenberg, partners with Reefuel for a weekend filled with workshops for all-levels! Register today at www.reefuel.biz
March 11-13: Children's Dance Theatre presents "The Mermaid" at Rochester's Mayo Civic Center. Charming sets and creative costumes in this full-scale production. sbestgen@gmail.com
March 17: KISS ME I'M IRIE! Enjoy Irish & Jamaican food + music at the Trempealeau Hotel! Also $10 Adv. tickets to reggae fest (happening May 14). Ya Mon! www.trempealeauhotel.com
March 18: Art+Love= Date Night at ArtHaus. Dabble in watercolor painting with your love from 7-9pm. $50 per couple with all materials and snacks provided. Register at www.arthausdecorah.org
March 18: Come get down with the Charles Walker Band at the Root Note in downtown La Crosse. Great taps, coffee, and crepes – 115 4th Street South. www.facebook.com/theRootNote
March 20: Sarah Johnson plays the Hotel Winneshiek Lobby, 6:00pm, Full bar & menu available in a great atmosphere! 104 E. Water St, Downtown Decorah – www.hotelwinn.com
March 21: Decorah Fast Fiber Wine & Apps Fundraiser! Rubaiyat, 5-8pm. Live & Silent Auction to benefit a portion of preliminary feasibility study. www.decorahfastfiber.com
HAVE FUN IN THE DRIFTLESS, FRIENDS! <3