June! Get a head start on your fun-planning with this handy-dandy June 2016 calendar (and you can download the pdf here). Enjoy! XO, Inspire(d)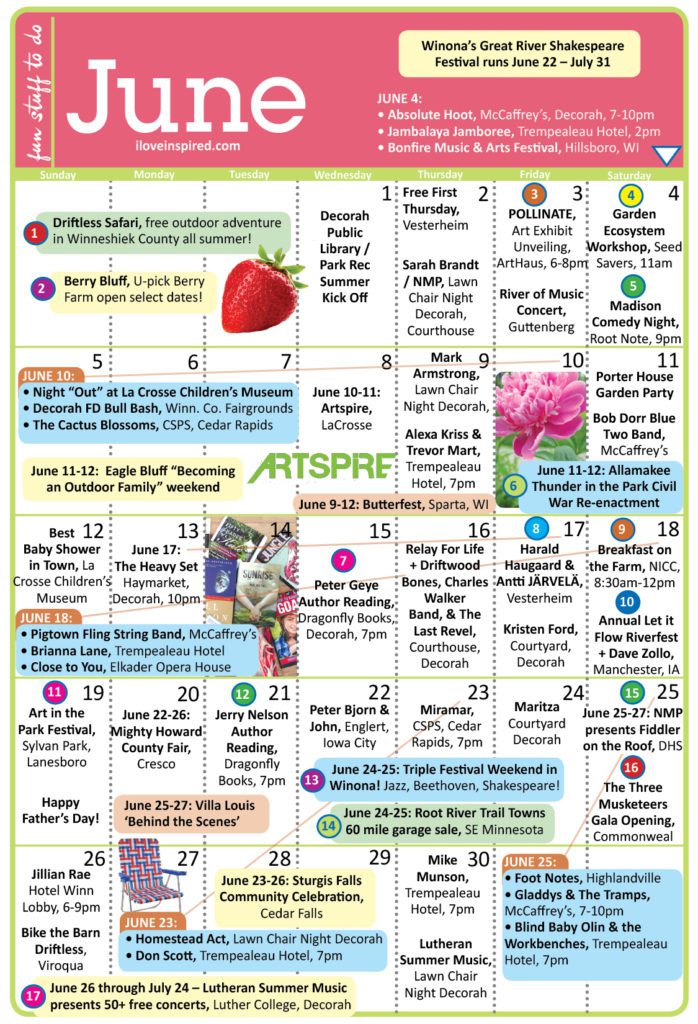 LOOKING FOR MORE DETAILS ABOUT EVENTS ON THE CALENDARS?
Check out these great summer activities!  In chronological order, each event's number coincides with its number on the calendar!
1. June 1: Driftless Safari offers free outdoor adventure and exploration in Winneshiek County all summer long! Visit www.driftless-safari.org or stop by any Winneshiek County library to join!
2. June 1: Berry Bluff is NE Iowa's fresh new U-pick Strawberry patch! Just NE of Cresco, check out www.berrybluff.com or facebook 'Berry Bluff' for picking dates and times.
3. June 3: Celebrate the unveiling of POLLINATE, featuring art from across the community at ArtHaus, 508 W Water. Reception June 3, 6-8pm, displayed through July 21. Free! www.arthausdecorah.org
4. June 4: Garden Ecosystem workshop, Seed Savers Exchange: Healthy plants start with a healthy environment. Improve soil quality, manage pests& promote pollinators: 11am-12pm, Register online: www.seedsavers.org/events
5. June 4: The Root Note presents Madison Comedy Night! 9pm. Great taps, coffee, and crepes. 115 4th St. South, downtown La Crosse. www.facebook.com/theRootNote
6. June 11-12: Civil War Re-enactment – Allamakee County's Thunder in the Park! Battles, demos, activities daily at Waukon City Park. Dance Saturday night. Visit us on Facebook!
7. June 15: Minnesota author Peter Geye reads from "Wintering" at Dragonfly Books, 7:00pm. Stunning novel, set in northern wilderness. Dragonfly Books: 112W Water St, Downtown Decorah. www.dragonflybooks.com/event
8. June 17: Two of Scandinavia's finest musicians, Harald Haugaard & Antti JÄRVELÄ the master fiddler from Denmark and the amazing multi-instrumentalist from Finland, come together to explore an uncommon repertoire of folk music. www.vesterheim.org/events
9. June 18: Breakfast on the Farm 8:30am – Noon at Iowa's Dairy Center, Calmar, IA. Including: wholesome breakfast, dairy tours, and more! On-site parking available, donations are appreciated. www.iowadairycenter.com
10. June 18: Manchester (IA) 2nd Annual Let it Flow Riverfest! 10am-8pm, Play boating & safety demos, open boating, Dave Zollo & the Body Electric at 4pm, Shelly Memorial Park, facebook.com/ManchesterWhiteWaterPark
11. June 19: "Art in the Park" Father's Day festival; over 90 artist booths, live music, food and craft beer vendors, and family activities. Sylvan Park, Lanesboro, MN www.lanesboroarts.org
12. June 21: South Dakota author Jerry Nelson, "Dear County Agent Guy: Calf Pulling, Husband Training, and Other Curious Dispatches from a Midwestern Dairy Farmer" at Dragonfly Books, 7 pm.www.dragonflybooks.com/event
13. June 24-26: Triple festival weekend in Winona.  Dixieland Jazz Festival featuring Delfeayo Marsali, opening weekend for MN Beethoven Festival and Great River Shakespeare Festival.  www.visitwinona.com
14. June 24-25: Root River Trail Towns 60 Mile Garage Sale! Shop garage sales in 9 SE MN communities along the Root River Bike Trail. More info at www.rootrivertrail.org
15. June 25: New Minowa Players presents Fiddler on the Roof, June 25-27 at Decorah High School Auditorium. Tickets and more information at www.newminowaplayers.org or call Sheryl 563-379-5738
16. June 25: Gala opening performance of "The Three Musketeers" at the Commonweal Theatre. The swashbuckling classic plays through October 24 in downtown Lanesboro. Visit www.commonwealtheatre.org
17. June 26 through July 24: Music to the ears: Lutheran Summer Music will present 50+ free concerts and recitals at Luther College June 26 through July 24. Complete concert calendar at www.lutheransummermusic.org