March 2018! The Driftless world is seriously excited about this month, because there is a TON of fun stuff to do! Start your planning now with this handy-dandy March 2018 calendar (and you can download the pdf here). Enjoy! XO, Inspire(d)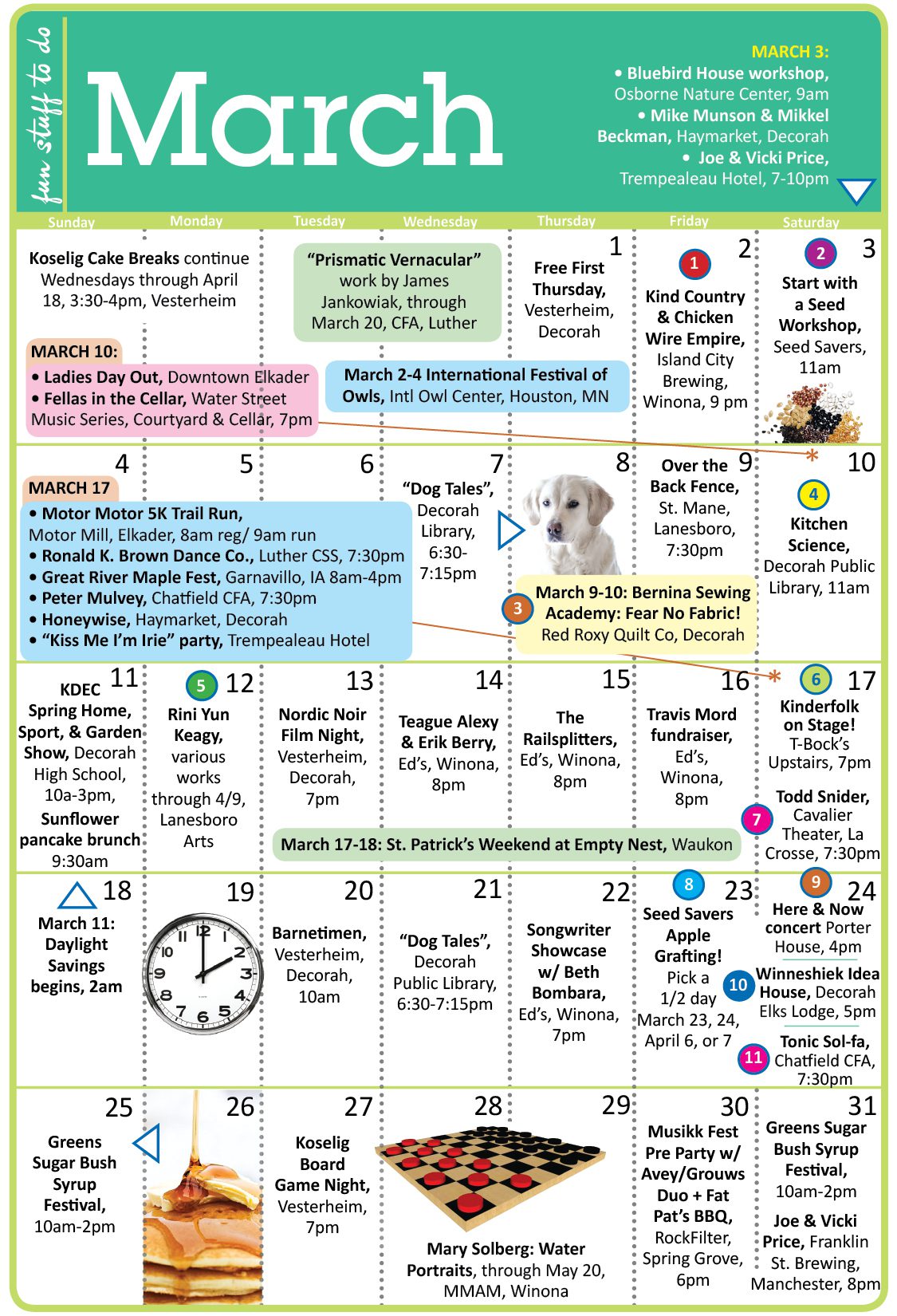 LOOKING FOR MORE DETAILS ABOUT EVENTS ON THE CALENDARS?
Check out these great March 2018 activities!  In chronological order, each event's number coincides with its number on the calendar!
1. March 2: Kind Country and Chicken Wire Empire play Island City Brewing Company – Winona, MN. Show starts at 9 pm. $7 presale, $10 at the door. 21+ www.islandcitybrew.com
2. March 3: Start with a Seed Workshop, Seed Savers Exchange. Learn everything about growing a garden from seed. 11am-12pm + farm tour to follow. Register: seedsavers.org/events
3. March 9-10: Bernina Sewing Academy: Fear No Fabric! Learn how to master 20 challenging fabrics. 2-Day Hands-On Course. $149 includes technique book, samples, and more! redroxyquiltco.com
4. March 10: Grout Museum District "Kitchen Science"! Get your children excited about science as they watch and participate in experiments using materials found in everyday life. Decorah Public Library, 11 am. www.decorah.lib.ia.us
5. March 12: Artist in Residence at Lanesboro Arts: Workshops, film screenings and discussion events with experimental filmmaker Rini Yun Keagy of Saint Paul. Through April 9 – LanesboroArts.org
6. March 17: Kinderfolk on Stage: Enjoy live performances, appetizers, and cash bar at T-Bock's Upstairs, 7 pm. Free-will donations will support Kinderhaus Preschool – ALL ARE WELCOME! www.kinderhausdecorah.com
7. March 17: Mid West Music Fest Presents Todd Snider! Guitar and stories like the old days. Pick a little, talk a little, pick a little… Cavalier Theater, La Crosse, 7:30pm. $25adv. Tickets @ Eventbrite.com.
8. March 24: Apple Grafting / Apple School, Seed Savers Exchange. Choose your 1/2 day workshop March 23, 24, April 6, or 6. Register: seedsavers.org/events.
9. March 24: Here & Now: Contemporary Music for Cello & Piano, featuring Craig Hultgren & Lawrence Axelrod, Porter House Museum, Decorah, 4 pm www.porterhousemuseum.org
10. March 24: Join us for Winneshiek Idea House, a live crowd-funding event with local entrepreneurs where everyone is an "investor." Get inspired and find out more at decorahnow.com/idea-house. Decorah Elk's Lodge, 5 pm.
11. March 24: Ground-breaking a cappella makes its way to the Driftless with Tonic Sol-fa at Chatfield Center for the Arts. $20 in advance, $25 door. 7:30 pm; www.chatfieldarts.org