April 2018! Spring! Hooray! The weather will keep getting nicer and nicer, and we can keep getting out for some fun! Start your planning now with this handy-dandy April 2018 calendar (and you can download the pdf here). Enjoy! XO, Inspire(d)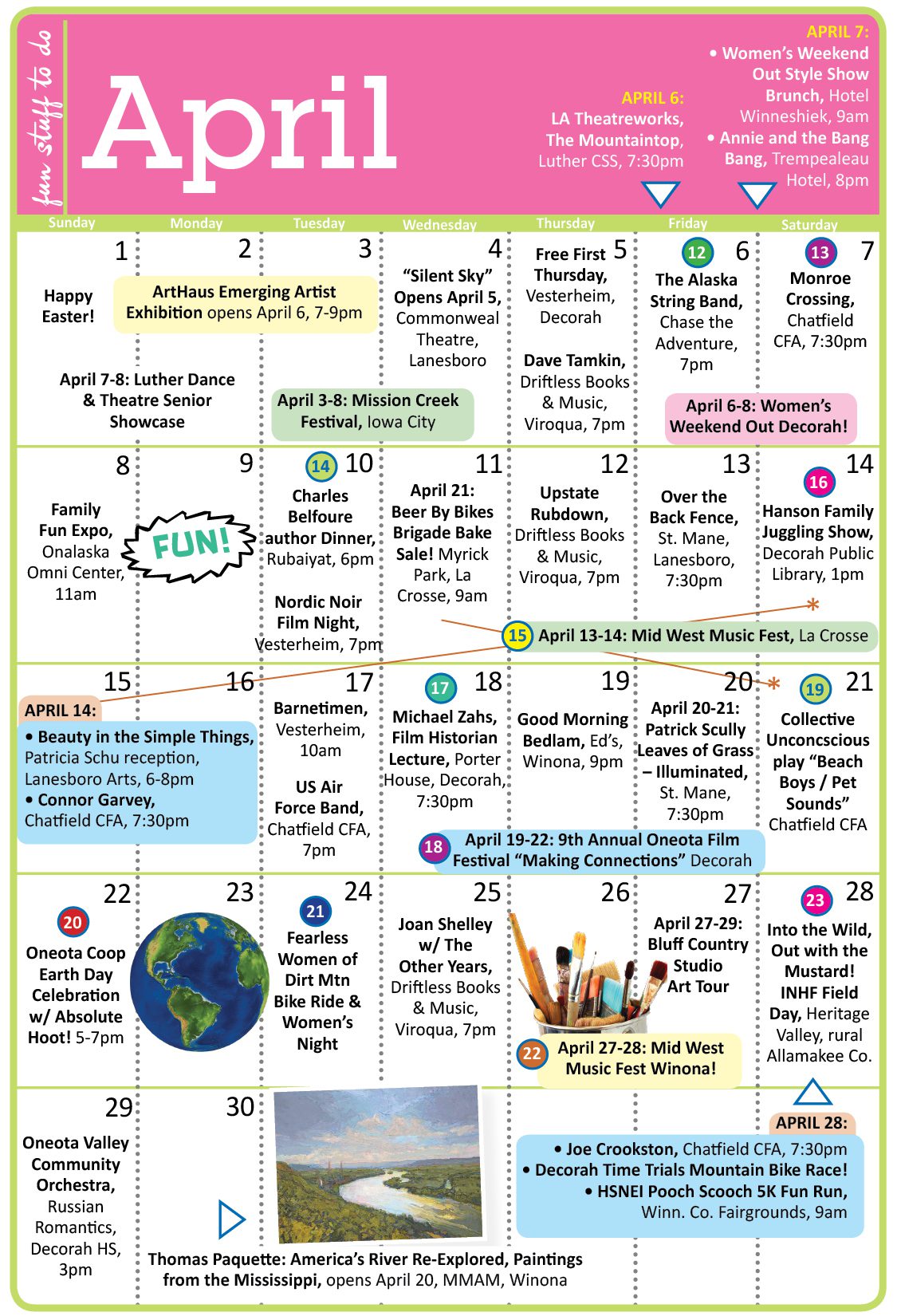 LOOKING FOR MORE DETAILS ABOUT EVENTS ON THE CALENDARS?
Check out these great April 2018 activities!  In chronological order, each event's number coincides with its number on the calendar!
12. April 6: The Alaska String Band brings songs and stories from the great North. Decorah Native Paul Zahasky and family play bluegrass and beyond. Tickets $15 at the door. Chase the Adventure, 1838 Middle Calmar Rd – rural Decorah www.alaskastringband.com
13. April 7: Bluegrass with Monroe Crossing in Chatfield at Potter Auditorium. Tickets $20 in advance, $25 door. 7:30 pm concert; 6 pm social hour with food and drink. www.chatfieldarts.org
14. April 10: Dragonfly Books invites you to dinner at Rubaiyat with Charles Belfoure, New York Times bestselling author of The Paris Architect and House of Thieves. 6pm. (563) 382-4275 www.dragonflybooks.com
15. April 13-14: Mid West Music Fest in La Crosse! 50 acts and 6 stages – Funk, Americana, Bluegrass, Indie Rock. Where Music & Community Meet! Ticket info and schedules – midwestmusicfest.org
16. April 14: Hanson Family Juggling & Unicycle Show at Decorah Public Library! Join Mark Hanson, a two-time Guinness World Record holder, his national unicycle champion daughter, and family for stories and fun! 1pm. www.decorah.lib.ia.us
17. DATE CHANGE! April 19 (previously 4/18): Free Reception for Film Historian Michael Zahs. 5:30PM at the Porter House Museum. Zahs was featured in the documentary Saving Brinton – a screening of the film will follow at 7 pm at the Decorah Elks Club as the inaugural event of the Oneota Film Festival. www.porterhousemuseum.org
18. April 19-22: The 9th Annual Oneota Film Festival "Making Connections." Films, panels, events, and activities for the whole family. For more information, visit: oneotafilmfestival.org
19. April 21: The Beach Boys' Pet Sounds brought to life by Collective Unconscious at Potter Auditorium, Chatfield Center for the Arts. $30 advance, $35 door. www.chatfieldarts.org
20. April 22: Join the Oneota Co-op for their Earth Day Celebration from 5-7pm in Water Street Park. Including local music (Absolute Hoot), local food, & local friends! www.oneotacoop.com
21. April 24: Fearless Women of Dirt (FWD) Ride 5pm + Women's Night 7-9pm, Decorah Bicycles. New info on Little Bellas Program, social time, and more! fearlesswomenofdirt.com for details.
22. April 27-28: Mid West Music Fest in Winona 70 acts on 7 stages Funk, Americana, Bluegrass, Indie Rock. Where Music and Community Meet! Ticket info and schedules – midwestmusicfest.org
23. DATE CHAGE! May 5 (previously 4/28): Into the Wild, Out with the Mustard! Join INHF at Heritage Valley on Apr. 28 for the annual garlic mustard pull. Details at inhf.org/events