Posts Tagged:

decorah

Check out the summer 2014 issue of Inspire(d) online!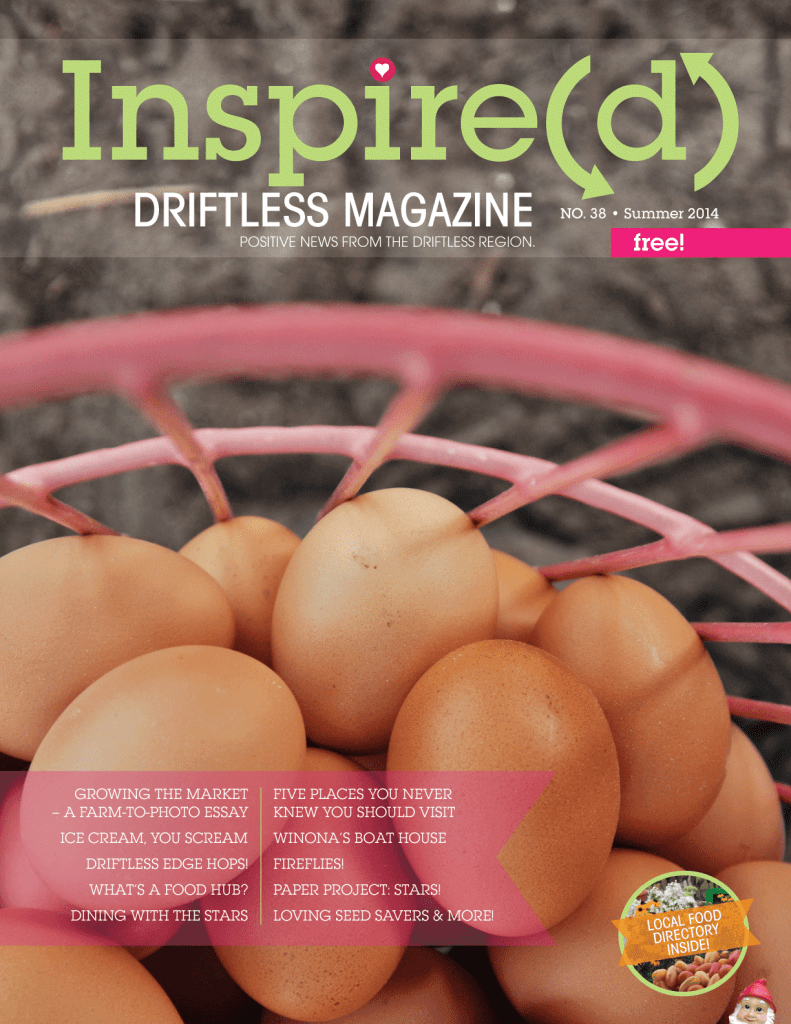 By Jim McCaffrey
My brother, Pete, loves a good party. Especially on May 5th, his birthday. Coincidentally, it's also the date of the Mexican holiday Cinco De Mayo. Primarily a regional holiday in the Mexican state of Puebla, it celebrates the unlikely 1862 victory of an under-armed Mexican militia of just 4000 troops over a French army that was double its size and vastly more equipped. Significant for the United States, the defeat stopped Napoleon III from supplying arms and money to Confederate rebels engaged in the Civil War against the Union Army. That helped the Union defeat the Confederates in the Battle of Gettysburg.
Worldwide, Cinco De Mayo has become a celebration of Mexican heritage and pride. Beyond the flamenco dancing and mariachi bands, it is a wonderful opportunity to experience local cuisines from different regions of our southern neighbors. Brenda and I have been fortunate enough to have traveled to Mexico several times. Our first trip was to Mazatlan on the Pacific coast. We stayed at the Riviera Beach Resort otherwise known as "Party Central." An ice-cold bucket of beers (8) was $6. Every other hour was Happy Hour and you got TWO buckets of beer for $6. No extra charge for slices of lime. Having not studied Spanish, we felt that it was of immediate importance to immerse ourselves in the language. Hector Cortez, the head bartender, graciously accepted the role of teacher. The two phrases of greatest significance he taught us were, "Dos cervesas, por favor" (Two beers, please) and "Donde este el bano?" (Where is the bathroom?). A wise man, that Hector.
All joking aside, Brenda and I have found the people we met in Mexico to be warm, gracious, and very giving. Family and friends always seem to be at the core of life there. When a party happens, everyone is invited. Aunts and uncles, matriarchs and patriarchs, siblings, nieces and nephews, etc., etc., etc. People dress up in their Sunday best to pay respect to the family putting on the extravaganza. Food is always the star attraction, shared by one and all. I think one of the reasons that Cinco De Mayo is so popular in the United States is that it affords Mexican immigrants and descendants an opportunity to remember and carry on their family cultural heritage. And lucky for all the rest of us, we can participate too.
Since Napoleon III and future French attempts failed to colonize Mexico and turn the Gulf of Mexico into The New World French Riviera complete with little bistros serving baguettes and lattes, Spanish and Portuguese influences on local cuisine were more predominant. One of these influences was the introduction of limes in the mid 1600s. Limes could be used for many purposes but one of the most significant was the ability to pickle fresh fish and other seafood with their acidic juices. A combination of lime juice and local indigenous ingredients such as chiles, tomatoes and avocado produced the Mexican version of ceviche. Ceviche is a wonderful appetizer served up and down both coasts of Mexico as well as Central and South America. I like to serve it in footed sundae glasses accompanied by tortilla chips. Throw in a few Corona or Dos Equis beers complete with wedges of lime and you will have a great beginning for a Cinco De Mayo party of your own. And don't forget to invite my brother, Pete.
The daily bread of Mexican cuisine is the tortilla. It has provided sustenance for hundreds of years. Actually, evidence has been produced that a basic version of the tortilla dated back to 10,000 B.C. The versatility of the tortilla is seemingly endless. It is the backbone for tacos, tostadas, burritos, enchiladas, quesadillas, and more. The primary ingredient is corn but in Northern Mexico wheat has been introduced as an alternative ingredient. The age-old dilemma of what to do with leftover bread, in this instance, tortillas, exists in Mexico also. In French cuisine, day-old crusty baguettes are sliced, put in a rich hot sautéed onion beef broth, and covered with gruyere cheese that is then placed under a broiler. French Onion soup becomes a fantastic venue for leftover bread. Lesser known – but equally fantastic – is Mexico's favorite son, Tortilla Soup. When Brenda and I stayed at the Riviera Beach Resort for the first time, we found it necessary after a couple hours of "Happy Hour" festivities to head over to the resort restaurant, El Ancla. Proper nourishment was in order. Brenda chose soup and salad, her custom request. I opted for chicken fajitas. When our food came, Brenda had a spoonful of her soup and said, "Jim, you have to try this." I did. I felt I had just grabbed the brass ring on the merry-go-round at the county fair. It was Tortilla Soup and the taste was out of this world. I had to have the recipe. I asked our waiter if I could speak to the chef. "Si, Si." The head chef, Ignacio, came out. He could speak about as much English as I could speak Spanish. I eventually went out and corralled Hector, who was able to convey my request. A couple of days later, when we went down for breakfast, Ignacio slipped me a piece of paper handwritten in Spanish. The Holy Grail of soup. It took me a couple of years to get it translated correctly but it is certainly worthy to adorn your Cinco De Mayo table.
Hasta la vista! Time for me to round up a few Coronas and a Mariachi band for Pete's birthday. Anybody know any flamenco dancers? Have a great Cinco De Mayo!
Jim McCaffrey is a chef, author, and co-owner with his family of McCaffrey's Dolce Vita restaurant and Twin Springs Bakery just outside Decorah.  He is author of a humorous cookbook titled "Midwest Cornfusion".  He has been in the food industry in one way or another for 40 years.
Seafood Ceviche
8 oz. precooked shrimp, peeled and deveined
1 small red onion, sliced thin 2 ripe avocados
8 oz. bay scallops
2 tsp. Mexican oregano 8 oz. fresh or thawed haddock or cod cut in ½ inch cubes
Salt
Fresh ground black pepper
10-12 limes
Fresh parsley or cilantro sprigs
4 Roma tomatoes, diced
Tortilla chips
In a 9 x 13 non-metallic baking dish, combine seafood, tomatoes and onion. Cover completely with lime juice. Cover and refrigerate for about 4 hours. Drain. Place in large bowl. Cut avocados in half lengthwise. Twist sides and remove pit. Scoop out avocado meat and dice into ½ inch pieces. Add with oregano to seafood mixture.
Salt and pepper to taste. Plate up, garnish with sprigs and pass the tortilla chips. Serves 6.
Ignacio's Tortilla Soup
3 T olive oil
32 oz chicken broth
2 garlic cloves, minced
white pepper
1 medium onion, diced fine
1 can evaporated milk
1 tsp Mexican oregano
1 lb shredded Chihuahua cheese
1oz.fresh basil, shredded small
1- 28 oz tomato sauce (fresh or canned)
2 avocados, peeled and sliced
24 tortilla chips
Saute garlic and onion until translucent, 2-3 minutes. Add chicken broth, tomato sauce, oregano, basil and white pepper to taste. Simmer twenty minutes. Place 3 tortilla chips in the bottom of a soup bowl. Add some milk and cheese. Pour soup over top. Garnish with avocado. Serves 8.
By Aryn Henning Nichols
Decorah artist John Kjome is a patient man, that's for sure. He thinks, plans, and meticulously strategizes his next move – both in life and art. Probably checkers too.
Maybe that's why, after more than four decades creating in one form or another, John is coming back to his artist roots and joining for the first time in studio tours like April's Bluff Country Studio Art Tour. One thing's for sure: John has learned in life that no matter what, there's always a process.
Walking into the Kjome household, you are immediately greeted by art – actually, you're first greeted by the family dog, Vonnegut, but then it's art. Limestone countertops, custom cabinets – even the stair risers are things of limestone and geode-marked beauty. In the basement walkout studio, John has, of course, planned every piece of furniture. Heavy things are on castors and most are multipurpose – first it's a pottery wheel, then it's a table. The space is efficiently used, to say the least. Their two cats – Seba and Jazz – lounge lazily, one inside a box, the other with a paw hanging over the edge of a shelf, right next to tile cutters and art supplies. For the past 30 years, John, along with his whole family – wife Gail and children Eric, Randi, Jordan and Kaija – have worked together to build a magical, inspiring home where they can comfortably create.
"When we bought it back in 1980, it was the first house sold in Decorah that year – and that was June. Times were tough. It was only this small area then," John says, gesturing to the front of the house. "But we were happy to have a home." They've since added countless upgrades, stunning improvements, and an addition, part of which houses the art studio. It's only fitting that a house full of artists would live in a house of art. But if John hadn't explored his creative side on a whim at the University of Northern Iowa, his life may not have directed him here.
"I had a friend who was taking some classes in the art department and I thought what they were doing was pretty cool. I went to check out it out and I was hooked," John says. "I took everything from jewelry-making to printmaking. I realized how interesting the processes were – that was really the magic behind it all."
But it was the 60s, and there was a war going on. John signed up for the Navy. After four years and almost arriving in Viet Nam twice, he decided to go back to school. San Diego State University continued to foster John's artistic side, and in 1971, he met Gail.
"She lived upstairs and I lived downstairs," he says. "I sliced up peaches and honey and offered to share. We have been sharing ever since."
Things were good in California, but when his brother called with the suggestion, "We should build Norwegian looms," John said, "Okay!"
"I think that was always the plan: to get me back here," he says. "When I got here, my brother was in Norway. He said, 'Well, since you're there, why don't you enroll at Luther?'"
So he did. That's when John met famed Northeast Iowa potter and teacher Dean Schwartz.
"I wanted to take the advanced class because I thought I had soooo much experience at San Diego State. But he insisted I start at the beginning," John says. "Within two hours, I understood. It was the process. It wasn't, 'Here's a pottery wheel; here's some clay.' It was about acquiring skills. Master one and move on to the next."
John loved Schwartz's teaching so much that he decided to work with him at South Bear that summer as well, taking classes and learning. After, he headed back to San Diego State to finish his BA.
"By that time I realized – I guess we weren't making looms," he says.
The semester and summer with Schwartz fueled a fire, so to speak, within John. It also afforded him some good connections. After graduation, he spent two summers working with a colleague of Schwartz's. Yet another famed potter: Marguerite Wildenhain. Countless hours, days, and nights were spent at Pond Farm, the remote mountaintop home and studio near Guerneville in Northern California. Despite that, John came out of it with only two pots. "And even those I had to sneak out!" It was more about the processes, the learning, than it was about producing.
"It was just a wonderful experience," he says. "Every moment of it, you just relished."
So much so that he and Gail, along with their son Eric, wanted to stay Northern California. But at that time, there was literally nowhere to stay; people were living under bridges, waiting for houses and apartments to become available. A flipped a coin directed the Kjomes to Texas, where Gail had relatives. It was there that John learned about carpentry and building houses, which eventually led to his tile work and what he's well known for: building bathrooms from scratch.
Fate eventually brought the Kjomes back to Decorah. And for John, back to art. In his current projects, John recycles old metal tires. He turns them into tables, making a custom base then tiling the tops. Every piece is unique – different numbers of spokes lead to different kinds of tables, sizes vary greatly, and each tells a story of the past.
"These wheels have a history. I really appreciate the aspect of storytelling," he says. "It's not just something I go down to the lumberyard and buy, and that's fun!"
John is happy to do projects that don't require hours of time on his hands and knees; tile work is grueling. He hopes to be working on more pots soon as well. The furniture and furnishings seem to be a natural next step for the process that is John's life.
"I've built theses places," he says with a smile. "Now I want to furnish them."
Aryn Henning Nichols also enjoys the processes of things. She wishes she could be a little more patient though. She thinks John's tables are amazing.