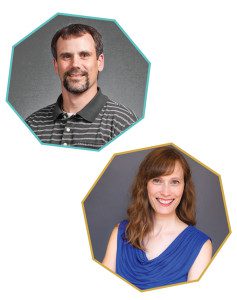 Ca-chunk. Ca-chunk.
It was a familiar sound in the Decorah Flat neighborhood this fall. Jarrad Walter stapled together yard sign after yard sign (on his glass patio table, until, oh, 9:30 at night) in an effort to promote Decorah Fast Fiber, a local volunteer-run campaign with the goal of creating municipal fiber-optic service for the Decorah area. The group managed to put a referendum on the November Decorah election ballot by petitioning support door-to-door, and the vote successfully passed – by a huge margin: 93 percent in favor! The city council may now create a board to oversee the fiber-optic possibility, and pursue a feasibility study.
For Jarrad, one of a handful of Fast Fiber's early supporters, it was the least he could do. He's been working remotely (online) for two years for a company that's now part of Google Analytics: quality Internet connectivity is the lifeblood of his profession. "I've seen firsthand how actual business dollars are lost when a video sales call drops due to Internet stutter, for example. This is our chance to build a utility that will help a new generation of professionals live and work in our corner of Iowa."
But his volunteer inclinations don't end with the Internet, says his wife, Laurie, owner of Crave Dance Studio in Decorah. "If our kids play a sport, he'll be coaching that Park and Rec team at some point during the year," including soccer, t-ball, basketball, and football. "And then there's Decorah Planning and Zoning." After serving an interim stint on the City Council, Jarrad was appointed to the Planning and Zoning commission in 2014. "There's nothing glorious about P and Z," Jarrad explains, "but I truly appreciate knowing how things work in the depths of my community, and what issues affect us."
"We moved back to Decorah from Austin, Texas – a city of a million people – where getting elected to any kind of council was an all-out political campaign," says Jarrad, a Decorah native. Laurie hails from Randolph, Nebraska, also a smallish town. They met as Luther College students. "One criterion on our list for moving was being in a place where we could get involved in community and make a difference, beyond voting."
In addition to Jarrad's committee work, Laurie is a pianist with Oneota Valley Community Orchestra and the organizer of the Decorah School District's elementary Spell-A-Thon, which raises enough money to fund the activities of the parent-teacher organization (PTO) for two years. She's also a counselor and advocate for Camp Tahigwa, a property owned by Girl Scouts of Eastern Iowa and Western Illinois along Bear Creek, a pristine trout stream near Dorchester, Iowa.
"I'm not especially qualified to 'lead' any of these things," Laurie explains, "but if the camp where my daughter has found a magical outdoor experience needs help, there's surely something I can do." Discussion of possible sale or closure of Camp Tahigwa has been tabled for another year, due largely to local visibility efforts.
And so it is that the Walter household might contain several-thousand paper door hangers detailing Decorah Fast Fiber's next steps. It's why Laurie would perhaps don a rubber thumb sleeve and count a fistful of $1 dollar bills as fast as any bank teller (PTO volunteers must count the Spell-A-Thon's earnings by hand – usually $15,000 or more, in small bills).
"It's not entirely altruistic," Jarrad says. "You get engaged in volunteering due to some benefit you yourself will appreciate – like reliable Internet – and you end up benefiting the whole community. We can't keep moving forward if we're not involved." – by Kristine Jepsen