Personal
-
Summer 2023 Inspire(d) Editor's Letter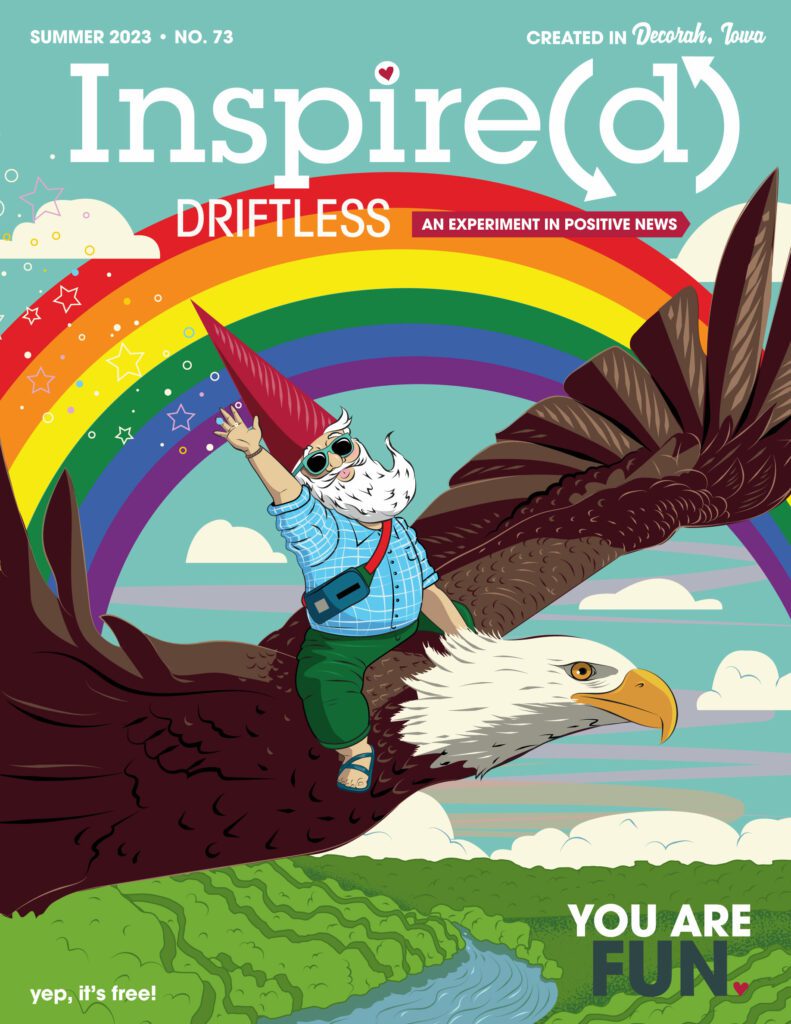 Heck yes, it's a gnome riding a bald eagle! This mag's epic cover has made me smile more than any cover in our nearly-16-year-history of making Inspire(d). My constant out-loud refrain (and I'm usually the only one in the room): OH MY GOSH, it is SO FUN!
So I guess that means my achievement is already unlocked: I made my life more fun…or, more accurately, artist Sarah Hedlund made my life more fun (THANK YOU, SARAH!!!!) by making the art on this cover. Learn more about this incredible Decorah-based artist on page 20, and be sure to check out her tips on experimenting with your own creativity this summer.
Our community builders in this issue – Colleen Foehrenbacher of Eagle Bluff Environmental Learning Center in Lanesboro, Minnesota, and Jeff Abbas of Dorchester, Iowa – might be considered "serial community builders." They are builders of communities within communities. And some really unique ones, too: Did you know there's an agate hunting community? And an agate photography community? I love that people are out there, creating niche communities and places of belonging.
I think community building naturally happens once you start doing things you love. Decorah's Unofficial Community Photographer, Charlie Langton (although perhaps since I'm giving him the title, it's official?!), loves photography, and the community loves him. We chose Charlie's gorgeous prairie photo for our summer center spread (pg 42), and it gives me all the summer vibes. I got to ask Charlie five questions in anticipation of his upcoming photography show at Impact Coffee, opening August 1. Check out his fun – and incredibly poignant – answers on page 44!
Yes, it's that word again: Fun! You're going to see it and think it as you read through this issue – our theme is You are Fun: Experimenting in Life! My infographic kicks this section off, and mental health writer Olivia Lynn Schnur dives into the psychology of fun and ways we can work more of it into our lives this summer and beyond.
My first suggestion? Read this whole mag: There are lots of fun stories throughout! Learn about how an Onalaska, Wisconsin, music teacher became the leader of the Coulee Region Steel Drum Band, how Jillian Webb Herrman and her husband and family built out Wold Farm in rural St Olaf, Iowa, with a Grain Bin Retreat, and a spontaneous Elopement Giveaway (happening THIS summer), and remember to "Wonder as You Wander" through Yellow River State Forest this summer.
Decorah's Mabe's Pizza celebrates 70 years of business and party-cut pizza, and we were stoked to have Inspire(d)'s Benji Nichols interview father-and-son duo Steve and Collin White for our summer Sum of Your Business on page 66 (you can also listen to the interview on Benji's podcast at decorah.fun).
Finally, I loved reading Inspire(d) newcomer Lynsey D. Moritz's story about Lesya Ryzhenkova, her family, and the mission – and dreams – behind their weekly Ukrainian Village Pop-Up Restaurant in Lansing, Iowa. The support of this small river town and the determination of this family are incredibly inspiring.
And that, of course, is the goal. We hope you finish this magazine with a feeling of inspiration and a desire to get out there and experiment with your summer, seeking community, wonder, joy, and fun. This is your one life. Let's do this thing.
Looking forward,


Aryn Henning Nichols