The Summer 2019 Inspire(d) is here to help you Find the Magic! Inside, you'll find:
Summer Theatre / Storytelling • Highlandville Dances + Foot-Notes • Peak Peaks in the Driftless • Foraging • Glamping • How to Make a Heart Mobile • Summer Music & More!
A note from Aryn: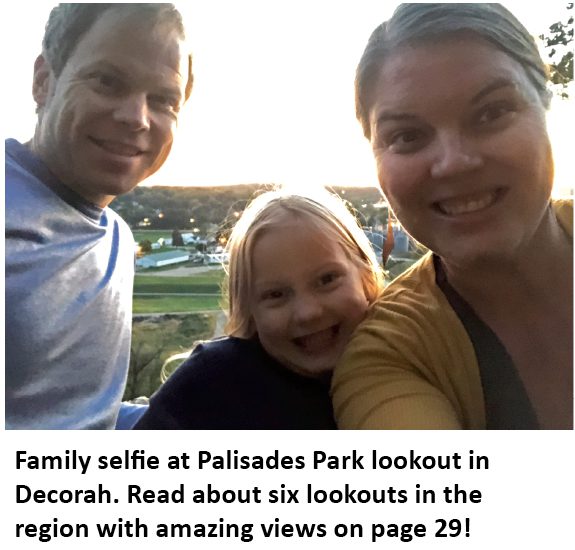 I still get excited about summer. The many years of childhood anticipation have instilled a sense of hope about this fleeting season, even as a – somewhat– adult 38-year-old.
I grew up in the country just outside of Frankville, Iowa (population 300ish). We had 20 acres of woods that I would run around all season long – I remember hearing the trees creak and groan while exploring on windy days, or flattening a blanket on the ground so I could sit and read by a stream. It all felt pretty magical.
My goal with this Inspire(d) is to bring those vibes to your (and our) lives this summer!
You can start off at a Highlandville Dance with Foot-Notes, a Decorah-based band that has been playing Scandinavian tunes (and more) across the area for nearly 30 years, especially for Highlandville Dances. A true summer institution here in Northeast Iowa, it is virtually impossible to leave a Highlandville Dance with a frown on your face! Read the history of how it all got started in Kristine Jepsen's story on page 16.
After that, you might want to sit for a bit! There are few things more magical than being transported to another time/place/moment through storytelling. Check out Sara Walters piece on page 34 to learn about some excellent opportunities to hear stories and see shows at world-class theatres and events in the Driftless this summer. P.S. That amazing cover image? It's from American Players Theatre in Spring Green, Wisconsin, and we are definitely putting it on our to-do list this summer!
Looking for a more in-depth adventure? How about glamping? We love how area entrepreneurs are thinking outside the box…er…walls to making some really fun and eclectic spots for folks to stay for the night (or longer!). Maggie Sonnek shares some options on page 54.
Still in the wilderness mood? Try foraging! I've pretty much only foraged for morel mushrooms, personally (and I bet I'm not the only one), so I especially loved Sara Friedl-Putnam's interesting story about foraging in the region. You get to follow along on a walk with Elsa McCargar and Conor Murphy, who run the local business, The Wilder's Way, plus hear about Decorah's Peter Kraus' approach to native plants and Driftless cuisine. Oh, and there's a recipe for a Wild Salad! Fun!
Now this is the place where I write about how you've gotta to make time to stop and find the magic this summer. That is the goal, for sure – but life is busy! Remember, though: You're making the story of your summer – and your life – right now. Today! Do your best to slow it down and enjoy it! You can find some tips for doing that in my infographic, "Find the Magic," on page 25.
We've filled this Inspire(d) with fun and love and magic so hopefully you can fill your summer with the same.
Big thanks to all of our amazing readers and advertisers – now get out there!
Looking forward,


Aryn Henning Nichols