We're excited to be hosting a new, regular Q&A section in Inspire(d): Sum of Your Business, featuring entrepreneurs in the Driftless Region. Our readers have asked to learn more about people who have started their own businesses, how they've done, and how they've done it! We thought that sounded like a great idea! Who knows – maybe you'll even be inspire(d) to create a business yourself! 
Introduction by Aryn Henning Nichols
Anyone who has ever ventured in or around Spring Grove, Minnesota, has undoubtedly seen Robin Bartell's work. Either inside her fun store – the Yah Sure You Betcha Shoppe – or in the seriously great graphic design she's produced for area projects and businesses.
The Shoppe features all sorts of silly and unique items and gifts – lots with Norsk and Midwestern humor, along with a "solid nod to the Norwegian heritage of Spring Grove". Robin designed many of the pieces in the Shoppe herself through Robin Bartell Designs, and she offers promo product design for other companies as well.
The young entrepreneur has been at it for five years now, but had long been planning her move to self-employment before she took finally took the step. For her, planning and research were key to finding the courage. Robin shares what she's learned, the ups and downs of being your own boss, and what's kept her inspired. Has it been easy? Probably not. Has it been fun? You betcha!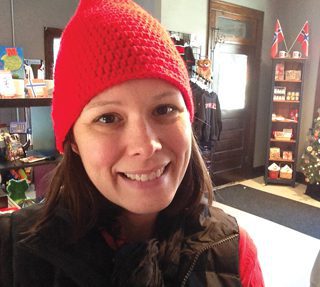 The Basics:
Name: Robin Bartell
Age: 36
Business: Yah Sure You Betcha Shoppe (and the home of Robin Bartell Designs)
Years in Business: 5
Tell us about the "leap" moment. When/how did you decide to jump in and become your own boss?
The desire to venture out on my own actually happened slowly. I didn't jump, I planned. I did a lot of research. I over-researched. I read a lot about personality traits needed to be a successful entrepreneur. Looking back now, I believe the things you will read about 'creatives' being ill-equipped to be business owners is mostly rubbish. Self-doubt nearly killed the big plan. In a fit of confidence, I decided that I owed it to myself to try. The worst that could happen was that I would have to find a job again, right? (I should also tell you about a recurring dream I had where colleagues and entrepreneurial-type people in my life kept saying 'what are you waiting for?'). True story. I jumped.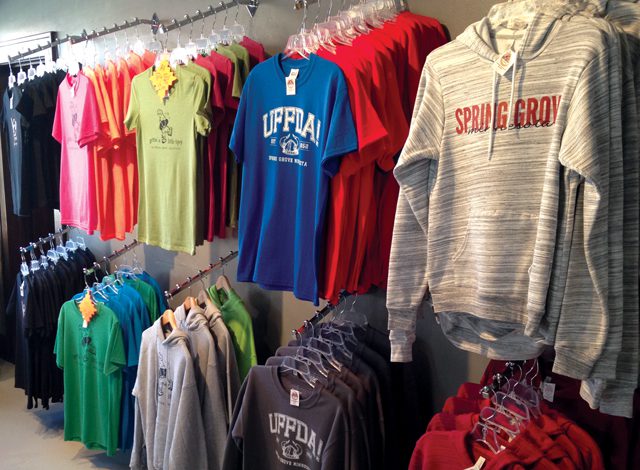 What's the best thing about being your own boss?
I get to decide what my job will be everyday! Yah Sure You Betcha Shoppe is a three-part business: a retail apparel and gift store, a graphic design firm, and a promotional products distributor. I get to assist other small businesses with their marketing and branding efforts everyday. I love getting to know my customers and working with them directly. It's so much better than being in a 'cubicle-corporate-graphic-design-departmental-hell.'
How about the worst?
Two-part answer: A. Always feeling like I need to answer calls, emails, etc, even when I am at home or on vacation. B. Balancing the importance of creativity and time management on a daily basis.
Was there ever a hurdle where you just thought, "I can't do this?" How did you overcome it?
Little bouts of self-doubt were the greatest hurdles. Having supportive family and friends is key to overcoming that self-doubt. Then you just have to be prepared to work your patooty off to make it happen!
Finding the perfect spot for the retail store was a little bit of a challenge in the beginning. My office space moved a few times, and I grew impatient about where the store would be permanently located. Thankfully we were able to purchase our cute little building on Main Street last year. Now I feel like it's finally permanent and real.
Any mentors/role models you look to/have looked to?
Early on in this endeavor, I spoke with colleagues and a few like-minded small business owners within the community. The advice given by those who have blazed a trail before me is definitely gold-nugget wisdom. I have learned to NEVER disregard networking – at any stage of life, or in any job I've ever had.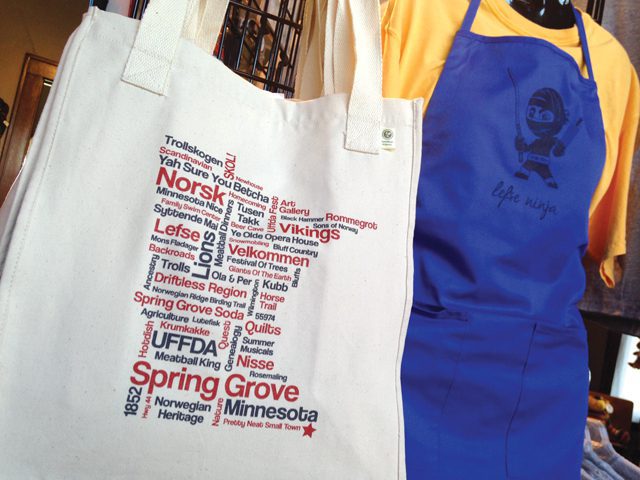 What's the one thing you wish you had known before you started?
You simply cannot plan for everything that may/will go wrong. Sometimes you just have to trust your instincts. Not every decision will be rational, and not every irrational decision will end in failure.
"I think perfectionism is based on the obsessive belief that if you run carefully enough, hitting each stepping-stone just right, you won't have to die. The truth is that you will die anyway and that a lot of people who aren't even looking at their feet are going to do a whole lot better than you, and have a lot more fun while they're doing it." – Anne Lamott, Bird by Bird: Some Instructions on Writing and Life
How do you manage your life/work balance?
It's tough, but I try not to work/check messages/email when I am home and it's family time. Sundays are family days – always. If I do have work to do at home I try to use 'time blocking.' As in "kids, I need one hour to finish my work, then I'm all yours!" Sticking to that is the trickiest part.
What keeps you inspired? Any quotes that keep you going?
My design clients and retail customers keep me inspired to push forward, create more, design better, and keep forging ahead! I feel like there are so many creative and imaginative people in our area; keeping people in your life that nurture your talents is very important.
"Talent is cheaper than table salt. What separates the talented individual from the successful one is a lot of hard work." – Stephen King
Check out Robin's Yah Sure You Betcha Shoppe in Spring Grove, Minnesota at 118 East Main Street (open Wednesday through Saturday), or online at www.youbetchashoppe.com.