INTRO BY ARYN HENNING NICHOLS • PHOTOS – NIGHT DIVE SWIM

It's springtime – or getting there, anyway – and that means swimsuits are hitting retail racks all over. It's an, "ugh" time of year for many – me included. But when social media posts from Night Dive Swim, an online swimwear shop based out of Oelwein, Iowa, started rolling in, I wasn't, "ugh" at all; I was inspired! And that's kind of a rare thing with swimwear.
It's partially because of the amazing designs and sunny locales featured in Night Dive's photos, but the biggest inspiration wasn't even about the swimwear… it was the message behind the brand: Love yourself. Be comfortable in your body. Enjoy this life. Yes!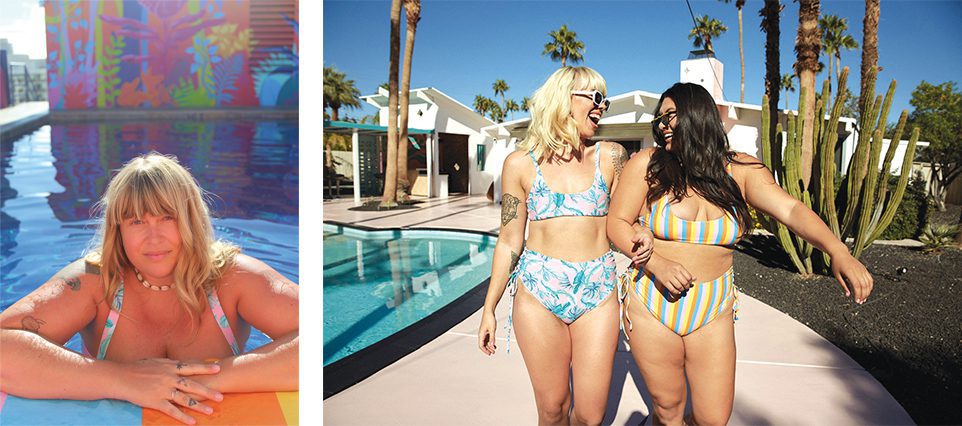 We caught up with founder Heather Caye Brown in between trips (and late-winter snowstorms) – you might find her networking/working in California or Miami; or home in Iowa, where she grew up; or across the world in Bali, where her eco-friendly swimwear collections and accessories are made. "It's definitely a lot easier to be in Bali and work face-to-face with the amazing people that help make my designs and vision come to life," Heather says.
Let's back up to that eco-friendly bit: Their entire Spring 2019 bikini collection is made of recycled fabrics, and they ship every bikini in a cute, reusable pouch made of biodegradable material. Their solid-color "swimmies", as they call them at Night Dive, are made with VITA, a sustainable techno-fabric made of Econyl recycled nylon – recycled ghost fishing nets from the ocean! According to the Night Dive website, it is soft, hyper-resistant, and a unique mix of compression and comfort, and, because of its innovative construction, it is twice as resistant to chlorine and sunscreen compared to other swim fabrics. All of the Night Dive printed swimmies are made of REPREVE, a fabric created by transforming recycled bottles into fiber. The process embeds properties like wicking, adaptive warming and cooling, water repellency, and more at a fiber level. Cool!
While you'll find Night Dive Swim products primarily online (nightdiveswim.com), they do occasional pop-up shops as well – last summer, there was one in Des Moines and one in Long Beach, California, and this past winter folks could visit with Heather and shop Night Dive at the Aerie store in Miami. "Aerie is known for not retouching or Photoshopping photos – #aeriereal – so Night Dive and what we stand for was a perfect fit," Heather writes, with what seems to be her trademark enthusiasm. Even via email, you can feel her excitement and passion for her business. (And we are big fans of anyone who uses multiple exclamation points in multiple sentences!) We know we usually feature folks who have been running their business for several years for Sum of Your Business, but we were so inspired by Heather, we just had to share. We can't wait to see what she does over the coming years!!!!! (< oh, yes!)
Turn the page to read Heather's super fun answers!
Name: Heather Caye Brown
Age: 37
Business: Night Dive Swim
Years in Business: 1
Website: nightdiveswim.com
1. Tell us about the "leap" moment. When/how did you decide to jump in and become your own boss?
I had been happily working in the fashion industry – designing, climbing the corporate ladder, and leading design teams for large companies the last 14 years, and I came to a point where I really wanted to do something different that I'm very passionate about – championing self-confidence and body positivity. I saw so many opportunities to be more inclusive, especially in swimwear, my favorite thing to design, and what I personally spend a lot of time in. There are swimwear companies that don't even offer a size extra large, and most don't show a lot of body types on their social media platforms. I wanted to show that no matter what size you are, a swimsuit is for everybody/ every BODY.
Spreading that message became more enticing to me than any promotion could be, along with the freedom and new challenges and learning experiences that running my own company would bring.
2. What's the best thing about being your own boss?
The best thing about being my own boss is most definitely the freedom – both in flexibility of what hours I'm working to where I'm working from. Luckily enough, this past year of working on my collection and building my brand was able to be done from anywhere in the world – so I spent half of the year off/on in Bali – the factory producing my eco-friendly Spring collection is there – and I was able to focus on creating my website, visiting the factory and reviewing samples, and of course I made time for surfing, snorkeling, and all the amazing things Bali has to offer. The other part of the year I was able to work and spend time with family and friends in my hometown in Iowa, and that's when I decided to have Iowa be the location for my headquarters and where I would keep inventory.
The headquarters for a swimwear company being located in Iowa sounds a little strange, but being near family again after 18 years of living out of state, along with having those extra hands and help during the busy swim season, was irresistible. On top of that, another thing I'm passionate about is trying to build a sustainable fashion brand, and be as eco-friendly as possible – so having a centrally located office in the US, we're able to ship our product to our customers in the most efficient manner possible. I also love the idea of lifting up the community in any way possible – from speaking to high school students about a career in fashion and pursuing their dreams, to adding more business at the local post office.
3. How about the worst?
Despite the freedom, work ends up being on my mind 24/7 – yet I wouldn't have it any other way!
Besides that, another challenge I encountered was the shift of working solo versus working with a team. One of my favorite things about the last 14 years in the industry was the people on my team and who I've worked with. That shift from constantly working with people, bouncing ideas off of each other, and basically having a work "family" was a huge change. Thankfully enough, I still have that fashion family and friends if I ever need anything.
4. Was there ever a hurdle where you just thought, "I can't do this?" How did you overcome it?
Never!
Don't get me wrong, I've encountered plenty of setbacks and challenges…but I just adapt and shift. My mom taught me at a very early age to have a Plan A, B, and C.
5. Any mentors/role models you look to/have looked to?
This question is tough because there are a ton of people that have inspired me…but someone who really has embodied the type of leadership I look up to is Chad Kessler, a friend of mine, and the President of American Eagle. I met Chad in 2004 when I started my first job as an assistant designer at Hollister / Abercrombie & Fitch. He was always someone who stood up for what he believed in, had your back, and was smart, savvy, and supportive. He truly demonstrated being a successful and inspiring leader.
We've worked together in various ways since then – at Urban Outfitters, and even now, he's as supportive as ever cheerleading on Night Dive Swim.
6. What's the one thing you wish you had known before you started?
I thought I already knew this, but it really doesn't drive the point home until you're living it –EVERYTHING is going to take ten times longer than expected and cost ten times more than planned.
7. How do you manage your life/work balance?
Good question!! Since I enjoy every second of working on my company, I need to cut myself off from time to time from being so focused and engulfed in whatever I'm working on. There's always something new I need to learn, or a new idea I want to design, so making sure to take time for a mental break or fun outside of the fashion world is something I'm constantly working on.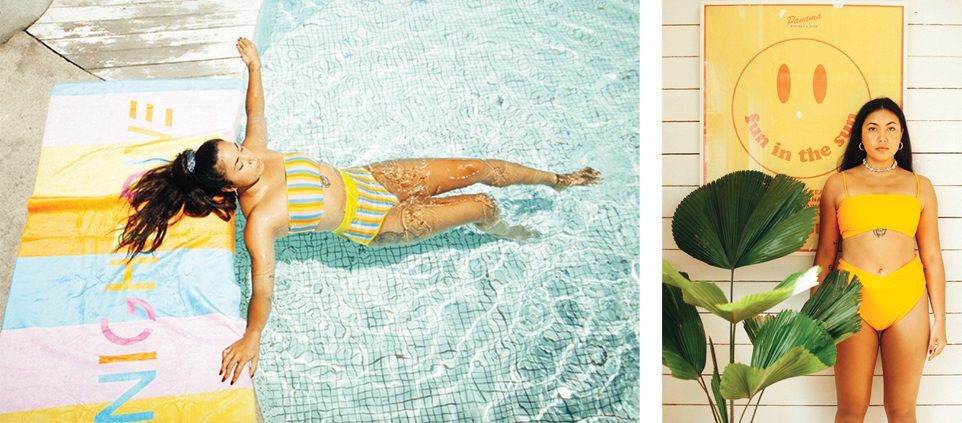 8. What keeps you inspired? Any quotes that keep you going?
The main thing that keeps me inspired is hearing from women that Night Dive Swim is already making a difference for them. The message I'm sending with social media and my website is body positivity and self-love, and I've received messages from women all over the world saying how much they appreciate seeing all body types and inclusivity on our Instagram/Social media, and how it gives them confidence. These messages seriously make everything I'm doing worth every second and every dollar I've invested in building this brand.
9. Where do you hope Night Dive will be in five years? 10?
Besides the financially successful goals for Night Dive, in five years I would love to be able to expand the size range to include even more plus sizes. We currently offer size small to extra large, and offering a broader range of sizes is actually quite expensive. My goal is to be in a place that taking on that expense is not an issue.   
In 10 years, my goal for Night Dive would be to be a part of (or create) a foundation for championing body positivity and self-love. There're so many things I want to do to give back, and I can't wait to be in a place where Night Dive can do even more.