Lovers of La Rana Bistro can breathe easy: the legacy of local food at this gem of a restaurant in Decorah, Iowa, will continue for many years to come. Founding owners, Joanie Sheahan and Mark Smeby, have officially passed the torch, selling the business to Joanie's daughter, Carina Cavagnaro, as of summer 2023.
Mark and Joanie, partners in business and married in life, were pioneers of the Decorah farm-to-table food scene when they first started La Rana in September of 2002. And like any pioneer – and any business owner – there was a lot of risk involved in launching a brand-new venture.
"When we went into this, we dumped in everything we had," Mark says. "We knew it could be successful and great and we also knew we could lose everything – it came pretty close sometimes, but here we are. There's a lot I don't know how we pulled off."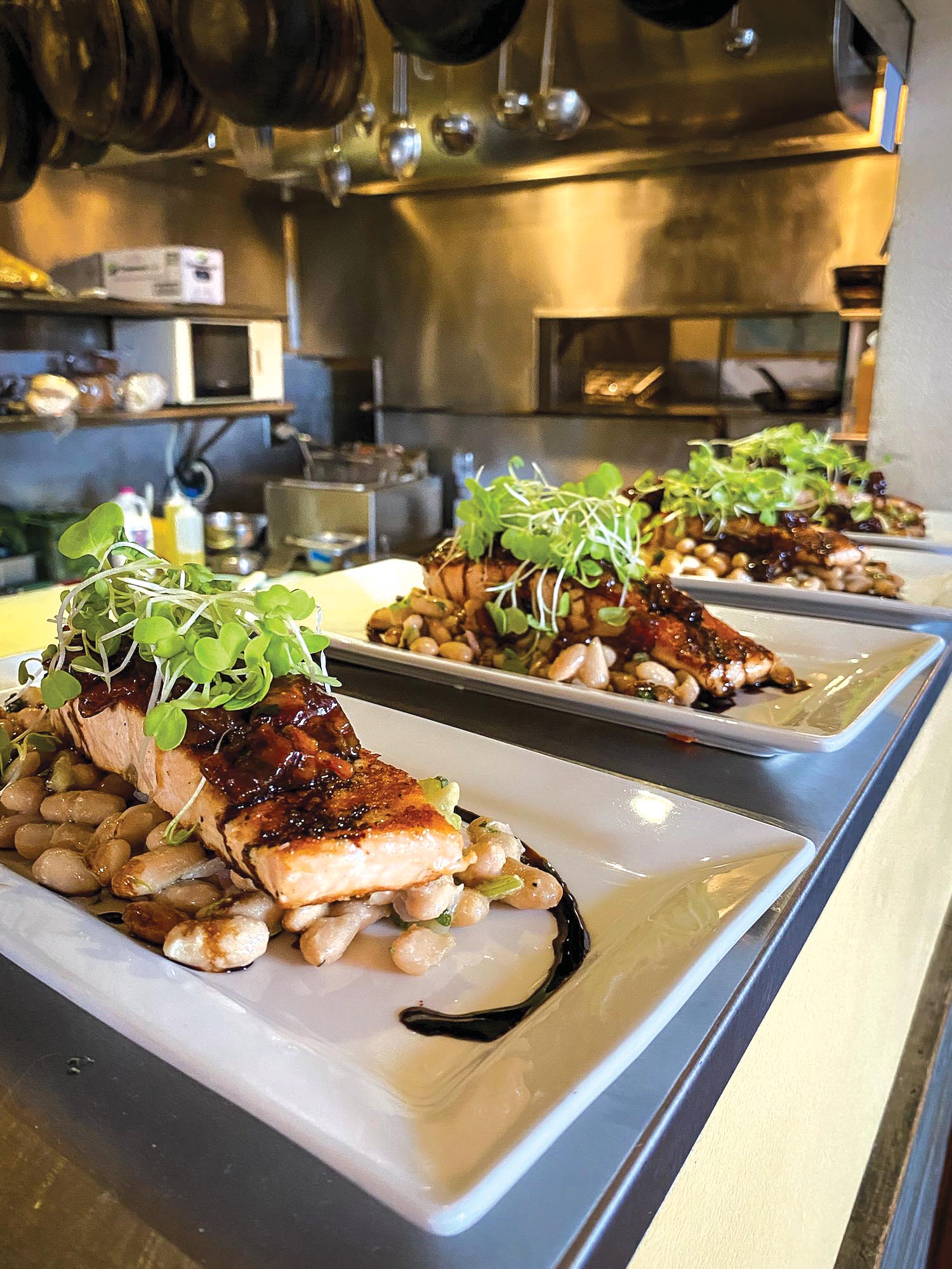 Now, more than 20 years later, the reputation is fully established – if you dine at La Rana, you're going to get amazing food – like a tartine with local beets and microgreens, or duck confit with goat cheese polenta – prepared with local produce always in mind. Drinks are crafted with fresh-squeezed juice and high-quality ingredients – like Luxardo cherries muddled in the tasty Old Fashioneds, or mojitos made with local mint and fresh limeade. And definitely save room for the delicious scratch-made desserts.
Plus, the whole vibe of the restaurant is cozy, charming, and cool.
"The space fosters love and camaraderie among people; it's special, it's full of stories and memories, it's had an impact," Joanie says. "We didn't want to open a big place – we wanted something small and intimate."
Indeed, the restaurant's intimate setting – there's room for just 34 diners, including the bar – is the perfect place to get to know the community. At the bar, handmade by Mark himself, you never know who you'll get to chat with in the next seat over. And on the menu, you might find your future CSA supplier. A meal at La Rana fosters connection.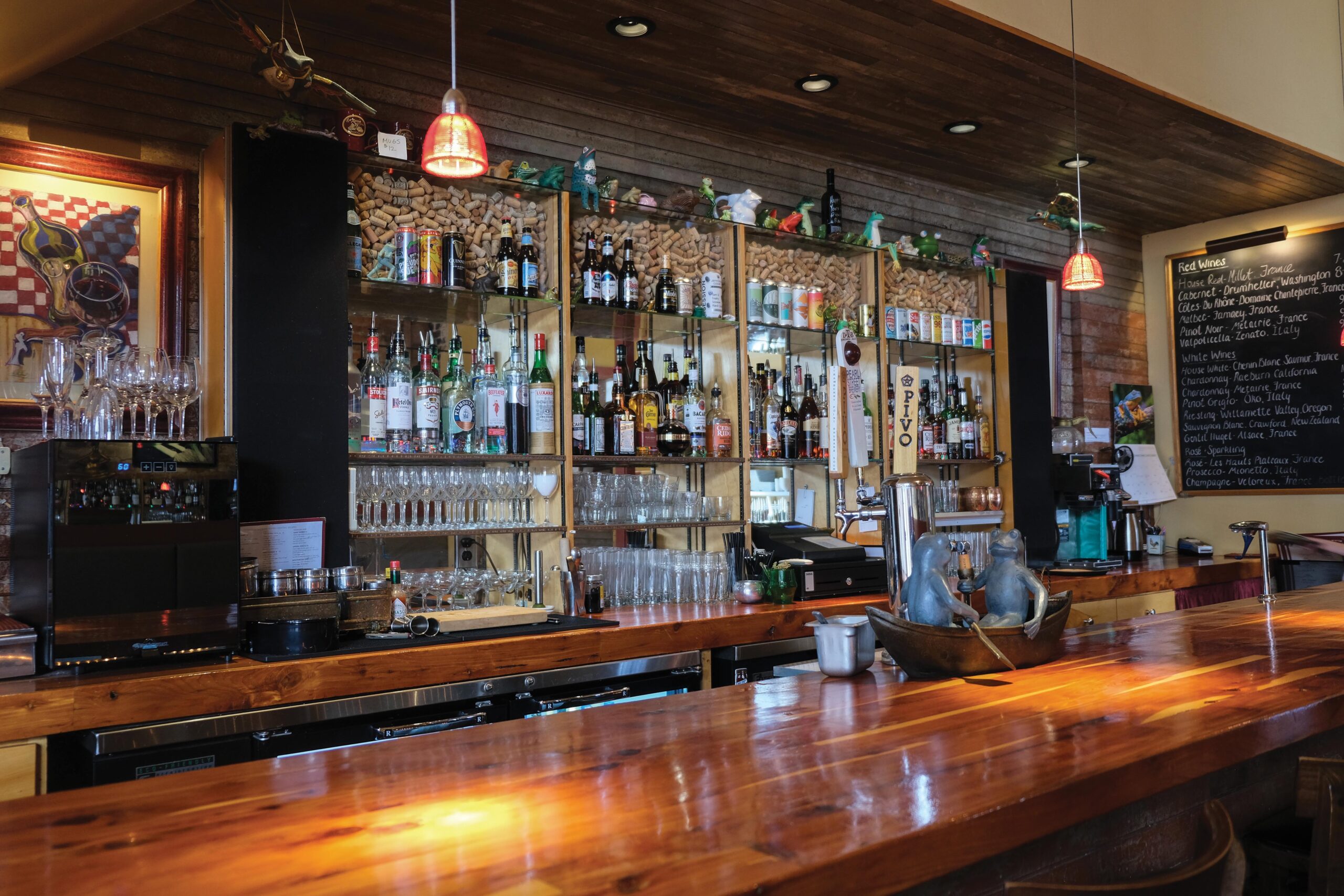 "People said you can't open up a place that small, you can't make any money," Mark says. "But we made it work."
"Restaurants fail all the time," Joanie continues. "Steadfastness and perseverance got us here. We're really proud of what we built."
Many years of restaurant experience surely helped them along the way. Joanie worked in restaurants since she was a teenager, paying her way through school and life, and Mark was the breakfast cook for years at Decorah's iconic (now defunct) Cafe Deluxe.
Carina's first job was busing tables at age 14. She would work weekend nights with Joanie at Old Village Hall in Lanesboro, Minnesota. When the Hotel Winneshiek opened in Decorah, Carina worked there for her three remaining high school years, serving, and saving money for an international travel gap year. And restaurant gigs – serving/bartending/managing – took her across the U.S. – from Iowa City to the San Fransisco Bay area to Colorado. She was also the chef/co-owner of Decorah's former Dug Road Inn for a year and a half, and the chef/co-owner of whisk&spoon, a pastry pop-up, for five years. Now, she's rooted in La Rana.
Keeping ownership in the family is a dream come true for all involved.
"I have no words to describe how deeply grateful I am for the opportunity to work with my family, to build this dream with and for them," Carina says. "I'm also beyond thankful for the encouragement of this community – we love feeding anyone who walks through our doors, but a shout out to our regulars for your constant support and familiar presence. To our diners, our producers, our staff, our friends, our family – I couldn't have done this without you."
Names: Mark Smeby, Joanie Sheahan, Carina Cavagnaro
Business: La Rana Bistro
Year established: 2002
Address: 120 Washington St, Decorah, Iowa
Online: laranadecorah.com • facebook.com/laranabistro • instagram.com/laranabistro
Mark & Joanie
1. Tell us about the "leap" moment. When/how did you decide to jump in and become your own boss?
Mark: It was never about being our own bosses; it was about the dream of opening a restaurant in this town. I wanted to open a restaurant 40 years ago, but I was starting a family. Twenty years later, that calling was still there, and so was the need in this town for more good restaurants.
Joanie: It was also inspired by when we met. We put our restaurant experience and ideas together, and we wanted to start our own thing. The experience of working in restaurants isn't easy; it sort of drives you to want to open your own, on your own terms.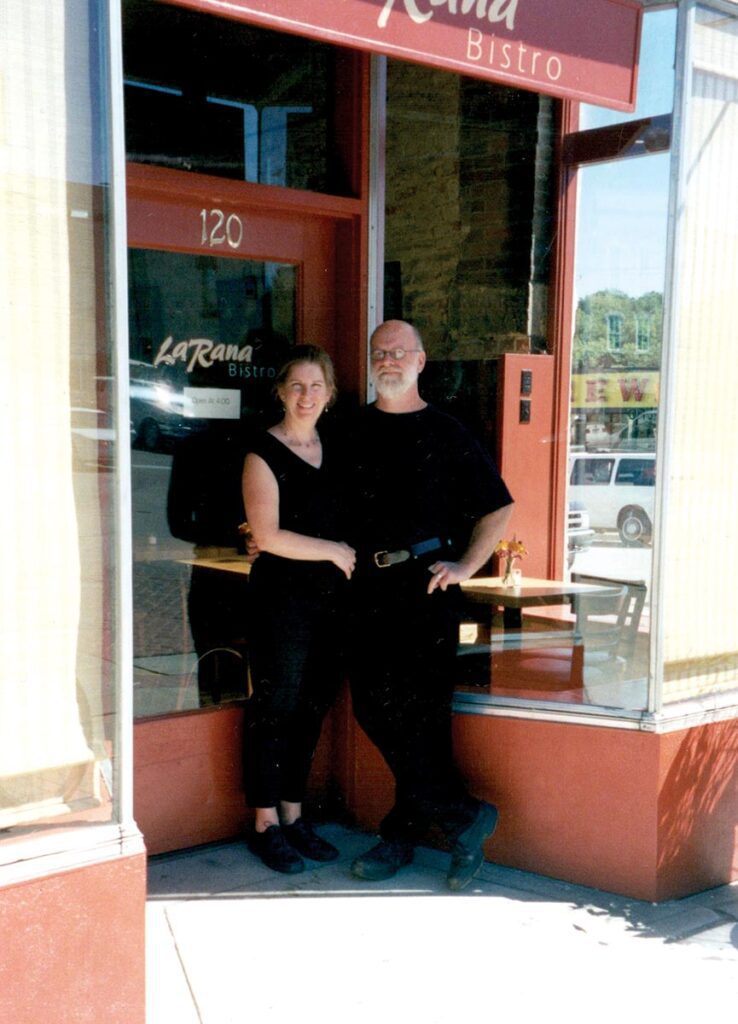 2. What was the best thing about being your own boss?
M: You can work as much and as hard as you want to, on your own schedule. You don't have to answer to anyone, you can make your own decisions.
J: Being able to make our own calls, to take creative liberties, to try new things. It was a lot of trial and error. We tried everything; we didn't have a clear vision. The original concept for the place was a tapas bistro – we served small, shared plates. People at the time didn't quite understand the concept. We had to adapt to the public. But it was our place, we could adjust to a more approachable style.
3. Was there ever a hurdle where you just thought, "I can't do this?" How did you overcome it?
M: Early on, six months in, I made a very expensive administrative mistake. I didn't think we were going to be able to come back from that.
J: Money was always an issue those first few years.
M: I thought then that that was it, but I woke up the next day, changed my perspective, and came up with a plan. We figured it out, we didn't give up.
4. What's one thing you wish you'd known before you started?
M: The sometimes unpleasant side of dealing with financial institutions. Small businesses are preyed upon by credit companies and scams all the time, it's unfortunate.
J: Accounting and bookkeeping – neither of us really knew what we were doing at first, we just sort of hoped one of us would figure it out. It was a steep learning curve.
5. How does it feel to be handing the torch to the next generation?
J: Fantastic. We couldn't have handed it over to anyone else.
M: People have tried to buy it for years and we've always said no. If it weren't for Carina taking over, it probably would have been the end of the line for the place.
J: It feels very rewarding to have my daughter Carina want to take this business forward with fresh ideas and perspective. She was 17 when we opened and worked with us on and off through the years. And after all, she's the one who came up with the name La Rana.
Carina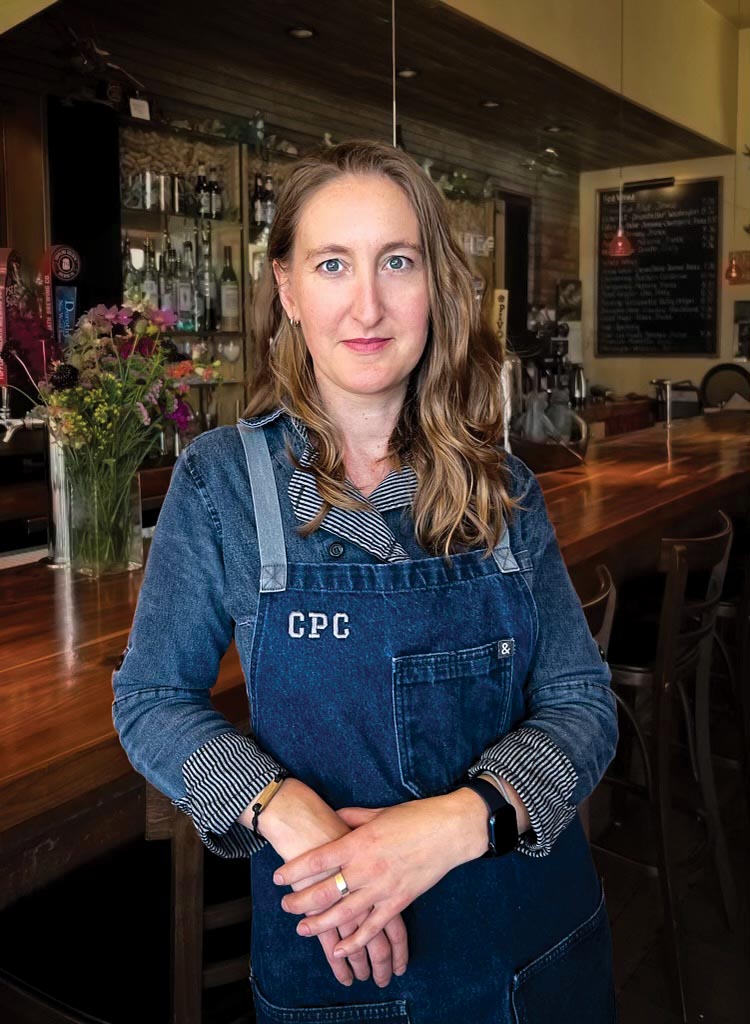 6. Have you known since you came back to Decorah and La Rana that you would like to eventually continue the La Rana legacy?
I've known that I wanted to continue the La Rana legacy since Mark and Joanie first opened the bistro doors over 20 years ago. When I moved back to Decorah in 2018 and took on the Head Chef role, that dream started to become a reality for all of us, and we began working toward the eventual transition. Part of me still can't believe it's finally happened, and at the same time I've had my heart set on this goal for most of my adult life.
7. What's at the top of your mind now that the papers are signed, you've purchased the business, and are officially the La Rana Bistro boss?
I look forward first and foremost to celebrating and maintaining the restaurant's quality and reputation that have been cultivated with so much hard work and care over the years. I'm standing on the shoulders of giants, and now I finally get to take the reins, to put my mark on the business and bring it into the next decades with my own passion and vision.
8. What are you most excited about?
We already have excellent relationships with our local farmers and growers, and I'm eager to continue to build on those and to find ways to collaborate even more closely. I'm also honored and thrilled to be able to empower my staff (both seasoned and new) through dedicated leadership, as well as to mentor new generations of culinary professionals.
9. Thoughts on the life/work balance? Do you think it exists?
Burnout in this industry is high, and I'm hyper conscious of that fact as I move into this role. A top priority for me is finding that work/life balance – for myself so that I can be a more effective leader and business owner, and for my staff so they have every opportunity to succeed and flourish. I also believe in the importance of delegation, so that I can have time to cultivate my own interests and hobbies outside of work – tending my garden, traveling, staying active, etc. I'm very lucky to have a staff that's so trustworthy, competent, and reliable.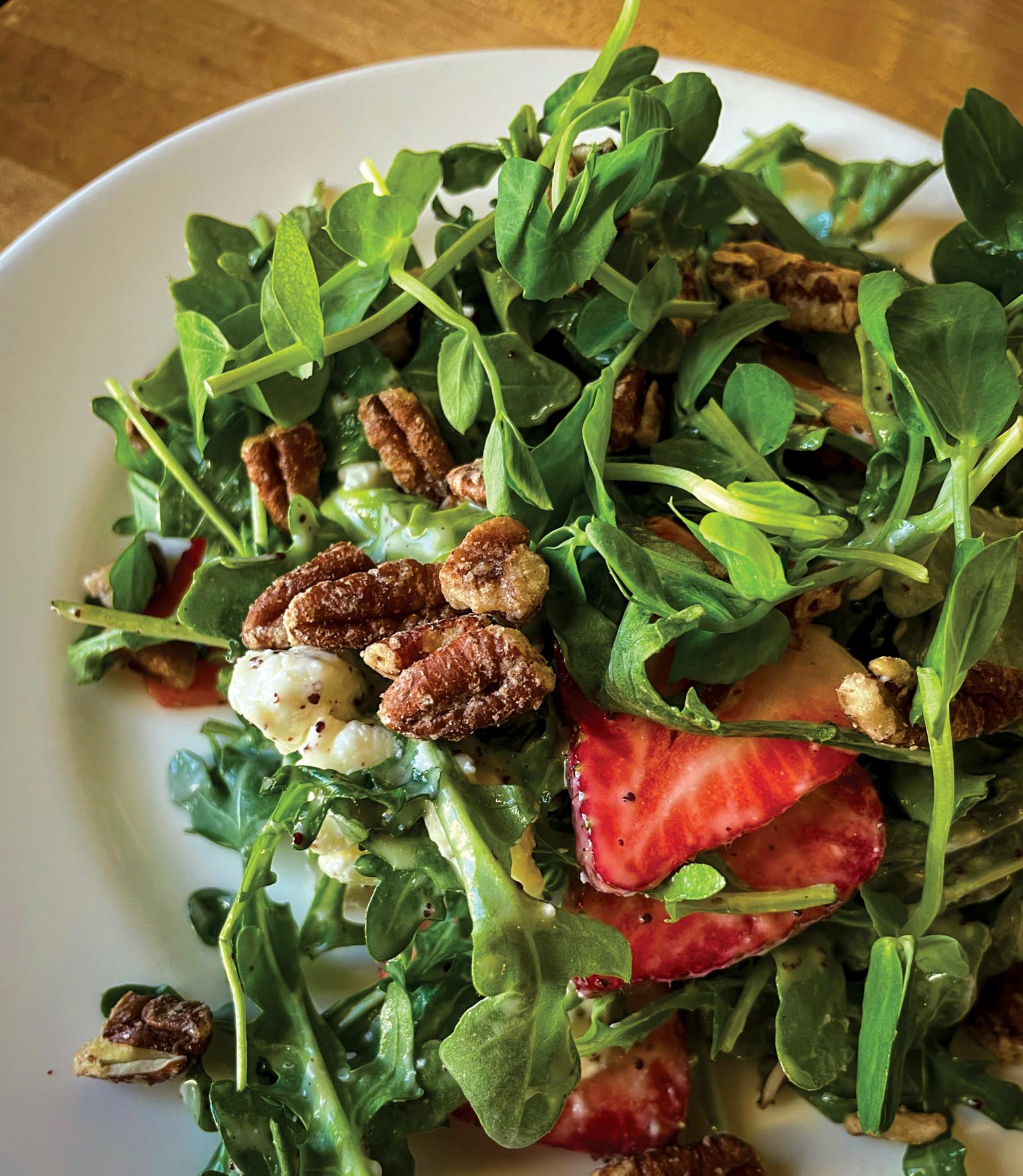 10. What's inspiring you right now?
The sheer abundance of unbelievable local vegetables available in our area. Everyone just constantly marvels at the fresh salad greens, the lushness of these lettuce mixes and tomatoes. We get three or four deliveries a week of this stunning, just-picked produce of all kinds, and it's so rewarding to have the opportunity to put that harvest bounty on the plate.