Intro by Aryn Henning Nichols • Photos by Photography by Brittany
It's lucky that Decorah photographer Brittany Todd "never gets sick of wedding cake." Because in the nearly seven years she's been running Photography by Brittany, she's surely eaten a lot of it.
Of course, weddings aren't the only moments Brittany's team captures – there's also engagements, families, graduating seniors, and a shoot option called… "All Up in Your Business," where – you guessed it – Brittany photographs your business.
Business is something Brittany has learned a lot about over the years. What started out as a hobby post-graduation has turned into a real-life career, and now encompasses a team of seven photographers, two cinematographers, and one marketing/social media expert.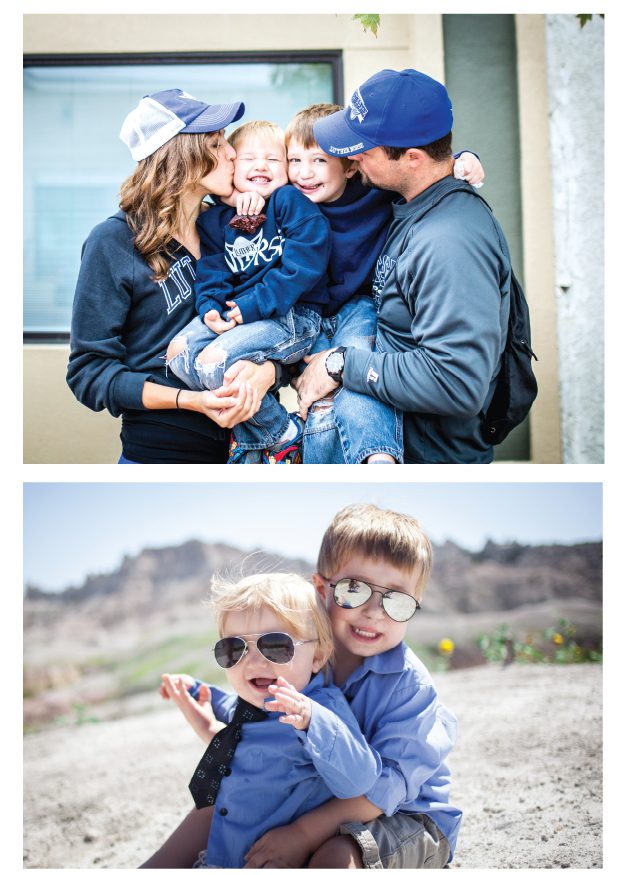 Plus, the 29-year-old mother of two busy boys offers photography classes to the public, is involved in the community, and manages to, somehow, cook actual vegetables for dinner (much to her boys chagrin). On top of all that, Brittany recently moved from a home office to a studio space in Downtown Decorah. (Update: AND now husband Nathan and Brittany have added the Decorah Sugar Bowl ice cream shop to their list of businesses!)
Surely more than once, this busy woman has been requested to, "Teach us your ways of life!"
"I try to do it all and not pull my hair out, but really I am better at styling the mess on my head to cover up the craziness behind the scenes," she writes on brittanytodd.com. "The main focus of my career is to capture YOU. Whether you are short, tall, blonde, brunette, married, single or anything in between: be that. My goal is to have you trust that being YOU is what makes you beautiful."
The result is lovely, saturated images that speak honestly of life, love, and…well, the pursuit of happiness. We were excited to feature Brittany as our Sum of Your Business for this inspiring women issue because she is just that: Inspiring! Read on to learn more about how she manages to have her cake…and eat it too (what, too much?!).
The Basics:
Name: Brittany Todd
Age: 29
Business: Photography by Brittany
Years in Business: June 26 this year will start year seven of weddings!
1. Tell us about the "leap" moment. When/how did you decide to jump in and become your own boss?
After graduating from Luther College in January 2010, I was certain that my calling was in Residence Life. I went through a two-month marathon process of interviews with 15 different schools and became a finalist at two different colleges. We were certain we were moving to either Dubuque or Green Bay. In April, however, everything changed.  I was informed by both schools, within one hour of each other, that I was their runner up and therefore did not have a job. At all. Anywhere. As a couple, we decided to stay in Decorah for another year since we were getting married that July and at least had some connections to odd jobs while we waited for a full-time opportunity. During that waiting process my photo-shoots became more frequent and more substantial. I wasn't just photographing my friends' kids anymore; clients were actually hiring me to shoot their wedding day, and I was loving every second of it! In August 2011, our first son, Carter, was born, and we decided it would be much easier to raise a baby with a photography career than in a college dorm. I slowly stepped away from a career in Residence Life, to a newfound dream career in photography. Fast-forward to 2013, and shooting was officially something that paid the bills, supported my family, and gave me great joy on a daily basis. It was then that I became my own boss and officially launched Photography by Brittany… in an office next to our living room.
2. What's the best thing about being your own boss?
There are countless perks! I get to travel throughout the United States doing what I love! I get to choose my own hours. Yes, sometimes this means I am the last one to leave downtown at 1 am, but it also means I can take a day off to celebrate my kids' birthdays, go on a last-minute trip with my husband, or spend an entire day focusing on filling my own cup, whether that means a lunch date with a friend, yoga sculpt at Reefuel, shopping downtown Decorah, or binge watching online classes or even Netflix. I can dress up on days I am with clients and wear sweatpants and slippers on days in the studio. A major perk is that through this seven-year journey, my kids have been a part of almost every single work day in the office, whether that office was in our living room or downtown in the new studio. They have their moments, of course, but sometimes the brutal honesty of a three or five-year-old is exactly what I need when it comes to choosing a location, setting up a shoot or just choosing treats from Beyond the Bar or Java John's Coffee House for a client meeting. I know not every profession allows the flexibility that mine does, but just think how much more productive everyone could be if they could work during their personal prime time hours (I am a night owl) and be with their family as much as possible?
3. How about the worst?
Some days this list seems longer than the previous one, but I promise the good always outweighs the bad! I am the HR department, secretary, coordinator, president, CEO, and maintenance crew all rolled into one person. There is no guaranteed salary. There are no work benefits. Nobody gives me health, dental, or life insurance. There are no paid vacation days, paid sick days or even a single moment of paid maternity leave. When I first started, I took on any shoot that would come my way, including a family shoot the day before I went into labor with Carter as well as a wedding 13 days after he was born. (That is a story for another time, but, in short, Carter did great. Pumping in the doorway of a boat bathroom? Not one of my favorite life moments. 😉 )
There is not anyone to celebrate successes with in person. Cake in the break room is just not as exciting when it is your own birthday and you are eating it alone. Do not get me wrong, I love my days alone when I can crank the music and sing aloud while I edit, but there are many days when I wish there was someone here to celebrate with during the successes, and someone here to always get input from.
4. Was there ever a hurdle where you just thought, "I can't do this?" How did you overcome it?
Not a specific hurdle, but there are definitely days and sometimes weeks that I stare at my work and think that I will never be as good others already are. If you think Pinterest is hard from a parent or teacher perspective, try looking at it through the eyes of a photographer (or a photographer mother!). Pinterest is amazing, and Pinterest is awful. I often remind myself that if I didn't think there was someone better than me, I wouldn't have anything to strive towards. The moments I doubt myself are the moments that make me a better photographer, business owner, and family member.
5. Any mentors/role models you look to/have looked to?
I highly recommend everyone start following Jeremy Cowart on Facebook, Instagram, or any other way possible. If you haven't heard of "The Purpose Hotel" look it up! Jeremy is taking his talents of photography and expanding them into a vision that will help MANY people for decades, if not centuries, to come. His ability to run a business, expand the business and yet keep his wife and family as his number ONE priority is not only inspiring, but something we should all strive toward daily.
6. What's the one thing you wish you had known before you started?
Dear High School and College Self:
Your grades matter in order to keep your scholarships, but then they will be irrelevant. Stop writing down every single word that goes on the board and take a moment to truly LISTEN to those teaching. Social networking is everything. Relationships are going to build a business faster than money can buy one. Equipment is important, but without a solid work ethic, support from those closest to you, and an incredible client base, you will not be successful. That family and friend-base you have now? They're going to support you every step of the way. Keep being kind to those around you, because those professors, classmates, mentors, friends, and acquaintances are all going to be clients of yours someday. Each will leave a photo session with a part of your heart, and give you a little more sense of self-worth.
7. How do you manage your life/work balance? You worked out of your house originally, and have recently moved to a space in downtown Decorah – what are the pros and cons to the move?
Working from home was fantastic. If you ever get the opportunity to do so I highly recommend it, even if it is just for a few weeks. While having a home office I would do laundry, make lunches, start dinner, vacuum, grocery shop, and play with my kids in between checking emails, editing, making phone calls, and creating online albums for client review. When the workday was over, so were all of our daily life tasks. Having a space downtown has been quite an adjustment to that, but I love it in a completely different way. I get to see more people (especially more adults) on a daily basis. I can still take my kids to the library as I used to, but when we return to the studio downtown I immediately have a sense to work, instead of picking up around the house. Although it is tempting to respond to an email as soon as I see that it has been sent, it is much easier to leave work at work, and be home when I am at home (check out Peter Awad's "Slow Hustle" podcast for more on that concept!).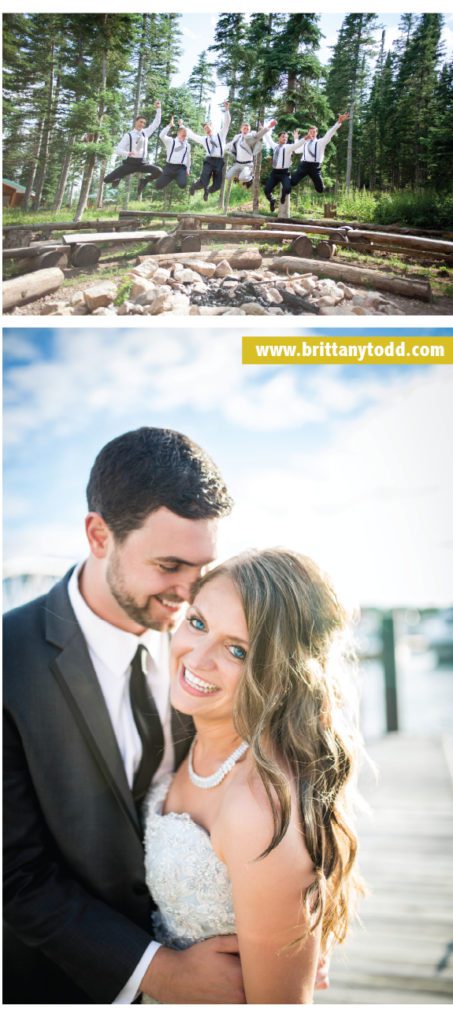 8. What keeps you inspired? Any quotes that keep you going?
It is a hard concept to perfect at first, but I have gotten better about telling myself that I cannot serve others if my own cup is empty. Giving myself an opportunity to remember that I will be successful today, in this moment, could be as simple as a 15 minute break with Pinterest or an hour long Skype chat with a friend to collaborate on fresh ideas. Occasionally, I feel like these activities put me further behind in my to do list, so I remind myself that if I do not take time to enjoy life, my family, and my friends, there is no purpose to my career. Yes, we need money to pay bills, but if we are not enjoying life as it happens, we are guaranteeing ourselves missed memories. I would be a hypocrite if I encouraged others to prioritize their memories, if I, myself, was not creating any. Because of this, my job inspires me during every shoot. Every client has chosen me over any other photographer to capture one of their most important moments in life. These occasions may be as extravagant as a wedding day or as simple as an annual family session, but to my clients, and to me, it is so much more than just a shoot. You never know when a session is going to be your last as a family, exactly are you as you are right now, so embrace the NOW! There is no greater inspiration than to know that this gift I have been given (and am constantly trying to perfect) is something that positively impacts those around me, with the simple click of a button.