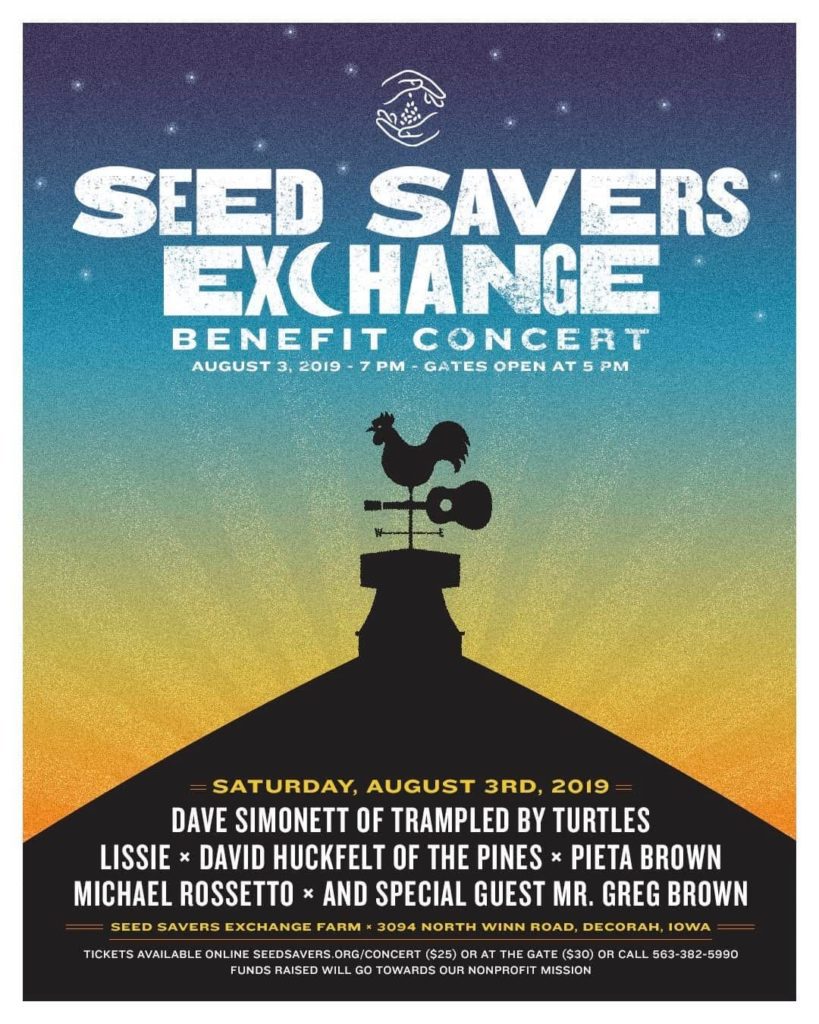 Seed Savers Exchange (SSE) near Decorah, IA will once again host an incredible lineup of mid-western musicians for an on-the-farm benefit concert, Saturday, August 3, 2019. Seed Savers has been providing a home and outlet for heirloom and open pollinated varieties of seeds since 1975, encouraging gardeners and farmers worldwide to grow, harvest, and share heirloom seeds, as well as recount the inspirational stories behind them. SSE aims to conserve and promote America's culturally diverse but endangered garden and food crop heritage for future generations by collecting, growing, and sharing heirloom seeds and plants.
The benefit concert is hosted in the natural grass bowl of Lillian Goldman Visitors Center on the SSE Heritage Farm, offering a magical setting for some of the mid-west's best roots musicians, including; Dave Simonett of Trampled by Turtles, Lissie, David Huckfelt of The Pines, Pieta Brown, Michael Rossetto, and Special Guest Mr. Greg Brown. Tickets are available at this link for $25 in advance, $30 day of at the gate.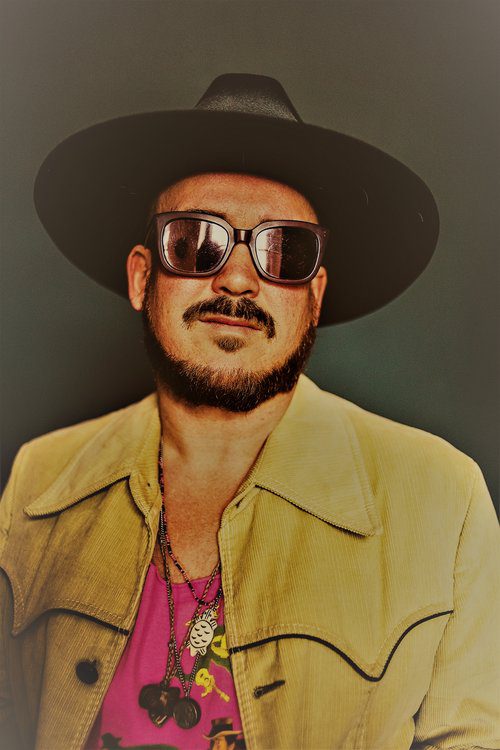 David Huckfelt, photo by Graham Tolbert
Dave Huckfelt, of The Pines, was kind enough to take a few minutes to speak with Inspire(d) about why Seed Savers Exchange holds a special place for him. Huckfelt, a native Iowan, has been touring, writing, and performing beautiful, haunting tunes across the country for years – including a recent stint on Isle Royale, America's most remote and least visited national park in mighty Lake Superior. Six hours by boat off the Michigan coast, Isle Royale is the largest island in the world's largest freshwater lake, an isolated stretch of wilderness seemingly forgotten by the 20th century (to say nothing of the 21st). There, as an Artist In Residence selected by the National Park Service, Huckfelt spent ten hours a day for two straight weeks writing in solitude, channeling the mysterious and lonesome island's spirits into his stunning debut solo album, 'Stranger Angels.'
Huckfelt's music is authentic, honest, and filled with a passion that makes him a natural fit to be a part of the SSE Benefit Concert. Inspire(d) would graciously like to thank David Huckfelt for his work, art, and time in answering the following questions:
Inspire(d): What's the most fun or rewarding thing you've ever grown?
DH: In Clay County, Iowa, near Spencer where I grew up, I watched many of the small-scale family farms in the region swallowed up by giant ag corporations, crop diversity plummet, and hard working families have to get in line and accept GMO corn and soybean fields just to stay afloat. Wal-Mart & Home Depot moved in, and our main street was devastated; no more movie theater, no more hotel, no more shoe stores and little grocers. My best friend lived on a third generation family farm, their lane was a half a mile long because there weren't even sections yet when their great grandfather homesteaded. Every year when they planted their massive fields of hybrid GMO corn, they'd always save a little parcel of land near the house for their heirloom sweet corn seeds.  I'd help plant & will always remember the first day when it was ready to pick & eat, by far the best tasting corn I've ever had.
Inspire(d): Why does the work of Seed Savers Exchange spark you?
DH: America has terrible amnesia. We forget, we throw away, we trample under-foot. Many friends of mine made a decision somewhere along the path that the best way to resist the trends of environmental collapse and the best place to make a stand was by starting an organic farm, a CSA, a farmer's market. And it feels like you're going up against the giants of the whole world. Then you turn around and realize Seed Savers has been there the whole time, they have seeds for you, and they'll get'em to your door so you can get them in the ground. It's the feeling of being supported by the generations, and it addresses the red alert of climate change head on.
Inspire(d): Seed Savers now has over 20,000 plant seeds in their collection – hundreds which have gone to the Svalbard Global Seed Vault in Norway. Any favorites you hope are in that stash, or specifics you can't imagine the world without?
DH: The heirloom tomato varieties are my favorite; cherokee purple, cherry roma, Italian. I love the names, but it's sad we have to designate them as "organic" or "heirloom". I wish we could just call them tomatoes and then have names for the GMO frankensteins, like "science tomato" or "flavorless lab rat romas".
Inspire(d): You might know that Seed Savers has an amazing orchard with over 1,200 varieties of Apple Trees. It's quite a place, encompassing many varieties that have all but disappeared – with a long view plan for revitalization. Are you more of an apple pie or apple crisp type person?
DH: Crisp me up.  The world is a mess, and so should my desert be.
Inspire(d): Hopes, wishes, or dreams for the 2019 Seed Savers Exchange Benefit Concert?
DH: I hope the prairie-glow pink and orange lights up the hill-side all around the barn, and hundreds of people come out to take in the songs & sounds, born of the Midwest, and put their shoulders to the wheel of supporting this beautiful organization. I hope spontaneous collaborations arise, and that Greg Brown plays 'til the sun comes up. And I hope we all eat heirloom tomatoes until next years concert.
(To read an interview with mid west musician Lissie about her connections to Seed Savers Exchange, please click here.)
Seed Saver Exchange Benefit Concert
Saturday, August 3, 2019
Dave Simonett of Trampled by Turtles
Lissie
David Huckfelt of The Pines
Pieta Brown
Michael Rossetto
Special Guest Mr. Greg Brown
3094 North Winn Road, Decorah, IA
5pm gates, 7pm show
Tickets available seedsavers.org/concert
$25 advance / $30 at the gate
(563) 382-5990
https://www.seedsavers.org/