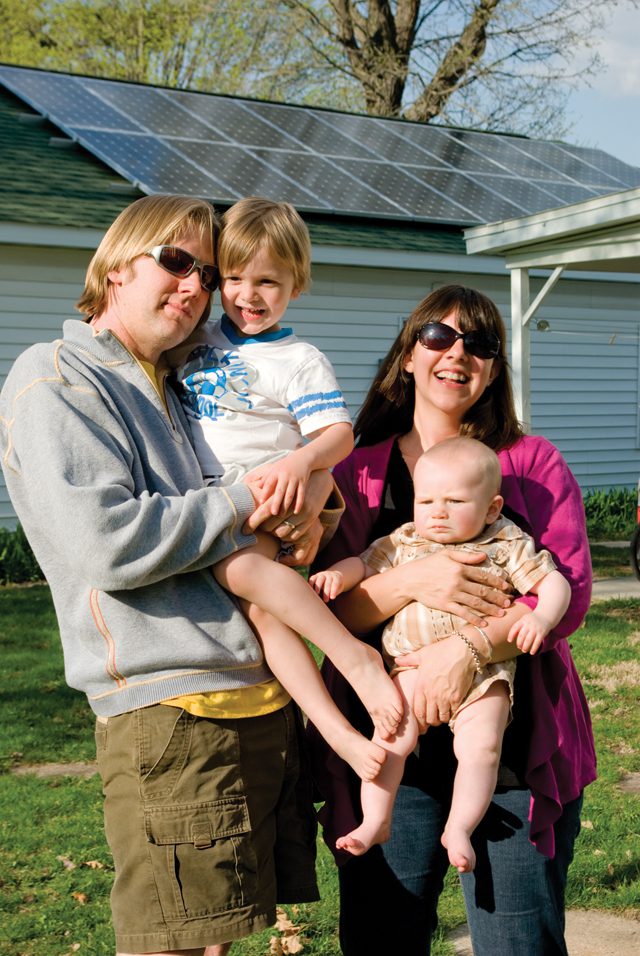 By Aryn Henning Nichols
When things go south, it's generally a bad thing.
But when your garage roof goes south, better slap some solar power on there, quick!
"You gotta look south – literally, look south – and see if you have the sun for this thing to work," says Decorah resident Scott Bassford.
After installing their 18-panel 4500-watt solar array late last year, Bassford's family (pictured above in 2013) joined the rising number of folks looking south – and then up – to harness the power of the sun. Residential (and commercial) solar projects are gaining popularity in the region (and world) – and not just within the environmental-soap-boxers crowd.
"We did it because it's fun and I feel like it's the progressive thing to do," Bassford says, "and also for the longest time it's been so out of sight. But 2013-2014 were these magical years where these three funding sources were perfectly aligned. You were looking at payback in six to seven years if you plan it right."
What sources, you ask?
The price of solar (or photovoltaic) panels has gone way down – it's less than half the price it was just five years ago, and a small fraction of the cost back in the 70s when the technology was still quite young.
Government tax credits: Federal (covers 30% of the cost of project) and state (for Iowa, an additional 15% off).
And, if you're a lucky Alliant Energy customer: 3. Alliant Energy rebates (25-30% more; ending now – end of 2014).
Add on to that the general population's rising awareness about all things environmental, and you've got a whole lot of sun catching going on. It really is one of those times where good environment and good economics ride the same train. When people like super-investor Warren Buffett get behind solar in such a big way – his MidAmerican Energy Holdings Company floated an $850 million bond offering for the world's largest solar project, California's Topaz Solar Farm – it's hard not to take notice. That was the first time a public bond offering for a U.S. photovoltaic power project had been deemed "investment grade", making it seem that greening the world can actually, well, make some green.
There's even a company called Mosaic that implements crowd-funding, allowing small, non-accredited investors to earn interest financing clean energy initiatives. It's first offering, four solar projects that projected a 4.5 percent return, had loans starting at just $25. 24 hours and 435 investors later, the projects were sold out.
So what is it about solar that's so great?
Well, it's been around awhile – more than 50 years – so a lot of the kinks are worked out. It pays back 10 to 30 times or more it's environmental cost, it's adaptable to most any sized project as long as there's good sun, and it's widely available throughout the world. And, since there's not much to the panels in terms of mechanical parts, there's not much to break.
"Our panels are 'guaranteed to work 80% as well for 25 years,'" Bassford says."It's hard to lose. Even if the technology is twice as good in five, 10, 20 years, the project still holds value."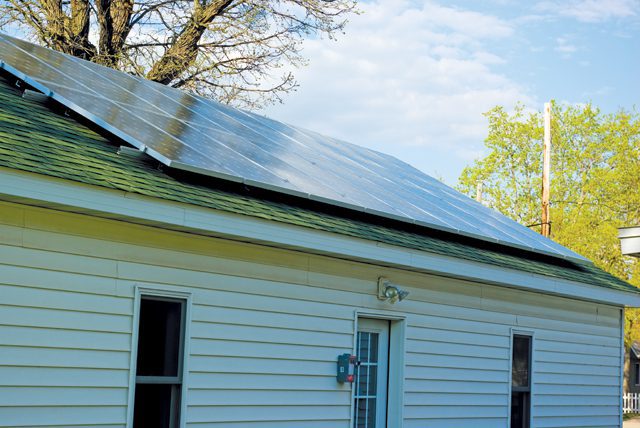 Besides good sun (the mantra is "shade-free from 9 to 3"), there are a few other things you'll need in order to jump on the solar bandwagon.
"After you've identified where solar will fit spatially on your property, you need to have some idea how much solar you want/need," says GoSolar solar installation business owner Dennis Pottraz. Pottraz was the first nationally certified (NABCEP) solar installer in Iowa.
"People often look at their current usage as a place to start. How much of that usage do you want to make for yourself? Almost certainly not more than you use. Though you may anticipate increasing your future usage," he (sort of) jokes. "I hear an electric car in some people's dreams."
Once you've accessed your usage, you need to be sure your site can accommodate the system, and that your wallet can handle the investment, even with all the rebates and incentives.
Local environmentally-passionate bank, Decorah Bank and Trust – they have their own large array on top of their downtown Decorah building, in addition to a smaller one over their drive-thru banking area – has  launched an "energy loan" campaign to help people clear that last hurdle.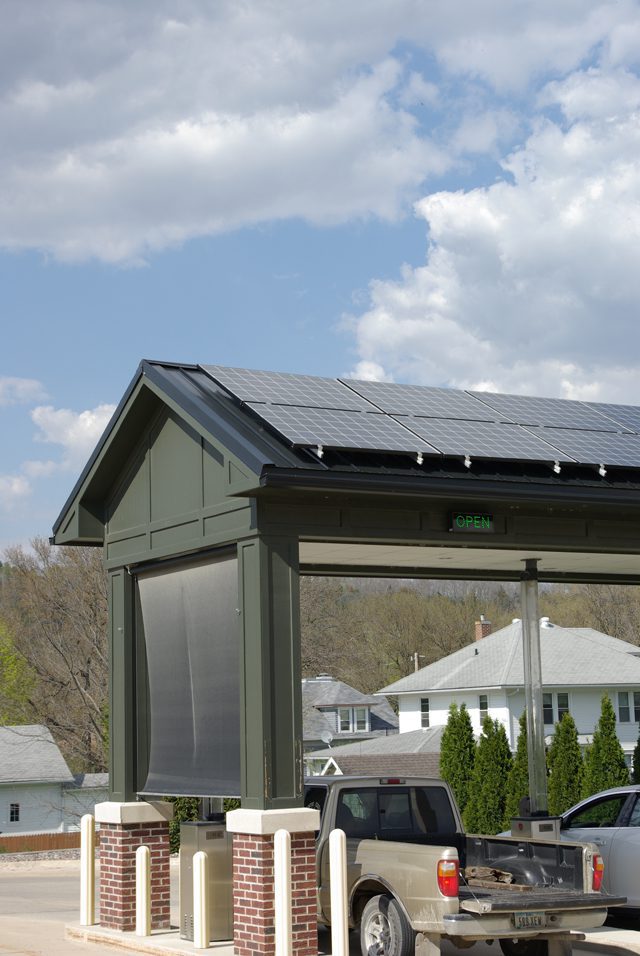 "We want to eliminate the roadblock for people who don't have the cash or don't want to spend the cash up front for the system," says Decorah Bank and Trust co-president Joe Grimstad. "It's a good investment in their future. Most of these projects will provide a return to the homeowner. We are seeing a lot of solar projects going up now that should pay for themselves in energy cost savings in five to seven years. After that, it is free electricity! We work to set it up so that the customer can complete the project with little or no additional need for cash flow. Once the system is installed and working, the homeowner applies the funds to the loan that they would have paid to the utility company."
With the current "magical funding" in place (Alliant's has run out, but federal and state credits continue through 2016), that's an investment folks should consider. Andy Johnson, director of Decorah's Winneshiek Energy District, breaks it down.
"Take a typical five kilowatt home rooftop system: installed cost may be $20,000 max. Take the Alliant rebate off first – potentially $7,000 – it brings it down to $13,000, take off 30 percent for federal and 15 percent for the state tax credit (AFTER the utility rebate comes off), and that brings it down to $7,150," says Johnson. "If you're paying 12 cents/kwh, it's typically in the seven to nine year simple payback – comparable to the historical stock market and a WHOLE lot more predictable and stable!"
Winneshiek Energy District is great regional resource for all sorts of clean energy projects, solar included. Certified Midwest Renewable Energy Association solar site assessor Joel Zook consults on projects and helps wade through questions and paperwork, and energydistrict.org is packed with links and helpful research from finding a local installer to understanding just how selling your solar works.
What? You sell it? Well, yes. Think of it like this – when you're using grid-connected (i.e. utility-provided) electricity, you're renting your electricity. But when your solar array has created energy, it goes back into the grid, purchased by the electricity company at retail value. That's electricity you own. Your utility provider then credits it to your account. If you make more electricity than you need, you don't start to make money (although excess summer energy rolls over and can ride you through darker winter months), though, so it's essential – and makes the most sense – to only install a system sized for your needs.
Sadly, just "slapping" some solar panels on a roof is not really a reality – the process of approving and installing a system takes months, so interested folks better get on it if they want to take advantage of federal or state tax credits (both expire end of 2016) !
"Even if you're NOT an Alliant customer, still think NOW!" says Johnson.
And lots of people are, indeed, thinking just that.
"Nearly anyone who has a place to install solar and apply the incentives is interested this year," says Pottratz. "Solar sure looks like it is here to stay, and that it's going to keep on growing."
————–
After writing this story, Aryn Henning Nichols finds herself looking south – and eyeing their garage roof wishfully – to see if they have the sun to "make this thing work." Using the sun for electricity is pretty darn cool (er, hot, but you know what she means). UPDATE! We installed our small, 8-panel array on our garage this past fall (2014), and we're making power! We'll keep you posted on how the numbers all pan out.
Regional solar-lovers in the residential sector are in good company with their commercial-sector friends – Luther College finished "the largest single solar energy production facility in the state of Iowa" and it's hard to miss the huge arrays that went up on Decorah's Pizza Ranch this spring.
You can get a chance to learn more about clean energy projects such as these and any other clean energy project that is uploaded (by its owner) through a new tool on the Winneshiek Energy District website.
http://tools.energydistrict.org/rmap
For other great solar resources, visit:
energydistrict.org/programs/solar-solar/