"The magic of community engaged art is the community engagement," says Sarah Johnson, owner and operator of The Joy Labs in Winona, Minnesota. "It is always so exciting to see what evolves as community members create together."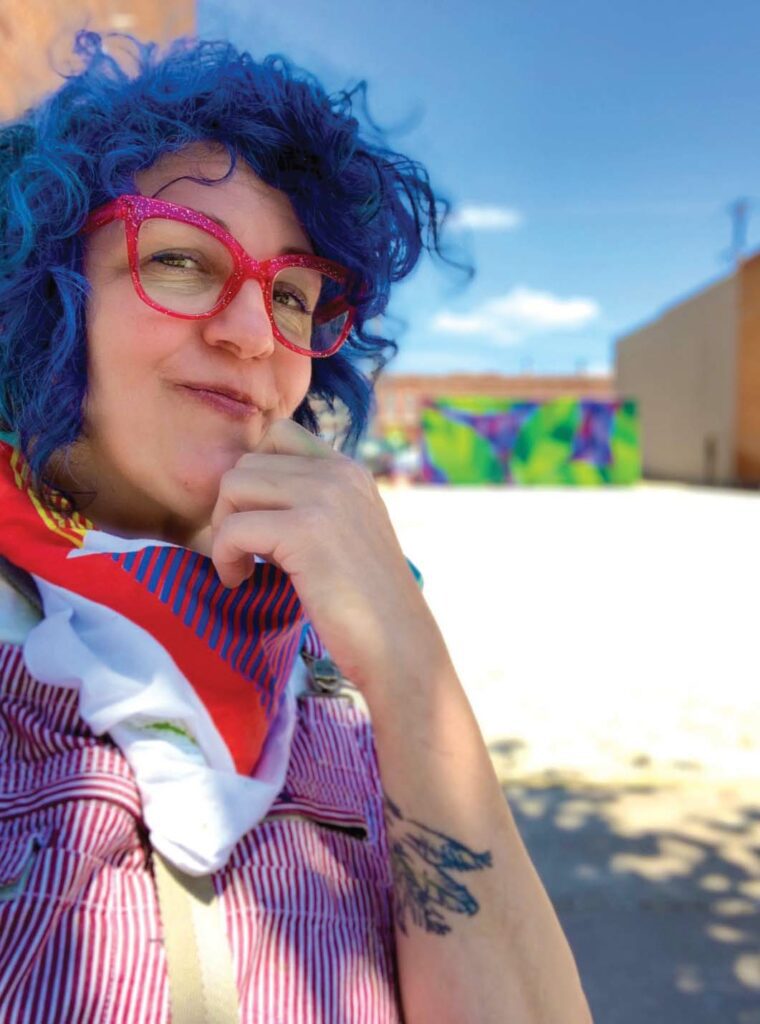 Creating collaborative art is the premise of The Joy Labs, which Sarah started in November 2021, mid-way through the pandemic. During this time, Sarah often relied on the mantra, "Anything is Possible," as a reminder that one should always be prepared for anything – positive outcomes, and negative ones, too.
"I've found that living in possibility, while at times scary, is a place where it is possible to find joy even in the darkest of times," she says. "Being alive and human is a complex thing, and I've found that embracing that complexity and the privilege of being fallible and mortal is living in joy."
Through The Joy Labs, Sara offers coaching, consultation, and creativity to individuals, organizations, and communities that would like to experience greater joy. Oftentimes, it's the group effort that supports the most learning for those she serves, and brings Sara the most joy, too. "We find joy through play and experimentation, and for me, playing, connecting with others, creating, and color are the big joy factories," she says. "The process is the point, and the outcome [work of art] is simply a bonus."
A very colorful, awe-inspiring bonus. Anyone viewing Sarah and team's artwork – adorning fences, buildings, walls, doors, garages, and more – can see that joy is very present. "In my art I like to use vibrant colors and vibrant, welcoming messages," she says.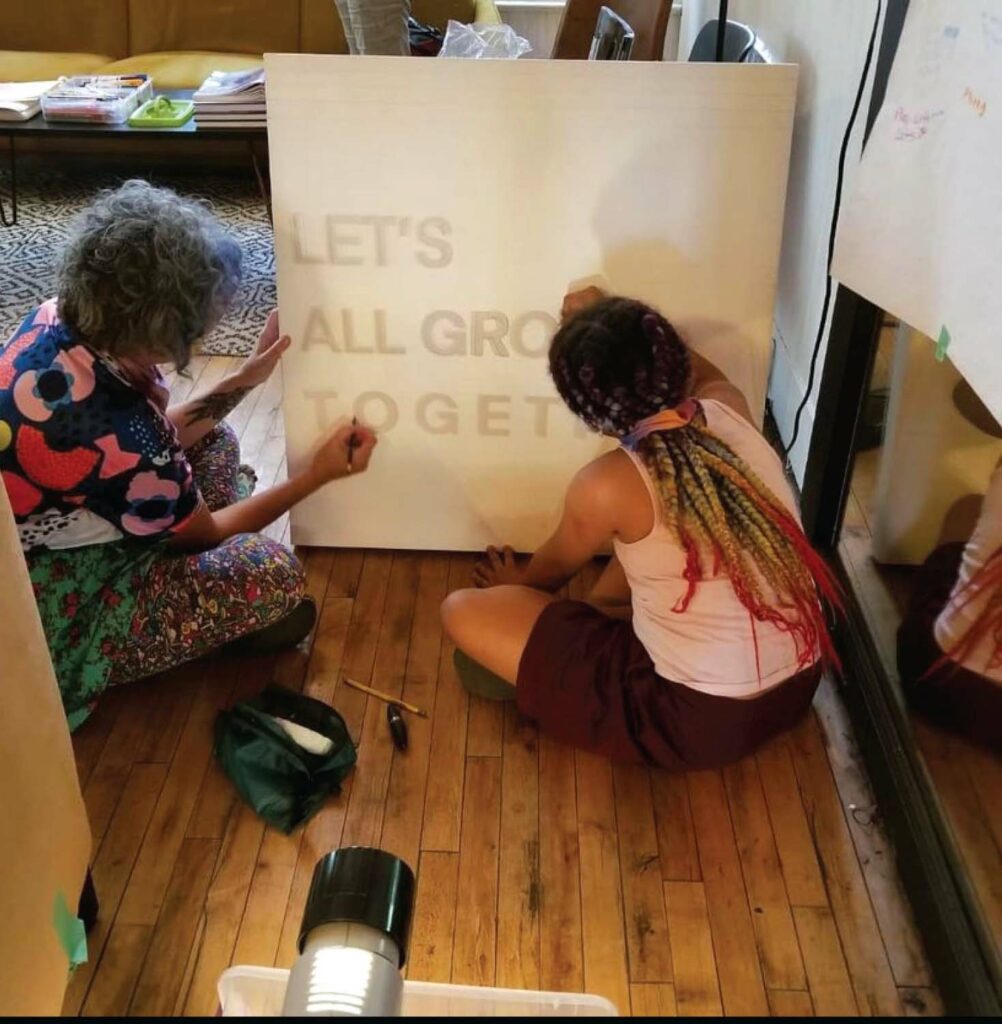 Sarah has facilitated a wide range of projects during her career. It's hard for Sarah to pick a favorite, but one particularly "soul-fueling" project was with Our Voices, a group of local students of color, in the summer of 2020. "It was the first of many art projects together, finding solace in co-creation and the cadence that we've developed that vacillates between silent reverie and fits of giggles and silliness," she explains.
It was icing on the cake for her, and truly an impactful moment, when Sarah and Our Voices unveiled their "Hear Our Voices" mural in fall 2020, and the hundreds of present community members audibly gasped and then cheered for their work. "Creating together is community building, and these processes, too, generate light and lightness. We are better together, and art can be a bridge that illuminates that."
Sarah will never forget hearing and seeing the delight of hundreds of community members who contributed to the Fabric of Winona panels, unveiled in May 2022. This effort was coordinated with Project FINE, a local agency welcoming, providing support, empowerment, and advocacy for recent refugees or immigrants. Through this project, hundreds of community members, ages two to 80, helped create the panels, which are displayed outside of the Winona County History Center. And as exciting as the end result was, Sarah really loved "the sizzling of synapses firing together" that she experienced with the group during the design stages.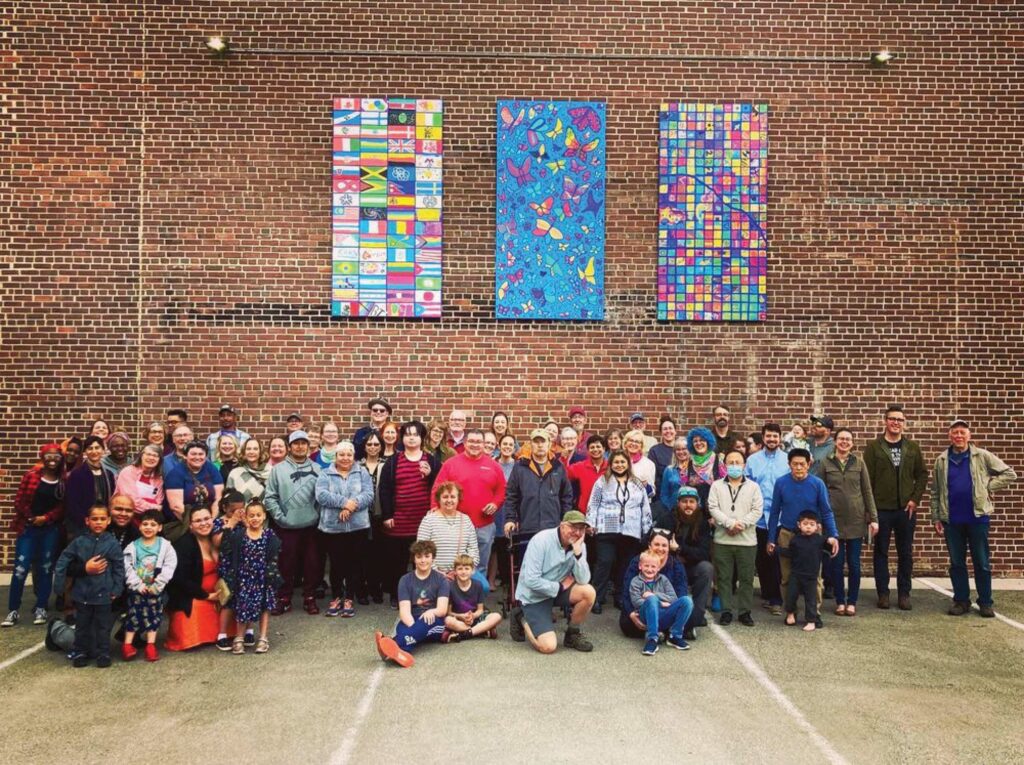 Sarah is an artist, and also a licensed mental health professional and an adjunct professor with Winona State University. "Growth and learning are high up on my list of values, both for myself and others," she says. "This is another reason that I find community engaged art so valuable: it can be an accessible tool for building relationships which offer opportunities for meaningful conversations where learning and empathy can happen."
Sarah has found that oftentimes, there is much to learn about curiosity and wonder – and offering oneself grace – from the young people of a community. Even though she now sees herself as a lifelong learner, as a young adult, it was a different story. "It turns out that when I was 21 and thought I knew everything there was to know, I was dead wrong," she says. "Every day I grow in my awareness of how little I do know. This is actually quite comforting in some strange way. I try to approach the world with curiosity and wonder which I've found helps me offer more grace to myself and others."
For instance, sometimes the color doesn't quite make it to the canvas, and that, Sarah says, is just as important as the finished design. "I would be remiss if I didn't also mention the half can of purple paint spilled on the floor, the half can of blue paint spilled on the street, the half can of purple paint spilled on the lawn, and the lessons that mistakes and spills can teach us about being humble, human, and adaptive," she explains.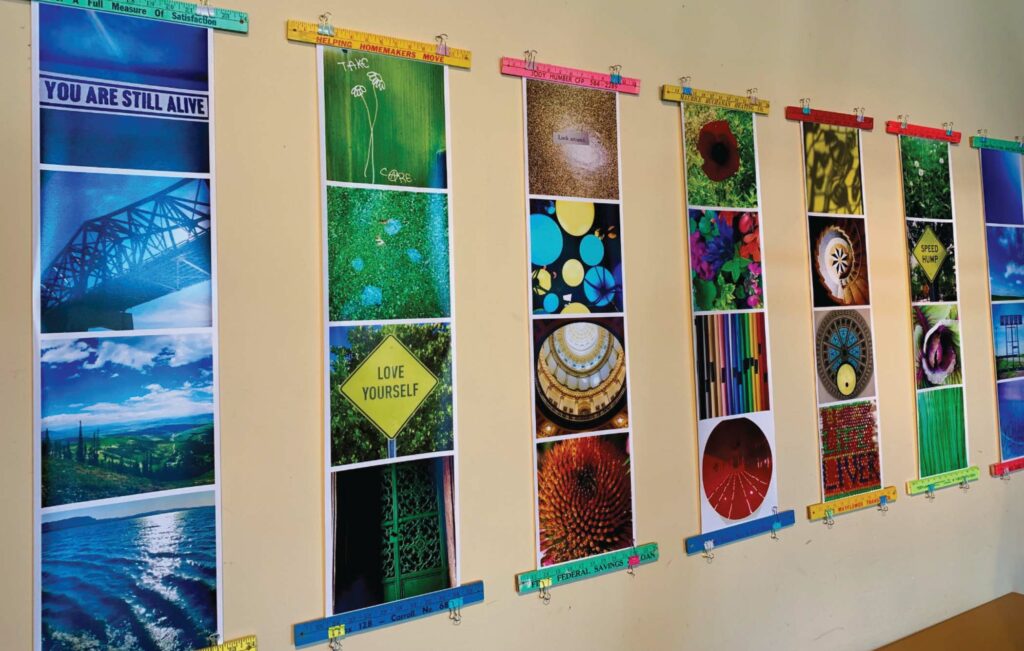 Through her various projects, she's been impressed by the "authentic, empathetic, wise words of advice about mental health" young people have shared and the art they've created around the theme of resilience. She is excited to continue her work with area youth and others through upcoming mural projects with Project FINE in St. Charles, Minnesota, at the Catholic Worker House in Winona, and at the West Salem Library in West Salem, Wisconsin.
Beyond creating beautiful art and building community, it's never quite clear where Sarah will go next with her work. "I have often said that if you looked at my career path from the front end you might think, 'Huh, that is one very squiggly line,'" she says. "But if you look at it backwards from this point you might think, 'Every point on that squiggle is what brought Sarah here.'"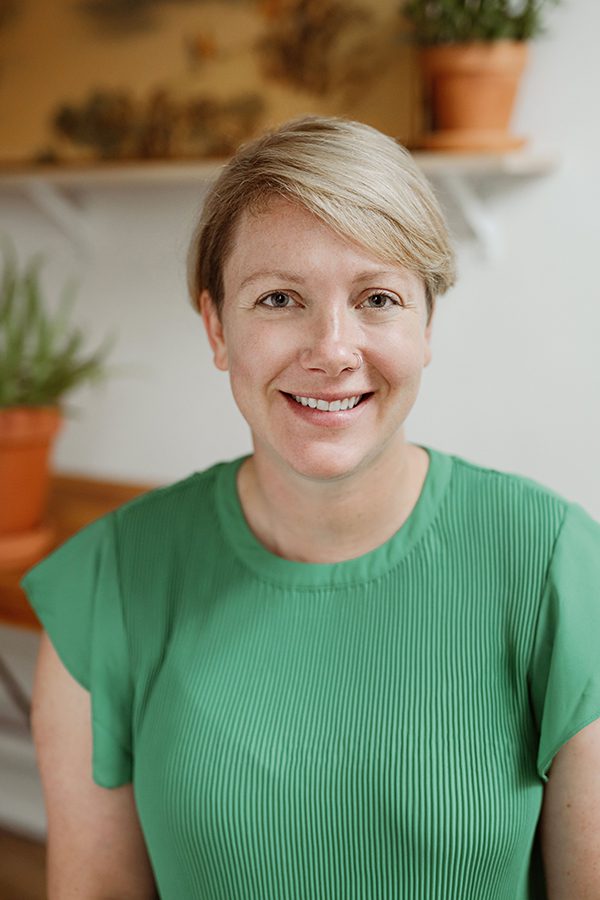 Sara Walters is a freelance writer based in La Crescent, MN. Her art skills are limited to rainbows and stick figures, so she is in awe of the work done through The Joy Labs. 
To get involved or learn more, visit www.thejoylabs.com