During a typical workday, artist Sarah Hedlund might be sketching pink and orange dolphins surrounded by hearts and stars. Or a disco-dancing, white suit-wearing dinosaur. Or a punk rocker playing a guitar that shoots laser beams. Or a single eye staring out from a pint of India pale ale.
As creative director for Decorah's Toppling Goliath Brewing Co., Sarah designs everything from labels and packaging to ad campaigns, point-of-sale materials, merchandise, signage, and even bottle caps. Outside of the office, she pursues a range of personal art projects.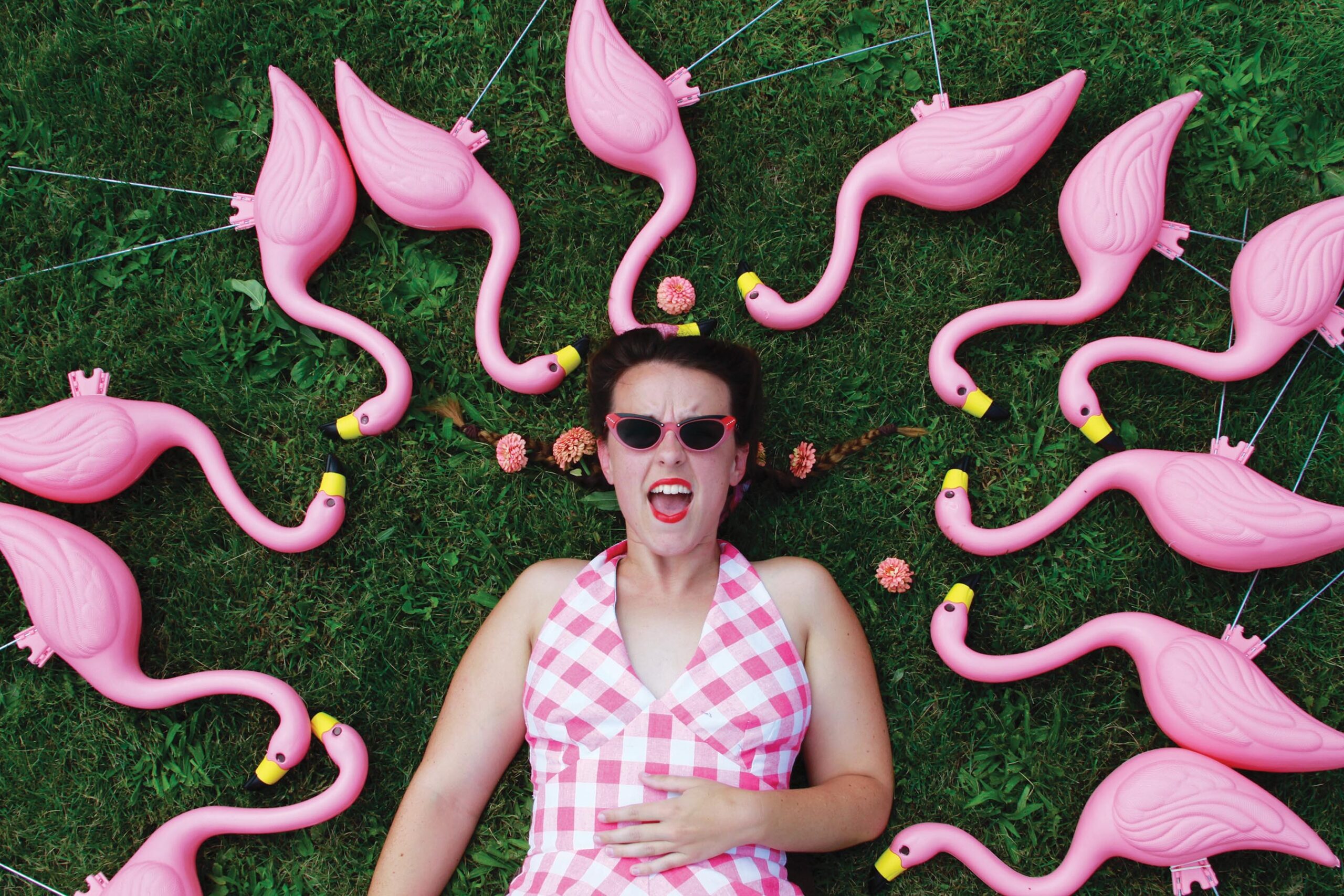 "Like most artists, I want to know how to do everything. So, I'm always working on something different," Sarah says.
Take the illustration she created in 2020, following the death of Supreme Court Justice Ruth Bader Ginsburg. It unexpectedly helped Sarah raise nearly $30,000 for charity. It also demonstrated the impact that her art can have, whether she's rebranding a brewery or advocating for social change.
"It's that old question: You can talk the talk, but can you walk the walk? Are you willing to dedicate your time to actually trying to change something?" she says.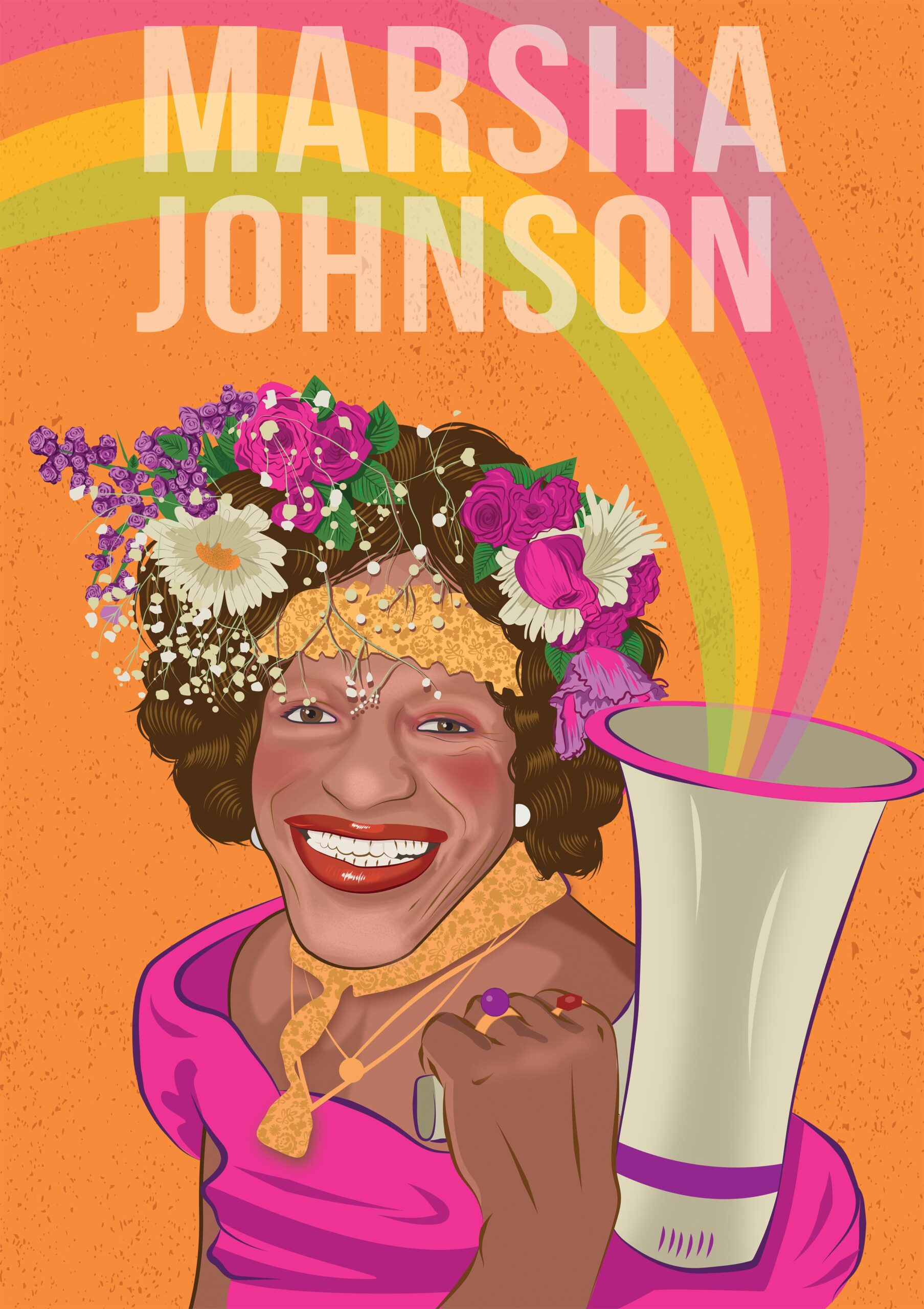 Drawing on a lifelong interest
Art has always been an anchor for Sarah, who grew up in a small town south of Iowa City. Her dyslexia made school a challenge, but art classes were her time to shine.
"Art was the one thing I was naturally good at. There was no wrong way to do it. There were no tests. You didn't have to compete with other kids around how many books you read or who did math equations the fastest. It was a safe haven for me from a young age," she says.
After high school, Sarah studied illustration at the Minneapolis College of Art and Design. She then got a job creating products and packaging for a Minneapolis toy company. A few years later, eager for a change, Sarah moved to Wyoming. She did graphic design for a hospital network and then a nonprofit before returning to Iowa.
Sarah was back in her hometown when she spotted a job opening at Toppling Goliath. Though she had never visited Decorah and didn't know the brewery, she decided to apply.
"I'd always thought working as an artist at a brewery sounded cool," she says. "When I drove up for the interview, I was taken aback by how beautiful this area is. I kind of knew the second I hit town that I would take this job."
Drafting a new direction
Sarah joined Toppling Goliath in 2016. The team was small at the time, and she helped with things like running social media, product photography, or managing the merch shop, while also doing marketing and graphic design. As the company was building its current facility on the edge of Decorah, Sarah saw an opportunity to update the Toppling Goliath brand.
She drafted a proposal for owners Clark and Barbara Lewey and got the go-ahead to reimagine the company's look.
"I rebranded things from top to bottom – the logo, the fonts, the labels, the format of the packaging, everything," Sarah says. "Clark was investing a lot into the equipment and building and people, and I think he knew it was time to elevate the visuals, too."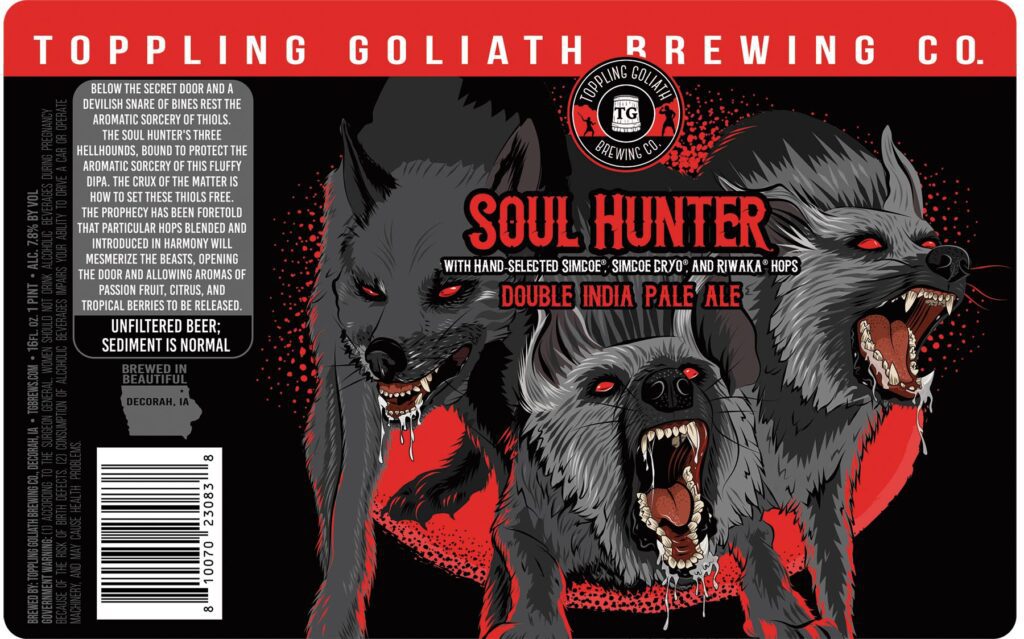 These days, Sarah designs labels and materials that tell Toppling Goliath's story in an engaging, impactful way. Her ideas help the business stand out in a competitive field. The Brewers Association, a not-for-profit industry organization, reports that more than 9,500 breweries were in operation in the United States in 2022.
"I know a lot of artists who do brewery artwork but are not full-time employees of those breweries. That's a difference with Toppling Goliath. Clark and Barb definitely saw the value in having an in-house artist from early on," Sarah says.
Her goal is to match the quality and creativity of Toppling Goliath's visuals with the quality and creativity of its award-winning beers.
"I make sure we're not cutting corners on the creative, because I do think a fun part of craft beer is the weird, crazy, cool artwork. It's a micro-universe of art, and it's a fun space to play around," she says.
Design that makes a difference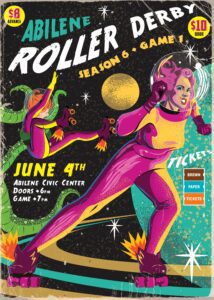 Sarah does a lot in her freelance world as well. She's created posters for roller derby teams across several states. Some of those posters landed in the 2020 book, "Roller Derby / Girl Gang: An Art Anthology." Each October for nearly a decade, Sarah has also produced drawings and digital illustrations through a month-long art challenge called Inktober. ("I love Halloween and all things spooky. It's a fun way to make a bunch of creepy artwork," she says.) And, a quick spin through Sarah's Etsy shop reveals an array of pop culture-inspired posters featuring Pee-wee Herman's bike, Bill Nye the Science Guy, characters from "Ghostbusters," "The Golden Girls" cast members, and more.
"I was a kid that spent a lot of time in front of a television, and I love movies. A lot of that art is about my personal interests, and it's also the kind of artwork that most people engage with," she says.
Sarah uses art to process what's going on around her, too, as she did through that aforementioned Ruth Bader Ginsburg illustration. After learning of the justice's September 2020 passing, Sarah sat on her couch in tears. Then, she decided to do something.
"Going to my computer is not my first instinct when I'm feeling emotional. Usually, I want to draw or make something in a more classic style. But that night, I felt like making something to put on the internet for people who were feeling as upset as I was," she says.
Sarah spent 10 minutes on a simple illustration of a lace collar, which Ginsburg famously wore with her judicial robes, set below the words, "Vote & Tell Them Ruth Sent You." She posted the image on social media, texted with a friend, and went to bed.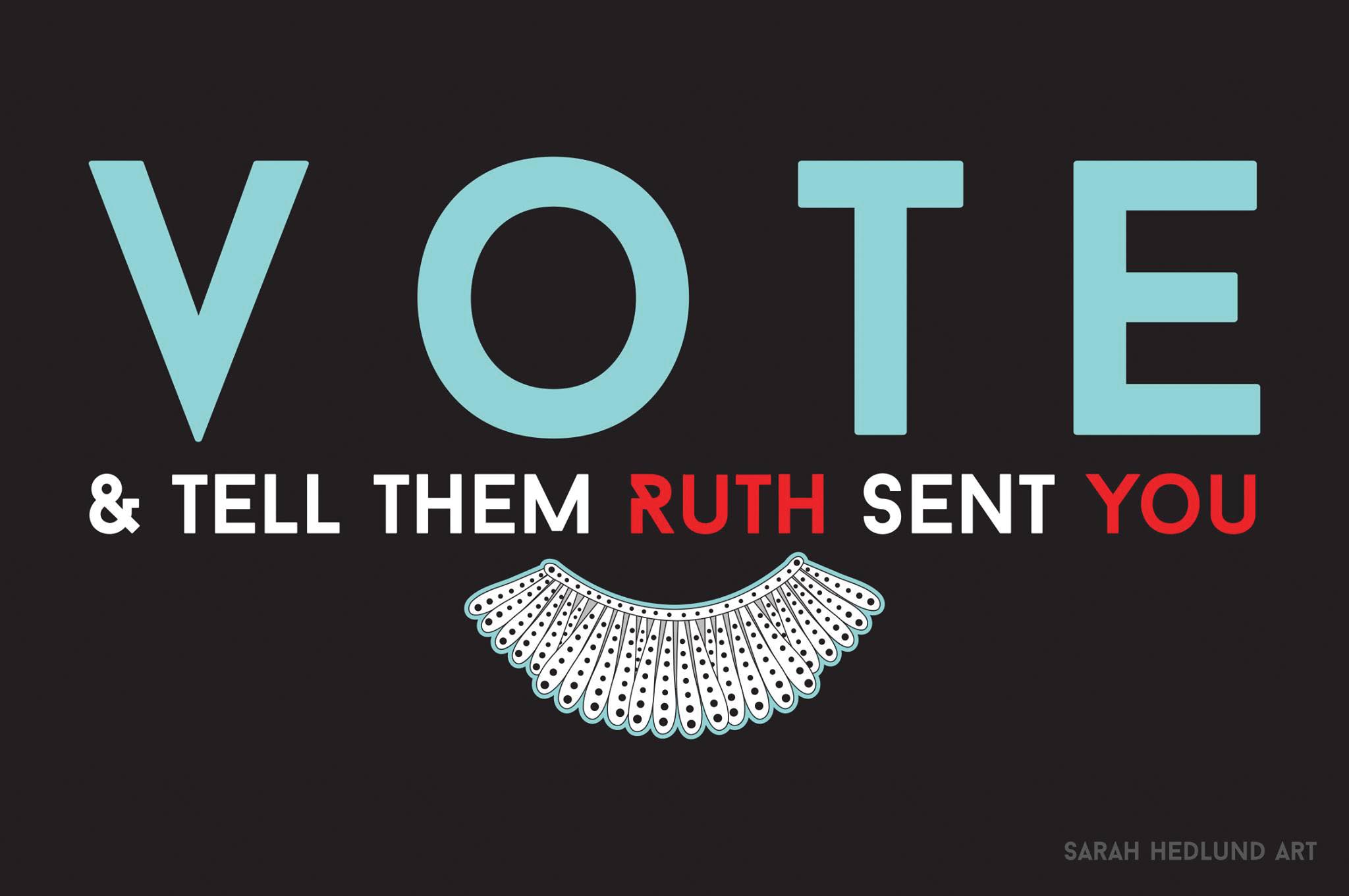 Overnight, the post went viral.
"I didn't know you could get so many Facebook notifications that it can't tell you how many you even have," Sarah says. "Martin Luther King, Jr.'s son tweeted it. Celebrities shared it. It blew up, I think, because so many other people felt that exact same way at that moment in time."
When people requested merchandise, Sarah hustled to make t-shirts, stickers, and buttons with the illustration. She sold digital files so individuals could print their own signs. She donated the proceeds – about $29,000 in all – to progressive charities.
"It seemed like such a chaotic time. I didn't feel like I had any control over anything that was happening, politically, in our country. And voting feels small and insignificant sometimes, even though it's so, so important. Working on that project was really, really, really fulfilling," Sarah says.
Since then, she's commented on voting, drag queen bans, LGBTQIA+ rights, and other issues through her art. It's a way to spark cultural conversations and inspire action.
"Even though the Ruth Bader Ginsburg thing was internet-based, it's still something that local people talk to me about. Sometimes, I'll see people at the grocery store wearing my t-shirt. You realize the impact that you can make," Sarah says. "A lot of people here are very passionate about dedicating time to groups and events that try to foster change or create safe spaces, and it's inspiring for me. It gets me thinking, 'Okay, how can I use my skills and talents to either foster change myself, or empower other people who already are?'"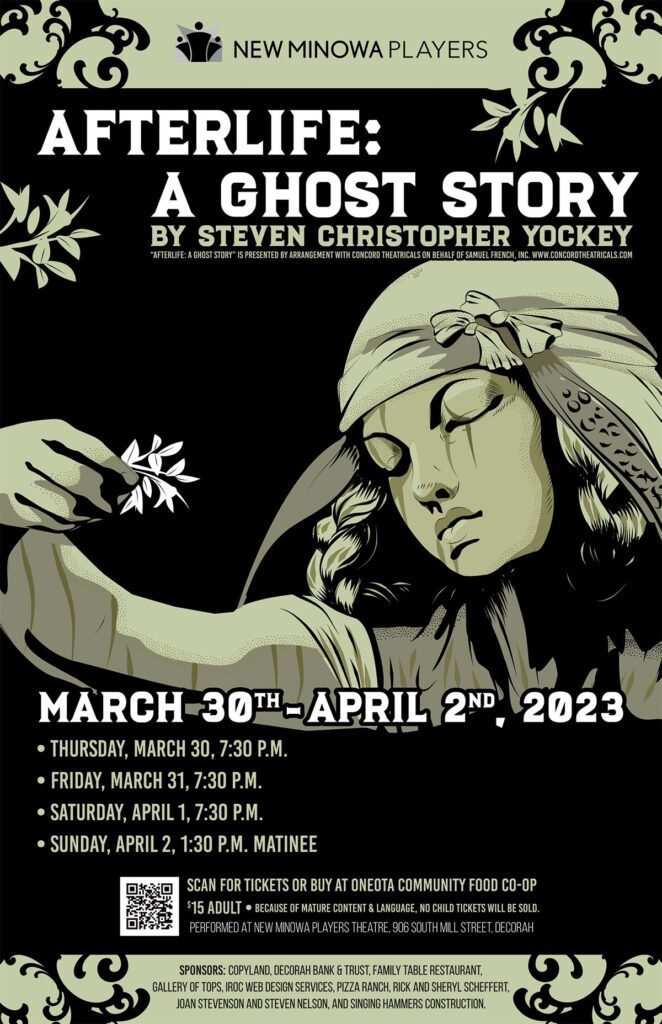 Creating community
Sarah's art-as-advocacy efforts also include pro bono work supporting various community groups. For example, this spring she created a promotional poster for "Afterlife: A Ghost Story," a production by Decorah's New Minowa Players. Sarah calls volunteer projects like these a win-win. The nonprofits and events she partners with get free, professional artwork, and she actively gives back to the community that's become her home.
"I definitely enjoy engaging on a local level. I moved here. I didn't know anybody. I had no knowledge of this town, and I have never lived somewhere that was so accepting, immediately. I have amazing friends here. Community is a huge part of what makes Decorah special," she says. "Decorah is still a vibrant, engaged small town, and, unfortunately, I think that's rare nowadays. I don't want to just look around and say, 'Oh, what a cute, quaint town.' I want to participate."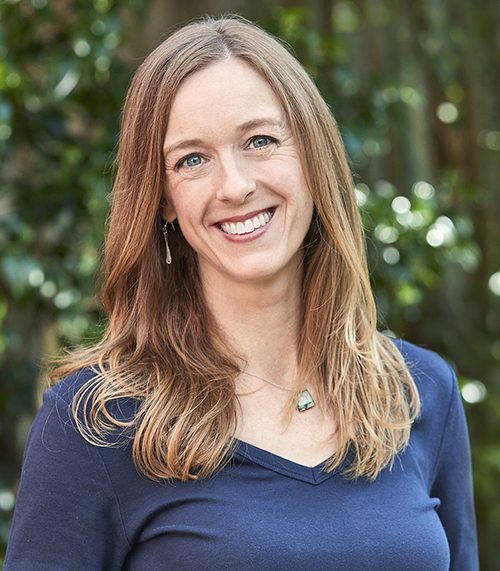 When Renee Brincks needs a creative break, she picks up some yarn. Her grandma taught her to crochet as a child, and she's since made countless hats, scarves and blankets.
Embrace Your own Creativity
Decorah artist Sarah Hedlund dabbles in many creative projects. She's an illustrator and designer by trade, and her personal work ranges from pen-and-ink drawings to digital illustrations to watercolors. She has taken stained glass classes. She taught herself to sew dresses. She even learned to felt, and she's used those skills to craft a witch-style hat. While experimentation comes naturally to her, Sarah knows that's not the case for everyone.

Here are her tips for tapping into your own creativity. 

1. Keep an open mind. 
Plenty of people want to tackle creative projects, but they don't allow themselves to try. "They'll say things like, 'You're so good at that. I could never do it.' But really, unless you're following a pattern, there is no wrong way to make art," Sarah says.

2. Resist the pressure to be perfect.
Sure, maybe you'd like to capture a magazine-quality photo or recreate the perfectly frosted cupcake that's been circulating on social media. But remember, you don't have to produce internet-ready projects. "It doesn't have to be a finished product. You don't even have to share things. I make stuff all the time that I don't post," Sarah says. "Sometimes, just the act of making the thing is the art."

3. Let your hobby be just that – a hobby.
In a world where productivity is prized, we don't always give ourselves permission to play. Aim for personal satisfaction, Sarah suggests, rather than social media likes or the next side hustle. "If you can pay your bills, just relax. Not everything has to be a business. Not everything has to be for other people. It's about getting into a space where you play and experiment," she says.
And if that artful experiment doesn't turn out as you expected?
"It does not matter. If you try something and it doesn't work, you don't have to tell anybody. Just have fun and be a kid and let yourself make a mess," Sarah says.