Members of the Moxi Skate Team in Long Beach, California. Moxi's Lolly skates and Jack boots are made in the Driftless at Riedell Skate Co. in Red Wing, Minnesota / Photo courtesy Moxi Skate Team
When roller skating pro Michelle Stielen founded Moxi Skates in Long Beach, California in 2008, she wanted to create a new style of roller skates – colorful, fun, and American-made, to boot. She looked to Riedell Skating Co. in Red Wing, Minnesota, to get it done. Ten years later, during a pandemic and a huge surge in skating popularity, doing so was another story.
Finding joy through 2020 has been different for everyone. For some, it's mastering the art of bread baking, or a phone call with a friend. For others – an increasing amount of others – it's lacing up and rolling in a brand new pair of roller skates.
 "Everyone in a pair of skates, with a smile to start their day," says Michelle Stielen. This was what she imagined in 2008 when she first founded Moxi, a lifestyle roller skating brand based in Long Beach, California…whose skates are made right here in the Driftless at Riedell Skate Co. in Red Wing, Minnesota.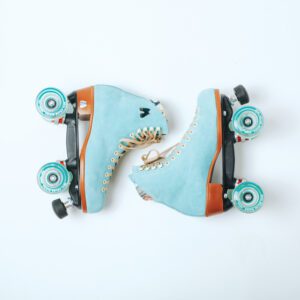 Moxi's effervescent, colorful designs stand out from the monochromatic skates of old, and in 2020, they have become one of the most desirable commodities on the market. Michelle says it's been a transformational year for the company.
 During the nationwide stay-at-home orders in April 2020, social media worked its algorithmic magic to lure popular culture back into a pair of roller skates. The public was awestruck by the viral videos of fearless outdoor skaters in candy-colored gear effortlessly cruising city streets, or dropping in at the skate park to show off their acrobatic skills. While the rinks were closed, skaters of all abilities filmed videos at home and in the streets that inspired viewers to creatively make use of the everyday skate spaces we have: kitchens, garages, sidewalks, cul de sacs, living rooms, etc.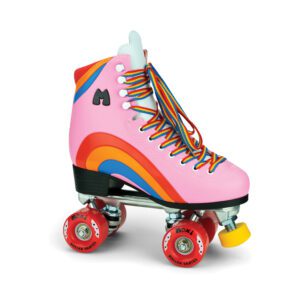 The most popular of these videos and images were posted by the Moxi Skate Team. Their organizer, Michelle, is part gymnast and part stuntwoman on wheels. She even recently worked as a stunt double for Margot Robbie in the Hollywood blockbuster, Harley Quinn: Birds of Prey.
These skaters were inspiring even the most uncoordinated to lace up and get moving! That's all, of course, if you could find an available pair of Moxi Skates. As of right now, Moxis are sold out from retailers across the nation.
 This is a big win for family-owned Riedell Skate Co. It's also a big challenge during a pandemic.
It's October 2020, National Roller Skating Month (dedicated in 1983 by President Ronald Reagan). At the Riedell headquarters, Bob is beaming. He wants to know who saw the piece on roller skating that morning on Good Morning America. By this point in the year, roller skating is everywhere, and the nationwide skate shortage is covered in Vogue, Vice, New York Times, Huffington Post, and more.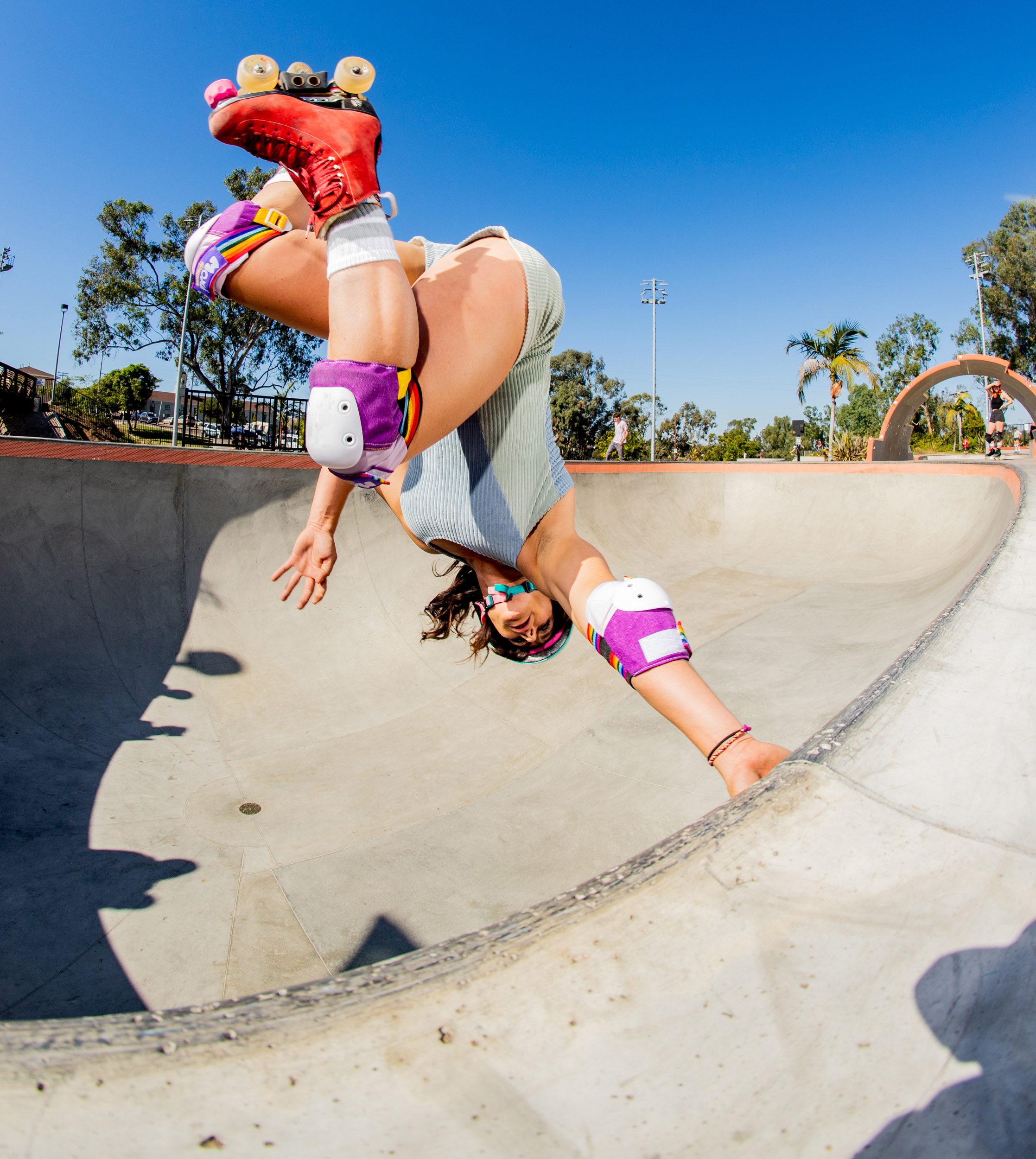 Why the shortage?
 As the Moxi Skate Team was heating up social media with inspiring posts from Long Beach, manufacturing in Red Wing was brought to a sudden, toe-stop halt. Riedell was deemed "nonessential" manufacturing in Governor Walz's executive shutdown order.
"We've been working really hard for the past 10 years to make roller skates the shoes of the future," says Moxi Skate Team member and brand employee Marin Wendoll, a.k.a. "Legs." "That's why we were like, 'Oh my gosh! Look at all of these orders! This is so exciting!'" But, the Riedell Shoe Factory would remain closed for a total of six weeks during the shutdown as the online orders simultaneously flooded into the company.
 "Who would have ever guessed COVID would have been an accelerant to outdoor roller skating?!" asks Riedell's president and CEO, Bob Riegelman. "I certainly didn't."
 Bob wrote an impassioned, if not desperate, letter to the head of the Minnesota Department of Employment and Economic Development (DEED) to allow Riedell to resume manufacturing due to the tenfold surge in Moxi Skate orders. His local representative, Barb Haley, of District 21A, and state senator, Mike Goggin, invited Bob to testify during the Senate Jobs and Economic Growth Committee hearing in late April 2020 to advocate for the reopening of manufacturing across the state before Governor Walz.
 Riedell had already been closed for four weeks at the time of the Senate hearing.
 "What's disheartening for me," Bob said in his statement, "is that we've been deemed nonessential, yet we service the fitness, health and wellness, and recreation market. More and more people, believe it or not, are buying roller skates. People are using them for transportation. And it's becoming very, very, very difficult to continue [production]. We're losing customers right and left."
Riedell quickly developed a COVID plan, purchased PPE for staff, and by early May Minnesota's governor determined they were able to resume production. Riedell's 120 workers were back on the factory floor assembling and shipping Moxi Skates.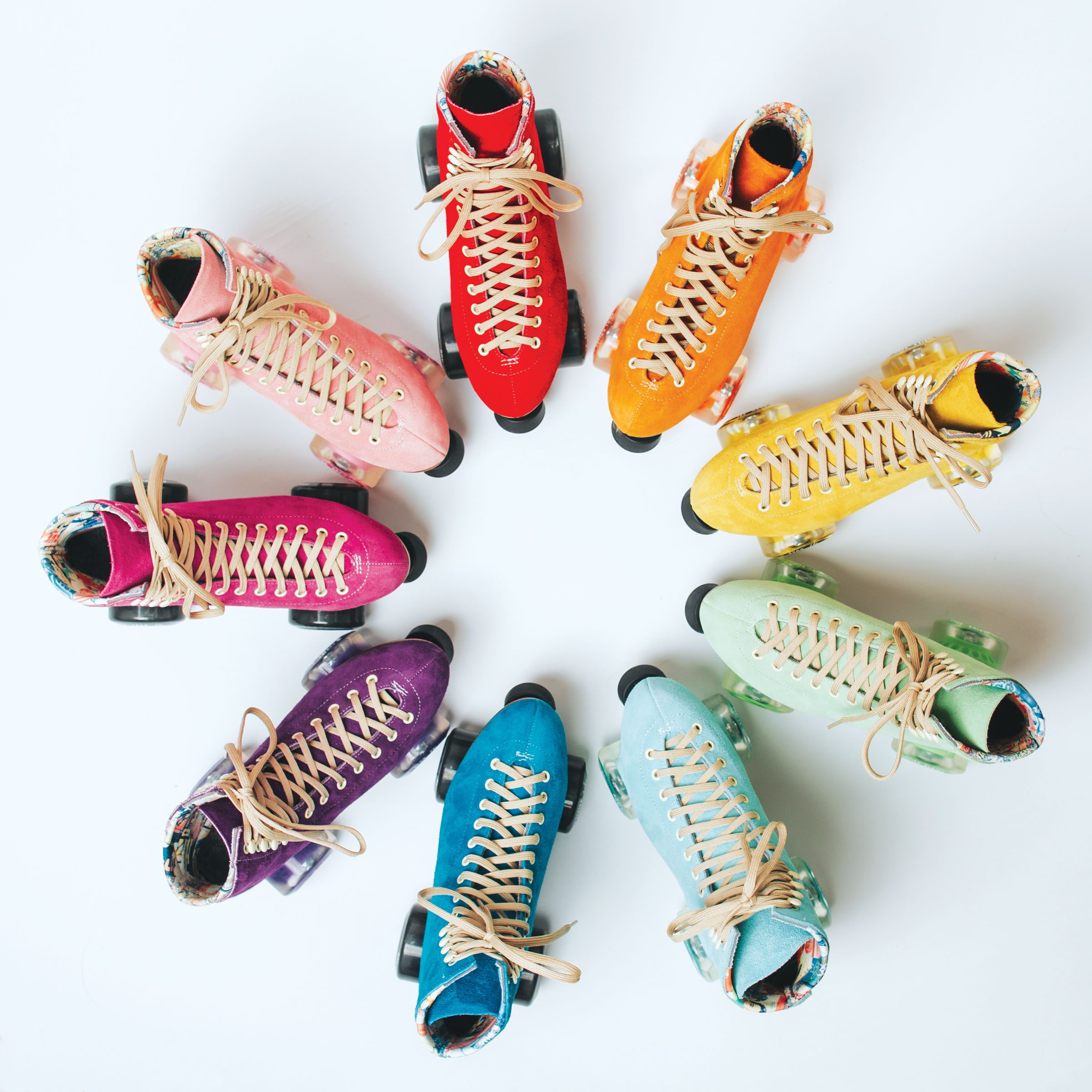 Moxi & Riedell Partnership:
In 2020, Riedell Skates celebrated its 75th anniversary. Founded by Paul Riedell in 1945, today the four brothers – Scott, Dan, Paul, and Bob Riegelman – are the third generation devotedly leading the company as a team, producing the highest quality roller and ice skates in the nation.
"We're pretty ordinary people and we're pretty loyal," says Bob. "Our grandparents started the business here, and one of our greatest assets is our employee base."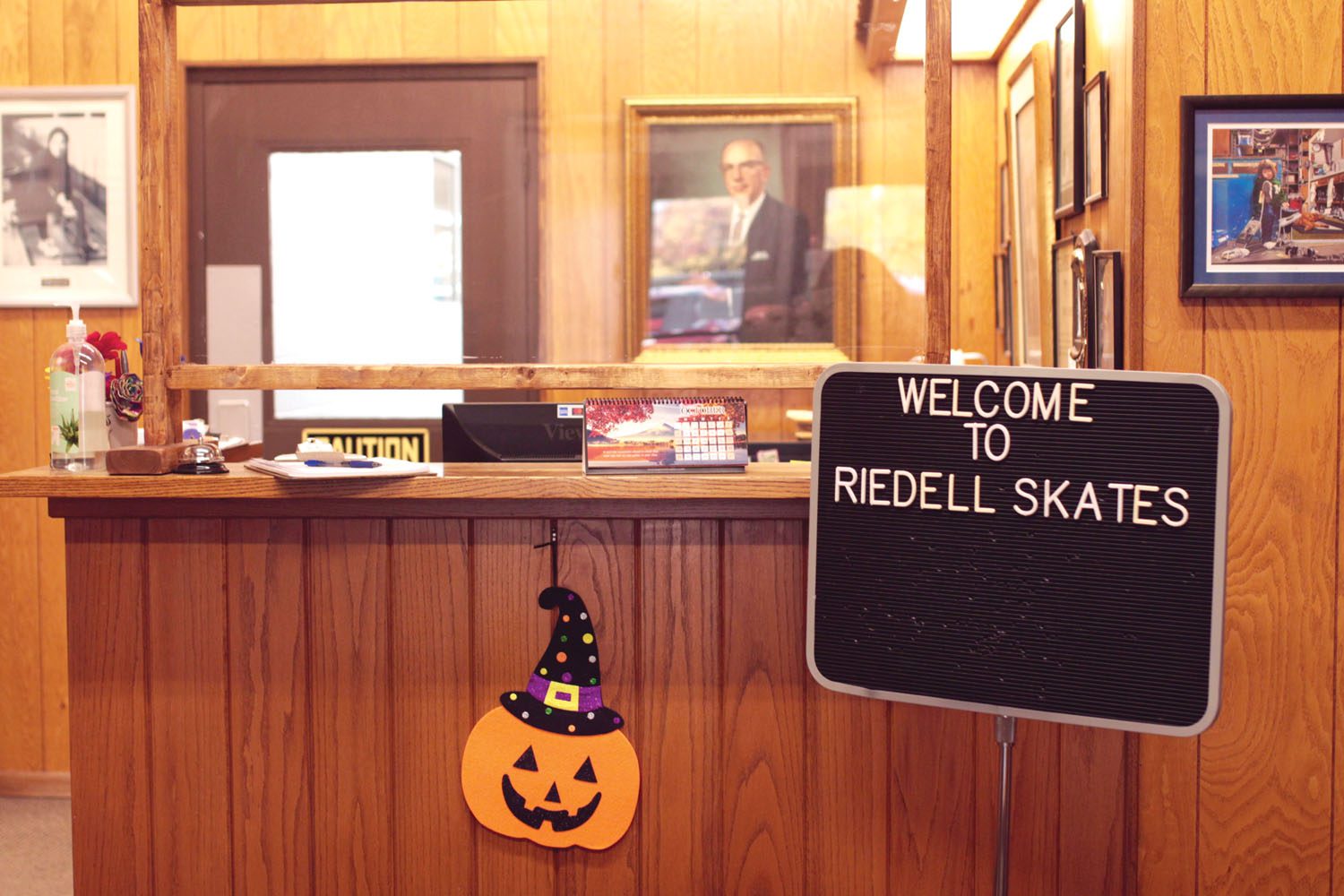 Impressively, the average length of service at Riedell is 28 years, and a number of its workers even celebrated their 44th year in 2020. (Happy 44th to Cindy, Barb, Roger, Brenda, and all!)
Roughly a decade ago, Riedell was looking for a roller skate sales representative on the West Coast. Michelle Stielen was one of the applicants for the job. "I'd never found somebody with so much passion for roller skating in my life," recalls Bob. While she wasn't hired for that position, they stayed in contact.
 Michelle branched out on her own to promote outdoor roller skating and open up her own skate shop in Venice, California. One day the shop's regular UPS driver paid Michelle an extra special compliment that helped shape her brand. "You've got a lot of moxie!" he told her. The word "moxie" represents bravery, strength, and fortitude. These were the characteristics she believed define her roller skating brand. From that point forward, the shop and brand were known as Moxi (they dropped the "e" for the name).
 Known in the skate community as "Estro Jen" from her roller derby days, Michelle noticed an absence of colorful skates on the market. So, she decided to transform the market. Michelle reached back out to Riedell.
 "American-made is fascinating to me," she says. "Almost 100 percent of U.S. shoes are made in another country. I found it incredible that there was one factory still around making footwear that glided on wheels. I really, really, really wanted to do whatever I could to work with them to create an American-made roller skate boot."
 Moxi and Riedell partnered on a series of skates based on Michelle's designs. Bob describes the Moxi skates as "more of a lifestyle skate" compared to the other ice and roller skate brands they manufacture. While it's a little confusing to the consumer who's behind which part of the process, he offers clarification: Riedell owns and produces the Moxi Skates. The larger Moxi brand, www.MoxiSkates.com website, and accessories are owned and managed by Michelle and her team in California – they can be thought of as the brand identity and retail business.
 Moxi Skates come in a variety of colors and styles that can be custom ordered with choices in colors of boot, wheels, linings, laces, frames, toe stops, and more. Those orders are then busily filled at Riedell. Staff have since committed to 62-hour workweeks in an attempt to catch up on the backlog of orders. The company hired 15 additional employees, and are still looking for more to get their eager customers rolling on their Moxi Skates.
 For years, the production timeline for a pair of Lolly skates or Jack boots (the two Moxi lines made in Red Wing) was 4-7 weeks. In October of 2019, they managed to get to a point where Riedell could produce and ship them in 5-7 days, and keep them in stock. They proudly maintained this speedy production schedule until the March 2020 COVID shutdown.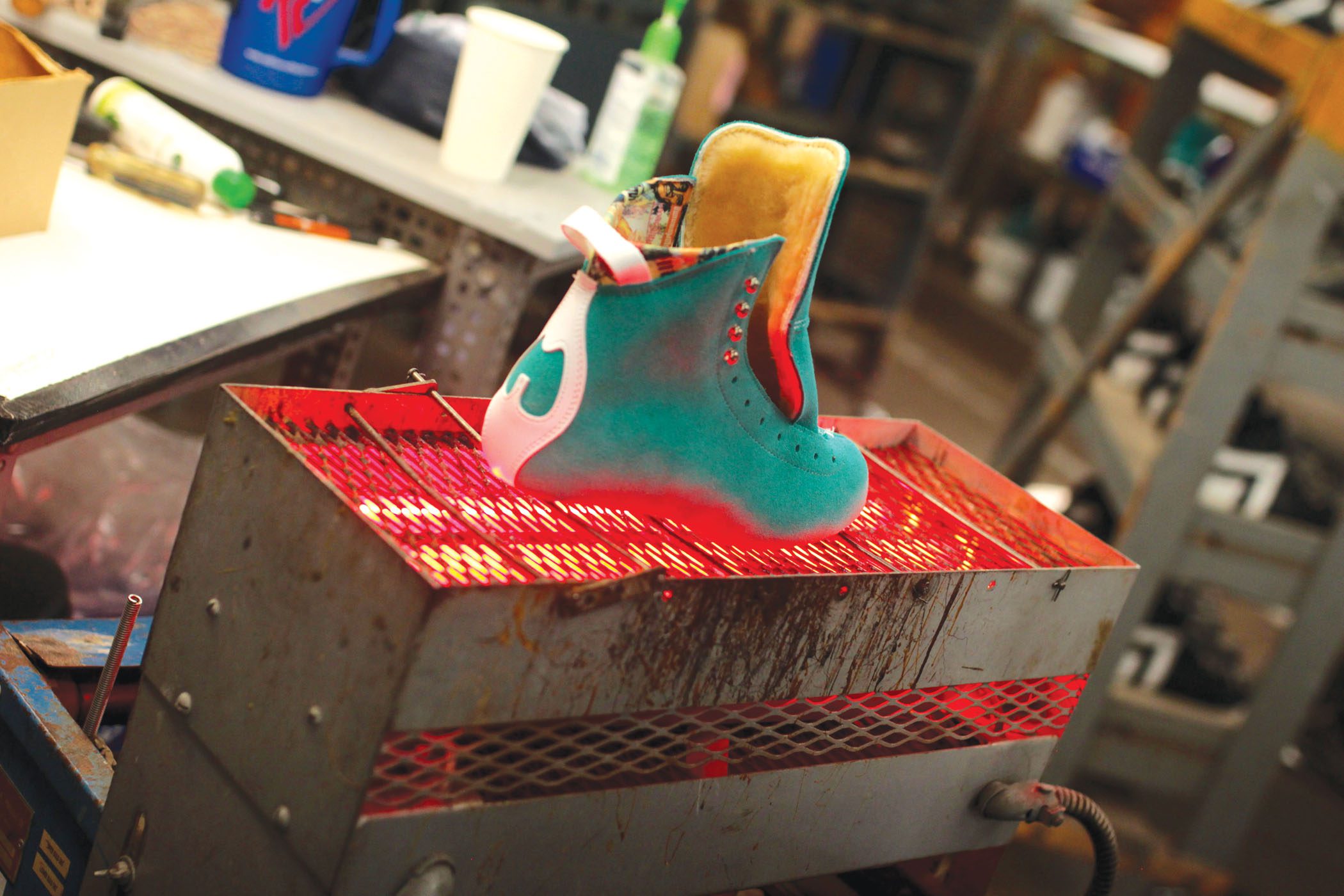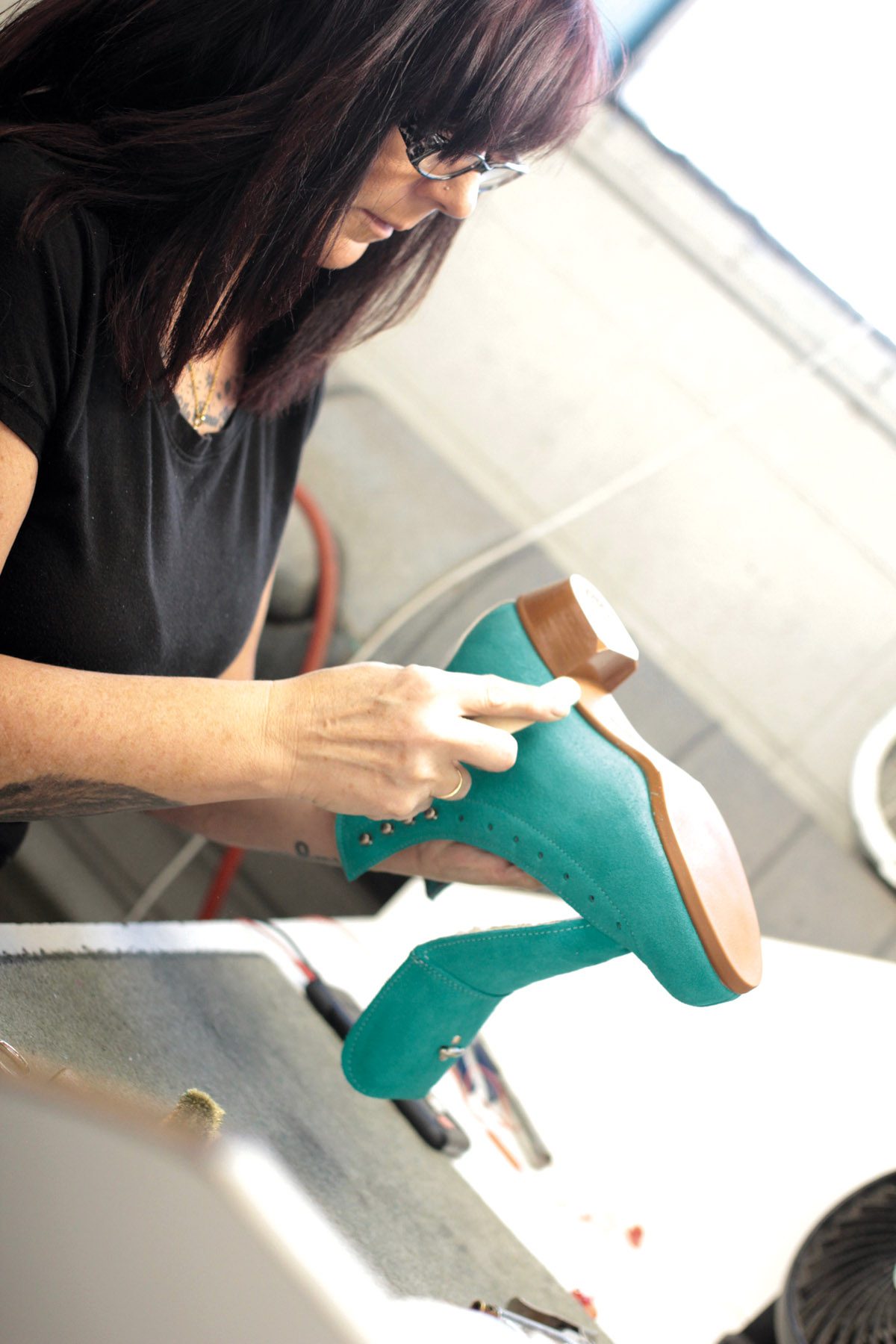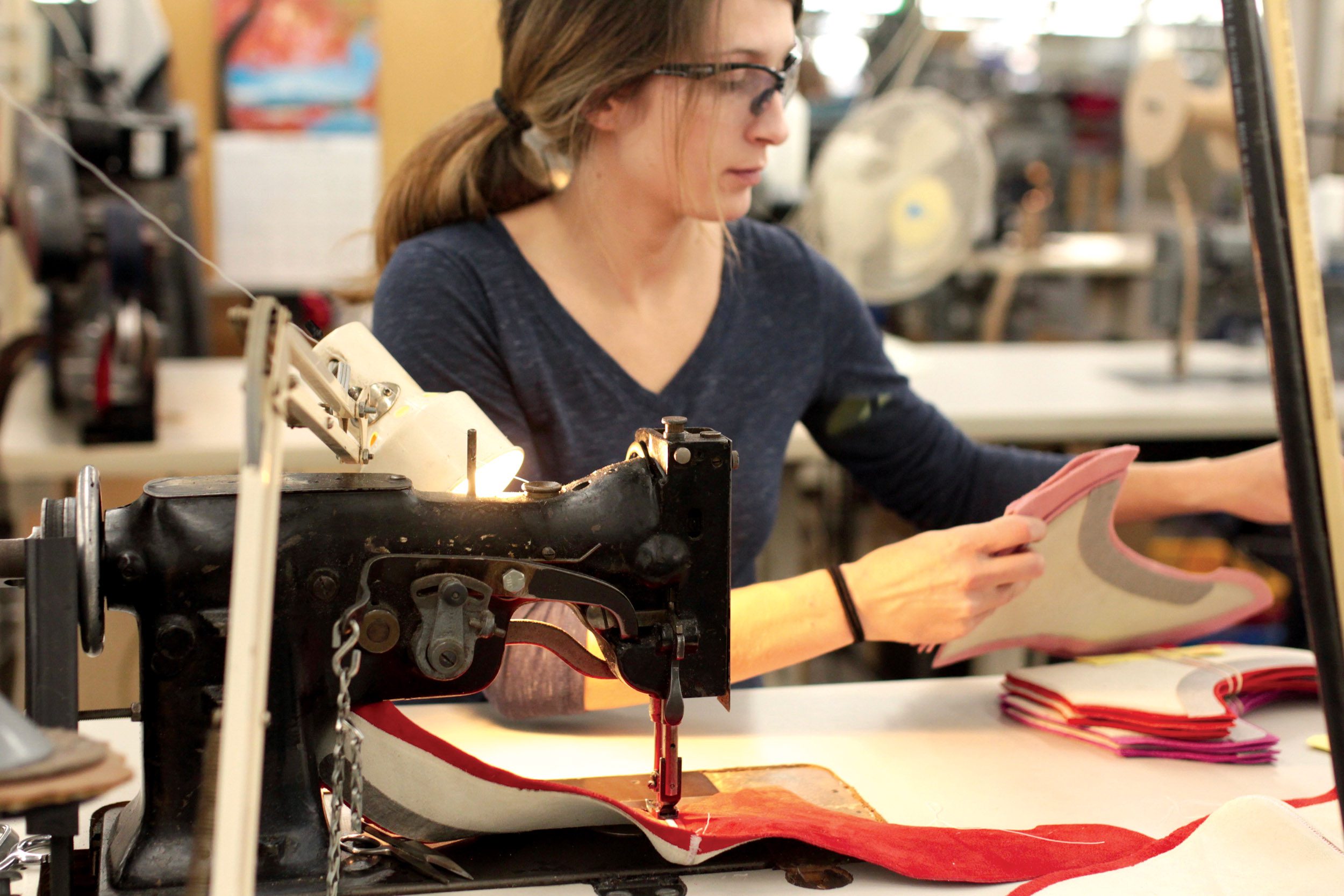 Soon, estimated delivery times were delayed for weeks and sometimes months. And a few months later, production times were completely out the window as the companies where Riedell source their raw materials were struggling to meet the increased demand, too. Those suppliers were operating at 50 percent or less capacity. "Everything was interrupted," Vice President Scott Riegelman says.
 "We'd love to add a 2nd shift here," Scott admits, "but it's hard to find workers, locally. Unemployment is low in Red Wing." The rate is currently around 5 percent. Pre-pandemic, it held at 3.1 percent, slightly below the 3.7 percent national average.
 At a loss for enough full-time workers, Riedell partnered with a high-end footwear production plant in Arkansas to produce roughly 50 percent of the open orders for the USA-made Moxi Skates.
 Neither Moxi nor Riedell had enough customer service staff to respond to thousands of customer inquiries, either. Harsh criticisms from increasingly frustrated customers began to flood social media.
 Suddenly, this small skate team and lifestyle brand was pushed to function as a much larger and experienced corporation, all within a few months' time…during a pandemic. It was the double-edged sword of Moxi's sudden rising success.
 "We were used to making 300 skates a week and now we're trying to pump out 3,000 a week," Legs says. "It's wonderful that Moxi has grown, and roller skating in general, but at the same time it's uncomfortable to grow so fast in such a short amount of time. You're learning things really, really quickly."
 Moxi went from a staff of four to a staff of 25, including a board of directors, a shipping department, customer service and social media teams, and a Chief Operating Officer. In 2020, they also opened up a warehouse in California to help with stocking and shipping.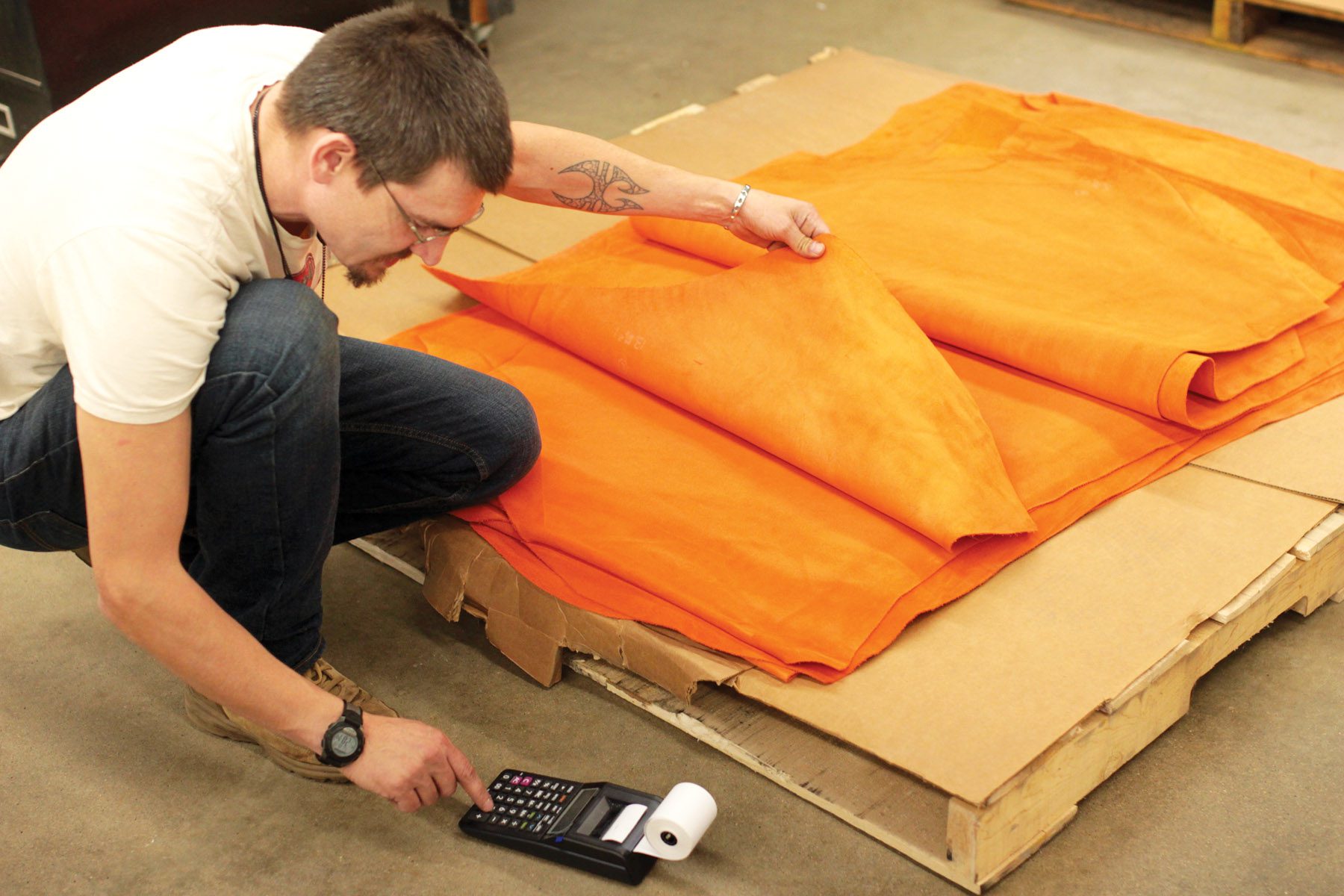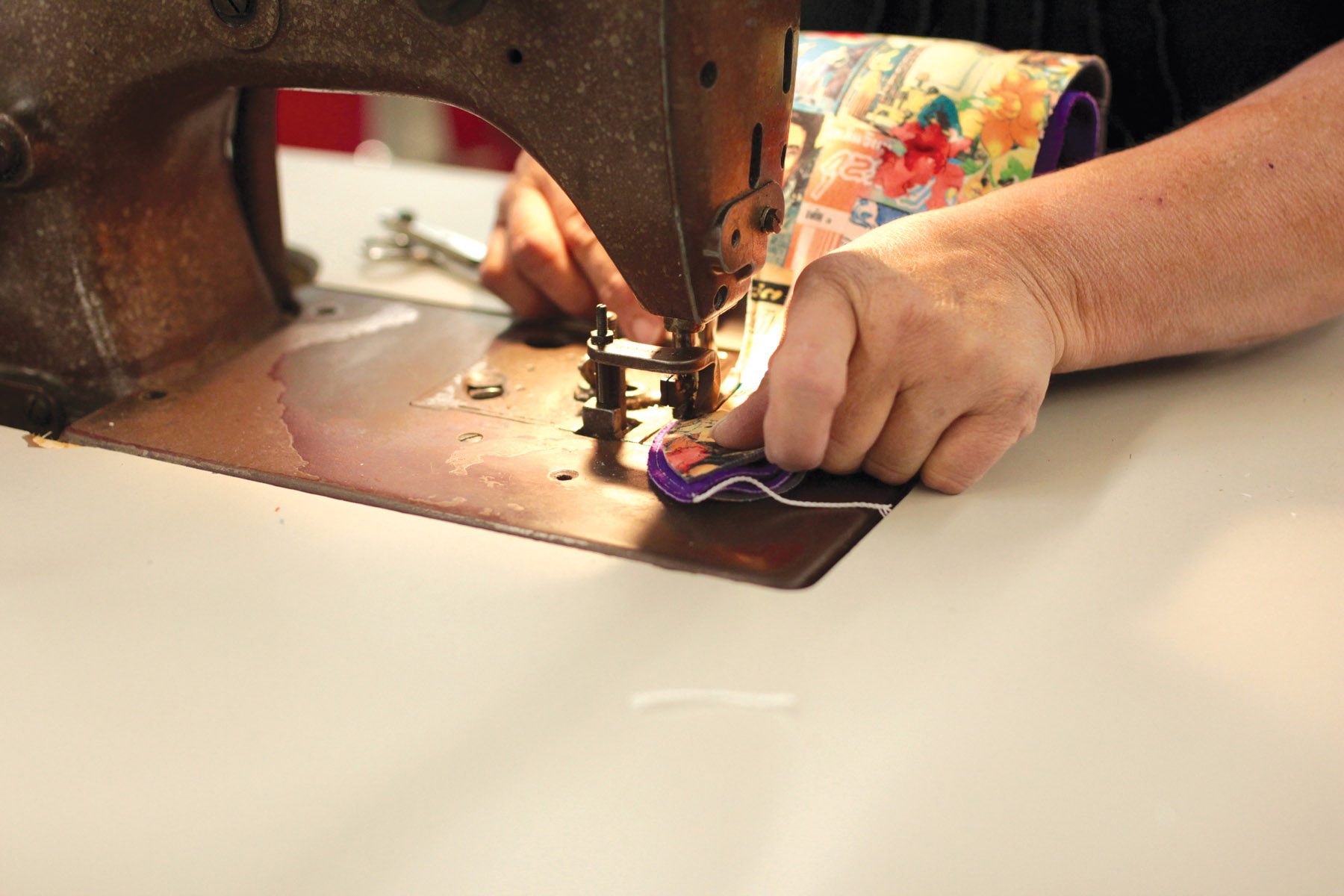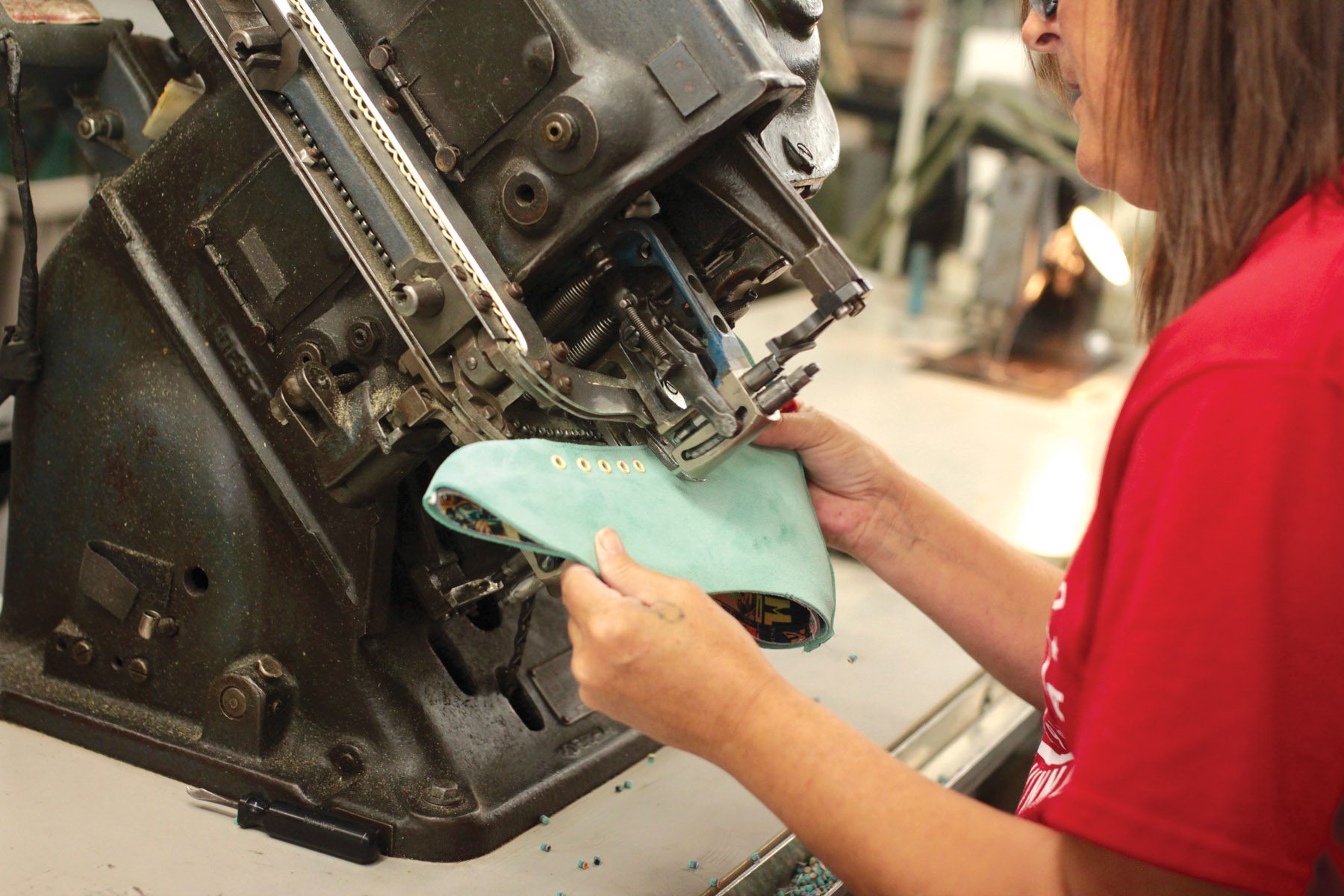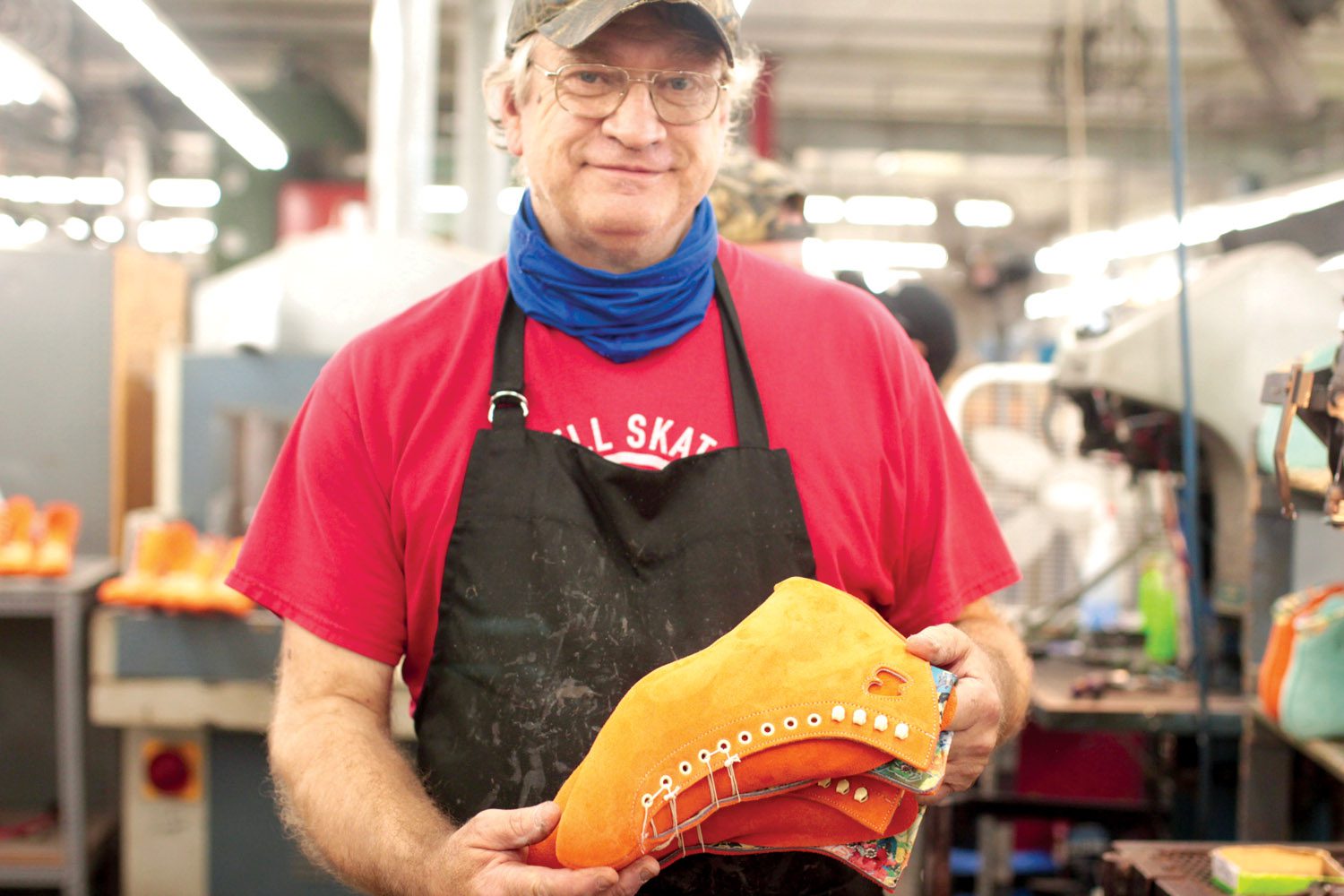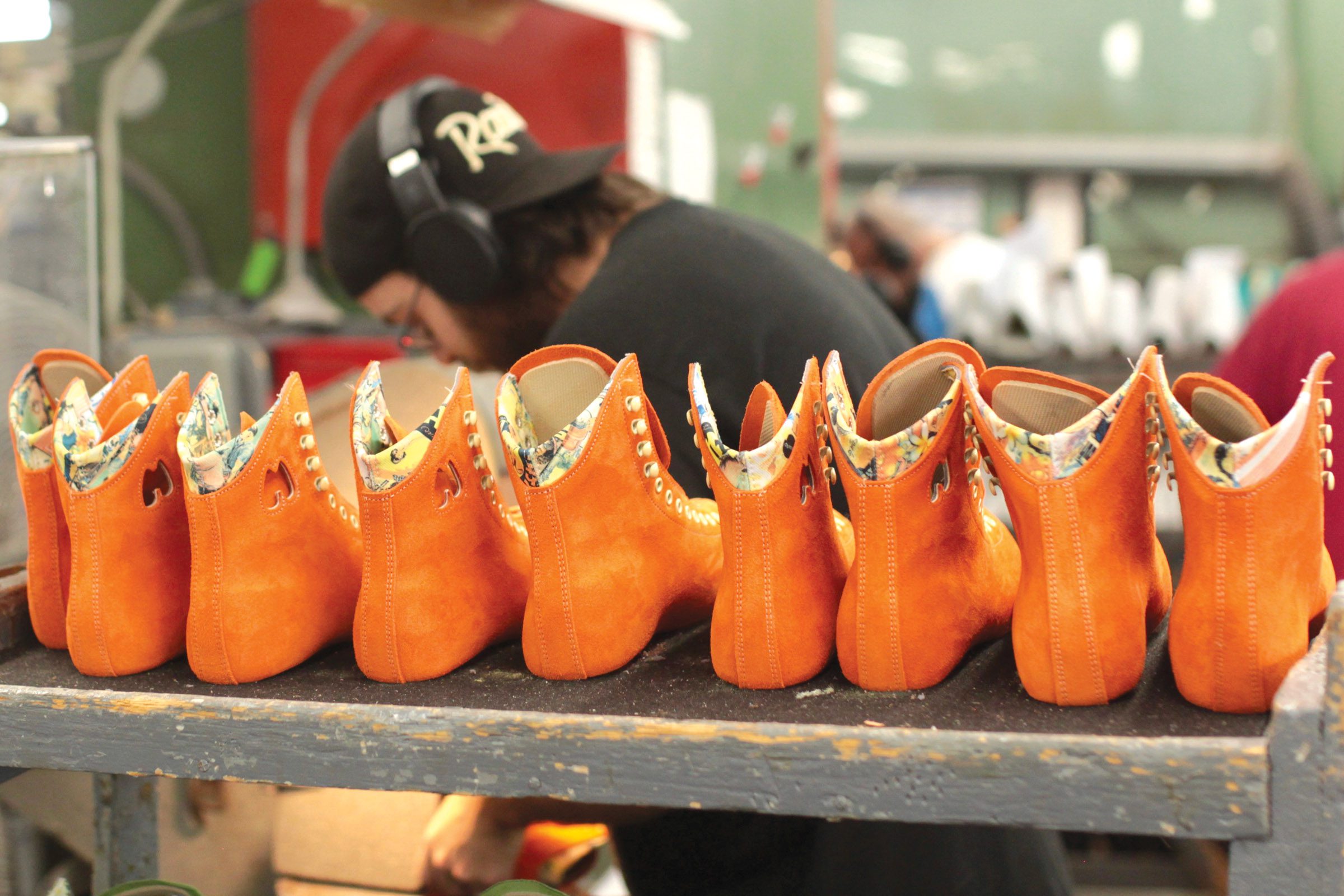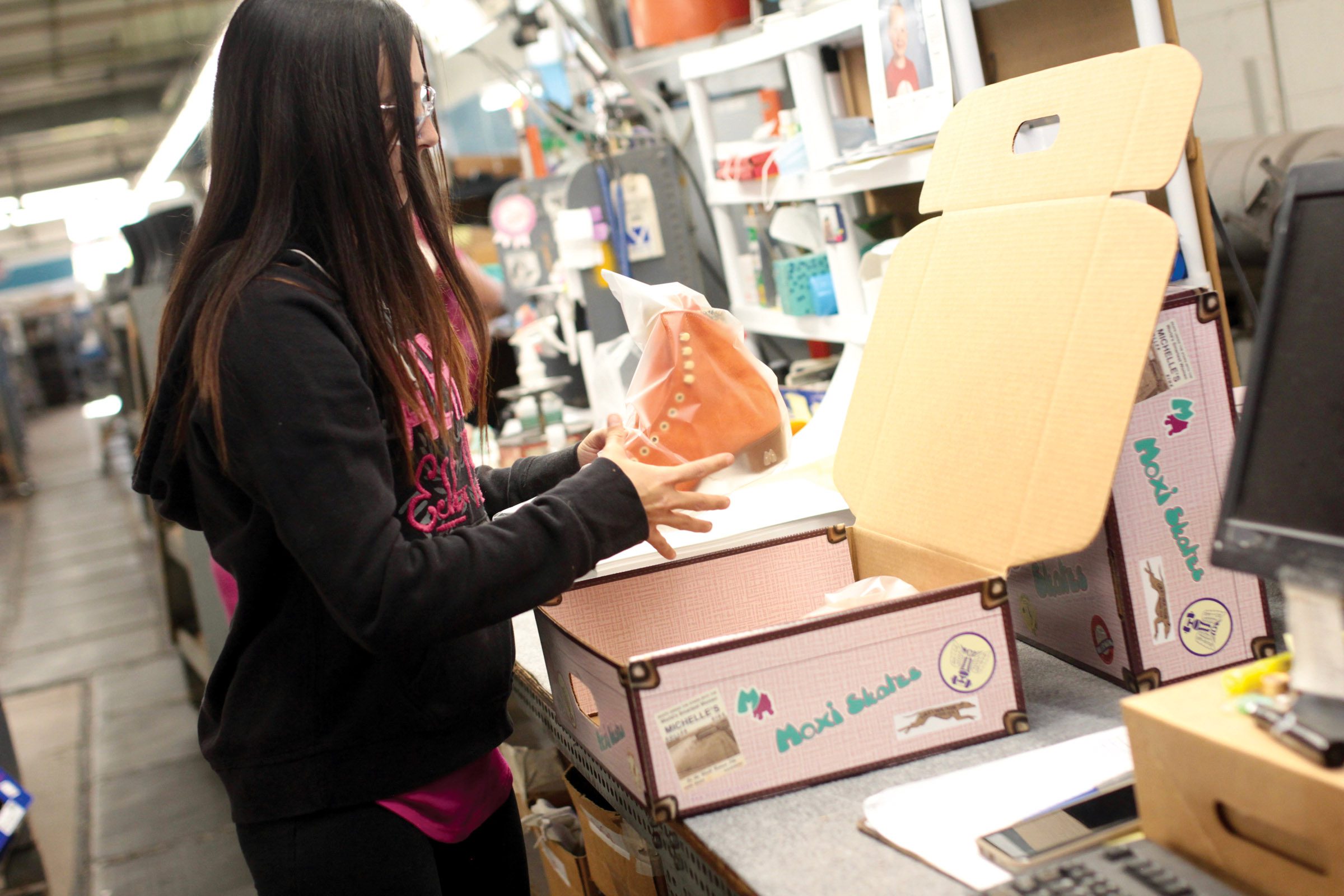 Was it possible that Moxi's vibrant lifestyle brand was made too desirable for the masses? It had become almost painful for some customers to be without their skate orders as they scrolled and scrolled images of smiling, spinning, jumping, and jamming Moxi Skate Team members during quarantine. Customers had had enough of social isolation and wanted in on the fun!
 "On social media, it looks like a big corporate brand. Moxi has great marketing because we're actually living that skating lifestyle. It's easy for us to do. People expected us to have everything in place as a large-scale business," says Legs. "With COVID and the orders, we had to hire so many people so quickly, and train them all so quickly, which causes errors because you don't have time to train people properly. You're throwing new staff to the lions!" she jokes, but turns serious again. "We ARE improving and trying to make things better for the customers."
At Riedell, Bob agrees. "We're doing everything possible to take care of our customers," he says. "Our customers have been very, very gracious."
 Handcrafting even one pair of Moxi Skates at the Riedell factory is no easy feat, though. From start to finish, it requires processes at 85 individual stations. Raw material is first cut from high-quality leather and sent to fitting where the upper is sewn and begins to take shape. "This is where we put the soul in!" veteran employee Barb Peterson – one of the workers who celebrated 44 years with the company– jokes as she moves swiftly and gracefully through boot sole production.
 The next stop is Riedell's proprietary lasting process that gives the boot its proper, consistent width, size, and shape – this takes an entire day. Then, the boot is sent to bottoming where the sole and skate bottoms are nailed and cemented. From there, it's off to finishing, where the boots are polished, cleaned, and thoroughly inspected. Next, is attaching the plates and wheels, before packaging. Finally, they are off to shipping.
 Everyone – from staff in shipping with three years' service to supervisors in their 44th year – confirms they've "never seen anything like this" level of interest in their products.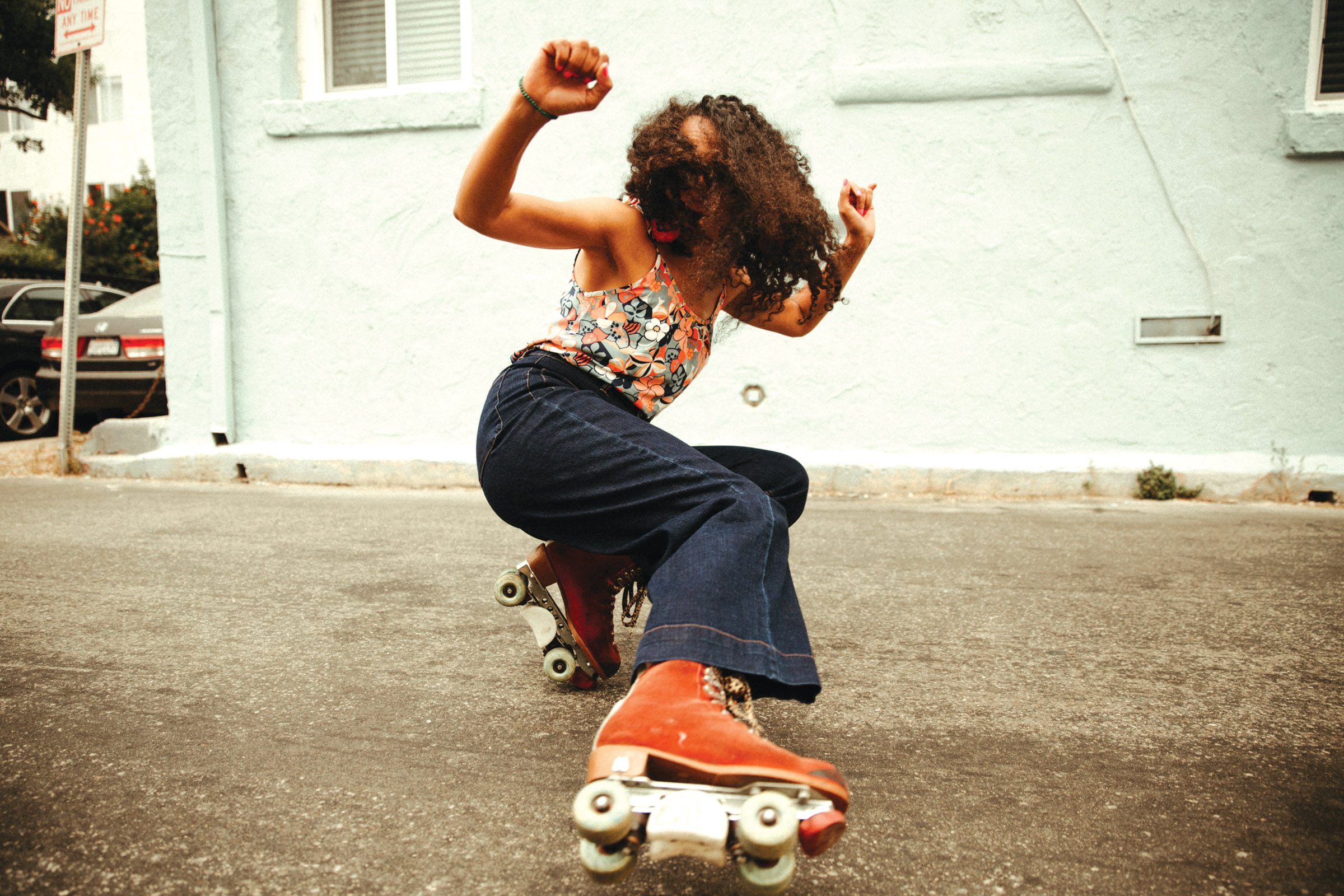 Physical movement as social movement
 Moxi, as a lifestyle brand, is also trying to successfully navigate the social and political climate of 2020, with the goal of promoting roller skating as a truly inclusive activity.
 For three centuries, roller skating's popularity has ebbed and flowed, punctuated by various "craze" periods throughout its history. The pastime originated in London in 1735 and in the late 19th century, the first public rink opened in the city. At the same time, roller skating in the U.S. picked up speed, and in 1866, the first public roller rink opened inside the elegant Atlantic House hotel in Newport, Rhode Island.
 Americans tend to collectively remember the height of roller skating being between the 1930s and early 1960s, and throughout the roller disco era of the 1970s.
Less frequently recalled is that roller skating was an important part of the Civil Rights movement in the 1950s and 1960s. Roller skating (as most social and public activities) was racialized and American rinks were strictly segregated. Black skaters were only allowed access to the rinks on specific nights, if at all. Outside the rinks, they experienced intimidating and violent policing. Black skaters started organizing for equal access to the roller rinks, hosting large protests and sit-ins.
Roller rink skating was a way for Black Americans to lose themselves in the joy of skating. They expressed their creativity through the wheels on their feet, developing fluid dance-skating styles like the jam skating that is currently trending.
 Roller skating has been a tool of social action in 2020 as well. Black skaters took to the streets on their skates as participants in the Black Lives Matter movement, and we started seeing the message "Black Skaters Matter," too. The statement is a reminder to the public about the influential black skaters that were initially overlooked when white skaters began heavily trending on social media.
 As part of Moxi's commitment to inclusivity, they've hosted virtual forums on diversity – or lack thereof – in representations of roller skating in popular culture. They hope they can connect with Black, Indigenous, and Skaters of Color in the skate community, and promote and advocate for body positivity as well. Their social media platform is for skaters of all types and sizes, as a place to both improve and show off skating skills. "We are tall, short, thick, and skinny," says Michelle. "But most important of all, we're strong"
---
Erin is a former rink rat who never missed a Friday night skate. She learned how to backwards skate and couples skate (!) at the Long Lake Roller Rink in Vicksburg, MI. (RIP "The Rink" 1952-2018) Erin bought her first pair of Moxis in March 2020 and turned her garage into her own private roller rink. Here, and on her motorcycle, she found joy. Erin also coordinates the Crystal Creek Citizen-Artist Residency in Houston, Minnesota:
www.CrystalCreekCitizenArtist.com
---
HAVE YOU CAUGHT THE SKATING BUG, BUT IT'S WINTER IN THE DRIFTLESS?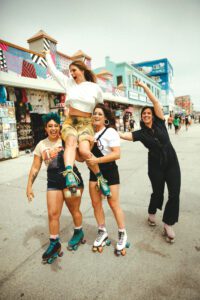 Don't worry. The Moxi Skate Team reminds us, "Skating's not a season, it's a lifestyle." Hit Moxi's youtube channel (youtube.com/moxiskates) for beginner to advanced lessons from a diverse group of instructors. You'll become inspired to transform any open floor space in your home into your own personal roller rink. (Kids, make sure to ask your parents first!)
 As for warmer months in the Driftless, if you can't find an open rink in your neighborhood, make sure you have some outdoor wheels and try parking lots, your driveway, skate parks, basketball courts, and our scenic Driftless trail systems.
"On skates you see things in your city you've never seen before."  – Michelle Stielen